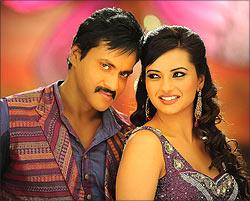 Radhika Rajamani feels Mr Pellikoduku is tedious to watch.

It is a known fact that Mr Pellikoduku is a remake of the Hindi film Tanu Weds Manu.

The film has the same premise and largely follows the original but with added Telugu flavours.

In the process of attuning the film to Telugu sensibilities, the director Devi Prasad has made the remake look garish and tawdry, and is tedious and tiresome to sit through.

Butchi Babu (Sunil), a boutique owner from the US comes to India in search of a bride and falls in love with the very first girl he meets.

But the girl Anjali (Isha Chawla), who's more unconventional and smokes, asks him during their second meeting to say no as she is in love with someone else. Butchi Babu can't get her out of his mind even though he sees many more prospective brides. Fate intervenes and they meet again at his friend Nair's
wedding in Kerala. Nair's bride Pavani happens to be Anjali best friend. By now, there's another suitor for anjali, a politician who's intent on marrying her.
Unnecessary additions of scenes (some sans logic) just prolong the movie. The second half, particularly, is too monotonous to watch given its stereotypical scenes.
The film has quite a few songs and Sunil shakes a leg in each one of them.
Suniul tries his best to contribute to the film but the script allows little scope.
Ali, who plays Bachi (Butchi Babu's friend) is genuinely funny at times and over the top. The host of other artistes carry themselves well.
Mr Pellikoduku
has all the badly written additions woven into it. The music isn't appealing eithert. The Telugu version sadly fails and scores on no account.
Rediff Rating: