'The one thing he wants from me is that I should learn from him and fly away the day I get launched.'
'He has told me that after LoveYatri, whatever film is being offered to you, it's up to you to discuss with me or not.'
'If you feel like discussing it with me, you can.'
'If you don't, go ahead and make your own choices because it is your career.'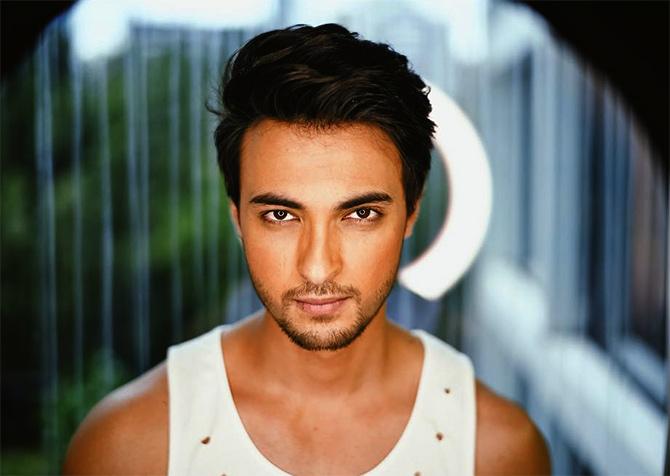 Aayush Sharma will step out of his brother-in-law Salman Khan's mighty shadow to carve his own career in Bollywood with LoveYatri.
Aayush has assisted on Bhai's films Bajrangi Bhaijaan, Prem Ratan Dhan Payo, Sultan and Tubelight.
"I want my films to stand for entertainment with a good paisa-vasool feel," Aayush tells Rediff.com contributor Ramesh S.
Before making your acting debut in LoveYatri, you worked as an assistant director on several films. Did you want to be an actor or director?
After my graduation in Mumbai, I was just passing time.
I never thought of becoming an actor, so never took myself or this profession as seriously as one should take.
I still remember that day around five years ago when I was training at Gold's Gym.
I met Sohail (Khan) bhai, and he offered me a film.
This sudden offer made me think that if Sohail Khan feels I can become an actor, there has to be something in me.
But the conversation did not go forward.
I moved to another gym, so didn't get a chance to meet him again.
When I met Salman (Khan) bhai a few years later, he also told me to become an actor.
That's when I started to take myself and this profession seriously, and to pursue it as a career.
I felt that if Salman bhai believes that I can become an actor, I should definitely give it as a try.
But the turning point in my life happened during Bajrangi Bhaijaan, my first film as an assistant director.
I am related to a filmi family, so there are expectations.
But I don't have experience.
So I was sent to the sets of Bajrangi Bhaijaan to understand how films are made.
People only see what is in front of the camera.
But what is behind the camera is more important.
That experience introduced me the magic of movies.
But as far as direction is concerned, I am not good in writing, where I can sit and think.
I am good in executing.
So to be a director is something I can't think of now.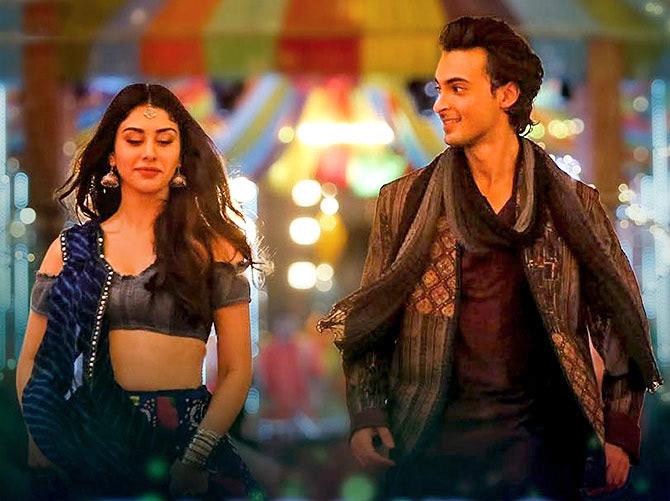 If Salman hadn't given you LoveYatri, what would your plans have been?
I planned to open a restaurant in Mumbai, specifically in Bandra.
That's what I had told Salman bhai when I first met him.
If he wouldn't have launched me fter training me, I would be struggling as an actor.
There is a five-year-gap between meeting Sohail Khan in the gym and LoveYatri. What were you doing in this time?
I am from Himachal Pradesh.
After finishing my graduation from Jai Hind College in Mumbai, I wasted a year, a year-and-a-half just wondering what to do next.
During that time, I met Sohail bhai.
Two years after meeting him, I met Salman bhai through Arpita (Khan).
During those two years, I was planning to open a restaurant.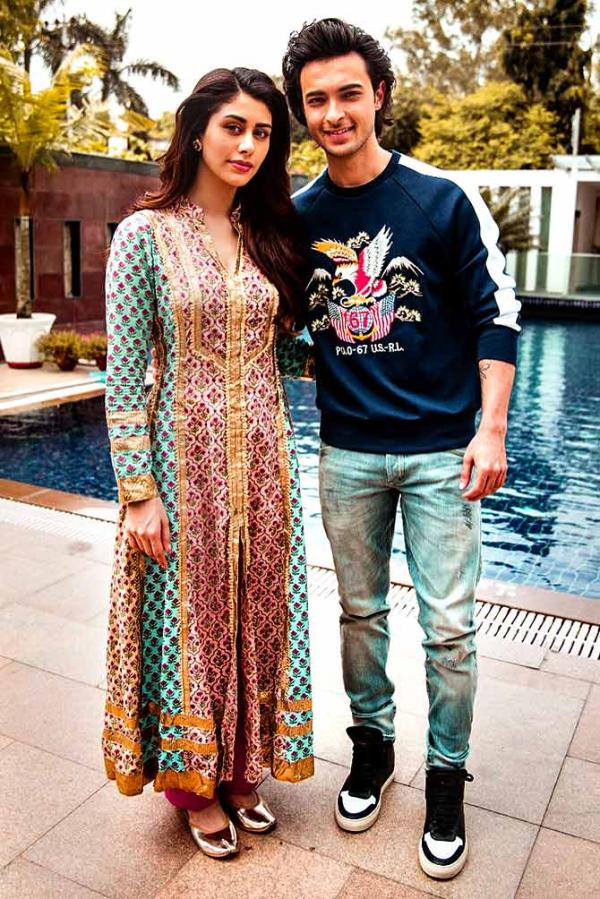 How serious are you about this profession?
I don't really consider myself as an actor. I would rather call myself a student of acting.
I have a long way to go, where Inshallah after 20 years in this successful career, I will be able to talk about my different films and characters.
Right now, my job is to entertain people and make them smile, laugh and cry with me.
Just as my first film (Bajrangi Bhaijaan) as an assistant director became a cult hit, hopefully one day, I will be delivering the same as an actor.
What kind of reactions have you got from your family?
My father was initially apprehensive about me choosing the acting profession because in school and college, I was never into extracurricular activities.
He told me we come from a political background, so his audition happens every five years, but my audition will happen every Friday.
Also, I am quite introverted, so his fear was what will I do in front of the camera.
But then I said let me give it a try.
Now that they have seen me on camera, they are quite happy.
They still cannot believe it!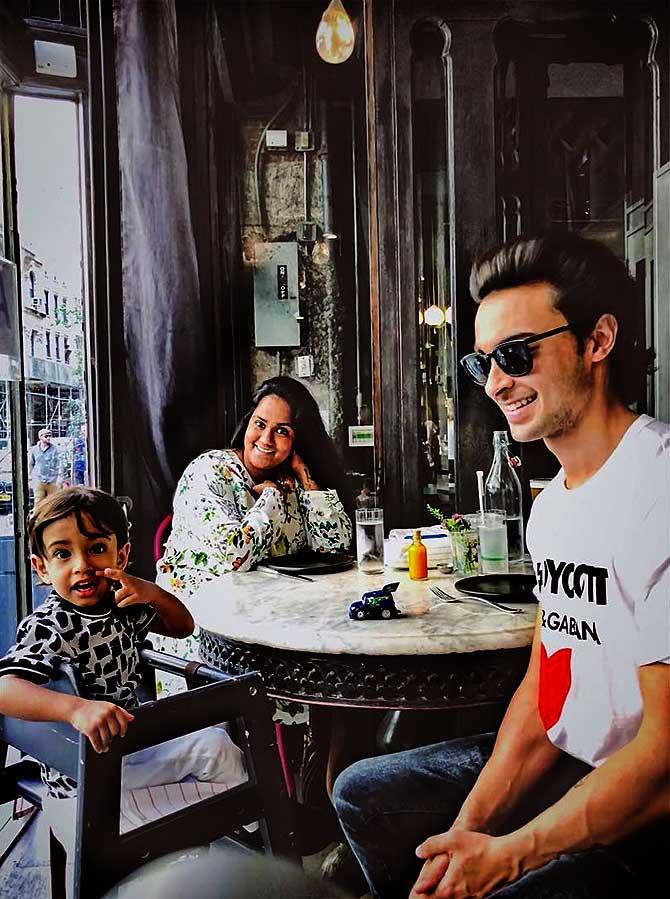 Was there pressure on you to join politics?
There was no pressure, but, of course, they wanted me to join politics.
But I feel politics is something that will come to me with time and age.
Right now, I am too young and inexperienced.
Just because my family comes from a political background doesn't necessarily make me a good leader or a potential candidate.
When people ask do you want to bring about a change in society, the answer would be yes. But I don't know the answer of 'how'.
The day I get that answer, I will surely join politics.
Family lineage is not supposed to be carried on if you don't have a technique.
Some people still point out to nepotism.
There are two sides to it.
First of all, I feel there are many hard-working actors out there, who truly deserve an opportunity to showcase their talent.
Unfortunately, they are not getting it.
I am lucky and thankful enough to get that required opportunity; there is a sense of support from someone as great as Salman Khan.
Having said that, I feel that Salman bhai can only give me a platform and put me in front of the camera.
After that, the audience will accept me purely on the basis of my talent.
So the moment the audience rejects me, irrespective of whose relative I am, no one will take that risk of putting me back on screen.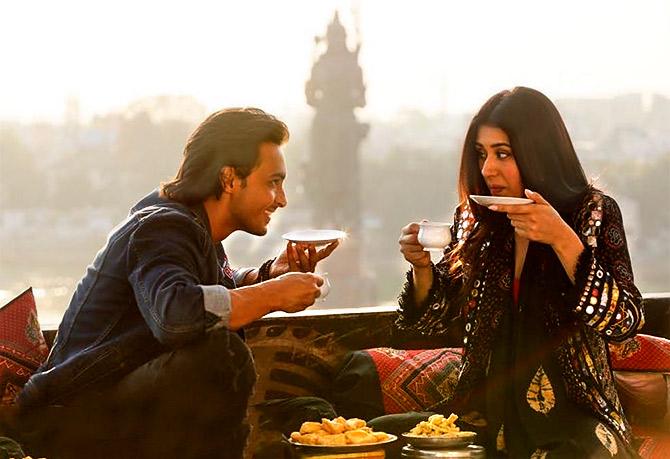 Are you ready to take that rejection?
Yes. I am somebody who doesn't take 'no' for an answer.
I was always a non-dancer in my whole life, but I learned dancing for LoveYatri.
So I don't take rejection in a negative way because there is always a positive side to it.
Though a lot of expectations are running on my shoulders, I don't feel the pressure.
I am lucky enough to have a big name attached to my film, otherwise it is difficult for a debutant actor, actress and even director to make it through.
Did you have any offer in hand before LoveYatri?
Yes, there were a couple.
But I was unsure of the scripts.
I was very particular that I should choose a script I was confident about.
LoveYatri has a beautiful plot, and so I wanted to be a part of it.
I couldn't have asked for a better launch. I have eight songs, Manish Malhotra's costumes, Vaibhavi Merchant's choreography, Abhiraj Minawala's direction, a great plot, good music...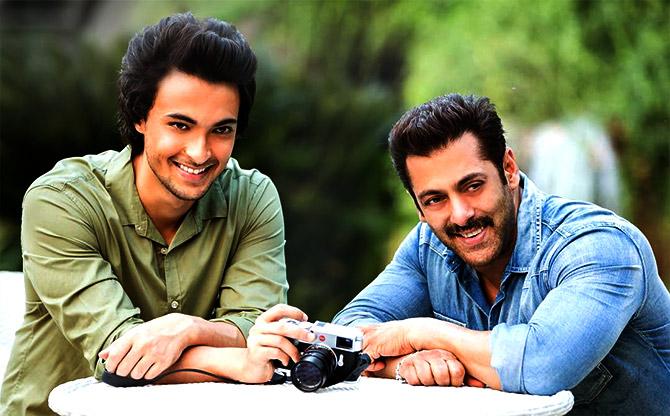 Will Salman continue to mentor you after LoveYatri?
I have always been under his wings.
But the one thing he wants from me is that I should learn from him and fly away the day I get launched.
He has told me that after LoveYatri, whatever film is being offered to you, it's up to you to discuss with me or not.
If you feel like discussing it with me, you can. If you don't, go ahead and make your own choices because it is your career.
I would love to have him around my whole career because his experience and knowledge is impeccable. He is successful because of this reason.
Salman Khan follows a 'No Kiss' rule in his films. Will you follow the same?
Yes. I don't feel there is any need of kissing scenes in a film.
I don't think a love story will become grand if there is a kissing scene in it.
So I will refrain from doing such scenes, at least for now.
Also I am too shy, so I doubt I will be doing any kissing scenes in a movie.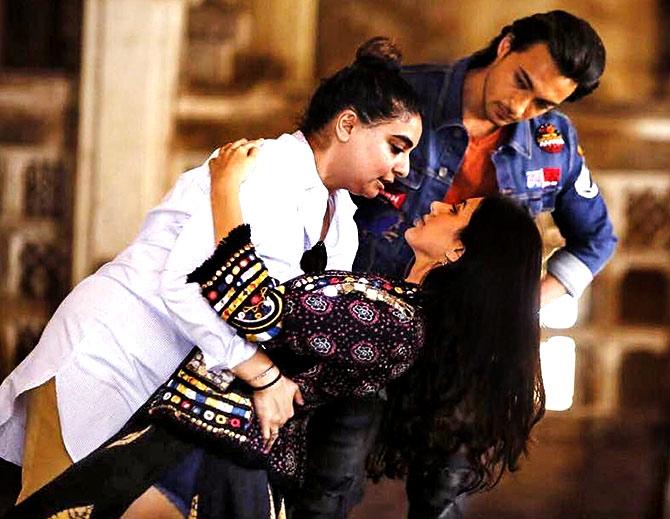 What advice did you get from Salim Khan?
I would really value any kind of advice coming from my father-in-law (Salim Khan).
There is a big age gap between us, so our communication is very limited.
When I was about to shoot, he called me up to congratulate me and gave me a big lesson.
He told me, 'Aayush, success is the only driving factor that makes an actor.'
He said there is nothing as acting, and advised me to go on the set with a thought that this is not your first film and that you are already successful.
That confidence should show on screen.
If you are Salman's brother, people expect nothing else from you.
LoveYatri is a family entertainer. Will you stick to this genre or will you experiment with dark roles?
As of now, I would like to entertain people with genres like family, action, thriller, and so on.
At least for a couple of years, I would like to go to as many people's houses as I can, and reach a maximum audience.
Only when I have that certain amount of audience who will watch my films can I experiment with dark roles.
But I don't really watch dark films -- they depress me.
I watch masala-kind of films and have a good laugh.
I want my films to stand for entertainment with a good paisa-vasool feel.