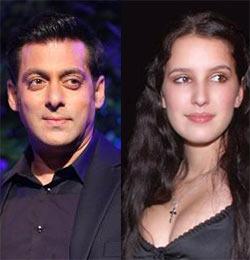 Priyanka Chopra's Mary Kom will get a red carpet premiere at the Toronto International Film Festival in early September.
But Salman Khan, co-producer of the Canadian English-language film Dr Cabbie may well steal some of her thunder when he promotes his film in Toronto in the last week of August. Incidentally, the film stars Isabel Kaif, the sister of Salman's former girlfriend Katrina Kaif.
There are strong rumours that Salman makes a brief appearance in the film.
Priyanka will be sharing the limelight with A-list Hollywood stars such as Denzel Washington and Robert Downey Jr.
Salman will be the sole attraction as he will appear, according to the initial schedule, at half-a-dozen cinemas in Toronto and around the city to promote Dr Cabbie.
'Dr Cabbie is the story of an Indian immigrant and it has an inherent universal appeal,' Salman had said in a statement when the film was launched about a year ago.
The film is directed by Canadian Jean-Francois Poulliot (La Grande Seduction).
It is the second film of Vinay Virmani whose father, freight company owner Ajay Virmani, had backed his son's first big venture Breakaway. Akshay Kumar was one of the producers of that film.
Though the film flopped outside Canada, it had a good run at home and turned in a modest profit.
Dr Cabbie is about an unemployed Indian doctor-turned-cab driver in Toronto who becomes a hero when he converts his taxi into a mobile clinic.
The cast includes Adrianne Palicki (G.I. Joe: Retaliation), Kunal Nayyar (Big Bang Theory), Lillete Dubey (Monsoon Wedding), and Rizwan Manji.
The film was reportedly made on a modest budget of $3 million.
'Dr Cabbie is a timeless story that audiences will identify with, blending social issues and the journey of finding one's place in the world. We are thrilled to have such a talented cast who will tell this humorous and heart warming story,' Poulliot has said.
Ajay Virmani, a silent partner in films such as Deepa Metha's Oscar nominated art-house hit Water and Bollywood/Hollywood, became a hands-on producer with Breakaway made from a script conceived by son Vinay Virmani who also played the lead.
This time, Virmani wants his new film to have a life of its own and not be dwarfed at TIFF, which shows over 150 feature films from across the globe, including some heavies from Hollywood.
'Ajay Virmani decided that it might not stand a chance against all the big-ticket Bollywood films premiering there, including Priyanka Chopra's Mary Kom, whose recently launched trailer has gone viral online,' the Canadian newspaper National Post reported.
The paper reports that the makers of Dr Cabbie have decided to bring Salman Khan to the Canadian city to meet and greet his fans and in the process steal some of Priyanka's thunder.
Eros International is expected to release the film in India later this year.