'I knew Irrfan was unwell.'
'I knew that things were not going well, but there was always that hope.'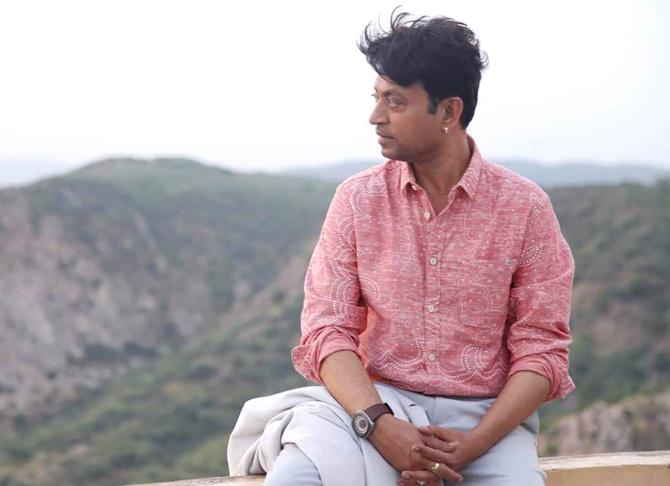 Shah Rukh Khan has given us so many love stories on screen, but do you know his own?
Senior journalist Roshmila Bhattacharya, who has interviewed him several times in her career, gives an interesting account in her book, Matinee Men.
In fact, she has written about 13 Bollywood stars, and given us interesting insights on each.
"I have been doing entertainment journalism for about three decades and whenever I go for a party or a family function, people would always ask, 'Did you meet this actor? What's he like?' So I thought why not put it all in a book?" she tells Patcy N/Rediff.com in the first part of an engrossing interview.
How did you decide on the idea of Matinee Men? The book spans from Ashok Kumar's life and career in 1936 to films like 2020's Gulabo Sitabo. How long did it take you to compile it?
I had this subject in mind for about three to four years.
I had written a rough draft on Dadamoni (Ashok Kumar) and Dilipsaab (Dilip Kumar).
I was working on another book then (Bad Man on Gulshan Grover), so I pitched it to the editor. It did not work out.
My agent Kanishka Gupta had those two chapters with him.
He found it interesting, but we didn't know which publisher would pick it up because it's a novel idea, not like a regular biography.
One day, he mailed those chapters to Rudra Sharma at Rupa, who liked them.
I got the contract in 2019.
I submitted the book in January.
The book had gone for a final editing, when Irrfan passed away (on April 29).
I was chatting with Rudra, and I told him that I was very sad tha Irrfan was no more.
He asked if I knew him well.
I said I knew him as most actors, but it was really special.
So he asked me to write a chapter on him too.
The final editing was done in June, and the book was supposed to come out in July.
But because of pandemic, everything was pushed till the end of the year.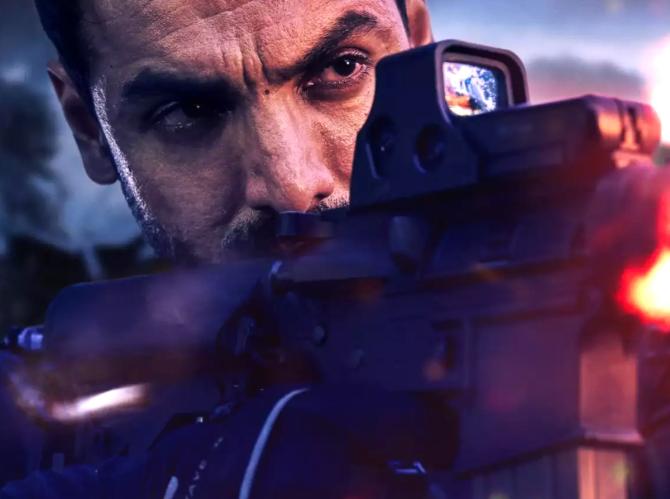 How did you decide on the 13 men in the book? So many have been left out.
It was 12 actually.
I wanted one actor from each decade to represent a particular kind of cinema.
It also had a lot to do with my interactions with them.
It started with Dadamoni in the '40s and '50s, Dilip saab in the '50s and '60s, Shammi Kapoor in the '60s, Dharmendra and Amitabh Bachchan in the '70s, Mithun Chakraborty in the '80s, Farooque Shaikh in the '90s and then the Khans.
I took John Abraham because when you think of solid action today, it's him.
Tiger Shroff is very good, and there is Hrithik Roshan. But you don't think of him as an action hero; he's an all rounder.
That's how I thought of John.
Mostly, it had to do with my interaction with him because the whole idea was to come up with something new about these people.
The idea was to find the man behind the Matinee Idol... like how Ashok Kumar would paint, give out homeopathy medicines...
Or the fact that, at the peak of his career, if he was shooting in the city, he would come home, have dinner, take the kids to the terrace and tell them stories.
Those were the little things about these people that I wanted people to know.
I have been doing entertainment journalism for about three decades and whenever I go for a party or a family function, people would always ask, 'Did you meet this actor? What's he like?'
Or, 'Do you have any stories about this actor?'
I would keep tell them little anecdotes.
Sometimes my younger colleagues would ask me, and I would tell them.
So I thought why not put it all in a book?
How did you decide on its title?
I was toying between Matinee Magic and Matinee Men.
Then I thought that if my publisher is happy with this book, maybe I would do a Matinee Women, and later, Matinee Shows...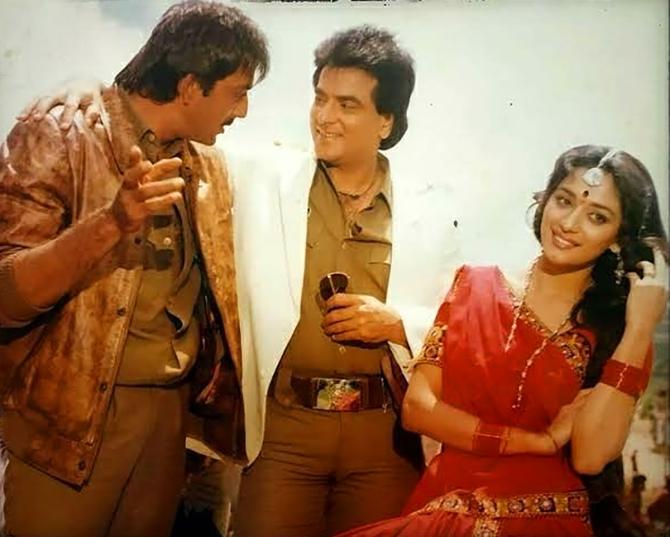 You have given so much information about Jeetendra's film Asha or your first interview with Madhuri Dixit... How did you remember all this?
A lot has been lost; I can't find my earliest articles.
I was 22 when I joined Filmfare.
My editor gave me a nostalgia piece to work on.
I did it and he liked it.
So I ended up doing nostalgia pieces almost every month.
I am really thankful that I got to know these people.
I got to learn what they were like.
Whenever I get bored or I don't want to do an interview or I want something to perk me up, I do a nostalgia piece. It's become a lifelong passion.
This trivia was just to whet people's appetites, so that they would move on to the other chapters.
We live in fast food culture, where you need to catch people's attention or else they will not go forward.
For us, Dadamoni and Dilip Kumar are legends.
But my daughter, for instance, she would wonder who Ashok Kumar is.
To get her to read about Ashok Kumar, I decided to write an introduction and include people like Madhuri Dixit, whom she would know.
My favourite chapters in the book are on Ashok Kumar and Mithun Chakraborty. What's yours?
Dadamoni has always been really special.
I feel very fortunate, I was just 22.
For him to embrace me, literally, like one of his grandchildren, was so special.
Some of my biggest regrets have been that I met some of these legends when I was very young.
Today, if these legends were to come in front of me, I would do extempore interviews.
I would ask whatever I wanted.
I was not shy but back then, there was a culture about taking down questions and researching the subject.
There were times when I lost out on interviews, like Premnathsaab.
I was doing a piece on Madhubala and I had met Ajitsaab. He was her mooh bola bhai.
We spoke and I asked him who else can I talk to and he suggested Premnath.
I said I didn't know him.
He said, 'You just call and say that you know me.'
When I called him, he asked me home and he started talking about Madhubala.
He called his wife (actress Bina Rai) and daughter-in-law and asked them to listen to the story too.
After talking about Madhubala, I told him I wanted to talk more about him.
He said, okay, but since I was not prepared, I asked him if I could come again.
He was actually quite unwell and a week later, he passed away.
The same thing happened with Salil Choudhary.
I had called him to talk about Lataji (Mangeshkar).
I told him I wanted to talk to him.
He said, come over.
He was in Calcutta at that time, so he said, 'Let's meet when you come to Calcutta next.'
But he passed away before we could meet.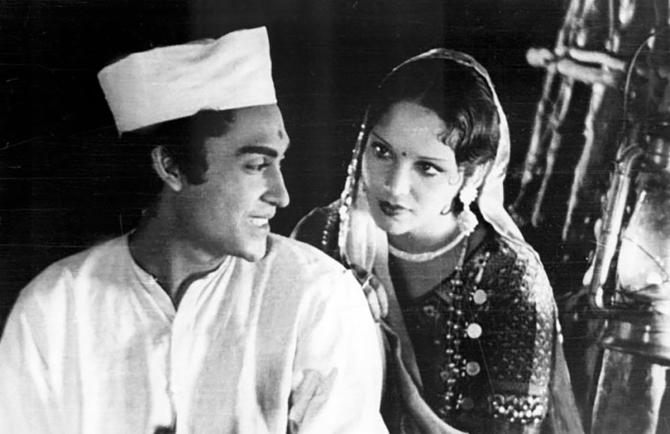 In the book, you get insights about other stars too. For example, while reading about Dev Anand, you get to know about Guru Dutt. In the Dilip Kumar chapter, we learn about Manoj Kumar. In the Farooque Shaikh chapter, we learn about Balraj Sahni.
A hardcore film person who has been writing about films would know that Dadamoni started with Achhut Kanya.
But younger people would not know that.
So I thought that, let me try and introduce these people.
So whether it's Shammi Kapoor, Dilip Kumar or Dadamoni, I have written about how their journeys started, the struggles they had...
Whenever I spoke to Manojsaab, about Dilipsaab or Rajsaab(Kapoor), he was always available.
So it hit me that these people are also legends in their own way. They had their journeys with these stars, and that's how I introduced them.
Farooque Shaikh wouldn't have become an actor if it was not for Balraj Sahni. He was all set to become a lawyer, but the experience of working with someone he admired brought him to cinema. (Farooque Shaikh worked with Balraj Sahni in his first film, Garm Hava.)
That's why he remained an actor with a difference.
The same way, the thought of becoming an actor came to Manoj Kumar after watching Dilipsaab.
A friend of mine said, 'Yeh toh humko pata tha.'
I said, 'You know it because you are a part of the industry.'
This book is not written for cine bhakts.
It is written for people, who like Shah Rukh, Aamir and Salman and who would perhaps not watch other films.
My daughter is 22, and when she was growing up, she would watch the usual Hindi movies.
When I would be at home, we would watch The Sound of Music or Mary Poppins.
Slowly, we watched Alfred Hitchcock films like Rope.
Even though it's a grim film, I wanted to see if she would be interested in a black and white film made in the 1940s.
When it started, she was not interested but later, she was totally engrossed in it.
I have tried to inculcate love for cinema in her by watching these films.
Sometimes, I would introduce an Ashok Kumar film.
A movie person will always about Dev Anandsaab and Guru Dutt's friendship. But if you're not from the industry, would you know?
It would come as a surprise that he (Guru Dutt) met Geeta Dutt at the muhurat of Baazi and that's how the romance started.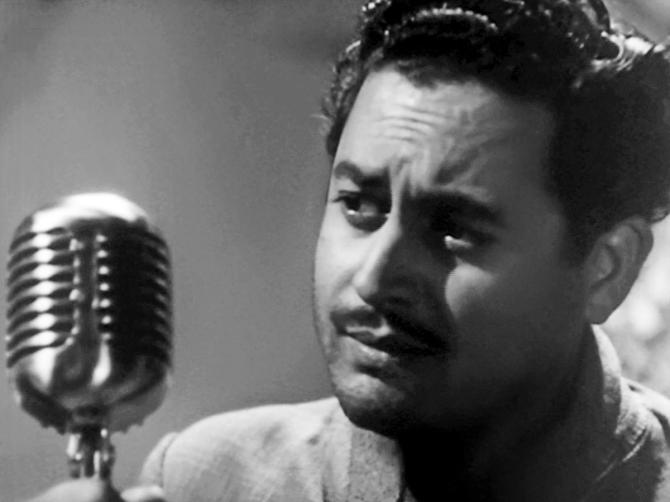 Were there any other actors on your list, apart from the 13 you eventually took up?
Yes. I would have loved to have a chapter on Guru Dutt because he is someone I have always been fascinated with.
But I have never interacted with him.
There are a lot of actors I have interacted with like Anil (Kapoor) and Jackie (Shroff) but I didn't want to go beyond 12.
I didn't want the book to become very thick because this is not a celebrity biography.
I never thought people would even read it.
A lot of people have reacted positively, and I'm quite overwhelmed by that.
But I felt it shouldn't be too long. A book should be something that people can read in a couple of days.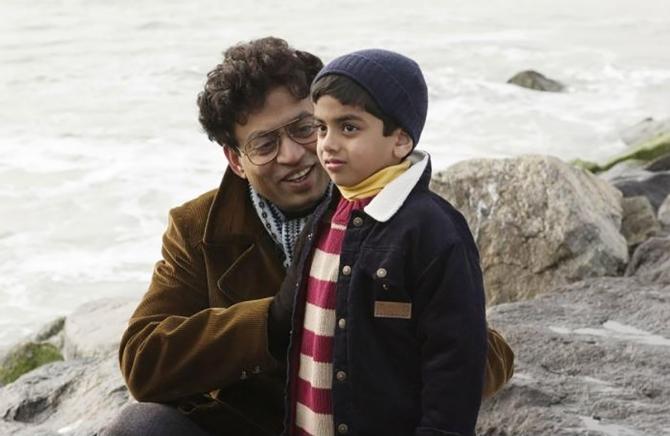 Who is your all time favourite actor?
That's difficult because there are memories with each one.
I am very emotional about Irrfan, not just for the person that he is, but for his performances too.
Even today, that scene in The Namesake where he takes Gogol to where the ocean ends, and says, 'Oh, we have forgotten the camera.'
And then he tells his son, 'You have to keep it in your memory.'
That's my favourite scene.
These are things only Irrfan could have done.
I don't see it as my favourite actor. I always try to see it as my favourite movie of this person.
I'll always remember Irrfan for The Namesake.
I'll always remember Shah Rukh for Dilwale Dulhaniya Le Jayenge because it brings a smile to my face.
I'll always remember Salman in the first Dabangg because he made me want to get up and celebrate.
Guru Dutt for Pyaasa or Sahab Biwi Ghulam, Dadamoni for Kismet, Sangram, Kanoon...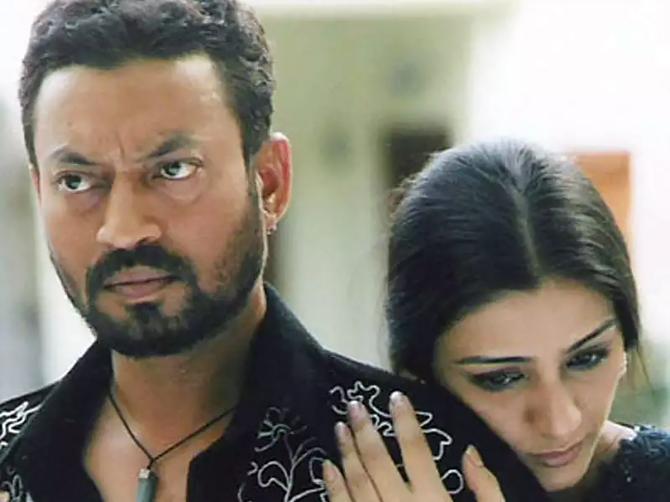 It's interesting to see that you have used a song to define every star. How did you decide on the songs?
It was Rudra's idea. He felt we should choose a song that defines not just the actor's personality but also what I have written.
It should be like a window to the chapter.
For Irrfan, I picked up the Rone Do song from Maqbool even though it's not so well known.
I was very emotional at that time, and it was written in that frame of mind.
A lot of people have told me that the Irrfan chapter is very emotional.
With Irrfan, it was never an interview.
He would call unless he was in a rush.
And if he was in a rush or if he was in a bad mood, it was very rare to get anything out of him.
I used to enjoy talking to him and at the end of it, sometimes I would realise that we had not spoken about the film that was coming out. We were just chatting about life.
I knew he was unwell.
I knew that things were not going well but there was always that hope, especially after the last time he sent his answers to my questions. It was actually a letter I had written to him and he replied.
I felt he may come back.
I felt I had to make the fish curry and feed him.
And suddenly, when I heard about it (his death), I was shocked.
The previous night, someone had called and told me that he was not well.
For some reason, I didn't sleep that night. My daughter had some issues, so I was up with her. So we watched a movie.
After the news (of his death) came, I couldn't stop crying.
I was working with Mumbai Mirror and somebody else was writing the obituary.
I asked my younger colleagues to ask people for their tributes and then Nikkhil Advani called me and asked why I wasn't asking him about Irrfan.
I said that I just couldn't get myself to do it.
I had never been so emotional but that day. I don't know why.
The next morning, I open the papers, and there were so many obituaries. But I couldn't make myself to read any of it.
I wrote the Irrfan chapter in three days, and sent it without too much of editing or thinking.
It's my special chapter; it's very personal.