With Jodhaa Akbar ready to roll out across over 1,200 theatres worldwide -- at least 125 of them in North America -- distributor and co-producer UTV expects another breakthrough hit. For UTV Chairman Ronnie Screwvala, there cannot be any real business without calculated risks.
Screwvala is emerging as the first India-based film producer to co-produce films in Hollywood with film companies associated with Sony and Fox Searchlight.
In India, he is steadily emerging as a producer with rare vision, courage and success. 'He is 'the frontrunner in the race to become Bollywood's Jack Warner -- the man who transformed parochial American cinema into its modern global form,' declared Newsweek recently.
In June, Screwvala's biggest Hollywood venture yet, the sci-fi film The Happening, directed by M Night Shyamalan, will roll out to more than 2500 theatres in North America. 
What is special about Jodhaa Akbar?
It is a visually stunning and superbly directed film about a little known aspect of Indian history. People know of Akbar, his rebellious son and Anarkali. People also know that Jodhaa was a Rajput wife of Akbar. But how many of us have known this great love story and the mystical bond between the two?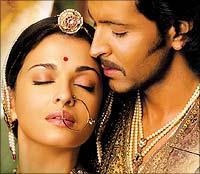 Some people may say this is a period film, this is history and it may not be exciting...
The story of the film takes place in the 16th century but the film feels like a contemporary movie. It is a love story for our times. It was left to Ashutosh Gowariker to make a film of such huge magnitude and intensity that future generations may speak of Jodhaa and Akbar in the same breath they would talk about Akbar's rebellious son Salim and Anarkali, the dancing girl.
What is the buzz for the movie like?
I feel there is tremendous excitement for this film and for good reasons. Those who have seen the previews know they have glimpsed something unseen in Indian films. The word is out that the scale on which this film has been made is unprecedented. It is also Hrithik Roshan's first film in a year, and the audiences are expecting an excellent on screen chemistry between Aishwarya Rai Bachchan (Jodhaa) and Hrithik (Akbar). And people expect Ashu to have made a film even more engrossing and timely than his best work to date, Lagaan.
But the film also runs more than three hours...
It has so much of intrigue and drama, apart from romance, that there would not be any dull moment in it. What is Ashu excellent is at telling a beautiful story while the spectacle unfolds and the screen is filled with great visuals and that is the biggest strength of the film.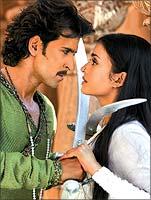 Why will the film resonate with audiences today?
One of the reasons, we expect the film to reach wide audiences is due to the important fact that it is more of a love story than a historical film. It is not what you think as a traditional period or historical film. History serves as a backdrop to tell a marvelous story that looks not only at an unusual alliance between Jodhaa and Akbar but also at the religious, cultural and political issues of the times.
What would be some of the issues it addresses?
The film also deals with the issue of arranged marriage. Arranged marriages are quite common across India even today but how many of them are successful like that of Jodhaa and Akbar? The film could ignite new discussions about arranged marriages and love marriages. We expect people to come out of the screenings, talking a lot about the old times and their own lives.
There will be a lot of curiosity how the film opens.
I feel it is not going to be a two or three week phenomenon. It could become a long running hit.
What kind of repeat value does the film have?
We expect people to enjoy the spectacle and romance the first time they see the film. But we also expect many to return to the theatres a few days later to get more of the story, character developments and various underlying themes of the film.
Such things happen in the case of literary mystery books. People rush through the book for the suspense and then return to enjoy its language.
Certainly. Among the many films we have released some have had strong repeat audiences. Rang De Basanti was one. And I expect a similar reaction to Jodhaa Akbar, too.
Who would be the audience for Jodhaa Akbar abroad?
It will be playing primarily in the Diaspora market. But I would not be surprised if the word about the film gets out, and there would be some crossover audiences. It has the scale and appeal of a mainstream Hollywood film.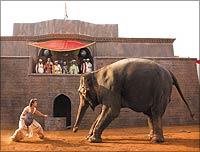 You have produced films like Jodhaa Akbar, The Namesake, Life In A... Metro and Rang De Basanti that many others would have shunned or considered risky.
These are calculated risks. Once we are convinced -- and a lot depends on the script and the commitment of the director -- we greenlight the project within a few days. When Anurag Basu came to us with the proposal for Life In A ...Metro, we liked the concept immediately. I was fascinated that a band would be featured in the film and it would be used to propel the story. The gut feeling worked out to be true.
What would you tell younger filmmakers who are planning to produce or direct a film?
Always remember this: Filmmaking is not for the faint-hearted
You also sign a director to one or more films...
If I am convinced that the director I have signed -- whether a newcomer or a veteran -- is passionate about the project and is capable of streamlined production, it makes sense to have a bond that goes beyond one film. And that is why when Anurag Basu came to us with the idea of making Metro, I said, let us make more films with him.
Rakeysh Omprakash Mehra following Rang De Basanti is working on Dilli 6 and we are distributing the new film, too.  We have made two films with Ashutosh Gowariker, Swades and Jodhaa Akbar. We released Aamir Khan's Taare Zameen Par. We are also releasing his next film as a producer though he is not in it; he did not direct it either.
Some directors including Basu and Mehra had made films which weren't successful before they approached UTV.
That tells something about the UTV philosophy. We don't really look at the past. Everything depends on the filmmaker's concept, script and commitment. 
When someone like Mira Nair approaches with you with a project like The Namesake, which is based on a well-known book, do you make time to read the book?
I read the book, and, of course, I read the script. I have been telling those who had the fear that Mira may not do justice to the novel to see the film and read the book again or read it for the first time. I am sure you will end up appreciating the film better.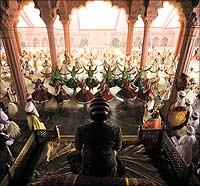 If you were to say in a few sentences what the driving philosophy behind UTV movies is...
We have made films that are beyond the song and dance routine. There are, of course, songs and dances in our films but they are truly situational and propel the story. We don't care for films which have songs for the sake of having them. We are looking at the bigger picture. And we are interested in being world players. Apart from the film projects we have signed with the production company of Will Smith and Chris Rock, we are also co-producing Night Shyamalan's film, The Happening.
You have often talked about transparency in business.
This is very important to me, and a small measure of this is reflected in the box-office grosses we put out, especially in North America and the United Kingdom, week after week. Just as Hollywood studios release the box-office information each weekend, we too do so, whether a film is a success or not.
Only a few movie companies in India seem to have your business concept when it comes to transparency.
There are good reasons for that kind of a business. Many films were -- and still are -- produced by family concerns. They looked at it as a cash flow business. We never really realise whether a film had made money or not because of lack of transparency. But at UTV we look at the films as a profit and loss business. We want accountability at every stage of the production and distribution.
You started your Hollywood career with a relatively low budget film, co-producing a Chris Rock comedy, I Think I Love My Wife (reportedly costing $12 million).
We are moving towards bigger budget films, too. We are clear on where we want to go. Our ambition is to be a global Indian entertainment company. And I don't see any reason why we can't make big-budget Hollywood films.
Do you think the kind of deals you are forging in Hollywood would have been possible two decades ago? You would have been expected to spend many months living in London or Hollywood then...
This is the age of globalisation. I come to Hollywood several times in a year. But given the rapid communication modes today, a lot of business can be done with Hollywood while one is in Bombay.