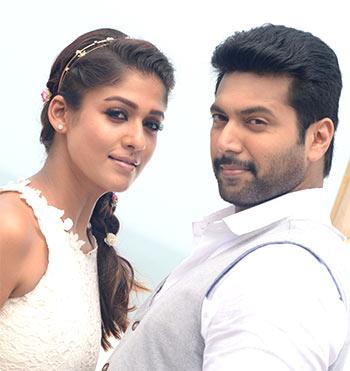 Tamil film Thani Oruvan is perfectly executed, says S Saraswathi.
Director M Raja, who is known for remakes with his younger brother Jayam Ravi, has finally come up with an original script.

And it is brilliant.

The young director has made a highly intelligent, racy and well-polished script that is perfectly executed.

Thoughtfully etched-out characters add depth and intensity to the narration, while great music and impressive cinematography enhance the overall experience.

At the core, the film has characters you are very familiar with -- an honest cop, loyal friends, a powerful billionaire, corrupt politicians and of course their hired henchmen.

Jayam Ravi essays the role of the patriotic and sincere cop, Mithran, who is supported by his like-minded friends played by Ganesh Venkatraman, Harish Uthaman, Sricharan and Saiju Kurup.

Raja has done away with the dramatic entry for the hero, drawing attention to the villain instead.

The heartthrob of the 90s and hero of Mani Ratnam's Roja, the irresistible Arvind Swamy has been roped in to play the antagonist, Siddharth Abhimanyu.

Mithran's investigations reveal that Siddharth is the brain behind most of the medical and pharmaceutical fraud happening in the country.

An exceptional scientist, Siddharth is against the government's efforts to bring more generic medicines into the local market.

Mithran makes it is his mission to take down Siddharth and destroy his operations.

Thus begins the battle of brains, wit and power between Mithran and Siddharth.

Exuding charm and style with an air of subtle menace, Arvind Swamy, as the bad guy, is impossible to hate. He appears to be the perfect foil for the solid and dependable Jayam Ravi, who effortlessly slips into the role that seems to be tailor made for him.

The crowds cheered just as enthusiastically for both the characters.

The gorgeous Nayanthara adds some lighthearted fun to the narrative with her spontaneity. The others in the cast are equally impressive. Thambi Ramaiah as the timid and terrified father of Arvind

Swamy is truly a revelation and does deserve a special mention. But Hindi actress Mugdha Godse, who has been paired opposite Arvind Swamy has not much to do.

Music by Hip Hop Tamizha Adhi adds to the excitement of the narration, while deft camerawork by Ramji maintains the edginess keeping you totally hooked to the screen.

Despite the technical brilliance and the outstanding performances, it is undoubtedly the clever writing, great characterization and flawless execution by the director that deserves all the credit.

The film does revolve around the age-old conflict between good versus evil, but the contemporary twist to this slick and stylish racy thriller takes it to a whole new level.

Director M Raja's Thani Oruvan is definitely a must watch.
Rediff Rating: