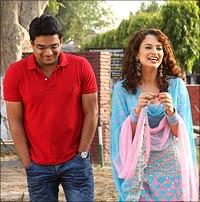 Sukanya Verma reviews Tanu Weds Manu. Post YOUR reviews here!

A London-based Delhi boy and his family arrive at a Kanpur household kicking off a vibrant ruckus of prattle and curiosity.

Following a black eye fix from a local ruffian at the railway station, the jittery visitor and Co. lose some of their inhibitions after they're greeted by a naked tot waving at them with a cutesy, 'Aaiye, aaiye.'  Meanwhile, the typically enthusiastic hosts indulge them with obligatory chit-chat and (presumably) Thaggu's ladoos.

The vocabulary, disposition, sensibility, camaraderie and milieu is fond, familiar and stems from a classic set-up in upper middle-class, non-cosmopolitan North India; all these elements composite into giving director Aanand L Rai's Tanu Weds Manu, travelling to and fro between Delhi, Kanpur, Lucknow and Kapurthala, a sense of accessibility and realism.

What ensues after the afore-mentioned scene is, however, not a commonplace eventuality. Although it's a routine arranged marriage layout for boy-meets-girl, the lady in question, is no Geet or Simran.

A quirky creature with a picture of Argentine revolutionary Che Guevara in her bedroom, Tanu (Kangna Ranaut) is the kind of girl with no real focus, only cosmetic aggression. Although she's educated, her idea of liberation is hollow rebellion -- hanging out with crooked fellas, drinking, smoking, occasionally swearing -- which gets all the more highlighted because her parents appear to be exceptionally accommodating.

For all her care-a-damn attitude, Tanu, just like her fierce curls and gentle countenance, is a fascinating paradox hopping between edgy and erratic, a soft head who sulks randomly, giggles comically, indulges in all possible shock tactics but ultimately does think there's not much difference between her and a 'bandariya.'

There's a thin line between silly and stupid but Kangna Ranaut makes Tanu work with her chirpy appeal and energy. Not really known for dialogue delivery, Ranaut uses her lumbering tongue to Tanu's advantage lending the rom-com some added lightness.

Then there's Manu (R Madhavan). Manu, like Mohan Bhargav of Swades, is exactly the kind of too-good-to-be-true guy for whom terms like 'instantly likeable' were coined. And Madhavan suits the role to the T. He's perfectly cast as the genial, composed doctor head over heels in love with Ms High Maintenance.

Of course, they're no Joel and Clementine but the disparity is along the same lines. There are more layers to Manu than meet the eye but they're never underlined by writer Himanshu Sharma. Tanu Weds Manu engages best if you can read in between the lines and draw your own sub-text.

Sharma fails to maintain the zing till the very end though. A disappointing, lengthy and gabby third-act makes Tanu Weds Manu's running time of 2 hours and 15 minutes longer than it is. It's a shame for a script that has previously recognized the strength of communicating in silence or subtlety.
Some of the best scenes in the movie do not involve any talking. Rai captures the simplicity of eye contact and an innocuous smile in the scene when Manu helps Tanu pick a pair of earrings or her wedding lehenga. Even the talkie portions are on the crisp, terse side before Jimmy Shergill comes in to spoil the party and go on and on about what a threat he is. That last scene could have simply done away with all that filmi bak bak. Jimmy's verbal shimmy aside, Tanu Weds Manu is a pleasant experience for most part.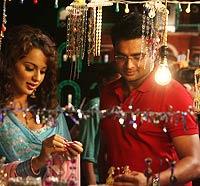 Wedding celebrations often make for a dazzling backdrop in romantic capers, be it Hum Aapke Hain Koun..! or Band Baaja Baarat. Tanu Weds Manu, too, employs the joie de vivre vibe to create resplendent song and dance spectacle with much help from Krsna's effervescent score ranging from thumping bhangra to rousing Sufi.
Besides its two titular characters, Tanu Weds Manu is blessed with an almost flawless supporting cast of actors like Deepak Dobriyal as Manu's fretful, fast-talking pal, Pappi. He's especially droll in the Jai Mata Di sequence while haggling with a utility services attendant. On Tanu's side, you sit up and take notice of Swara Bhaskar as her blunt and plucky BFF alongside Eijaz Khan as her fiery 'n' fun groom. Reliable veterans like K K Raina, Rajendra Gupta and Navni Parihar competently fill in the shoes of Tanu and Manu's concerned yet harmless parents.
In a candid moment, Manu's father tells Pappi that he'll be happy if his son gets married and settles down but even if he chooses not to, 'Main apne ghar mein khushi se baitha hoon.' That's Tanu Weds Manu for you. It doesn't take offense at anything but will charm you anyway.
Rediff Rating: