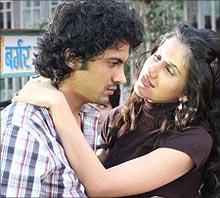 Shaikh Ayaz feels Pyar Ka Punchnama is half-way funny but could have done better with some editing. Post YOUR reviews here!

Women are bitches and men are dogs. That's the unapologetic tagline of this adult comedy featuring a bunch of newcomers you feel you know but cannot recognise.

There isn't much sexual content in this film; just jokes and jibes at sex. So don't go looking for anything provocative.

First-time director Luv Ranjan sticks to the tried and tested formula of friends, fun and Goa weekends in Pyaar Ka Punchnama.

The first half hour or so of the film depicts the bachelor life: messy living space, clothes strewn around and each one of the three boys taking their turns at domestic chores. They are, at least in the beginning, united by a lack of romance in their lives.
When they do get involved in relationships, things take a complicated turn and it prompts one of them to reflect later, 'A happy woman is a myth. Sab saala na kahaaniyon ka dosh hai.. bloody Bollywood romantic masala.. ek ladka ek ladki.. donon ko pyaar hua .. donon saath saath.. film khatam.'

Liquid (Divyendu Sharma), Rajat (Kartikeya Tiwari) and Chaudhary (Rayo Bhakirta) are flat-mates, beset with a life without girls. Rajat breaks the jinx by striking up friendship with Neha (Nushrat Bharucha). Soon they end up as lovers and start living-in, causing awkward moments for the flat-mates.
But it makes Liquid and Chaudhary set out to explore possibilities of a relationship. However, theirs proves to be a little tricky.
Liquid loves his colleague Charu (Ishita Sharma) but she merely uses him to serve a purpose while Chaudhary is quietly smitten by Ria (Sonalli Sehgal) who's going through an on-off affair with another man.

At first glance, Pyaar Ka Punchnama looks like a younger version of Dil Toh Baccha Hai Ji. As it progresses, you realise it has elements borrowed from films ranging from American Pie to Masti and Kya Kool Hai Hum.
What saves the film from falling off the rails are the genuine comic touches in parts and an assured performance by most of its cast. The youngsters, especially Divyendu, Kartikeya and Ishita, inject fresh energy and buoyancy into the proceedings.
Kartikeya's bursting soliloquy on why women are the way they are and can never be understood, is riotously funny. Just a quick observation: with his hairdo and mannerisms Kartikeya looks like he is, maybe unconsciously, aping Ranveer Singh who in turn has modelled himself on Shah Rukh Khan; and Divyendu sounds a lot like Shahid Kapur.

To be fair, Pyaar Ka Punchnama is half-way funny but soon descends into a running commentary on why relationships with women are impossible and eventually wends its way to a very implausible end. It could have definitely done with some editing.

If it were crisper, with more thought put into its script, situations and dialogue, Pyaar Ka Punchnama would have made the cut.

Rediff Rating: