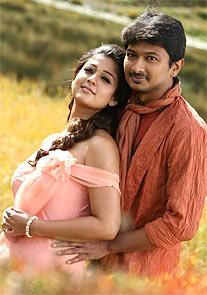 Director S. R. Prabhakaran's Ithu Kathirvelan Kadhal starring Udhayanidhi and Nayanthara is a simple love story with a good mix of romance, comedy and sentiment, writes S Saraswathi.
As the title of the film suggests, Ithu Kathirvelan Kadhal is Kathirvelan's (Udhayanidhi Stalin) love story, and very aptly the film gets a Valentine's Day release.
This is Udhayanidhi's second film as hero after Oru Kal Oru Kannadi, which was a huge hit. Incidentally, this is also the second venture for Director S R Prabhakaran, whose debut film Sundarapandian was a smash hit and went on to successfully complete the 100-day run at the box-office.
Produced by Udhayanidhi himself under the banner of Red Giant Movies, the film features Nayantara as the female lead supported by Santhanam, Sunder Ramu, Chaya Singh, and Saranya Ponvannan.
A staunch devotee of Lord Hanuman, Kathirvelan is totally against marriage and romance. But one glimpse of the lovely Pavithra (Nayanthara) and Kathir falls deeply in love.
Pavithra, however, has feeling for Gowtham (Sunder Ramu), a long-time friend, and frankly discloses this to Kathir.
Though Goutham has been pursuing Pavithra for over a year now, he is not in love with her. He just plans to have a good time and then move on.
Kathir overhears Gowtham bragging about his so-called conquest to a friend in a restaurant. Kathir tries to warn Pavithra, but she does not believe him and tells him to stay out of her life.
So what happens to Kathirvelan's love now? Is he destined to remain a Hanuman devotee forever?
Though the main focus of the film is the love story between Kathir and Pavithra, the supporting cast has a substantial role to play.
There is the love story of Kathir's sister, played by Chaya Singh. Aadukalam Naren is the strict, angry father, who disowns his daughter for falling in love. Saranya Ponvannan, as usual, is the perfect, loving and supportive mother, and her character makes you smile.
Jayaprakash and Vanitha are Pavithra's parents. And not to forget, Santhanam, the ever-present friend for all seasons, and his brilliant schemes to bring the couple together.
Despite her de-glam avatar, Nayanthara looks sensational and has given an impressive performance. Udhayanidhi too seems to have made a conscious effort to underplay his character, a welcome change from his overdramatic antics in OKOK.
Music by Harris Jayaraj is quite pleasant and the film has a couple of beautiful melodies that have been filmed in some exotic locations. The placement of the songs, however, does leave much to be desired.
Visually, the film is appealing and cinematographer Balasubramaniem has captured some beautiful moments with his camera.
Director S R Prabhakaran has kept the story of Ithu Kathirvelan Kadhal exceedingly simple. Though there are several dramatic twists, nothing goes wrong or escalates into a major disaster; everything seems too perfect to be true.
Ithu Kathirvelan Kadhal is your everyday love story, made special by its simplicity, the well-chosen characters, some good dialogues, commendable performances and excellent music.
The director also manages to put across an important message for both lovers and parents in an extremely palatable manner.
Though nothing extraordinary, the film makes a good Valentine's Day watch.
Rediff Rating: