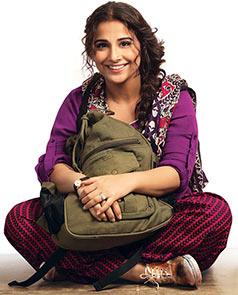 Though Bobby Jasoos ends on a decent note, one expected a better album, writes Joginder Tuteja.
Composer Shantanu Moitra scores the music for Vidya Balan-starrer Bobby Jasoos. Interestingly, he had composed the music for Vidya's first film Parineeta as well as her biggest career hit, Lage Raho Munnabhai. Will he prove lucky for her this time as well? Lets wait and watch.
The Bobby Jasoos album begins with Shreya Ghosal's Jashn. It has the trademark sound of Shantanu Moitra as this quick-fire song celebrates life.
There are a few Bengali elements. Overall, the song -- which also features Bonnie Chakraborty -- is average.
Shreya Ghosal gets her second song in a row with Papon in the romantic Tu. The song's start reminds is reminiscent of a nursery rhyme. The moment Papon comes in, it sounds like a ghazal.
The song just about passes muster.
There is a 'reprise version' that comes later, though one still waits to hear what else Shantanu and Swanand have to offer.
The title song B.O.B.B comes next. It has Sherlock Holmes, James Bond, computers and everything else coming together to hail the brilliant mind and jasoosi of Bobby Jasoos.
Neeraj Sridhar tries to enliven the mood with his spirited singing, which is heard at multiple points in the film.
There is a chorus of Deepti Rege, Mayuri Patwardhan, Aparna Ullal and Archana Gore in the background. The overall sound is very 1980s, which is not a heartening sign.
The album concludes with Sweety, with Aishwarya Nigam. The (male) singer is in a full-spirited andaaz and actually makes Sweety a pleasant number.
Though it is reminiscent of the 1980s, it is better than what one has heard so far.
Monali Thakur joins in and adds to the appeal of this foot tapping, happy number.
Though Bobby Jasoos ends on a decent note, one expected a better album.
Rediff Rating: