'He was extremely gentle, humble, soft-spoken, down to earth, giving respect to senior musicians as well as to budding ones.'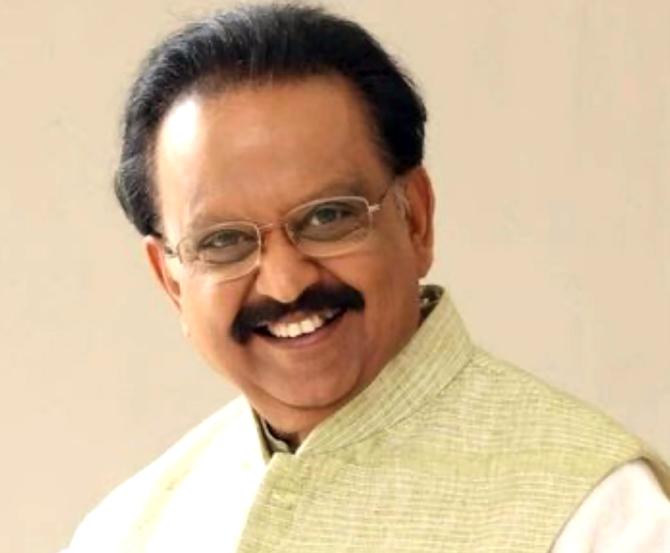 Mahalakshmi Iyer sang several songs with the late S P Balasubrahmanyam and also went on concert tours with the legend.
"His professionalism and his singing ability was just unbelievable. His range, his vocals was just magical," Mahalakshmi tells Rediff.com Senior Contributor Radhika Rajamani.
Can you tell us about your first experience singing with S P Balasubrahmanyam?
Velli Malare was my first song in Tamil with SPB Sir.
We didn't record it together.
I had recorded my portions and later, he did it in (A R) Rahman sir's studio.
I was not even aware of who was singing the male portions.
I had recorded some other songs for Rahman sir, and the next day when I went back to the studio, he asked me to record one more song. This was Velli Malare. I sang it and came back.
Only when it was on the verge of release did I realise that I had sung with SPB sir.
So there was absolutely no interaction with SPB at that time...
No, not at all.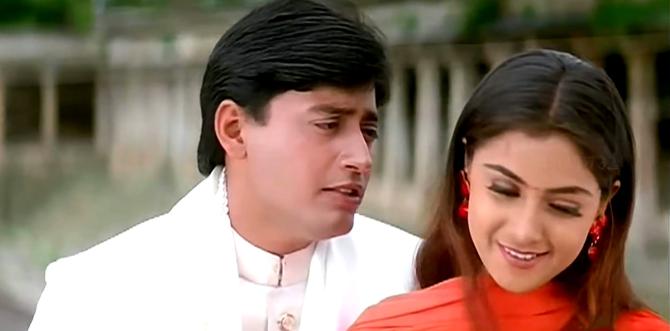 Subsequently, you sang other songs with him. You also sang the Telugu song Chilakamma...
Yes. I also sang Kaathal Aararo in Tamil and a couple of more Telugu songs.
Unfortunately, I never met SPB sir during any of the recordings of the songs I had sung with him.
My first-ever meeting of SPB sir is crystal clear. The first song I recorded for a Tamil film was Poonthottam for Raja sir (Ilayaraja).
Raja sir called me to Chennai.
I was sitting alone in the monitor room.
Suddenly, Raja sir walked in with the producers and musicians and they chatted with each other.
When I introduced myself to Raja sir, he said, of course I know you, that's why I called you.
We had done a Hindi song in Mumbai for the Miss World pageant, organised by ABCL.
I was stunned.
Then Raja sir looked beyond the monitor room into the recording booth and spoke to someone.
I turned and saw SPB sir standing before the mike ready to record.
They spoke in Telugu as they had to record a Telugu song.
SPB sir recorded in less than 20 minutes, like a breeze. For me, that was even more nerve-racking.
I saw the kind of precision and singing in SPB sir as he finished the song. Then he came and chatted with Raja sir.
Everyone left and I was sitting in the studio absolutely gobsmacked -- this is the level of singing.
It was unbelievable.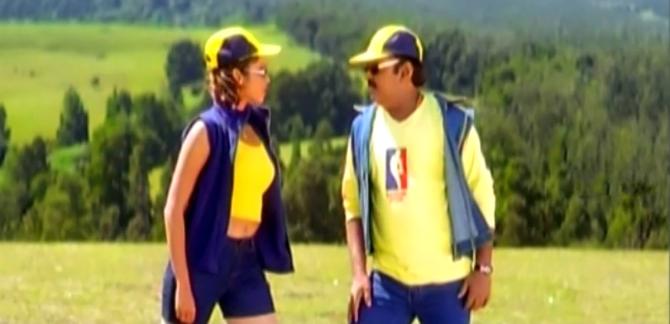 You didn't really interact with him at that point at all?
No. Like anybody else, I was just sitting there, looking at him.
I couldn't even muster up the courage to go across and introduce myself.
It all happened in a flash. That's how I remember SPB sir.
I think on A R Rahman's tour you sang with SPB sir...
Yes, that was when I first met him a few years later. I saw him in flesh and blood in front of me.
We were in Kolkata for the first concert of the tour.
We were sitting in the hotel lobby waiting to go to the venue and SPB sir walked in.
I took a minute to just look at him and finally introduced myself. That's when he got to know who I was and the song that I had sung.
Of course, I had mentioned I had sung a couple of songs with him.
That's when I interacted with him for the first time.
Did you interact with him on the tour?
Oh yes! It was a long tour of a month-and-a-half.
There were four-five concerts in India and then we went to the US and Canada.
We got a lot of opportunities during the concerts. In a US tour, one had to sit at the airports for a long time.
I got to see the other side of SPB sir when India was playing the World Cup final.
I saw SPB sir watching the match, talking about cricket and other things.
It went on into the wee hours... well beyond 4 am.
We sat there and spoke.
SPB sir regaled us with anecdotes about his recording days and how he was recording with Raja sir, his experiences with the Mumbai film industry, songs he recorded with Laxmikant-Pyarelal and his interaction with Panchamda (R D Burman).
It was amazing to spend that much time with this legend.
Sonu Nigam, Hariharanji, Shankar Mahadevan and Udit (Narayan) sir were all part of the tour.
We would sit and ask SPB sir questions.
Any interesting incidents that you remember about him?
I was a newcomer and the Rahman tour was a big deal for me.
All the singers I mentioned were performing.
I was sharing stage with the biggest of the stars of Bollywood and Kollywood.
I remember once we were standing backstage. I had to sing the Roja song with SPB sir.
He came and stood next to me and showed me an in-ear -- a device we wear inside the ear to hear the music. It is like a mini speaker in your ears.
He told me, 'You should get one of these for yourself.'
He said that with that, the music goes right into your ears. You will not hear any external noise.
I said okay sir.
Then he said, if nothing else, you can confidently sing besura!
We laughed about it.
He had a great sense of humour.
I remember quite a few occasions when he would say something with his subtle dry humour.
SPB sir was a board member of the Music Singers Association.
He would come all the way to Mumbai to attend the AGM and the board meetings.
He was a stickler for punctuality.
If the meeting was at 3 pm, he would be in his seat at 2.50 pm.
There was so much to learn from him.
He was soft-spoken, gentle, to the point.
If there was someone to thank for, he would do so profusely saying that it is because of your efforts that this could happen.
His persona was so interesting, so humble and so giving.
Even during the meetings, we would have chats where Suresh Wadkarji would talk about some musician and SPB sir would exchange notes with him about songs.
It was fascinating for me.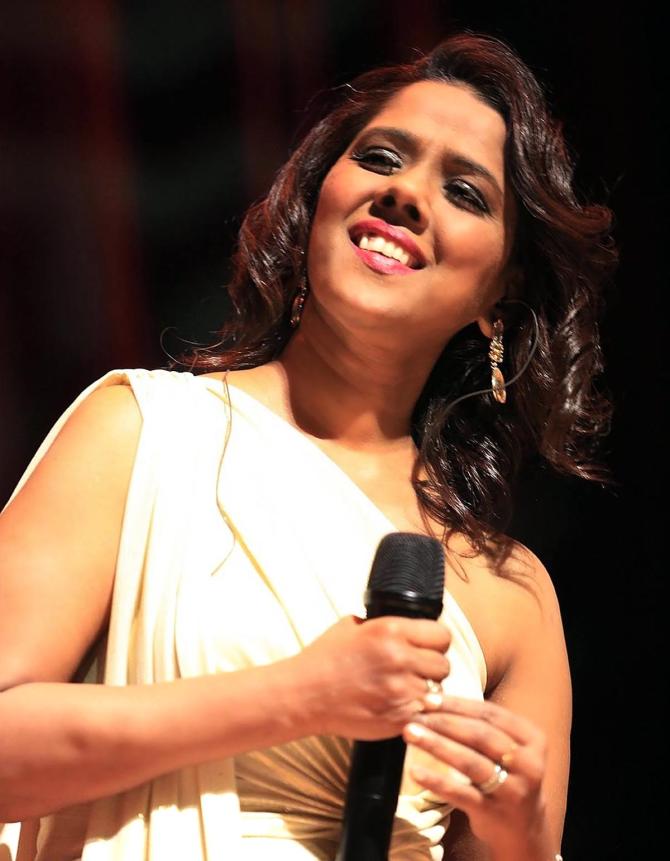 What more did you learn from him?
His professionalism, his dedication, his craft, his interaction with the audience -- he would effortlessly switch from Tamil to Telugu in the same song, line by line.
When we were in Hyderabad, he sang it in Telugu. When we were in Chennai, we sang it in Tamil. In Mumbai, he sang it in Hindi.
When we toured abroad, it was not easy to sing the song twice, but he tried to give as much to his audience.
He would sing one line in Hindi and then the second in another language.
It was fascinating to see him switch.
His pitching was absolutely perfect concert after concert.
In spite of the tiring tour, you could come to the venue and just look at him and say he looks so fresh.
Immediately, one was inspired to shrug off all the travel weariness and tell oneself you have got to go up and give your best because someone much senior than you is there already.
That kind of professionalism and his singing ability was just unbelievable.
His range, his vocals, the way he would sound in those arenas was just magical.
What did you admire in him?
Everything including his professionalism and his dedication to his craft.
The fact that he sung 40,000 songs!
When he would attend our meetings, he would see to it that he was dot on time.
You know with that kind of person, it would translate into his work ethic also.
If I were to describe him, I would say he was this colossus who was extremely gentle, humble, soft-spoken, down to earth and giving respect to senior musicians as well as to budding ones.
Young budding singers and musicians have told me that he reached out to them and sent a letter of appreciation. That's the kind of person he was.
When did you last meet him?
Less than two months ago.
We had an online meeting because of COVID.
The last I met him in person was in March when we had a meeting of the singers.
We were discussing the COVID situation and he said I have come all the way from Chennai to say that we should go on with our lives.
Later, when we did the meeting online, he inquired how everyone was and asked relevant questions.
We were supposed to do an emergency meeting in the next few weeks and the next we knew was that he had travelled back from somewhere and unfortunately, contracted the virus.