Siva Sankar looks at S P Balasubrahmanyam's fantastic repertoire.
S P Balasubrahmanyam passed away in his 75th year, and so we celebrate the singer with 75 of his top songs, in a multi-part special.
Do Read Part One here.
Now, we present the second part of this special.
26. Anuvu Anuvuna Velasina Deva, Manavudi Danavudu, 1972
Picturised on Sobhan Babu, Sarada, Krishna Kumari and a group of community members.
Lyric: C Narayana Reddy.
Music: Aswatthama.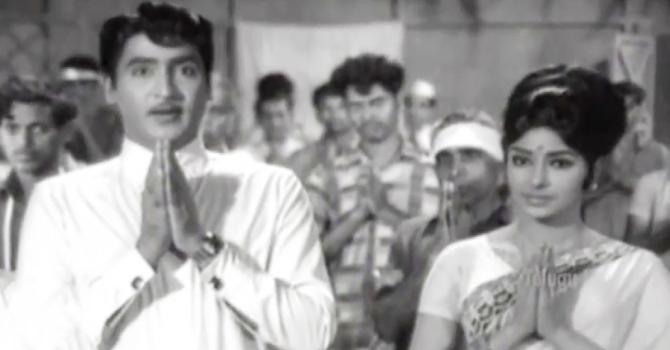 On-screen scenario: A secular prayer meeting at a time of upheaval.
This heart-touching, spirit-uplifting, inspirational solo will make you wonder if it was written, picturised and sung for our COVID times.
Celebrates free will and its potential: the option of goodness, selflessness and doing the right thing at testing times, by invoking and celebrating the Buddha, Jesus, Mohammed, Gandhiji and India's pantheon of great leaders, and, believe it or not, the world's great scientists and researchers who struggled to find vaccines, therapies and medicines for every conceivable disease and disorder.
It's also about the all-pervading Consciousness even at the subatomic level; it's about keeping Faith, a call to toughen up when the going gets tough -- probably worthy of being played now in every hospital, R&D center, pharma company offices, street corner, TV channel, website, app across India.
If an entire nation is mourning Balu this week in spite of the current grim situation, it's probably because of songs like this.
27. Gogulu Pooche , Mutyala Muggu, 1975
Picturised on Sridhar and Sangeeta.
Lyric: C Narayana Reddy.
Music: K V Mahadevan.
On-screen scenario: A newly wed couple in a picturesque, paddy-lush rural area wake up to a serene sunrise and get romantic in a duet in the compound of their mansion.
The lyric celebrates rural female farm hands' enthusiastic approach to hard work and life, and, borrowing from their rustic tune, switches gears to poetry-like similes, comparing sun to the round bindi on the forehead of a lovely face, and so forth.
And Balu's rendition, dripping sugar and honey, is such any married couple would get the underlying message: how a husband's mind responds to the presence of wife in life, and vice-versa; or rather how magic can be created in a marital relationship if harmony, honesty, mutual admiration and sensitivity to nuance are its bedrock.
At the surface level, it's just another piece of good Music for a decent lyric.
But that's never the way a Balu superhit number works. It's mental.
His voice has that free, unrestrained access to the collective subconscious, to nip a doubt or a negative thought in the bud and pre-empt any temptation toward the undesirable. Stated differently, songs like this keep marriages in good repair and divorce rates low.
Isn't that service to society through music?
28. Ide Paata Prati Chota Ilaage Padukuntaanu, Puttinillu Mettinillu, 1973
Picturised on Sobhan Babu.
Lyric: C Narayana Reddy.
Music: Satyam.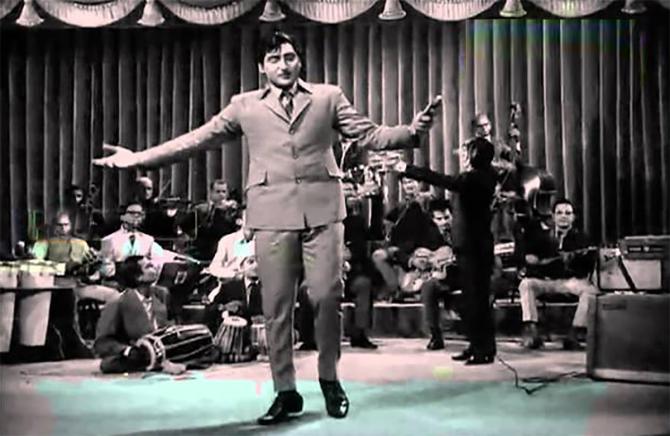 On-screen scenario: A music concert with orchestra on dais (probably the only instance when real-life music director Satyam and his troupe were shown on screen in performance mode).
A solo that belongs to the peculiar Indian musical genre of the guy in love who erupts in indignation and pain at the perceived unfairness or cruelty of his muse/God/life. Think Kumar Sanu's Ab Tere Bin Jee Lenge Hum in Aashiqui.
Balu's voice, as harnessed by Satyam, underlines the felicity with which Telugu lyricists ferret out amazingly appropriate or matching rhyming words to convey a nuance in a very precise way.
29. Mrogindi Kalyana Veena, Kurukshetram, 1977
Picturised on Krishna and Vijaya Nirmala.
Lyric: C Narayana Reddy.
Music: S. Rajeswara Rao.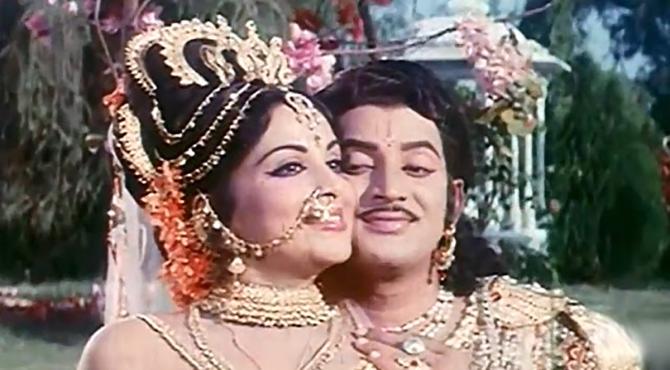 On-screen scenario: Pandavas' Arjun romances his would-be better half Subhadra in a kind of pre-wedding sangeet duet in isolation.
It was a kind of transition period for Telugu cinema in many ways. Colour movies in 70mm/cinemascope were in; old values of clean or uncorrupted entertainment were clashing with modernity's trappings.
This movie in general, and the song in particular, strike a perfect balance, and Balu sets the pace under Rajeswara Rao's masterly classical-modern mélange, demonstrating that new notions of steroid-powered romance and purity of underlying love need not be mutually exclusive.
30. Ravi Varma Ke, Ravanude Ramudaithe?, 1979
Picturised on ANR and Jaya Chitra.
Lyric: Veturi.
Music: G K Venkatesh.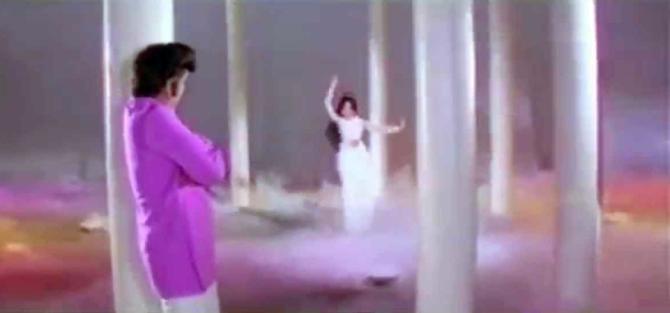 On-screen scenario: The hero goes gaga over his muse in a dream sequence.
The lyric celebrates female anatomy and beauty in a superlative way. And Balu's voice simply worms its way into the lyric and becomes its life-blood, its soul, even as S Janaki's raagas in the background, without a single word, show how an innovative, creative music composer can transform a simple melody into a timeless classic whose every single note remains etched in the neural circuits.
31. Didi Tera Devar Deewana, Hum Aapke Hai Kaun?, 1994
Picturised on Salman Khan, Madhuri Dixit, others.
Lyric: Dev Kohli.
Music: Raamlaxman (aka Laxman aka Vijay Patil).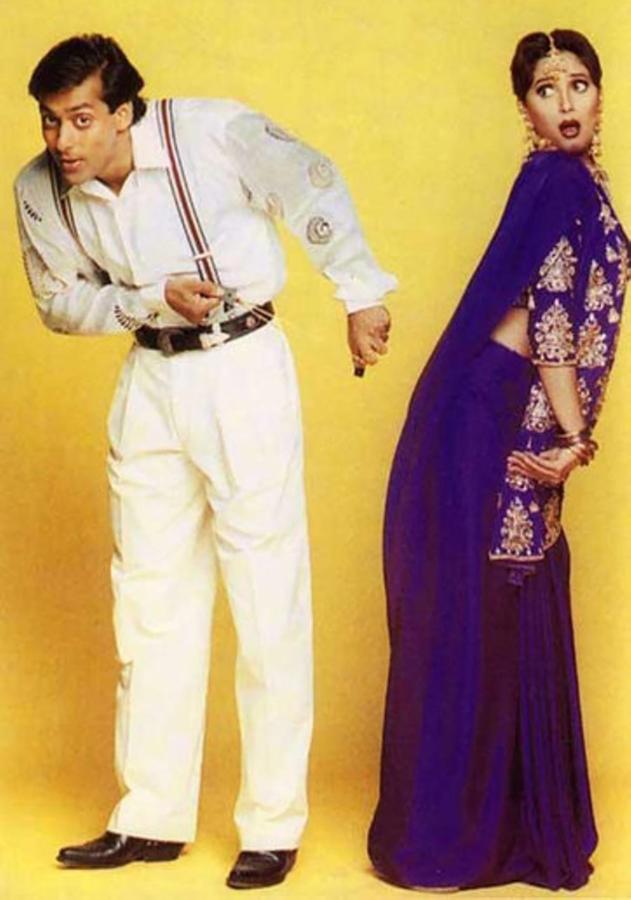 On-screen scenario: Pre-wedding sangeet ceremony.
The breezy eight-minute fun songs coasts on Lata Mangeshkar's silken voice and chorus for the first six minutes, and then Balu's voice explodes on the scene around the sixth minute with Bhabhi Teri Behna Ko Maana (just like Salman Khan does on screen, swinging on the chandelier), and runs away with the number, again in Salman-esque scene-stealing manner. And in saying this, the idea is not to suggest that Balu overshadowed the living legend herself at the mic but that only a singer with supreme ability and extreme confidence can rise to the occasion, without getting overawed by the presence of a giant next to him.
When you hear this number even today, what you see in your mind's eye is Salman's antics.
As Lata herself said in a tribute to Balu: 'When he sang, the world stood still and listened.'
Indeed.
32. Mere Rang Mein Rangne Waali, Maine Pyaar Kiya, 1989
Picturised on Salman Khan and Bhagyashree.
Lyric: Dev Kohli, Asad Bhopali.
Music: Raamlaxman.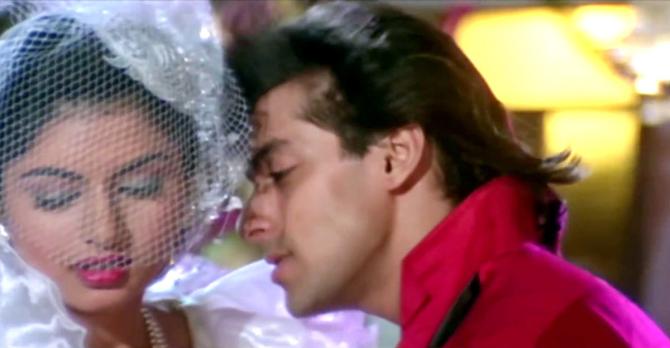 On-screen scenario: Dream sequence of young dancing-singing lovers.
As 1990 approached, the Kali Yug of Indian cinema had truly taken hold with all norms of decency and exposure increasingly getting consigned to the shredder.
I'd like to believe this Balu solo inspired Rajshri Productions to buck the trend and make India pause and think, with the depiction of Salman, in flaming reds, wrapping a silvery shawl around Bhagyashree -- when ripping clothes off female bodies was the trendy on-screen thing to do.
If only more such songs and shots had helped reinforce the message in subsequent years, India probably would not be witnessing a clamor for capital punishment for the meanest, most shocking gender crimes that continue even amid the COVID-19 pandemic.
33. Nanu Nene Marachina Ee Roju, Prema Desam, 1996
Picturised on Abbas, Vineet and Tabu.
Lyric: Bhuvanachandra.
Music: A R Rahman.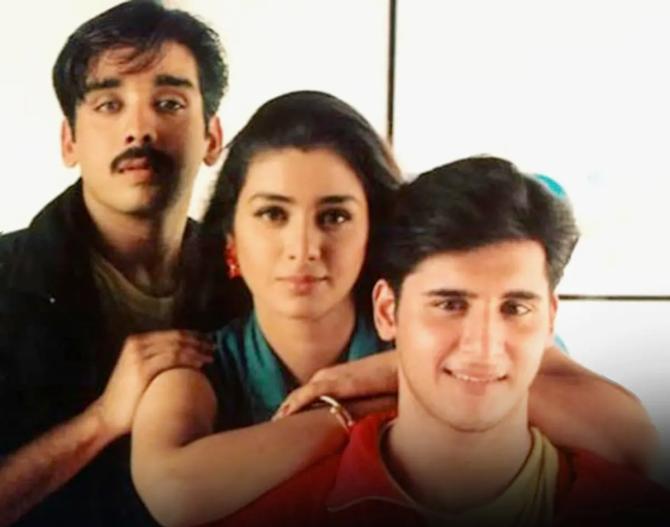 On-screen scenario: A background song over fast-moving shots of Mumbai.
One of my Balu favourites. Remixing, tech and echo effects of Rahman, and brilliant instrumentation, bring an unprecedented dimension to this love solo, an angsty genre Balu excelled at.
34 Jilibili Palakula, Sitara, 1984
Picturised on Suman and Bhanupriya.
Lyric: Veturi.
Music: Ilaiyaraaja.
On-screen scenario: A background love duet.
How does a professional photographer, who helps shape the career of a budding actress and shows her the ropes, and then develops 'feelings' for her, express his love that is bound to be unrequited?
During those days, filmmaker Vamsi, lyricist Veturi, and composer Ilaiyaraaja formed a musical trinity of sorts, with Balu (and Janaki) as the go-to front-end messengers.
With minimal instruments in the background when vocals are on, the novelty of the song caught on.
The melody was on everyone's lips.
35. Chinukula Raali, Naalugu Sthambalata, 1982
Picturised on Naresh, Purnima Jayaram.
Lyric: Veturi.
Music: Rajan-Nagendra.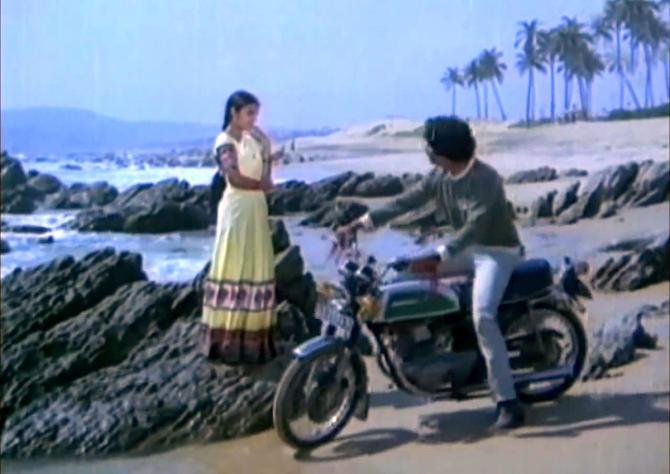 On-screen scenario: A background number showing two city-bred love-birds in various urban and semi-urban settings.
A lyrical celebration of love using various metaphors of Nature -- sea, rivers, floods, birds, seasons, snow, flowers, stems, sky, earth, silence, birdsong, so forth.
The sheer breezy flow, memorable tune, and soulful singing of Balu and Suseela make this duet a gem.
36. Sumam Prati Sumam, Maharshi, 1988
Picturised on Raghava, Shantipriya, and a group of female classical South Indian dancers.
Lyric: Naayani Krishna Murthy.
Music: Ilaiyaraaja.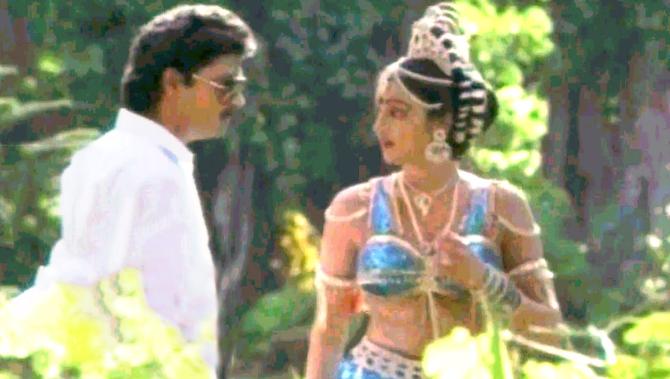 On-screen scenario: Love solo in filmi settings outdoors.
Fusion of Western and Indian classical tunes on instruments, innovative background of Janaki's raagas in the background, and Murthy's evocative poetry full of rhyme, repetitive use of words/phrases, clever alliteration about nature both as a metaphor of, and allusion to, life and love make this a very popular number among Balu's fans.
37. Ennallo Vechina Udayam, Manchi Mitrulu 1969
Picturised on Sobhan Babu and Krishna.
Lyric: C Narayana Reddy.
Music: S Kodandapani.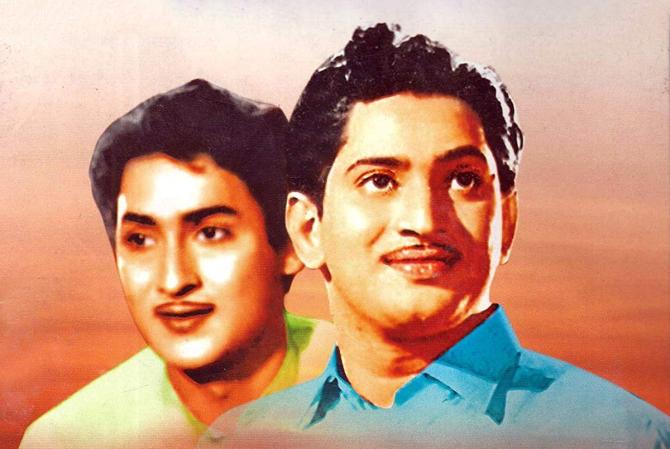 On-screen scenario: Two childhood friends head toward a reunion as adults, having trodden two different paths in life, and eager to share with the other the insights and lessons learned.
The technique of juxtaposition brings home the truths, and lies, of life, with veteran Ghantasala, for once, singing in a not-so-soft manner to embody the idea of negativity and darkness, while Balu sings paeans to the path of righteousness -- and how! A rare, hence precious, number -- collectible.
38. Kurralloy Kurrallu, Andamaina Anubhavam, 1979
Picturised on Kamal Hasan, Rajnikanth, Jaya Prada.
Lyric: Aathreya.
Music: M S Viswanathan.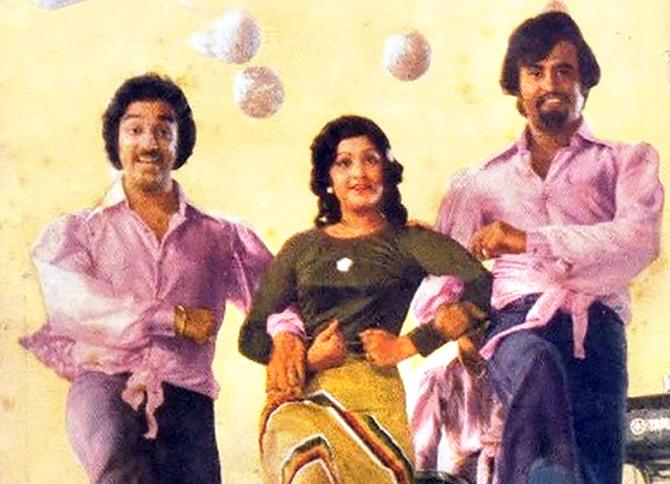 On-screen scenario: Music concert.
A flamboyant number that celebrates youth, its tendency to be defiant, daredevil-like and rebellious.
Lots of English words, and opportunity to yodel in an unrestrained way give the perfect opportunity to Balu to become his irrepressible self at the mic.
It is entirely possible Ilaiyaraaja may have been part of MSV's orchestra for this number.
39. Nenoka Prema Pipasini, Indradhanussu, 1979
Picturised on Krishna and Sarada.
Lyric: Aathreya.
Music: K V Mahadevan.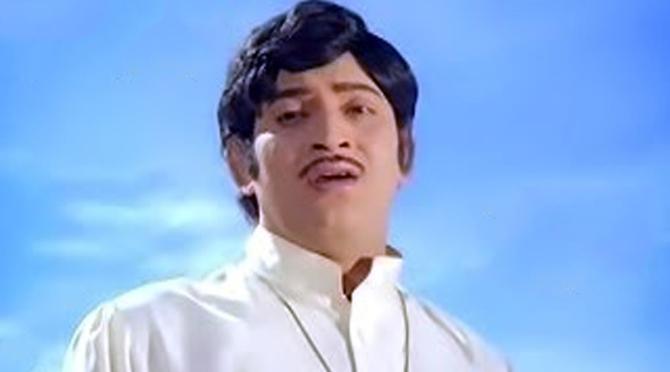 On-screen scenario: The hero, exasperated by the unresponsiveness of his 'heartless' love interest, makes a seemingly final attempt to win her heart.
The intense emotion in Balu's high-pitched singing imparts full charge to the lyric, highlighting the consequences of protracted obstinacy and indifference to the significance of flowing, dynamic time.
It serves as a warning to all lovers, even married couples, not to allow differences of opinion, incompatibility issues and frictions to simmer for long.
Or else...
40. Dehamera Devalayam, Devalayam, 1985
Picturised on Sobhan Babu.
Lyric: Veturi.
Music: Chakravarthi.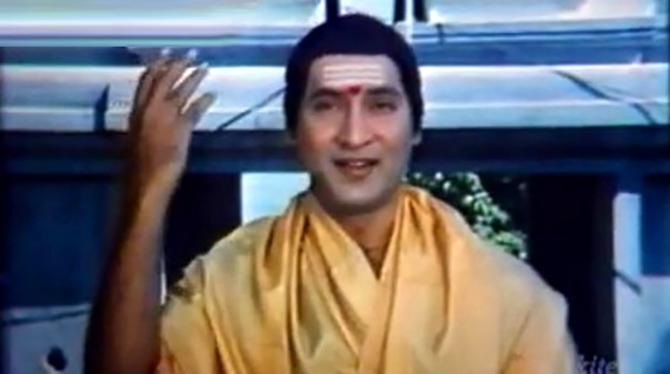 On-screen scenario: A temple priest goes ballistic to denounce superstitions, irrational discrimination, assumed privileges and orthodoxy in society.
Punctuated with Sanskrit verses, this is equivalent of a red-hot music supernova -- blazing in tone, meaning, rhythm and pace.
If you are a Telugu, you don't even need to watch the on-screen drama to get in sync with the high-octane emotional intensity in Balu's voice.
One of the umpteen Balu numbers that make you sit up and take notice. You know he is in his element.
41. Ekkado Dhooraana Kurchunnavu, Devudamma, 1973
Picturised on titles at the beginning of a movie, hence a background song.
Lyric: Rajasri.
Music: Satyam.
Despite its unusual on-screen treatment, the solo is among Balu's evergreen hits.
Sung in the lingo of a common Telugu man, Balu intersperses the song with sardonic laughs or half-chuckles, and gives the listener just the right amount of the medicine of realism, to get on with life, no matter what -- life that the Lyric, with its simplicity and economy of phrase, lucidly delineates as a pack of profound mysteries, conundrums, deceptions, delusions and cruel ironies, scripted by a distant, elusive 'Magician-cum-Puppeteer'.
42. Yaathamesi Thodina Eeru Endadhu, Pranam Khareedu, 1978
Picturised on Kaikala Satyanarayana.
Lyric: Jaalaadhi Rajarao.
Music: Chakravarthy.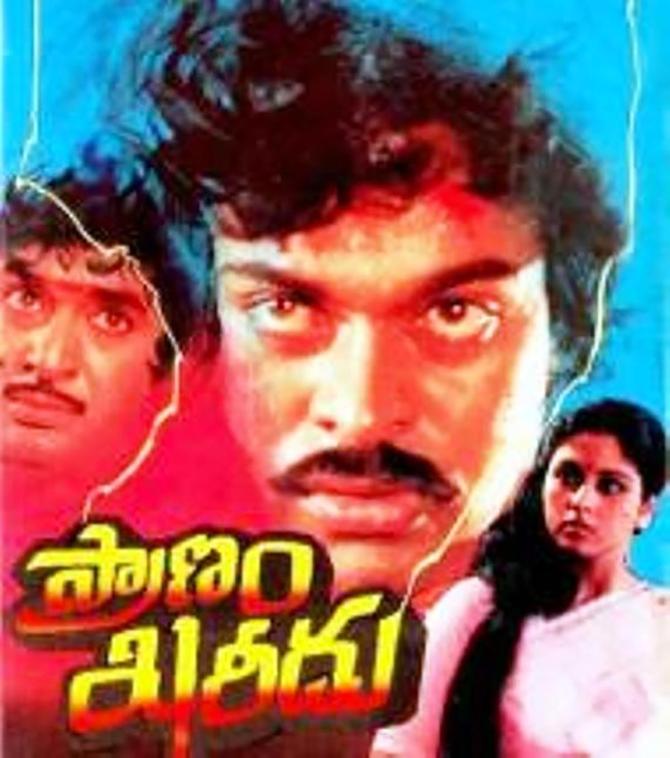 On-screen scenario: An old, wizened rural man rues life's vicissitudes, struggles and paradoxes, and laments casteism, economic inequality, and ill-treatment, exploitation and servitude of women in society.
The lyric fuses chaste Telugu and a dialect of Telangana, and Balu straddles both effortlessly, seamlessly, ensuring the underlying import is not compromised.
43. Induvadana, Challenge, 1984
Picturised on Chiranjeevi and Vijayashanti.
Lyric: Veturi.
Music: Ilaiyaraaja.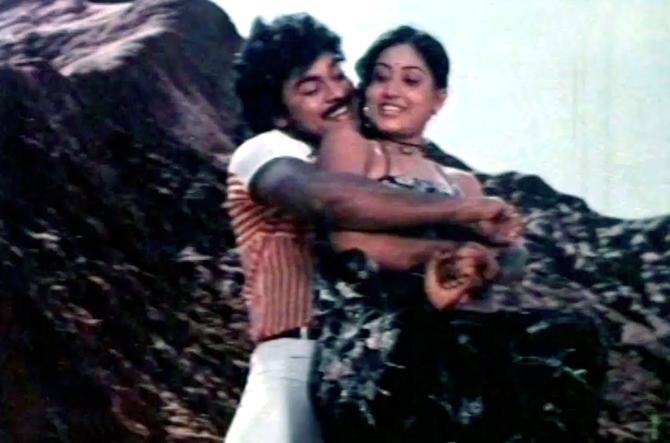 On-screen scenario: Romantic duet.
In Telugu cinema, Veturi-Ilaiyaraaja-Balu (V-I-B) are considered a killer combo that created numerous superhit numbers for Chiranjeevi, often in association with S Janaki.
This song must have been broadcast a million times or more on AIR, Doordarshan, ETV and later on, on other numerous channels, and on every single occasion, it must have received listeners'/viewers' attention, with Ilaiyaraaja's tunes making the chaste Telugu lyric appear as if it's everyday language.
Why, clones on YouTube are dime a dozen.
44. Keeravani, Anveshana, 1985
Picturised on Karthik and Bhanupriya.
Lyric: Veturi.
Music: Ilaiyaraaja.
On-screen scenario: Romantic duet.
Another V-I-B+J gem.
At times, Veturi's lyrics can get, well, lyrical, specially when the situation involves a ravishing female bird-watcher who goes researching in the wilderness, forest areas full of nature and various life forms, and is accosted, teased, and serenaded by her lover. Ilaiyaraaja makes short work of the lyric with his utterly magical composition.
And then, Balu and Janaki take over, redefining 'E = MC-squared', where E is entertainment, M is Musical, and C is Culture (of Telugus).
45. Navvindhi Malle Chenddu, Abhilasha, 1983
Picturised on Chiranjeevi and Radhika.
Lyric: Veturi.
Music: Ilaiyaraaja.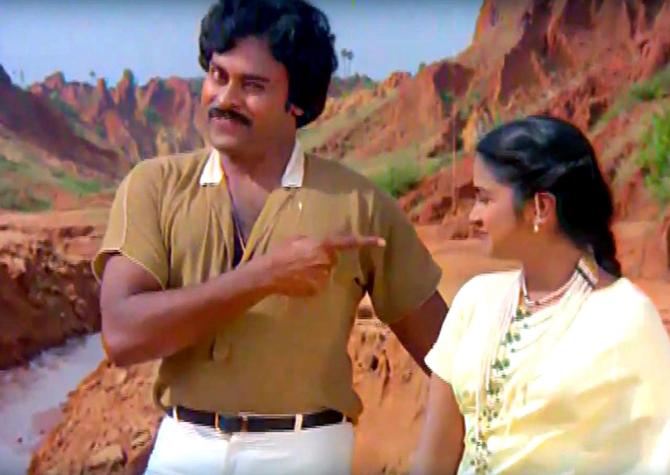 On-screen scenario: Fast-paced, breathless romantic duet.
Yet another V-I-B+J gem -- take that!
This solo (with lots of English/foreign words like Eureka, romance and Janaki's bemused laughter) is utterly, unapologetically, thrillingly raucous.
Balu leaves no stone unturned, and no Musical note unused, to ensure his voice conveys the bristling, energetic effervescence -- think Shammi Yahoo! Kapoor -- that Chiranjeevi radiated in his action-packed dance numbers.
A tsunami of sweet joy as it were, as acknowledged by the mega star himself in his tribute: 'I'm unable to digest the heart-rending bitter truth of Balu's passing. Songs have been key to my success as an actor. And Balu has been key to those super-duper hits, for which I shall always remain indebted to him.
'I experienced the fabled sweetness of Telugu only through his songs. He is responsible for encouraging, rather admonishing, me to go beyond box office-oriented movies and act in movies that actualised my acting talent.
'I believe the void created by his demise can be filled only with his rebirth as he is irreplaceable.'
46. Prema Ledhani Premincharaadani, Abhinandana, 1987
Picturised on Karthik and Shobana.
Lyric: Aathreya
Music: Ilaiyaraaja.
On-screen scenario: Jilted, thwarted lover's lament.
There is no love, so don't fall in love -- so goes the lyric.
The haunting strains of guitar, violin, keyboards, piano, cymbals and the deep, thud-like bubbles of drum-sounds on the one hand, and Aathreya's wonderfully predictable and unpredictably endearing lyric on the other, vie for the mind's undivided attention, but it's Balu's voice that wins in the end, harmonizing everything on its path.
If pain and pathos can generate pleasure, then this must be that ultimate paradox.
47. Raja, Rajadhi Rajadhi Raja, Gharshana, 1988
Picturised on Karthik and others.
Lyric: Veturi.
Music: Ilaiyaraaja.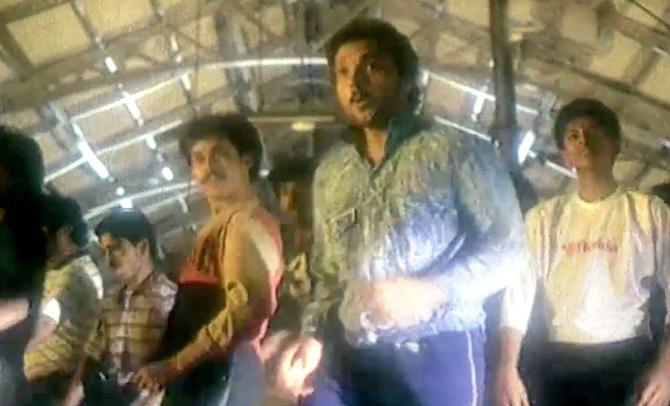 On-screen scenario: A bunch of jobless urban youth celebrate sudden access to cash by making merry – singing, dancing, roaming, riding mobikes.
A fun number with multiple voices led by Balu's, the song is truly hilarious, true to Veturi's lyric ("ullasam").
South India's youth of the late '80s could not have enough of this song as it made them feel like, well, kings nah emperors.
48. Evarikevaru Ee Lokamlo Evariki Eruka, Sirisiri Muvva, 1976
Picturised on Chandra Mohan, Jaya Prada.
Lyric: Veturi.
Music: K V Mahadevan.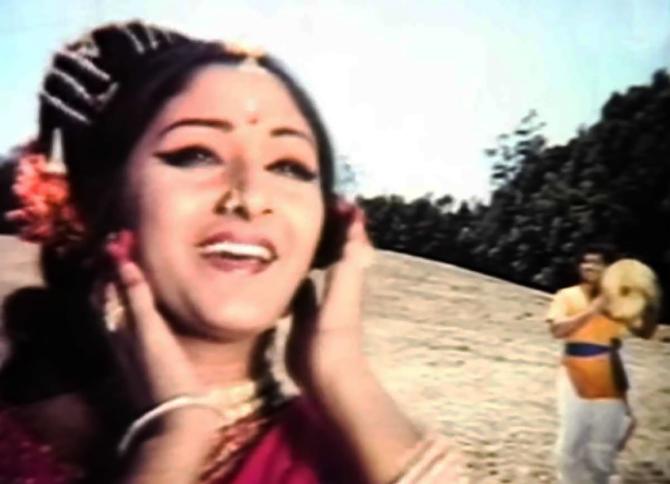 On-screen scenario: Background song for the crestfallen protagonist accompanying his mute lover on a boat ride away from native village to city life, suggesting a turning point, a crossroads, and a transition in a life enveloped by uncertainty.
A short, haunting solo made memorable by boatmen's singing in between but, more importantly, by the philosophy that at the end of the day, in spite of the interdependent nature of relationships, everyone is on one's own -- a stranger relative to others at the deepest level of being.
So, steel yourself, brace for the long haul, strike it out on your own by taking care of yourself, your latent giftedness.
It's a Balu number that can scare you, make you teary-eyed, and inspire you at the same time.
49. Punnami Raatri, Punnami Naagu, 1980
Picturised on Chiranjeevi and Menaka.
Lyric: Veturi.
Music: Chakravarthi.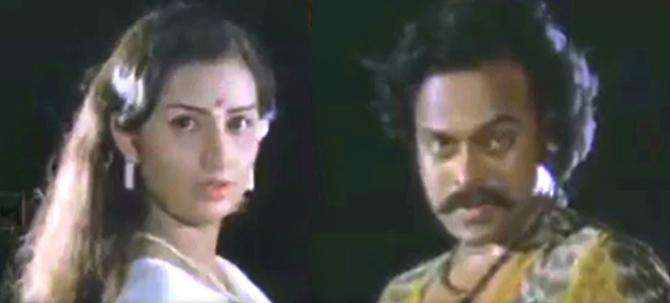 On-screen scenario: A male naagin leads his virgin love (draped in a white saree) through the forest on a full moon night when the elements are in their element.
Accompanied by a chorus of female singers against a background of 'naagin' tune that is dread-inducing, Balu's rendition of the snake-themed lyric will send a chill down your spine, with a sense of anticipation of horror, even as the melody of Chakravarthi's composition sounds reassuring and compelling.
50. Choodu pinnamma paadu pilladu, Chillara Kottu Chittemma, 1977
Picturised on Jaya Chitra, Maada and a group of transgender dancers.
Lyric: Dasam Gopalakrishna.
Music: Ramesh Naidu.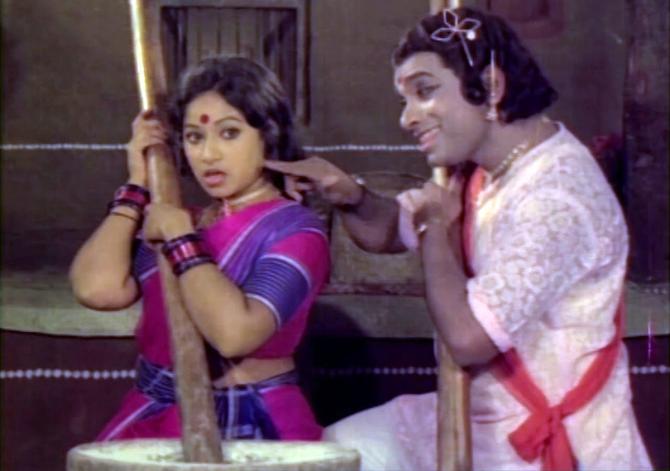 On-screen scenario: A song-and-dance evening street entertainment in a village.
Could Balu really have sung this one?
Millions still can't believe this side-splitting number in a farcical, absurd, extremely memorable mimicry-like voice belongs to Balu.
Simple, light Music, lilting tune, naughty Lyric and the rib-tickling comedy have made this number something of a milestone in Telugu cinema. Mention this to any Telugu film fan, and he/she will know on whom it was picturised.