Siva Sankar looks at S P Balasubrahmanyam's fantastic repertoire.
S P Balasubrahmanyam passed away in his 75th year, and so we celebrate the singer with 75 of his top songs, in a multi-part special.
Do Read Part One and Part Two here.
Now, we present the fiinal part of this special.
51. Itu Atu Kaani Hrudayam Thoti ('Junior, Junior'), Idhi Katha Kaadu, 1979
Picturised on Kamal Hasan, Jaya Sudha and 'Junior'
Lyric: Aathreya
Music: M S Viswanathan.
On-screen scenario: To revive the spirits of a silently suffering young divorcee and a mother of an infant, a widower-colleague (and a ventriloquist) uses his puppet to articulate in a fun or humorous way some seemingly irreconcilable aspects of life, patently irrational desires or initially impossible goals that can prove smart and possible in extraordinary circumstances.
Singer Ramola may have sung her way into the hearts of millions with the robotic voice of a defiant, maverick puppet that is snubbed and chided relentlessly, lovingly, by the hero (Balu's voice).
This is an innovative ballad involving man-marionette conversation on life's inexplicable twists and turns.
52. Saapatu Etu Ledu, Aakali Rajyam, 1981.
Picturised on Kamal Haasan and a group of young men.
Lyric: Aathreya.
Music: M S Viswanathan.
On-screen scenario: Jobless graduates gather in New Delhi to while away their time and lament about unemployment and the general state of disarray, cluelessness, drift and lack of purpose in society.
A sharp rebuke or censure of the establishment and the political class, the sarcastic solo struck a chord among youth in South India as they could relate to it.
In singing this number in a way that indicated empathy and understanding, Balu established that even a means to entertainment like music can be mightier than sword when infused with social relevance and purpose.
53. Patiye Prathyaksha Daivame, Aame Katha, 1977
Lyric: Veturi.
Music: Chakravarthi.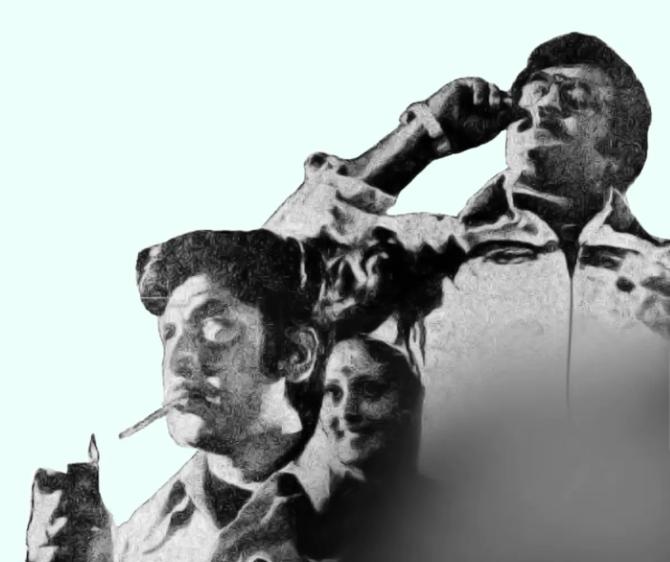 On-screen scenario: Comedic squabble of a male chauvinist husband and his combative, rebellious wife, watched by their two bemused, upset, exasperated children who speak wiser words and threaten to take matters into their own hands.
Perhaps no other music director could tap Balu's capacity for comedy better than Chakravarthi. Absolutely funny voice of a comedian, and yet thought-provoking song.
Age-old prejudices and anachronistic mindsets got perpetuated in Indian society merely because they were not questioned as the majority middle-class were immersed neck deep in the hurly-burly of the hectic rat race.
Most homes were riven with chauvinism, exploitation of women, domestic abuse, and progressive, liberal attitudes were yet to germinate.
Around that time, this number proved to be a timely wake-up call.
54. Kotthhaa Devudandi, Raajadhiraaju, 1980
Picturised on Vijay Chander and Nutan Prasad
Lyric: Veturi.
Music: K V Mahadevan.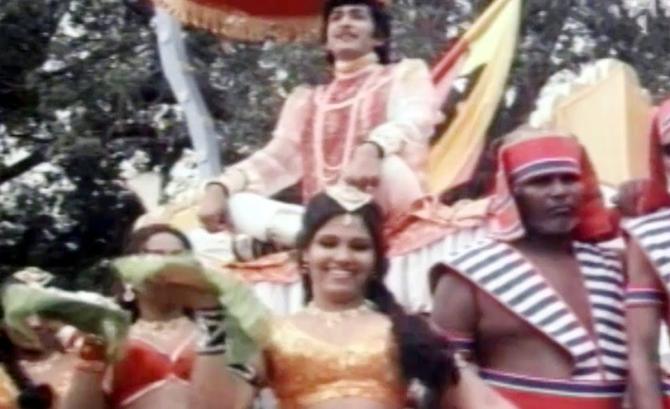 On-screen scenario: A procession of a 'new God' seated on a palanquin while the impostor's agent-messenger, the Devil/Satan, tempts man by denigrating God and glorifying his master.
Balu's versatility as expressed in this alternative voice, the 'Doosra', so to speak, comes through in this comedic number.
The underlying theme is about conmen, scamsters and frauds masquerading as godmen, miracle magicians and holy saints.
The song takes potshots at the modus operandi of marketing gurus who tempt masses through greed, credit-fueled crass consumerism, immoderate sense gratifications, and false promises of comforts and pleasures.
In under four minutes, Balu delivers a warning-caution in an utterly earthy, entertaining way, adopting two distinct voices of the devil and the impostor in the same number.
55. Umandu Ghumandu Ghana Gar Je Badara, Sangeetha Sagara Ganayogi Panchakshara Gavai, 1995
Lyric: Tansen
Music: Hamsalekha.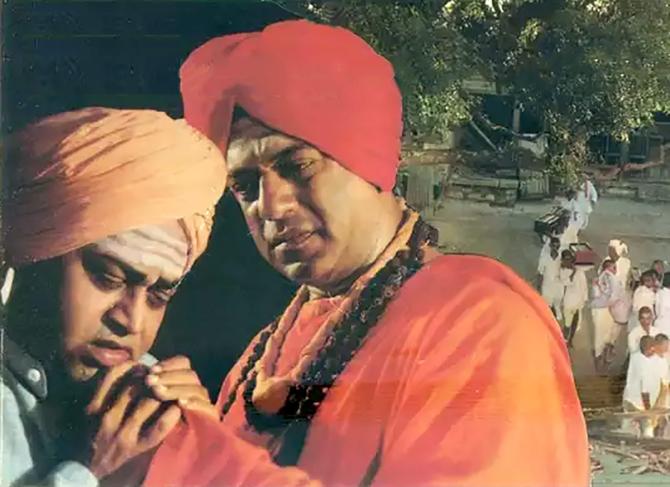 The Kannada / Hindustani masterpiece won a National Award for Balu, an extraordinary achievement for someone, who neither trained in the Carnatic tradition nor learned Hindustani formally, and whose mother tongue was Telugu.
Very few words in the Lyric create the scope for blissful repetition of the same phrase(s) that extracts the last possible nectar through elaborate raagas and variations, the undulations, the stratospheric crescendo and the smooth landing on ocean foam.
The coughs in between remind you of Dorukuna Iti Vanti Seva of Sankarabharanam.
56. O Paapa Laali, Gitanjali, 1989
Picturised on Nagarjuna and Girija Shettar.
Lyric: Veturi.
Music: Ilaiyaraaja.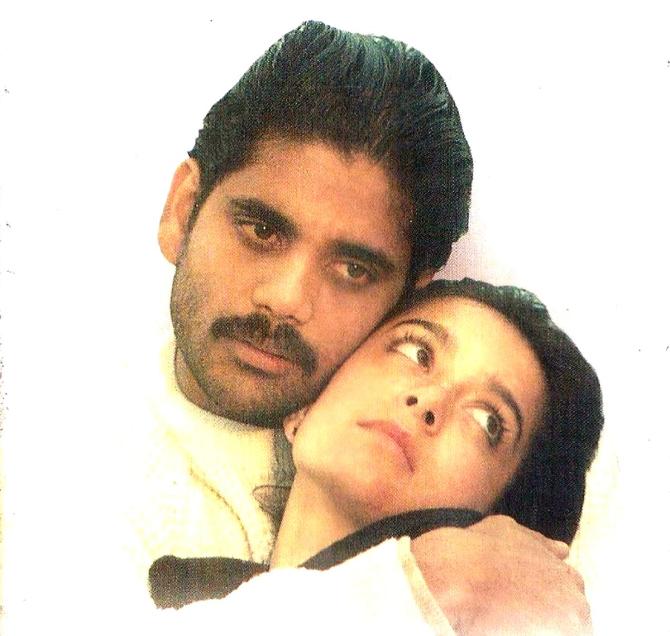 On-screen scenario: Two young lovers, instead of racing toward matrimony, sprint toward death as both appear fighting losing battles with their terminal illness.
Balu sings with rare tenderness and depth at a gentle pace, as if death is to be welcomed with open arms for that eternal, peaceful sleep.
Ilaiyaraaja's minimal use of guitar, violin, flute and female chorus accentuate the maudlin quotient generated by Balu's lullaby kind of rhythm.
57. Madhura Murali, Oka Radha Iddaru Krishnulu, 1986
Picturised on Kamal Haasan and Sridevi.
Lyric: Veturi.
Music: Ilaiyaraaja.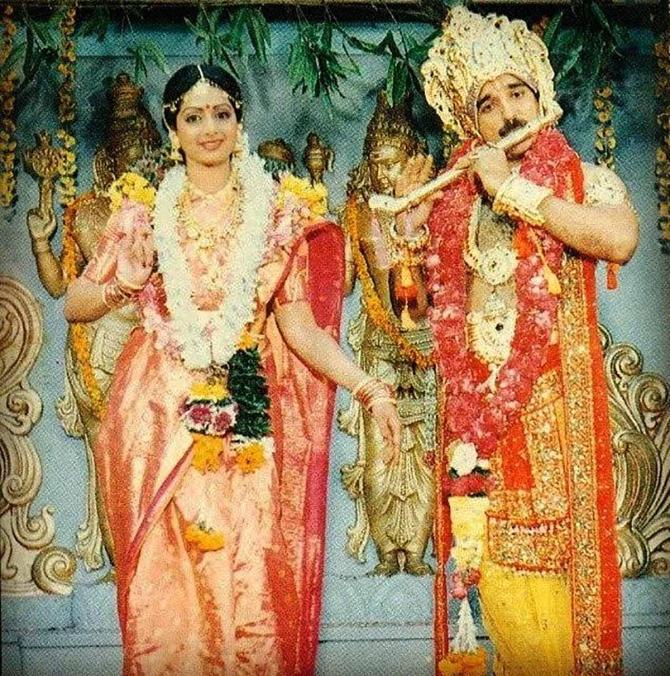 On-screen scenario: Dream sequence of a romantic duet with a comic Radha-Krishna theme, transplanted into a modern context with a beach as the venue for the raas-leela, dandiya, amid a setting of plywood ship, giant papier mache flute, scores of gopis and numerous Krishnas.
Classical raagas receive Ilaiyaraaja's inventive pop treatment. A complete crowd-pleaser.
58. Enneno Janmala Bandham, 1975
Picturised on Ramakrishna and Manjula.
Lyric: Dasaradhi.
Music: Rajan-Nagendra.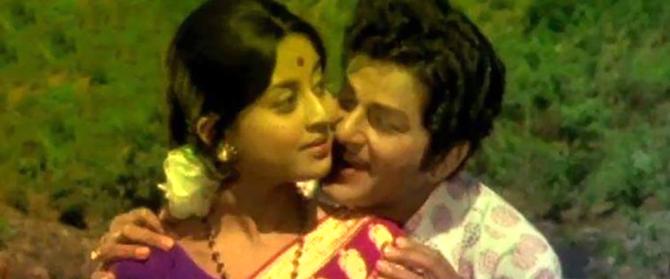 On-screen scenario: Romantic duet
Here's an extremely painful point to concede for a lifelong fan of Balu, but truth be told: It's the music duo's time-tested tune that wins.
Everything else, including the lyric about love spanning several lifetimes and Vani Jayaram's mesmeric voice, becomes secondary.
Every conceivable musical instrument is used in a subdued, moderate way. The short little flourish of drums at the end of every stanza is memorable.
Let me hasten to add -- it's impossible to imagine this duet with out Balu's voice though.
59. Kattu Kadhalu Cheppi Nenu Kavvisthe, Padaharella Vayasu, 1978
Picturised on Chandra Mohan and Sridevi.
Lyric: Veturi.
Music: Chakravathi.
On-screen scenario: Village simpleton, a country bumpkin, attempts to lift the spirits of his downcast, jilted teenaged distant cousin whom he secretly loves, with an impromptu, funny story; but he ends up becoming the joke himself when donkeys' braying makes it an inter-species jugalbandi.
The use of rural dialect combined with relatively uneven (as in freewheeling) flow, the comic touch, asses' hee-haw, and Janaki's cameo all help make this Balu number a surefire mood-enhancer.
60. Edureeta Ku Antham Ledha, Edureeta, 1977
Picturised on NTR and Vanisri.
Lyric: Sri Sri.
Music: Satyam.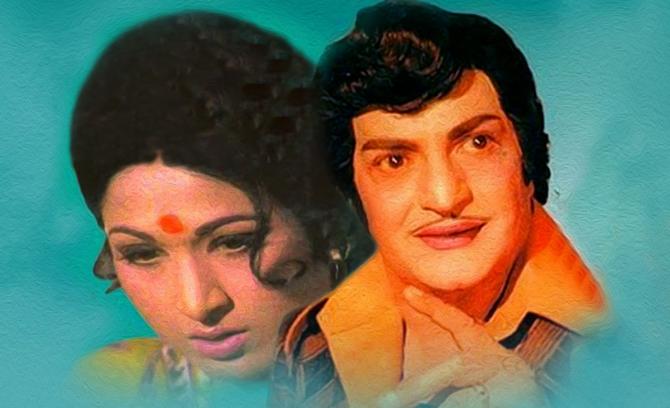 On-screen scenario: On a boat ride, the mentally exhausted hero wonders what else he needs to do establish his innocence and love in the mind of the heroine.
The lyric's reference to swimming against the current is an allusion to the general struggle of life.
Balu's singing creates a pensive mood alright, but the beauty of Satyam's music -- it is inspired by the tune of Dil Aisa Kisine Mera Thoda of Amanush -- ensures it is a sadness to be savoured again and again.
61. Aamey Thoti Maatundi, America Ammayi, 1976
Picturised on Ranganath, Deepa.
Lyric: Mailawarapu Gopi.
Music: G K Venkatesh.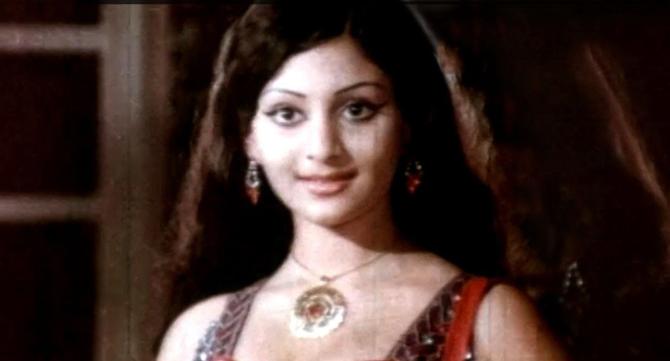 On-screen scenario: A club song where the 'side hero' expresses his love publicly in a song for his beloved among the diners (audience).
Left to himself, or given some, say, 'functional autonomy', Balu would improvise with his enchanting riffs, trills, warbles and vocables to such an extent that they become inseparably integral to the song, and decades later, you will likely remember each and every one of them.
And in this particular number's case, you enjoy them more than the song itself.
62 Thaali Kattu Subhavela, Anthuleni Katha, 1976
Picturised on Jaya Prada, Narayana Rao, Prasad Babu, Sripriya, Jayalaxmi, Rajnikanth, and others.
Lyric: Aathreya.
Music: M S Viswanathan.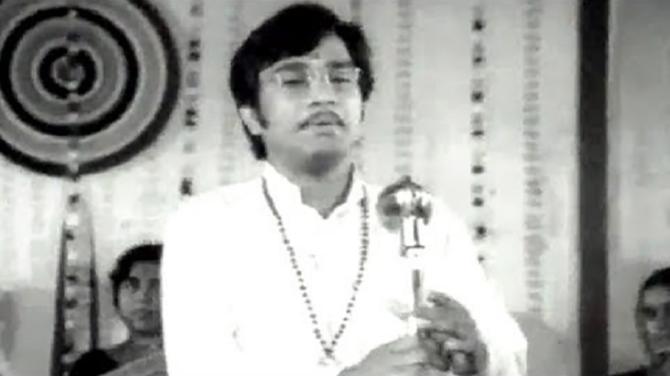 On-screen scenario: A post-wedding 'reception' entertainment (mimicry) show for the invitees, particularly the kids.
A surfeit of special audio effects and mimicry ranging from birdsong, owl hoots, elephant trumpets, frog croaks, cow moos to airplane landing, air hostess announcement, dol (drum), shenai, veena... are recreated by MSV.
He uses Balu's voice as if it were some golden thread to connect all these seemingly disparate beads, and conjures a stunning garland of sounds to adorn the goddess of music. Genius.
63. Saathiya Thoonay Kya Kiya, Love, 1991
Picturised on Salman Khan and Revathi.
Lyric: Majrooh Sultanpuri.
Music: Anand-Milind.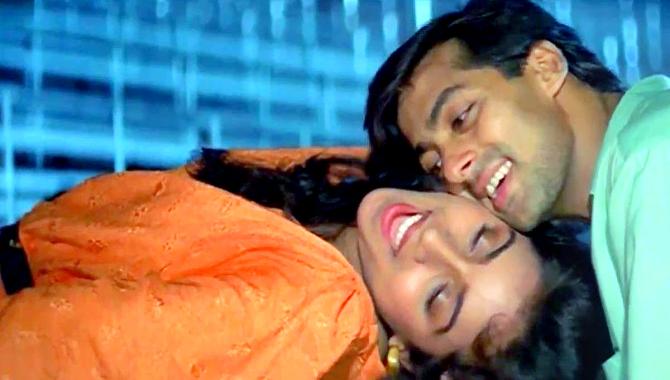 On-screen scenario: A Bollywood romantic duet, with a touch of the South (candles on the beach, anyone?)
The number has a whiff of fragrant fresh roses as if to remind you of the film title.
A rare Bollywood duet in the sense that it features both male and female singers from South India.
You could easily mistake it for an Ilaiyaraaja number, particularly because of Chitra's unmistakably southern accent.
But the water-like, all-neutralizing effect of the universal voice of Balu ensures you simply fall in love with the melody.
64. Aavesamtha Aalapaneley, Aalapana, 1985
Picturised on Mohan and Bhanupriya.
Lyric: Veturi.
Music: Ilaiyaraaja.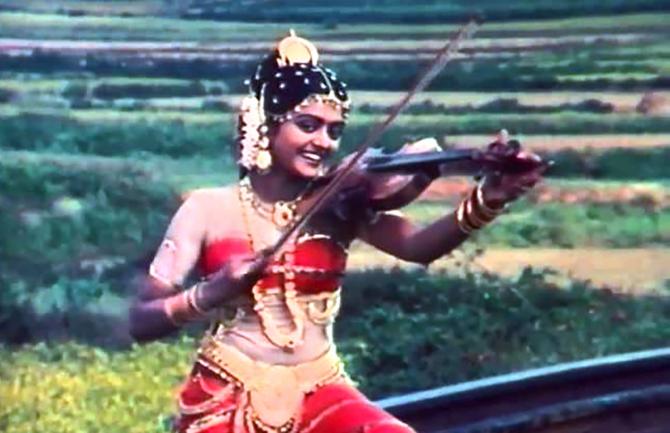 On-screen scenario: A railway track inspector's trolley-pushing 'gangman' daydreams about the woman he loves.
This should figure among the top numbers in any V-I-B collection, and probably in any SPB collection. Whenever filmmaker Vamsy tapped V-I-B, the resultant 2V-I-B combo would end up creating some of the most beautiful on-screen picturisations of songs, with potential to produce synaesthetic memories, complete with aalap and sargams.
65. Kondameena Chandamama, Vetagadu, 1979
Picturised on NTR (Sr) and Sridevi.
Lyric: Veturi.
Music: Chakravarthi.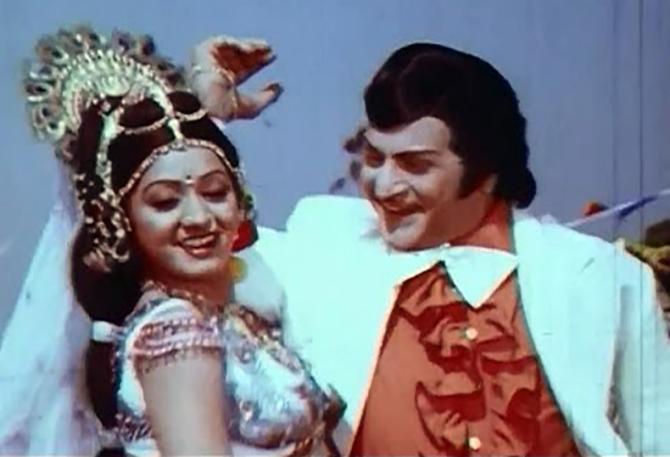 On-screen scenario: A typical Raghavendra Rao fantasy song (colourful setting full of giant props, statues, tableaux, hamlet, Koya tribespeople).
Written using a slightly less chaste or unpolished Telugu to give a tribal flavor, the lyric lends itself to Chakravarthi's brisk composition. And Balu and Suseela sing it with gusto.
An absolutely energizing, exhilarating duet, made more so by Balu's famed improvisations to suit NTR Sr's singing-dancing persona of his twilight years as an actor.
(Purists reckon this period coincided with the onset of Kali Yug in Telugu cinema, when box office considerations became paramount, resulting in erosion of old-world values and the ascension of kitschy, risque and ribald elements in every aspect of filmmaking -- a change that Balu embraced to go with the flow, probably in faith that the tide will turn again for the better. And it did, briefly, with Sankarabharanam in 1980, but no one could really turn the clock back.)
66. Chitram Bhalare Vichatram, Daana Veera Soora Karna, 1977
Picturised on NTR (Sr) and Prabha.
Lyric: C. Narayana Reddy.
Music: Pendyala.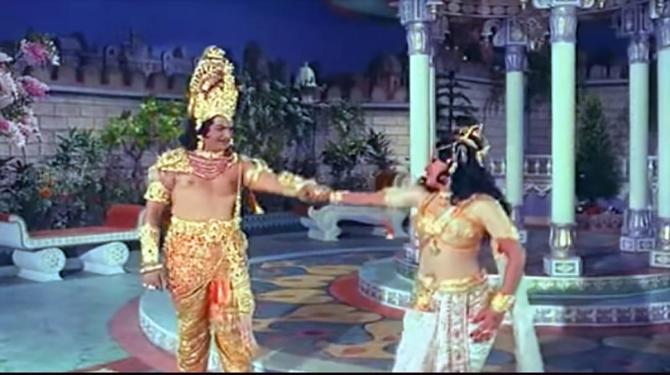 On-screen scenario: In the run up to the Kurukshetra War, Prince Duryodhan of the Kouravas takes some time off to romance his wife Bhanumati.
A story, probably apocryphal, goes that Balu was asked by the trio of NTR, lyricist Cinare and composer Pendyala Nageswara Rao to adopt the voice of "new NTR" for this improbable duet featuring Duryodhan (NTR in one of the seven roles), a much-reviled character in India.
Balu was to deny this decades later in a popular TV show, but the improvisation, which made this song a super-duper hit, is unmistakable.
The undercurrent of this song in chaste poetic Telugu is that when Cupid strikes, love's magical, wondrous eruption in the heart is inevitable, even if you are a battle-hardened prince in the thick of war strategy and palace intrigues.
That is to say, free will to choose between good and evil is always available to everyone.
67. Aadave Andhala Surabhamini, Yamagola, 1977.
Picturised on NTR, Manju Bhargavi, Uma Bharati and Madhumati.
Lyric: Veturi.
Music: Chakravarthi.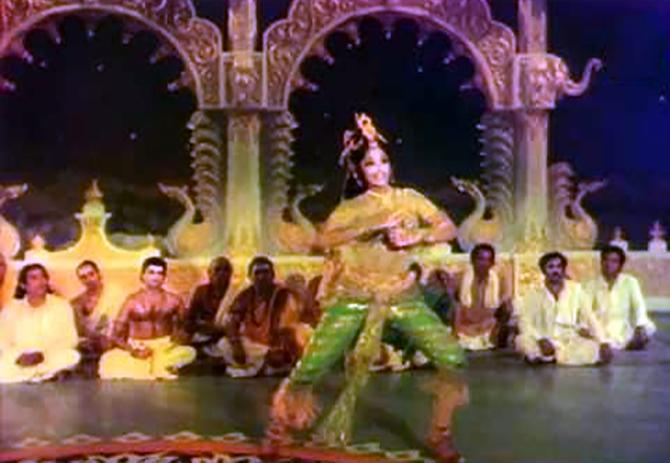 On-screen scenario: A fantasy song in a fantasy film, pictured in 'heaven' where celestial nymphs or apsaras Rambha, Urvasi and Menaka are encouraged by a Homo sapien male to showcase their talents in the way they are intended to be.
A kind of anthropomorphic portrayal with a comic touch, the underlying message of the lyric is that performing arts are universal in scope, beyond narrow considerations of region, religion, language, caste, etc, and their purpose is to sensitize and elevate human beings to finer aspects of life. And Balu, using the new NTR voice, does full justice.
68. Abbani Theeyani Debba, Jagadeka Veeru Atiloka Sundari, 1990
Picturised on Chiranjeevi and Sridevi.
Lyric: Veturi.
Music: Ilaiyaraaja.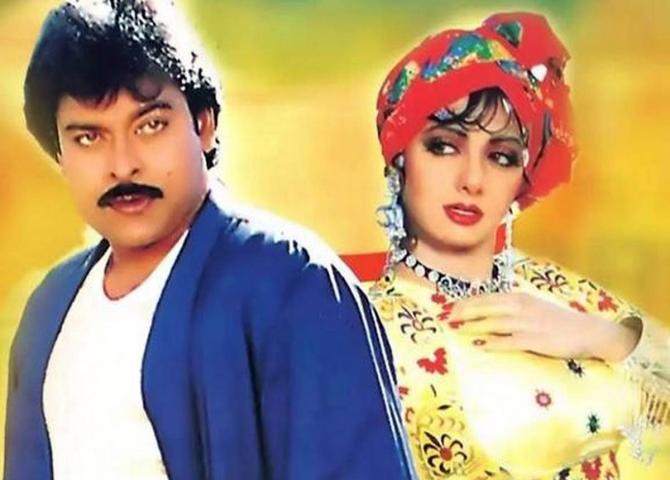 On-screen scenario: A love duet.
V-I-B again! The lyric is a mash of chaste Telugu, colloquial lingo, even Hindi words and what not. Totally irreverent, maverick.
Total commercial entertainment, accentuated by Balu's special voice for Chiranjeevi.
My suspicion is that even purists must have hummed, or at least whistled, the movie's eminently hummable songs in their bathrooms.
Chitra rises up to the occasion and joins the mood of gay abandon.
69. Kiss Me Hello Wrong Number, Siva, 1989
Picturised on Nagarjuna and Amala.
Lyric: Veturi.
Music: Ilaiyaraaja.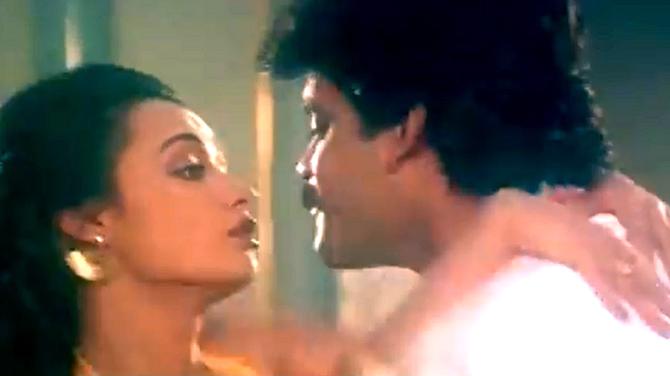 On-screen scenario: Romantic duet with the lead paid in a song-dance routine in a club-like setting, joined in by servers and other diners.
There you go, V-I-B. Completely zany to the core, but absolutely adorable number. Veturi throws caution to the winds and peppers his Lyric with Telugu, Hindi, Urdu and English words, with amazing impact, as Balu zooms off the starting blocks like a thoroughbred race horse unshackled.
The song is rich in his laughs, bits of unique throaty stress on the last syllable of every line that is not allowed to come out into the open but made to arise and disappear in the throat.
The rhyming couplets as recited by the Chitra-Balu combo is a treat for the ears.
70. Chali Champuthunna, Kshana-Kshnam, 1991
Picturised on Venkatesh, Sridevi and a group.
Lyric: Vennelakanti.
Music: Keeravani.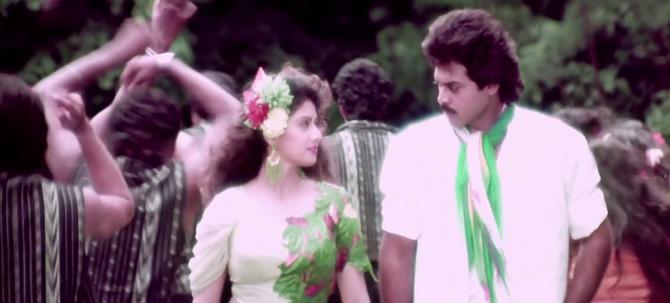 On-screen scenario: Fantasy/dream number in a forest.
Chitra's pre-song lines promise the moon, and Balu, in association with her, keeps the promise, as Keeravani's Tarzanesque tribal sounds and Arabic tunes meld into Vennelakanti's impossibly long lines full of double-syllable rhymes.
71. Guvva Gorinka Tho, Khaidi 786, 1988
Picturised on Chiranjeevi and Bhanupriya.
Lyric: Bhuvanachandra.
Music: Raj-Koti.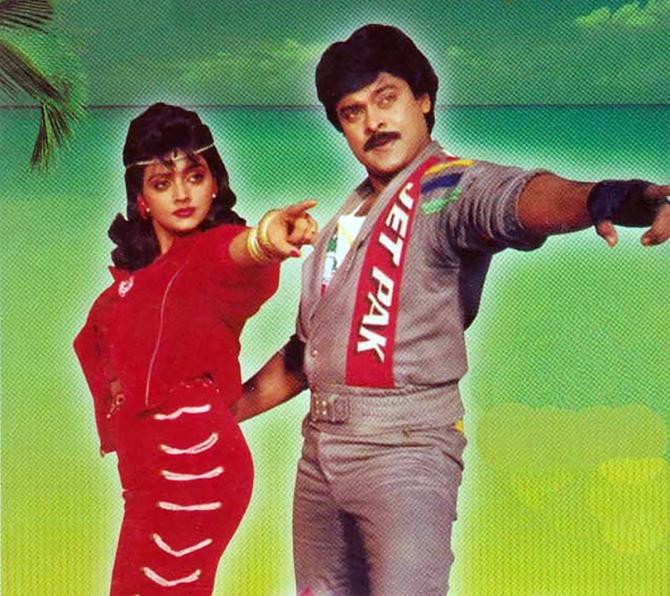 On-screen scenario: Fantasy love duet.
A new generation of music directors and lyricists had burst on to the scene, assured that the ever flexible Balu (and Janaki) will adapt to change, cooperate and lend their voices to new styles of film songs.
The boom-boom drums, brisk pace of the music, the suggestive lyric and that Chiranjeevi voice of Balu all roll into a high-voltage number, made even more explosive on screen with the presence of voluptuous, wide-eyed, moon-faced Bhanupriya.
72. Hello Guru Prema Kosamero Jeevitam, Nirnayam, 1991
Picturised on Nagarjuna, Amala.
Lyric: Ganesh Patro.
Music: Ilaiyaraaja.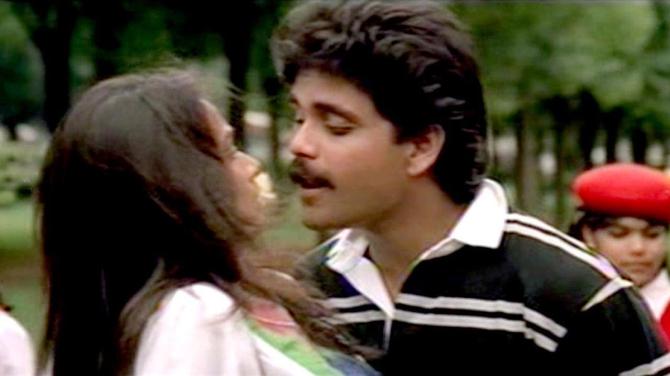 On-screen scenario: The hero indulges in public eve-teasing as the heroine is perceived as arrogant, proud, haughty.
It could have easily snowballed into a controversy and framed in a narrative of male chauvinism, sexual harassment or gender discrimination, given the lyric's references to the heroine in disrespectful singular and blatant boasts about the hero's (male's) virtues.
But the fun quotient provided by English and Hindi phrases, and the special Nagarjuna voice combined with trademark idiosyncratic utterances of Balu all fall in line with Ilaiyaraaja's seemingly effortless composition.
So: no controversy, only fun.
It is entirely possible Balu may have truly enjoyed singing this song because you as a listener discern much more than professional application and a singer living his dream.
73. L Antay O Antay V Antay E Antay, Rudranetra, 1989.
Picturised on Chiranjeevi, Vijayashanti
Lyric: Veturi.
Music: Ilaiyaraaja.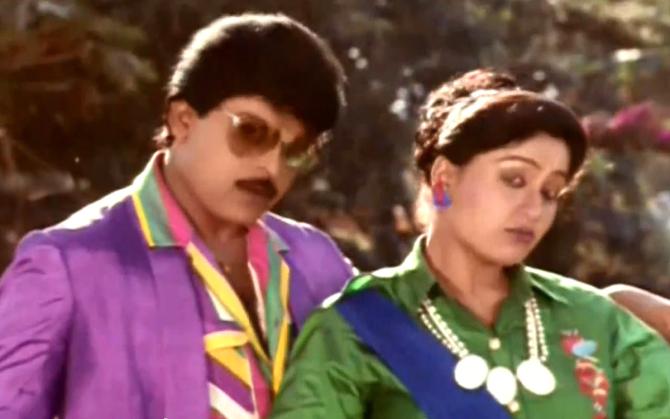 On-screen scenario: Hero, heroine go bonkers singing and dancing their love duet.
It's one of my go-to film-song albums in times of need -- call it the mind's comfort food or sinful snack because Balu's renditions have that stress-busting, mood-elevating quality produced by Ilaiyaraaja's tunes.
Contrary to its superficial image of being a crass mass song, this one is a V-I-B special, a treasure indeed.
The lyric is utterly funny with words from multiple languages, has lines with no more than two-three words; voices of Balu and Chitra alternate in rapid succession, and suddenly, like a bolt from the blue, a mellifluous raaga pops up utterly captivating you, amid what may appear like rhythmic cacophony, if there can ever be such a thing.
On screen, the song inspired choreography that's unapologetically tapori steps, jhatkas, matkas...
If a 'mass' number could sneak into the company of the 'class' songs and go unnoticed, this is the most likely candidate.
The guards at the gate might not realise this trespasser because they will likely be lost in the memorable rhythm of the tune.
74. Nee Meeda Naaku Idhayyo, Raakshasudu, 1986
Picturised on Chiranjeevi, Silk Smitha.
Lyric: Veturi.
Music: Ilaiyaraaja.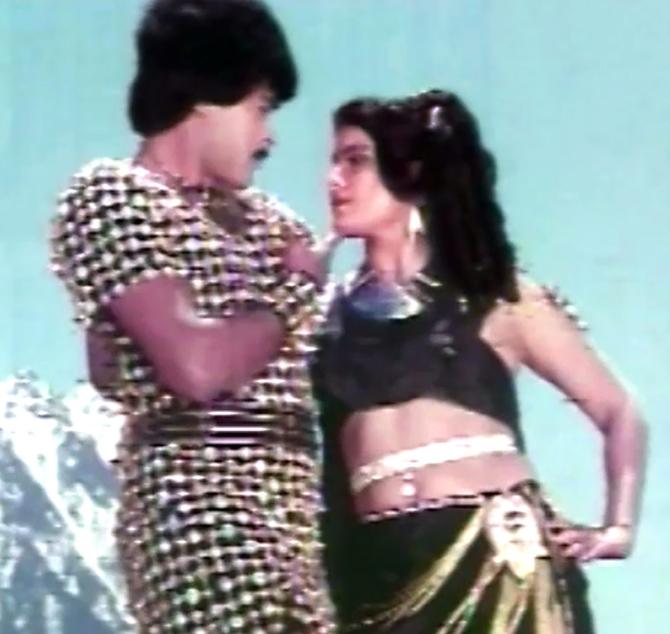 On-screen scenario: Erotic duet of a hero with a non-heroine.
Long before item numbers became a rage, V-I-B+J set the standard with this lovely song.
That it was picturised with the snow-capped Himalayas in the background, and with the actors in special costumes fit for Alexander the Conqueror and his girl, is a testament to the fact that the production unit knew beforehand this is going to be super-duper hit.
75. Thanga Thamarai, Minsara Kanuvu (Tamil), 1997
Picturised on Arvind Swamy and Kajol.
Lyric: Vairamuthu.
Music: AR Rahman.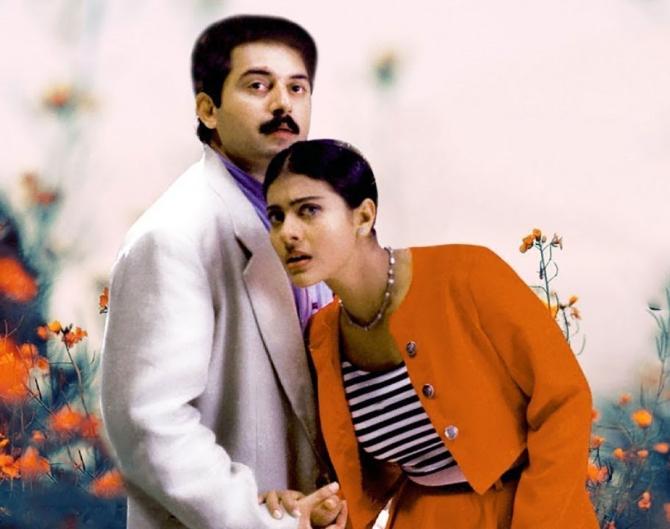 On-screen scenario: Sensuous fantasy song.
This mostly solo song could have figured much higher, but well, I wanted to bookend my selection with National Award winners.
This song won Balu his sixth and final National Award.
Isn't it amazing that he should win the same award in four different languages (Telugu, Hindi, Kannada and Tamil)?
On screen, the hero, overcome by lust, unbuttons the writhing heroine's black leather jacket, sending her into spasms of anticipation of sweet pleasures.
The action matches the suggestive lyric. It's a far cry from Maine Pyaar Kiya when the hero, full of self-control and purity, restores a silvery shawl back to the heroine in a state of undress.
Everything changed in the Indian film industry in a short span, it would appear, except the reassuring, dignified, evergreen voice of Balu.
The jury may have thought: Never mind the twisted lyric, sensuous symbolism, off-beat music with un-Indian (Arabic) overtones, let's just focus on the very-Indian Balu and award him anyway and honour ourselves.
============ =======
Postscript: It wasn't so much the impossible task of selecting Top 75 songs out of the 40,000-odd songs that Balu sang on his way to a world record as it was a simple task of recollecting whatever is at the top of the head, and whittling down the 300-odd shortlist by a third, by applying certain parameters. And once the Top 100 were secure (with strict adherence to my own rule of one song per movie, and skipping the movies discussed in my main tribute except one), I further pruned the list to 75.
Those that were left out with a heavy heart are:
76. Punya Bhoomi Naa Desam
77. Dhora Vayasu Chinnadi
78. Chirunavvula Tholakarilo
79. Maanasa Veena Madhugeetam
80. Balapam Patti Bhama Vallo
81. Raguluthondi Mogalipoda
82. Ilaage Ilaage
83. Adi Emayindi
84. Raasanu Premalekhalenno
85. Brahmanjani
86. Nenee Darini Nuvvaadarini
87. Dhanchave Menattha Koothura
88. Agadu Ae Nimishamu Nee Kosamu
89. Pooche Poolalona
90. Madhu Masavelalo
91. O Bangaru Rangula Chiluka
92. Cheppali Vundhi Gonthu Vippalani Vundhi
93. Ninu Choodaka Nenundalenu
94. Neevunte Vere Kanulenduku
95. Aavakaya
96. Emani Varninchanu
97. Kalise Kallalona
98. Aakasama Neevekkada
99. Kothaga Rekka Lochhena
100. Pallavinchavaa Naa Gonthulo