'Whenever a cop film is made, people will either draw comparisons with Dabangg or Singham.'
'If the look and part is serious, then Singham.'
'If entertaining, then Chulbul Pandey.'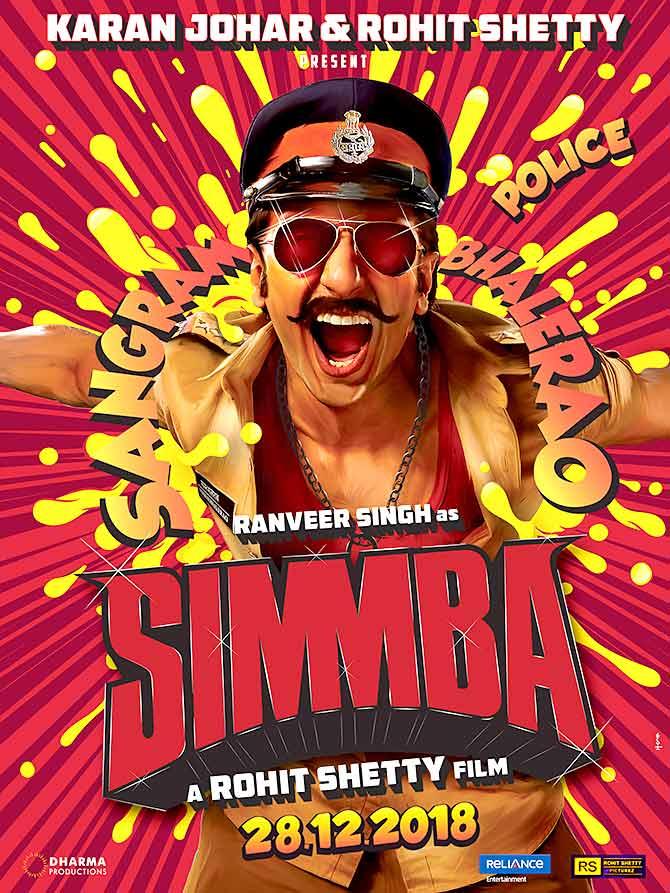 Director Rohit Shetty feels cop films like Dabangg and Singham have set the bar so high with their box office success and popularity that it is obvious another police-centric film will be compared with them.
The filmmaker was discussing his new film with Ranveer Singh, who plays a notorious cop in Simmba. Shetty says he is confident that the film will be original in its character.
"What usually happens is that Chulbul Pandey and Singham have become the iconic characters. When we were making Singham, a lot of people told us are 'you trying to make a Dabangg kind of a film' but the film has its own identity.
"This will always happen. Whenever a cop film is made, people will either draw comparisons with Dabangg or Singham. If the look and part is serious, then Singham. If entertaining, then Chulbul Pandey. Our cop (Ranveer) is not a Chulbul Pandey kind of a character," says Shetty, who has directed Singham and Singham Returns.
While Dabangg and Singham have mushroomed into a franchise, the director feels it is too early to say the same about Simmba.
"Let's see how the first one does," he explains.
Presented by Reliance Entertainment, the film will be produced by Rohit Shetty Picturez and Karan Johar's Dharma Productions.
"Ranveer is a unique personality. With Rohit, he will make his own character. He is an energy ball, the way he will explode is going to be good. I don't think anyone would show the explosion like him on screen," Karan Johar said.
Meanwhile, the director-producer duo will be seen judging India's Next Superstars, which goes on air from January 13 on Star Plus.
The tagline of the show is Na Khaandan Na Sifaarish.
Is this KJo's answer to the nepotism debate? He preferred not to answer, saying "It's better if I don't speak anything. I have already said a lot of things on the topic."
Shetty, however, believes some words make headlines.
"Two years back, 'intolerance' was the word. Now, it is 'nepotism'. It will fade out in some time. If a reporter whom I know, refers his son or siblings to assist me and I can help them, there is no harm in it. If there is no talent in him or her, they will be able to do only one film. If Karan had no talent, he would not have reached this far. There is no harm in giving someone an opportunity," he says.
On the other hand, Karan Johar believes becoming a movie star is not a tough task if the artiste is dedicated. But in the long run, it is hard to hold on to the position one has achieved.
The 45-year-old filmmaker said the reason for the success of the Khan trioka -- Aamir, Salman, Shah Rukh -- and other actors such as Ajay Devgn and Akshay Kumar is the fact that they have managed to stay relevant to their audiences.
"They are just going on and on... and more respect to them. It is difficult to stay relevant. I will be completing 20 years in the industry in 2019. It is not easy (to stay here). Getting success is not that difficult if you do your job well but maintaining it is tough," Johar says.
The director said with the increasing popularity of the digital media, audiences have access to various avenues of entertainment. And that has made it challenging for upcoming actors to achieve the kind of stardom the Khans enjoy.
"I think the Khans have had a legacy of great cinema and longevity. All of them have been around for three decades and they have build an equity of audience who only watched films. It is a big challenge for the younger actors to live up to the audience base that has been created by these three megastars. Hats off to Shah Rukh, Aamir, Salman, Akshay and Ajay Devgn for being relevant even after working for three decades," he said.
India's Next Superstars Karan will provide an opportunity to aspiring actors with no connections in the film industry
"There are a lot of reality shows either about singing or dancing or talent-based but here, we are looking for talent in the acting department. There is an academy where these 20 contestants will stay together. On weekdays, the contestants will be trained and on the weekends, there will be a celebrity guest along with us who will give the participants a challenge," he said.