Hollywood's biggest party has sobered up and how.
Creative forces belonging to different parts of the world and ethnicity came together to celebrate their collective love for cinema at the 90th Academy Awards making this edition special in more ways than one.
This year's 'inclusive' theme made a conscious effort to focus on all the socially conscious voices demanding a safe working environment for artists whilst erasing all ethnic, racial and gender disparities.
Here are our top 10 moments from this year's Oscars.
That Jimmy Kimmel monologue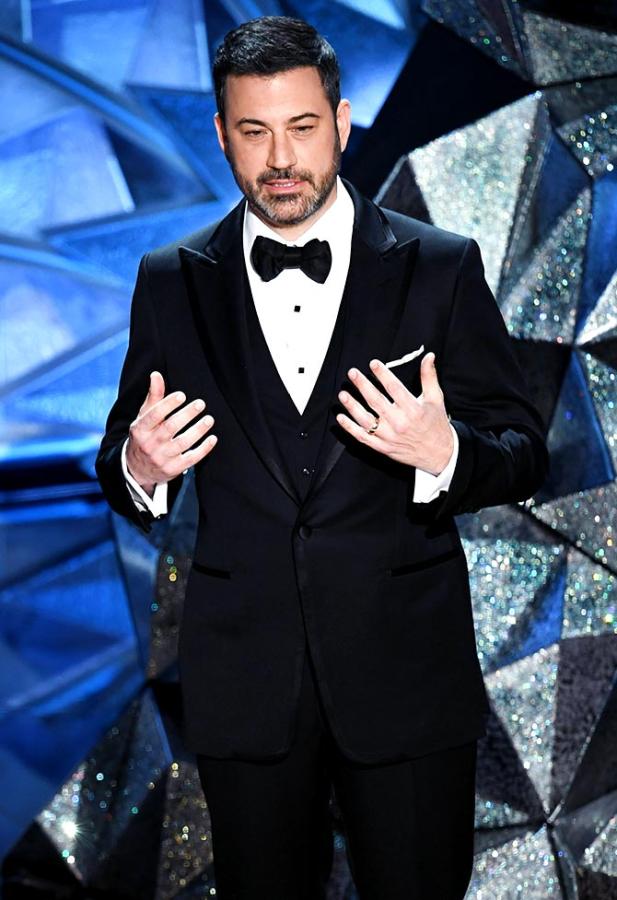 IMAGE: Jimmy Kimmel. Photograph: Kevin Winter/Getty Images
The comedian resumed his hosting duties for a second time in a row and regaled with his trademark dry wit and wisdom.
Some jolly excerpts:
'This year, when you hear your name called, don't get up right away. Just give us a minute. We don't want another thing.
'Oscar is the most beloved and respected man in Hollywood. And there's a very good reason why. Just look at him. Keeps his hands where you can see them. Never says a rude word and most importantly, no penis at all. He is literally a statue of limitations. And that's the kind of men we need more of in this town.
'Here's how clueless Hollywood is about women. We made a movie called What Women Want and it starred Mel Gibson.
'The most nominated movie tonight, a film that's up for 13 Oscars, is The Shape of Water, written and directed by Guillermo del Toro, a wonderful man. Congratulations, I'm very happy for Guillermo. You made a beautiful movie and thanks to Guillermo, we will always remember this year as the year men screwed up so badly, women started dating fish.'
The return of Rita Moreno's Oscar-winning dress!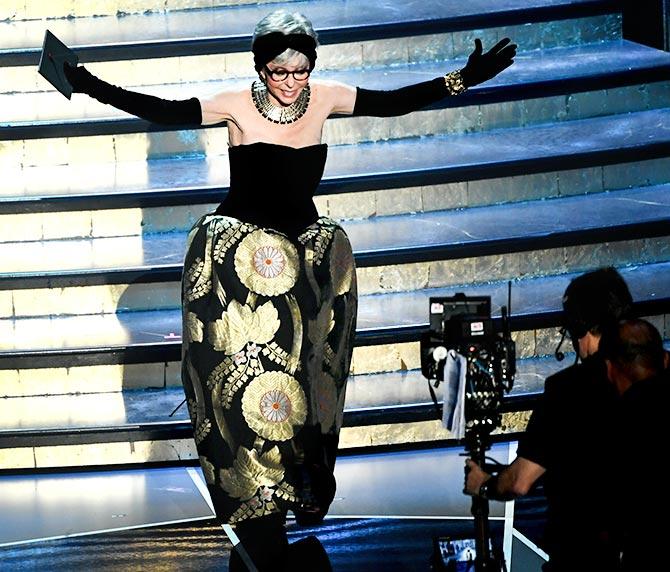 IMAGE: Rita Moreno. Photograph: Kevin Winter/Getty Images
Fifty-six years after winning the Best Supporting Actress for West Side Story, the 86-year-old Rita Moreno wore her black and gold dress once again to announce Chile's A Fantastic Woman as Best Foreign Film.
Black Panther and Harley Quinn co-present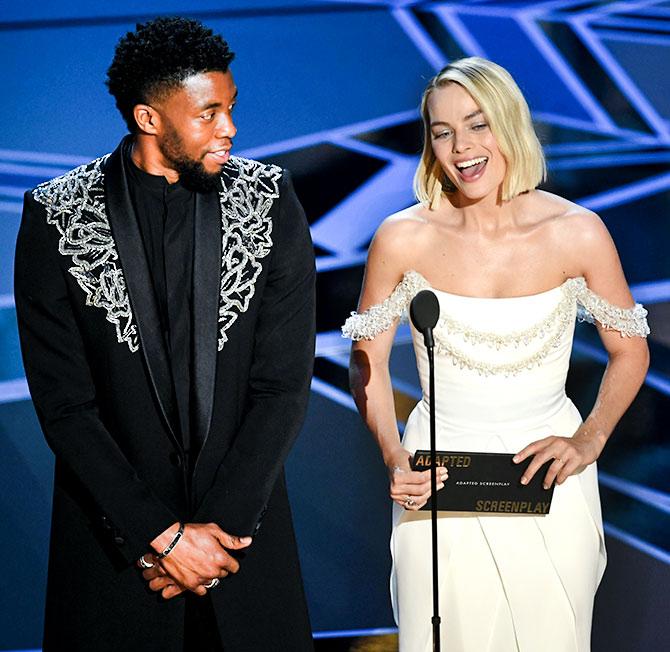 IMAGE: Chadwick Boseman and Margot Robbie. Photograph: Kevin Winter/Getty Images
A Marvel and DC crossover is unlikely but watching the gorgeous duo Chadwick Boseman and Margot Robbie give away an award together is the closest we'll probably get to an alliance between Wakanda and Gotham.
Guillermo Del Toro's Spielberg story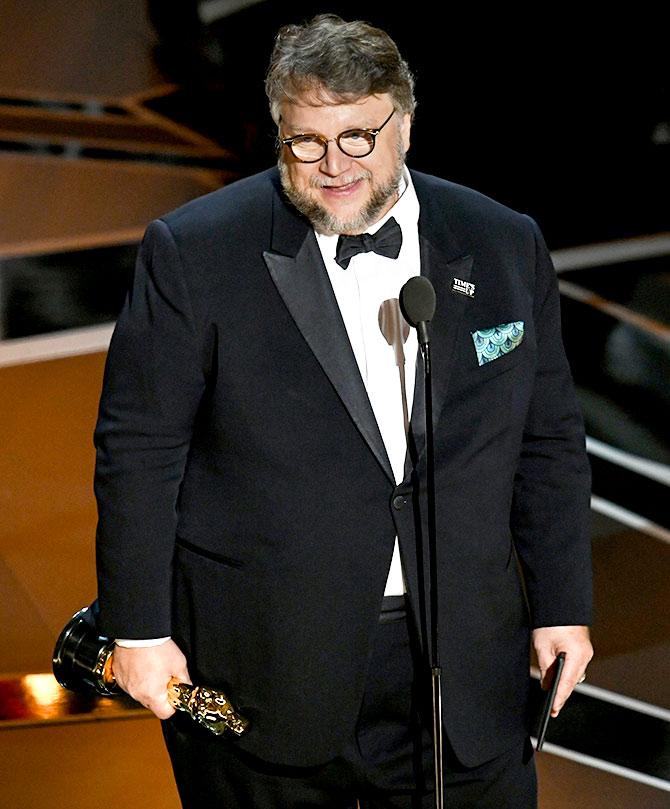 IMAGE: Guillermo Del Toro. Photograph: Kevin Winter/Getty Images
Few things hearten us as much as a movie nerd scoring big at the movies. Or when he acknowledges another movie nerd. Pretty much what happened when Best Director and Film winner Del Toro spoke about that time fellow nominee and filmmaking legend Steven Spielberg told him, 'If you find yourself on the podium, remember you're part of a legacy, a world of filmmakers and be proud of it.'
We certainly are.
The marvellous Mark Hamill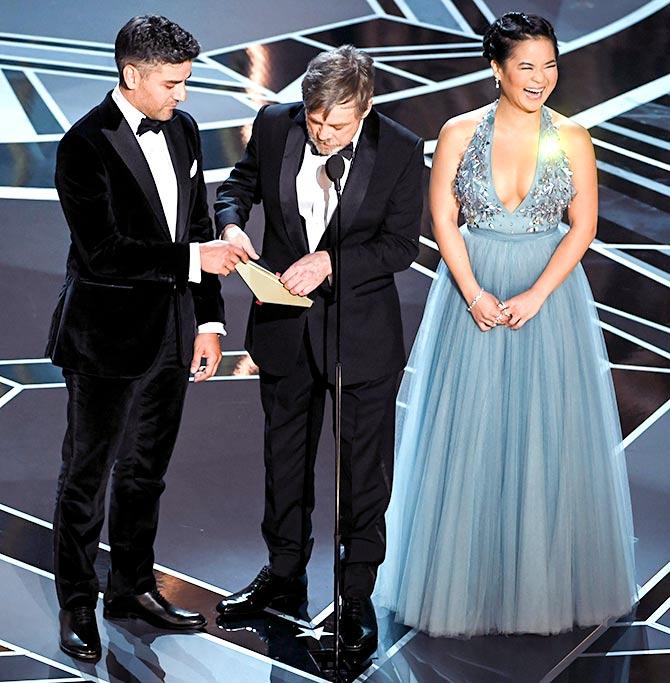 IMAGE: Oscar Isaac, Mark Hamill and Kelly Marie Tran. Photograph: Kevin Winter/Getty Images
Star Wars actor Mark Hamill was in complete element whether joking 'Don't say La La Land' before opening the envelope alluding to last-year's mix-up or revealing the real reason for his attendance, "'I'm here to pick up my monthly check under the Jedi pension plan."
Remembering Shashi Kapoor, Sridevi at the Oscars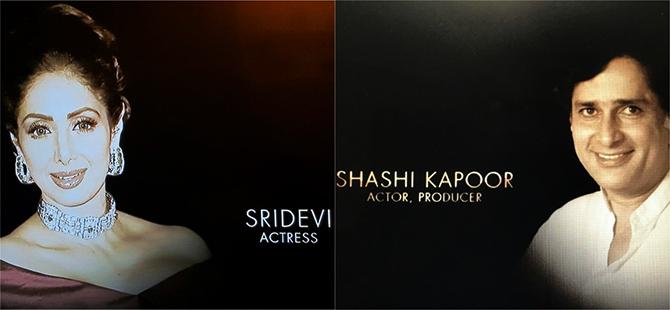 IMAGE: Sridevi and Shashi Kapoor were honoured in the In Memoriam section.
While the country is still mourning the untimely loss of one its biggest icons, it was moving to see Oscars honour the worldwide appeal and talent of the late Shashi Kapoor and the recently departed Sridevi in its 'In memoriam' section against Eddie Vedder's poignant performance.
Frances McDormand's two words!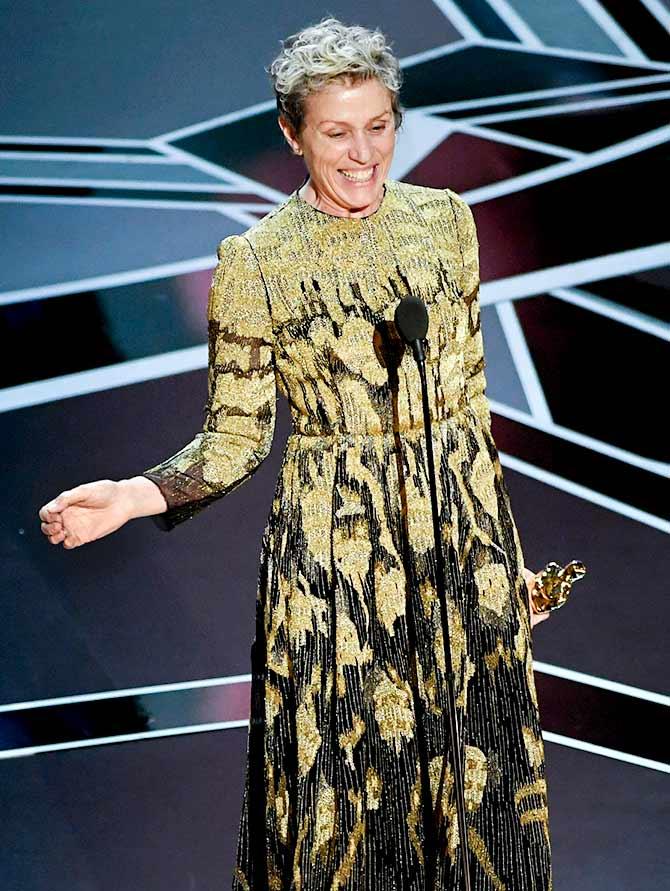 IMAGE: Frances McDormand. Photograph: Kevin Winter/Getty Images
There's nothing surprising about Frances McDormand's richly deserved Oscar for Three Billboards Outside Ebbing, Missouri. But the parting shot in her acceptance speech, two words "inclusive rider" underscores the activist in her to the hilt.
It also set everyone wondering as to what exactly that means.
Propagated by Stacy Smith, founder and director of USC's Annenberg Inclusion Initiative, the term refers to a clause wherein an actor can insist on a certain level of diversity into their contract.
That uber cool Ilio illustration on James Ivory's T-shirt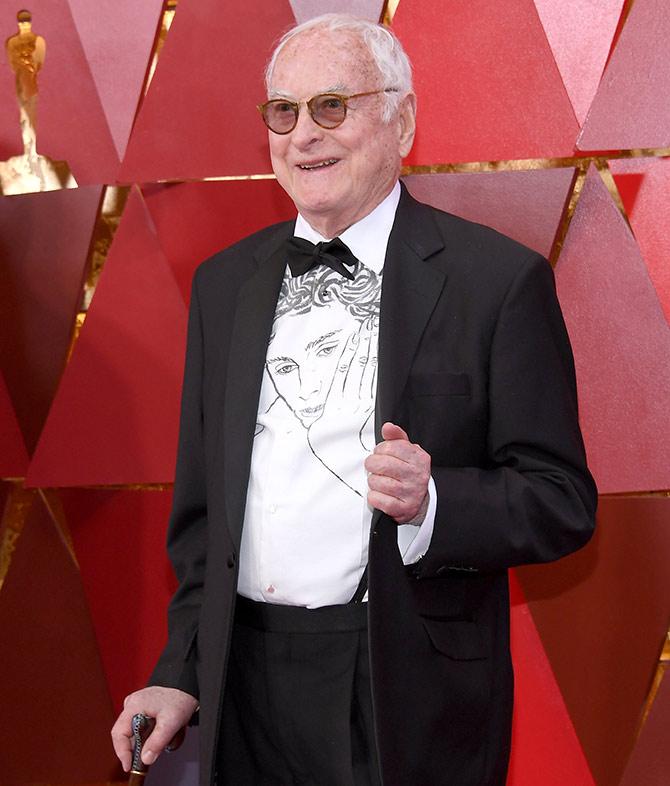 IMAGE: James Ivory. Photograph: Kevin Winter/Getty Images
Winning his first ever Oscar for the adapted screenplay of Call Me By Your Name, James Ivory caught everyone's eye with his trendy t-shirt featuring artist Andrew Mania's illustration of Timothee Chalamet's character in the movie.
The visual of Armie Hammer holding a hot dog cannon
IMAGE: The stars come down in a theatre. Photograph: Kind Courtesy, Jimmy Kimmel/Twitter
As part of Jimmy Kimmel's surprise gag wherein he and a bunch of stars showed up at the movie theatre across the street to offer refreshments to a star-struck audience.
Part of the enthusiastic imagery includes the devastatingly handsome Armie Hammer carrying a giant hot dog.
As expected, Twitter had a field day seeking all puns.
Jordan Peele's historic win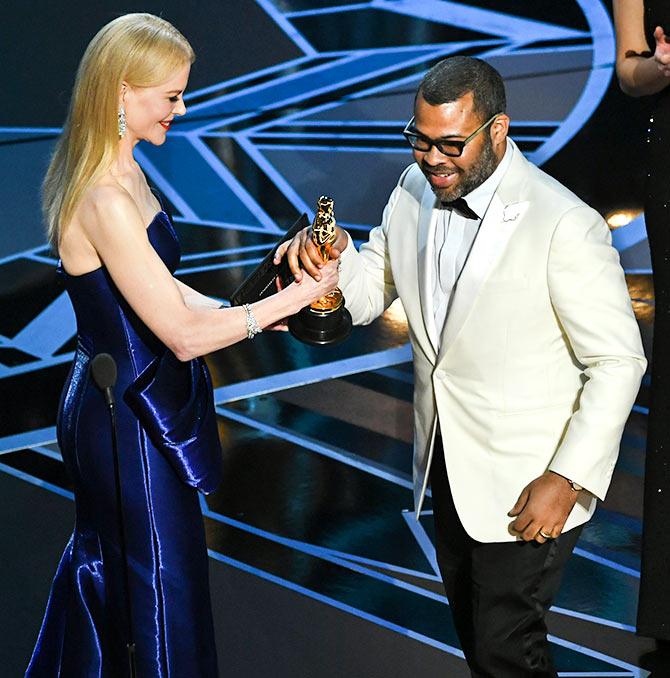 IMAGE: Nicole Kidman gives away Best Original Sacrrenplay to Jordan Peele for his film Get Out. Photograph: Kevin Winter/Getty Images
Made at a modest budget, debutant director Jordan Peele's horror satire Get Out first wowed Sundance Film Festival before finding wholehearted approval in audience and critics alike. Peele's original screenplay Oscar makes him the first ever African American to win in the category.
His speech explains the prominence of it all.
"I stopped writing this movie about 20 times because I thought it was impossible. I thought it wasn't going to work. I thought no one would ever make this movie."
What a triumph!