'Since my dad is the director and producer of the film, the environment at home is quiet, nervous, excited and honestly, I just want it over with.'
'Then I can relax and move on with my life.'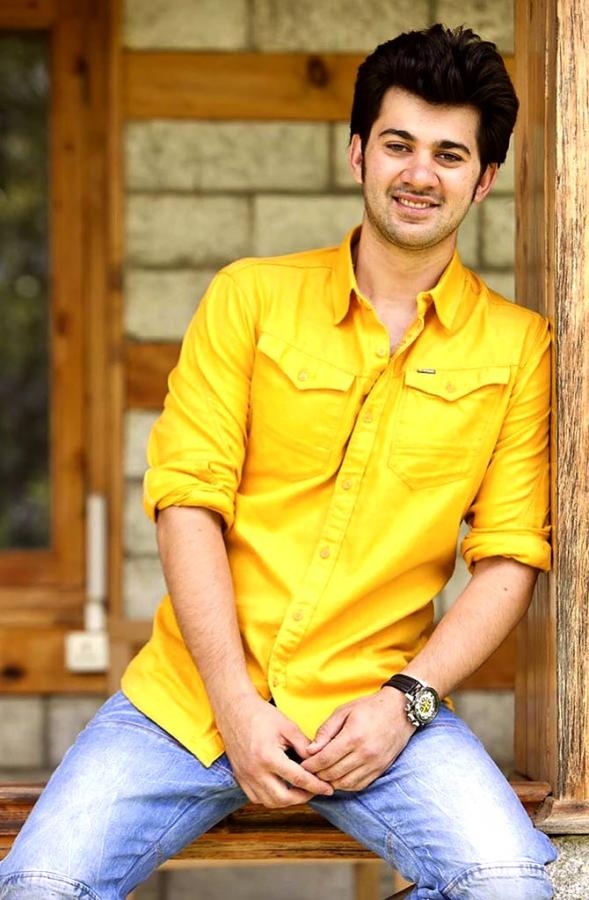 Unlike his father Sunny Deol, Karan Deol is not shy.
He's confident and likes to talk.
He's all set to make his debut in the movies with Pal Pal Dil Ke Pass, a title taken quite aptly from a song in his grandfather Dharmendra's film, Blackmail.
"Everyone in the house loves the song," he tells Patcy N/ Rediff.com, as he settles down to tell the world all about himself.
What's going on inside your mind?
I am nervous about what will happen to the movie, will it be received well...
Since my dad is the director and producer of the film, the environment at home is quiet, nervous, excited and honestly, I just want it over with.
I hope September 20 comes and goes soon.
Then I can relax and move on with my life.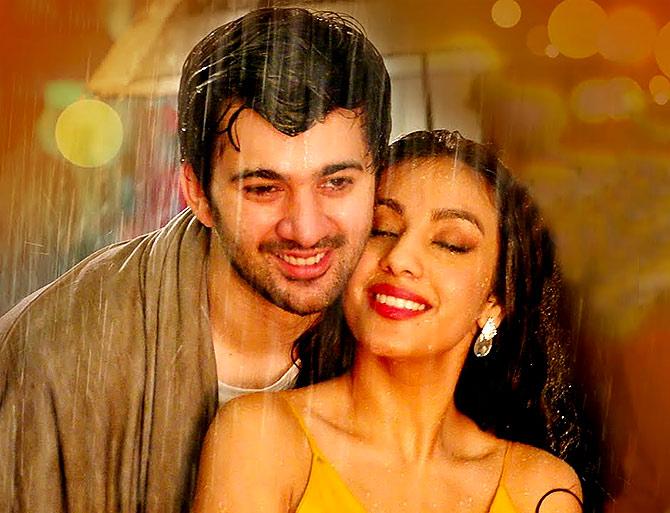 Sunny Deol made his debut in a romantic film with Amrita Singh, then a newcomer. Bobby Deol made his debut in a romantic film with Twinkle Khanna, then a newcomer. Now, you're making your debut with a romance, opposite newcomer Sahher. Was that necessary?
At this age, you have the innocence to play a romantic hero.
I don't think you can do that later.
The first love is like your first role, the first time you do something.
It's so fresh and the feelings are so unique.
It's not mechanical, it's all natural.
I think that's how we wanted it.
The youth connects with a love story and it's easier making one.
We did not plan it, ironically, it just happened.
It was a natural scripting process and Pal Pal Dil Ke Paas was born.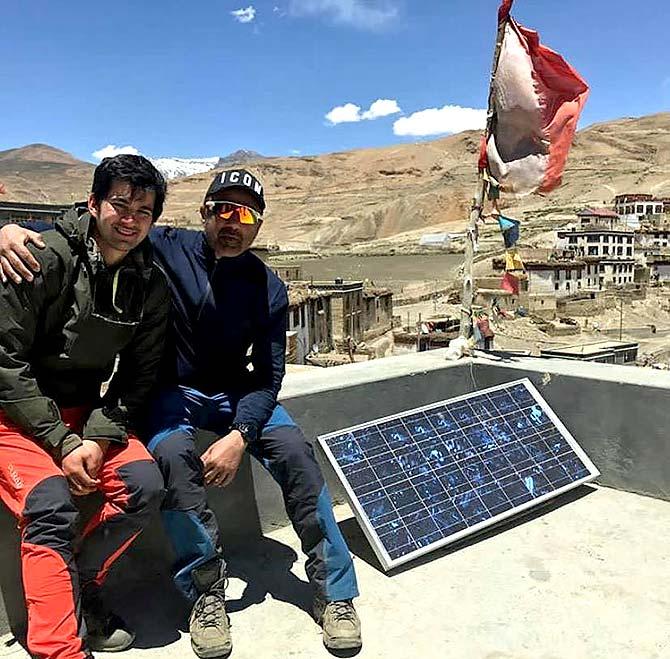 Why was the film delayed?
Ghayal Once Again got delayed; this was supposed to start after that.
Finally, when Ghayal released, dad wanted to take a mental break before he started a new project.
It's very taxing for a director, emotionally and physically.
Then we started the scripting process with writers Ravi and Jassi. The brainstorming took about a year.
After that, dad went on a recce to such weird places that it took time to reach those places with the cameraman and everyone!
I had to do some training too because it's important to get acclimatised to that altitude, especially with all the action that I have to do.
I trained for four or five months with the locals.
I went rock-climbing, river-crossing and rappelling. Then, we camped at different altitudes.
We came looking for an actress, and luckily, we got Sahher (Bambba).
We did a workshop for two-three months in Manali.
After 15-20 days of shoot, the heavy rains started.
We waited for 10 days, and then had no choice but to go back, as the unit was getting restless.
We came back to Manali and tried shooting and then, there was snowfall!
So we've seen all kinds of weather in Manali.
Also, dad wanted to shoot the film in a linear way since it's our first time. He wanted to take us through the story, so that took time.
How was your mental state when things got delayed?
Obviously, I was anxious.
But if things are meant to be, it will work out.
The more you get worked up, the more it will affect you and your work.
In this industry, it is very important to be patient because you will get your due eventually.
You cannot demand things, you have to work hard.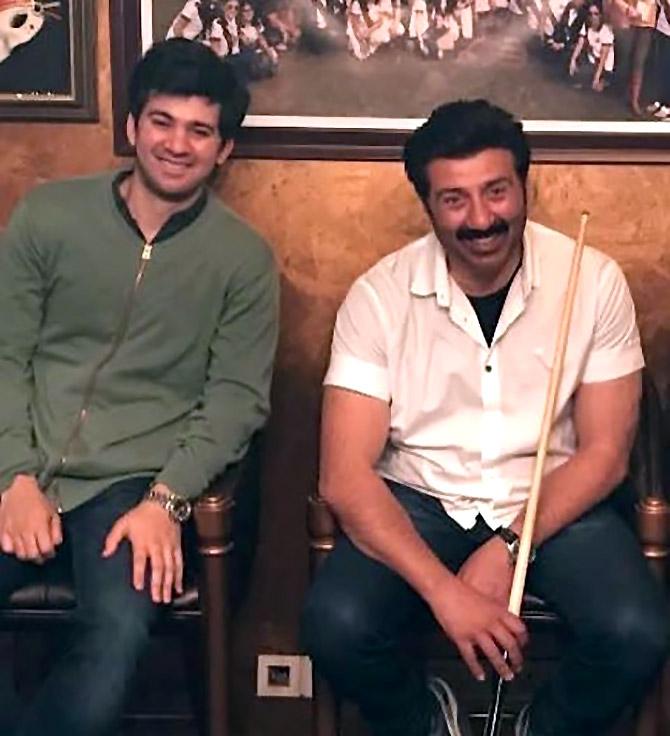 Is Sunny Deol a stricter father or director?
He's a strict director.
We used to have pin drop silence on set.
Also, he would reach the set before the unit. That drives you too, and the discipline automatically kicks in.
He would not stop until he got what he thought was right -- whether it was jumping six or seven times, he will not leave you until he gets it right.
Even if you want to break down, he will be waiting for you to give another shot.
And there's no 'good' in his books -- everything is either 'okay' or 'decent' -- so you start questioning yourself.
It really pushed me.
Do you remember your first shot?
I had to drive a four by four pickup truck on a mud road. There were no barriers, so if your truck slips, you will fall off the hill!
When such a vehicle gets stuck in the mud, you have to hit the accelerator a little harder to come out.
On top of that, you have the crew all standing with the lights. They were not concerned about their safety, and that was my biggest concern.
So I was nervous.
In the scene, I had to hit the mark and then roll down the window to talk to the actress.
The first time, I stopped ahead of the mark.
The second time, I overshot it.
The third time, the car (engine) got switched off.
Everyone was looking at me and I started thinking that maybe I'm not made out for this.
I broke down and started crying.
A relative came to me and said that everyone has their own experiences.
Luckily, after that, things got better.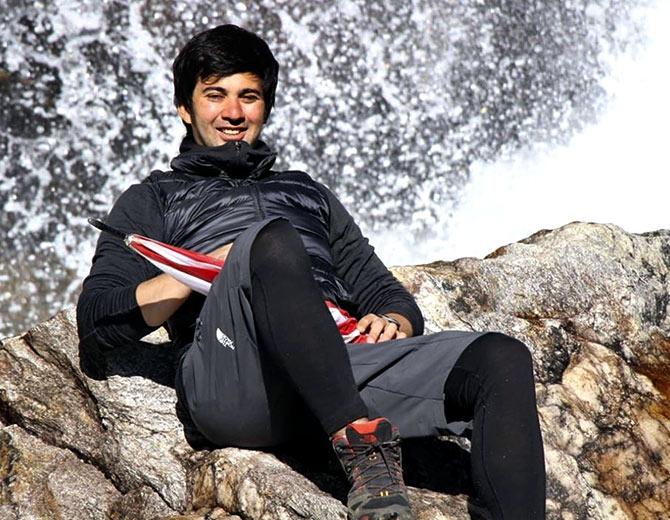 Did it help that your father was your first director, and knew you well enough to tap your emotions better?
Yes. Somewhere, he would poke me and the emotion would come out.
When I would see the take and the edit, it would be different.
He knew me, so a different type of tuning kicked in.
My dad didn't want to make a hero-driven film.
He wanted to make a good story driven by two characters. There is no hero's entry, like you have in your typical launch movie.
The story is about a guy from Himachal, who runs his adventure sports camp and runs a home stay too.
He takes different groups for expeditions and he loves life and living in the wilderness.
Then, there's this girl from Delhi, who comes from a different background. She's a Vlogger, who reviews these travel destinations.
She comes on an expedition, and that's how the story unfolds.
So it's not a love story about the rich or poor or the caste system.
It's about two youngsters, their relationship and the problems they face.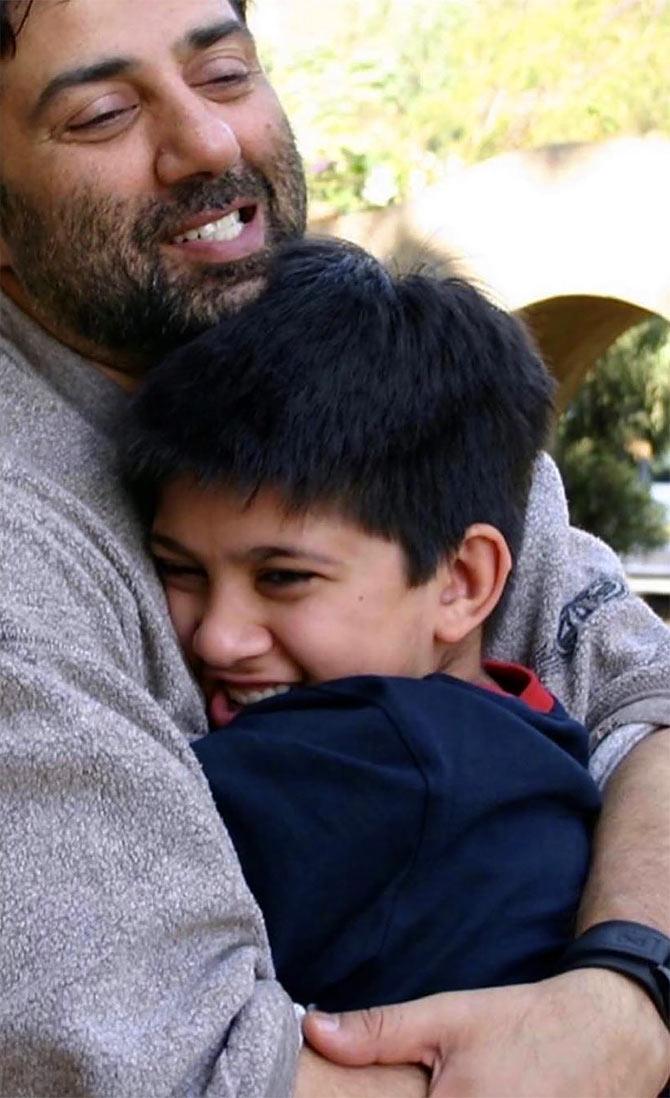 You are Sunny Deol's son. Do you feel the pressure?
If you think of it as pressure, you cannot do anything in life.
Never in my life have I thought of him as Sunny Deol; he was always Papa to me.
It's important for your identity to come across.
Obviously, because it's action, there will be comparisons and you can't run away from that.
I have done raw action in this movie, and actually hurt myself.
I have lifted people without any wiring.
I hope I have done justice.
Can you dance well?
I did a lot of dancing, and went through a lot of practice.
But I am not as good as Bobby chacha, he is something else only.
I went to dance classes because it's important to let yourself loose.
You don't need to be a great dancer, as long as you enjoy it and feel the music.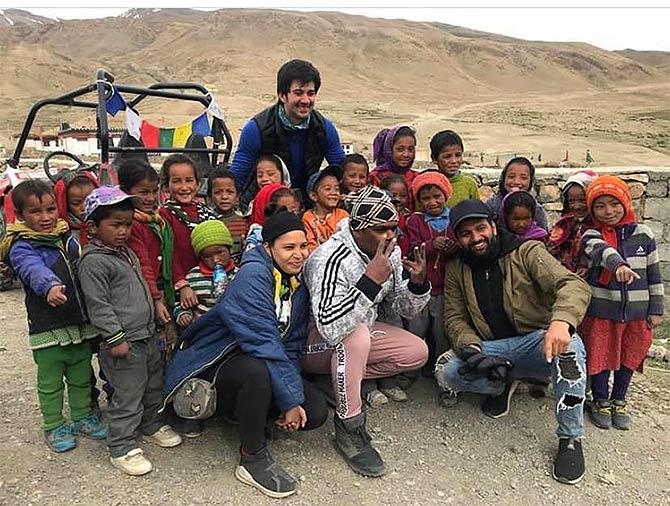 Tell us about the bond you share with your father.
After the movie, we have come closer.
He has an unsaid trust in me. Like, at the trailer launch, because of his political restrictions, he had to go to go to Gurdaspur.
He believed that I could take charge of the launch and somehow, I did it.
That trust is slowly growing.
Hopefully, I can take another burden off him and take my family's production house forward.
While growing up, it was nice. We would wrestle a lot.
He used to be busy with his shoots, so whenever we got our moments, it would be fun.
He would always get gifts if he had been away for long.
After watching his movies, he would become my superhero and role model.
But I was scared of my father.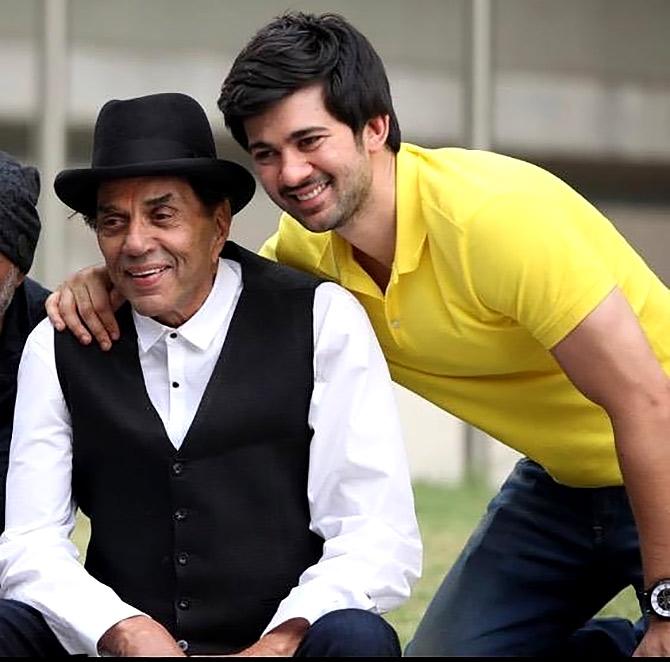 How is your bond with your grandfather, Dharmendra?
I am a bit shy with him but as a kid, we had our moments.
I would be playing my video game and he would be playing cards, so somewhere, we bonded.
We used to talk.
I was fond of wrestling, so he used to wrestle with me.
Which is your favourite Dharmendra and Sunny Deol film?
Dada's Chupke Chupke because of the comic timing between Amitabh (Bachchan) sir and him.
Dad's Arjun; that movie will stand the test of time as those problems are still going on in our country.
Your grandfather's hit song is the title of your film.
Arguably, his best song. It's so romantic.
And Pal Pal Dil Ke Paas is such a touching phrase.
It is dad's favorite song; they were so happy to have a romantic movie title.
He thought it fit the situation perfectly.
Are you influenced by Hindi cinema or international?
I am influenced by the new Hindi cinema because it is really pushing boundaries.
Whether it is Love Per Square Foot that Vicky Kaushal did in Netflix or Uri, Sanju... Ayushmann Khurrana's Article 15, Andhadhun...