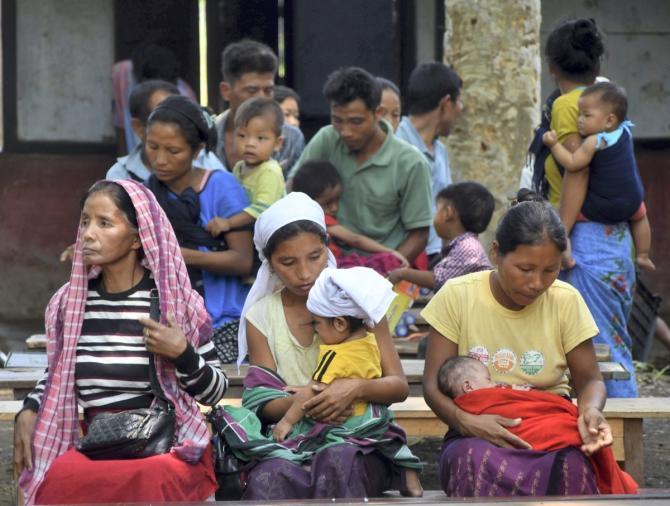 Akshay Kumar and Urmila Matondkar expressed shock over a May 4 video of two women being paraded naked in strife-hit Manipur and demanded punishment for the perpetrators of the 'horrifying' incident.
Tension mounted in the hills of Manipur after the video surfaced on Wednesday.
It was doing the rounds on the eve of a planned protest march announced by the Indigenous Tribal Leaders' Forum on Thursday to highlight their plight.
The North Eastern state has been seeing ethnic violence since May 3 and several fatalities have been reported.
Akshay said he is 'shaken and disgusted' to see the video of violence against women in Manipur.
'I hope the culprits get such a harsh punishment that no one ever thinks of doing a horrifying thing like this again,' the actor tweeted.
After Akshay Kumar, Kiara Advani also took to social media and reacted to the viral video that allegedly shows two women in Manipur being sexually assaulted on a road.
Taking to Twitter, Kiara wrote, 'The video of violence against women in Manipur is horrifying and has shaken me to the core. I pray the women get justice at the earliest. Those responsible must face the most SEVERE punishment they deserve.'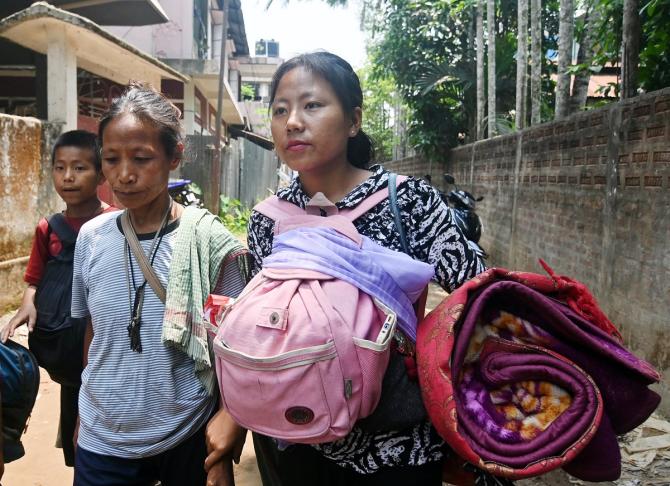 Urmila, who joined the Shiv Sena in 2020, said it was shocking how 'no action' was taken by the authorities in an incident that took place in May.
'Shocked, shaken, horrified at #manipur video n fact that it's happened in May with no action on it. Shame on those sitting on their high horses drunk with power, jokers in media boot licking them, celebrities who r silent. When did we reach here dear Bharatiyas/Indians?' she tweeted.
'Stop asking why he's quiet. Surely, you don't expect the very people who caused the strife to speak/act against it. #Manipur,' composer Vishal Dadlani tweeted.
Trial By Fire Actor Rajshri Deshpande 'could not sleep at night' because the visuals of Manipur were haunting her.
She pens down a heartfelt note on Twitter.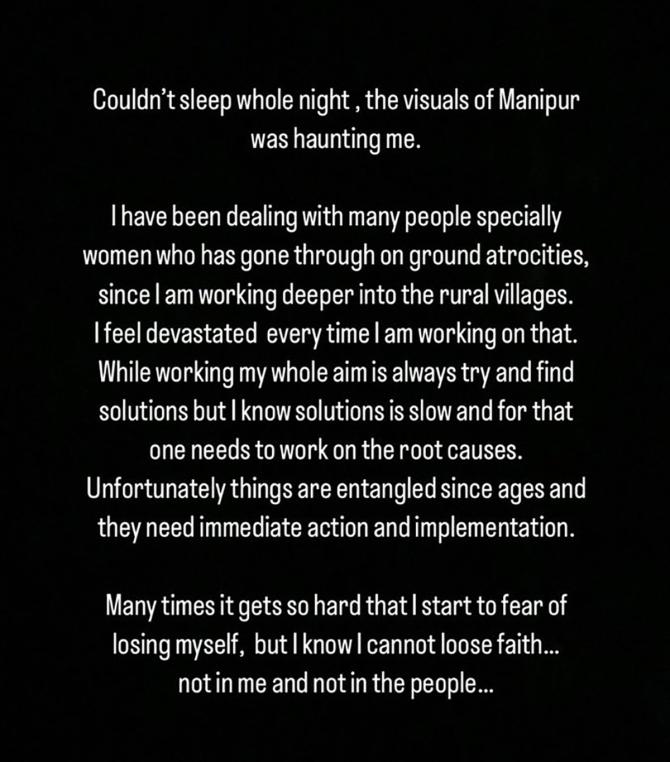 The Manipur police said a case of abduction, gangrape and murder has been registered at the Nongpok Sekmai police station in Thoubal district against unknown armed miscreants. An arrest has been made as well.
Addressing the media ahead of the Monsoon session of Parliament, Prime Minister Narendra D Modi said the law will act with its full might on the incident of women being paraded naked in Manipur.
The Supreme Court directed the Centre and Manipur government to take immediate steps and apprise it on what action has been taken on the video.