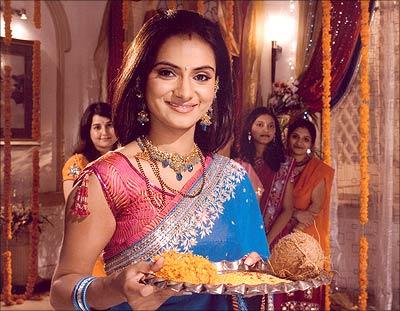 Sony Entertainment Television's new show, Babul Ka Aangann Chootey Na, will replace Smriti Irani's popular soap, Virrudh, from January 21. The serial will now have to compete with hit shows like Star Plus' Kahani Ghar Ghar Ki and Zee TV's Ghar Ki Laxmi Betiyaa, aired at the same time. 
Babul
is about the story of Aastha, and the dilemma she faces after marriage. She has to be loyal to her husband's family, and yet, cannot leave her parents in the lurch. The conflict is one that is faced by many young women today.
Babul stars Vijay Kashyap, Rameshwari, Raja Bundela and Navni Parihar. The protogonist, Astha, is played by Aastha Chowdhary.
"It is a story of a middle-class girl who juggles between her parents and married life," Astha explains. "Every girl has to go through this at some point or the other in her life. You can relate to the serial."
Astha is not a rank newcomer to television. She had done a small role Zee's Rakhi. "It is a huge challenge to play lead. Expectations are very high," she says.
So is she like her character in the show? "In some ways, yes. But I cannot solve day-to-day problems in life (like her)," Astha answers.
Gladrags model hunt winner Siddharth Shukla plays Shubh Ranawat, a man dedicated to his work and family. On his father's request, he quits his job abroad, and joins the family business. Shubh falls in love with Aastha, and dreams of settling down with her.
Watch Babul ka Aangann Chootey Na on Sony Entertainment Television at 10 pm, from Monday to Thursday.
Text: Rajul Hegde