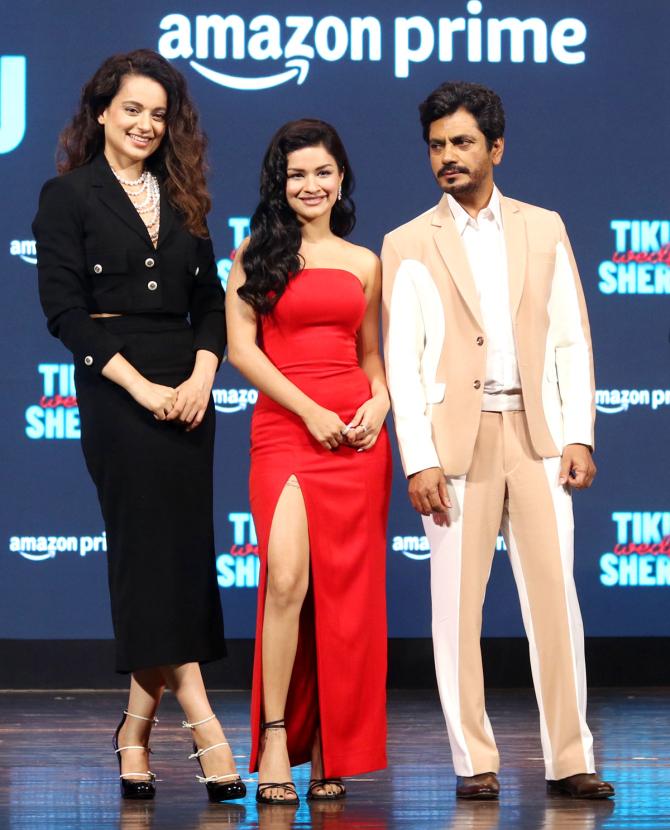 Did you know that Kangana Ranaut and Irrfan were supposed to play 'Divine Lovers' in a film titled just that?
Fate intervened and the film could not be made.
But as luck would have it, Kangana got a chance to make it again. Only this time, Irrfan had passed on and Kangana was not the Kangana that she was '10 years ago', the 'Kangana who had the dream of the big city, the Kangana who hoped to be a part of Bollywood'.
So the film revamped and re-titled Tiku Weds Sheru, and is now made with Nawazuddin Siddiqui and Avneet Kaur. Kangana is producing it.
Hitesh Harisinghani/Rediff.com and Afsar Dayatar/Rediff.com brings us moments from its trailer launch.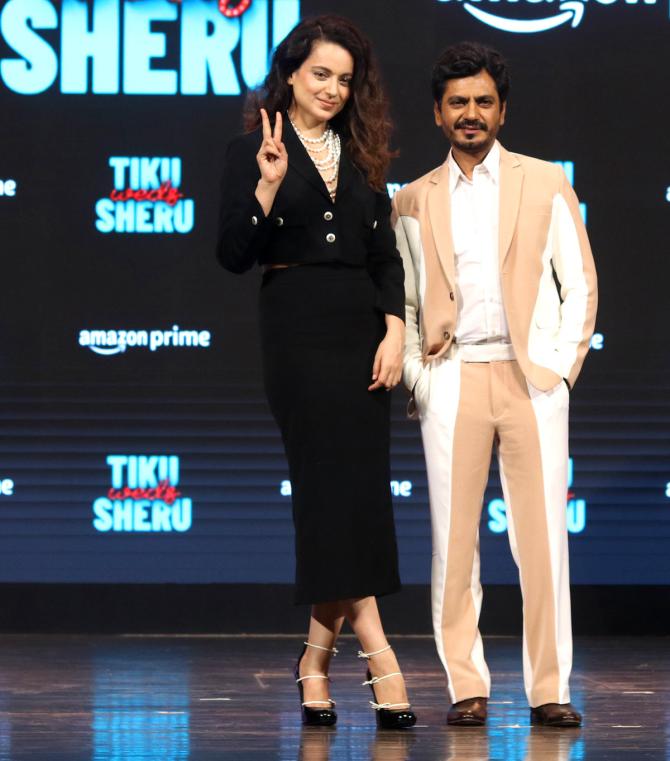 When Kangana wanted to sign Nawaz for the role, she was told that he wasn't going to sign a film for five years.
That only made her more determined and she narrates a cute story.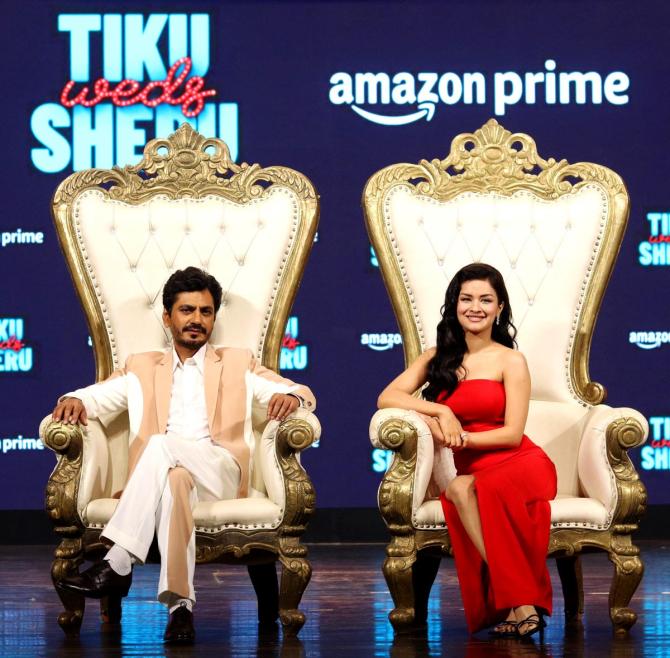 This is Avneet's debut film, and she admits that she's as nervous when she first shared the screen with Nawaz as she is today.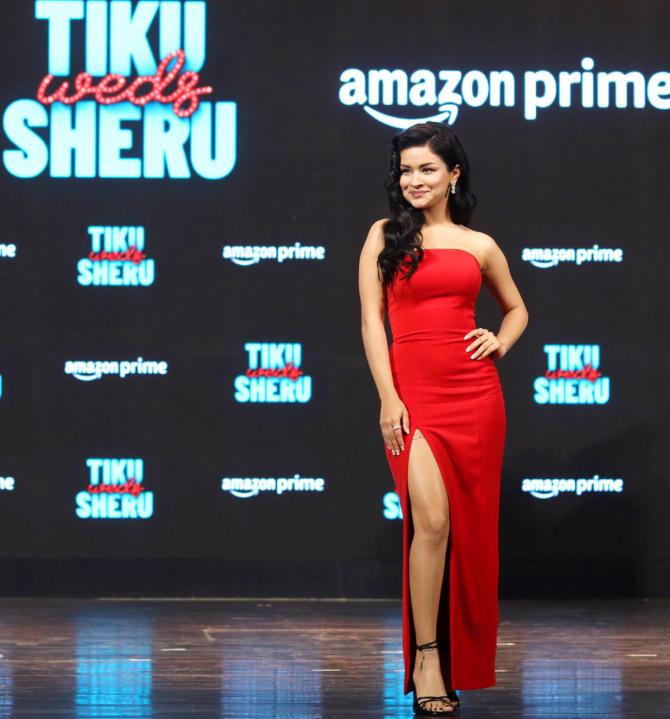 "We may have stardom and fans now, but we have all gone through our struggling days. We have seen those shady audition offices, those offers...," Kangana says, adding, that this film is her "love letter to those who come to the city, who may lose their dreams, but still end up finding something that is more meaningful."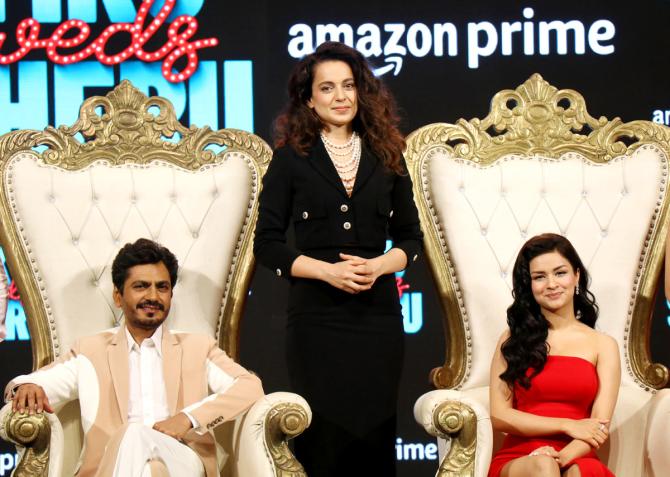 Nawaz has struggled quite a bit to reach the level of stardom that he enjoys today. It's been a tough journey but the actor looks back at it with humour, and shares some of his stories here.
One of his especially funny stories is the one when some of his village folk question him about the ways of Bollywood and if Hema Malini really puts Rs 500 notes in her chillum when she smokes it!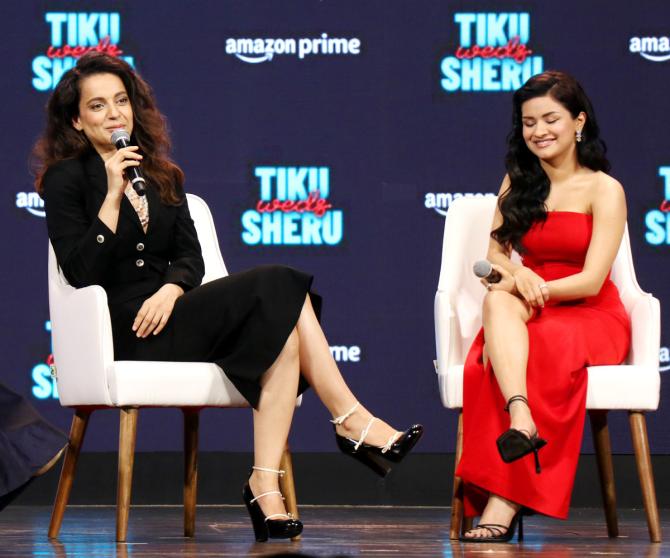 "I had shut all my doors behind me, there was no going back for me," says Kangana, looking back at her early days.
"Everyday I would get rejected in auditions. One day, one audition, changed my life. Anurag Basu (who directed her in Gangster) approved of it. Had that not happened, where would my life have been? Where would I have ended up?" she asks.
It was thoughts like this that prompted her to produce Tiku Weds Sheru.