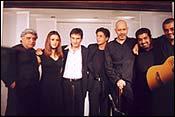 Aaj,
Aaj ek hansi aur baant lo,

Aaj ek dua aur maang lo,
Aaj ek aansoo aur pee lo,
Aaj ek zindagi aur jee lo,
Aaj ek sapna aur dekh lo,
Aaj.
Kya pata?
Kal ho naa ho.
A story a lifetime in a heartbeat is the tagline of Karan Johar's production Kal Ho Naa Ho. The brief one-minute promo of the movie has a somewhat similar effect on the viewers.
Javed Akhtar's simple yet poignant lyrics blend seamlessly into Shankar-Ehsaan-Loy's emotional melody.
| | |
| --- | --- |
| | More on Rediff! |
| | |
Kal Ho Naa Ho, which stars Jaya Bachchan, Shah Rukh Khan, Preity Zinta and Saif Ali Khan, marks the directorial debut of Johar's former assistant, Nikhil Advani.
Although the music was out in the market on September 27, the official launch took place only on September 29 at Mumbai's Taj Lands End's banquet hall, Salcette.
Though the philosophy of the film treads a serious note, the mood at the press meet was strikingly upbeat and humorous.
The promotional theme of Kal Ho Naa Ho is in shades of red, black and white. Salcette, too, matched the theme: red chairs, red china roses, a white backdrop and the cast and crew comprising of Karan Johar, Nikhil Advani, Shah Rukh Khan, Saif Ali Khan, Jaya Bachchan, Preity Zinta, Javed Akhtar, Shankar Mahadevan, Loy Mendonsa, Ehsaan Noorani, Manish Malhotra, Sharmishta Roy and Mickey Contractor dressed in black.
Javed Akhtar began the show in his characteristic tongue-in-cheek manner, "It's wonderful to see so many of you wonderful people here although there are quite a few diversions in town [a tongue-in-cheek reference to Karisma Kapoor's wedding]. I suppose it's another irrefutable proof of your love and friendship for the Johars." He called the music of the film "a very happy, admirable synthesis of culture, different music, different sensibilities and different generations."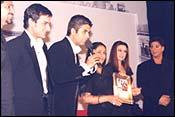 Akhtar's entertaining speech was followed by a scintillating performance from the musical trio, Shankar, Ehsaan and Loy.
And then, it truly was Show Time as producer Karan Johar took centrestage.
"I am going to do your job today," declared Karan, pointing at the members of the fourth estate. "I am going to introduce and interview them [the stars and director]. All the questions you have in yours minds and hearts, I am going to ask them for you. I won't leave any of the controversy aside, I can promise you that."
Enter Saif Ali Khan.
Karan: Hello. Okay, you are supposed to sit there. And don't wear the glasses [pointing at the amber-coloured glares tucked into Saif's pocket].
Saif promptly dons them on.
Karan: How did you feel when Nikhil and I offered you Kal Ho Naa Ho? You didn't even offer us anything to eat or drink.
Saif: It wasn't that. It was all that crying and wailing on your side saying you have to, have to do this film. I won't be able to sell it with you. I won't be able to make it without you.
Karan: Yes I did, because I remember coming to you four years ago, begging and pleading, and you didn't do my [directorial debut] Kuch Kuch Hota Hai.
Saif: In all seriousness, not doing KKHH was one of the errors I will write in my book.
Next Karan quizzed Preity Zinta about not being the first choice for the role of Naina in Kal Ho Naa Ho [Kareena Kapoor was the original choice, but she walked out of the project when they were not able to agree on the remuneration]. "In life there are a lot of choices. You always have to stick with the right choice," she replied. 
Both Saif and Preity were generous in their praise for the film's lead star, Shah Rukh Khan.
"It's been very nice working with Shah Rukh. The lead actor always sets the tone to a movie. Sometimes one gets really cranky. But I was really amazed to see Shah Rukh behaving so well all throughout that I didn't say anything ever at any point. He is an asset to any film," beamed Saif.
Preity who worked with Shah Rukh in her very first movie, Dil Se.., said, "Shah Rukh is a powerhouse of energy. He is one actor who never sees himself; he sees everybody. He sees the whole film.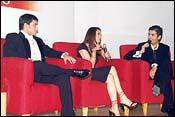 After the on-stage rendezvous with Saif and Preity, Karan invited Shah Rukh to join the conversation. Watching him onscreen might feel a bit strange -- Shah Rukh is called Aman Mehra and not Rahul or Raj in Kal Ho Naa Ho. Remember Rahul Khanna and Rahul Raichand of Kuch Kuch Hota Hai and Kabhi Khushi Kabhie Gham respectively? Or Raj Malhotra in Dilwale Dulhania Le Jayenge and Raj Aryan in Mohabbatein?
By now, the proceedings which were already funny turned hilarious.
"So Shah Rukh, this is your fourth film with Dharma Productions?" asked Karan, the journalist in disguise.
Shah Rukh: Yeah, and my favourite film is Duplicate [produced by Karan's dad Yash Johar].
Karan: What did you feel while working on this film? Did you like the script?
Shah Rukh: No, I didn't read the script. I simply started shooting.
Karan (scandalised): Shah Rukh, you are on camera.
Shah Rukh (a poker-faced expression on his bespectacled visage): Yeah, but I didn't read the script. I was trying to experiment by doing a film without reading the script.
Karan: Did you like the story when you found it developing in front of you?
Shah Rukh (continuing to take Karan's case): As soon as I see the film, I'll call you and tell you.
Karan: Do you have a good feeling about this film?
Shah Rukh: Why? I only have good feelings about films. Because I have been in so many of them, which are similar.
Karan (plantively): But this one is different. It has a K in its title. It has a bhangra in its score. It has a long title. Look, it's even got a foreign location. 
Later on a serious note, Shah Rukh said, "I have never done a Dharma Production for any other reason but Yash Johar. Be it Kal Ho Naa Ho, Kabhi Khushi Kabhi Gham or Kuch Kuch Hota Hai, Karan's first film. I hope when my career ends, I do my last film with Yash Johar."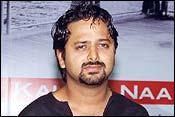 The debutant director looked a tad nervous as he made his appearance in front of the media. "Karan Johar is the language of my film. Hopefully, I am the dialect," he said. Some of you may remember Nikhil from Kuch Kuch Hota Hai; he's the guy who appears on The Neelam Show to tell his ex-love Suparna not to return because he has found someone else.
Aunty J (as Karan Johar calls her affectionately) -- Jaya Bachchan as we know her -- looked stunning in a  sequinned black sari. She plays Preity Zinta's mother in the film and was the final celebrity to make an appearance on the stage as she released Kal Ho Naa Ho's music.
Then, before the media could reach the stars, they were quickly swished away in another room, which happened to have a back entrance. Before you knew it, they were gone.
And for all those who are wondering if Kal Ho Naa Ho bears any resemblance to Hrishikesh Mukherjee's Anand or Asit Sen's Safar, Karan only smiled, "I wish it did."
Photo: Rajesh Karkera
Click here for More Features