'My main concern was that a proper Sardar would not fit in the acting world, but things are changed now.'
Diljit Dosanjh promises to provide some laughs in his new film Arjun Patiala, co-starring Kriti Sanon and Varun Sharma.
He's refreshingly honest in this interview with Rediff.com Contributor Divya Solgama, as he says, "I don't understand how the business runs in Bollywood."
You're getting a lot of love from Bollywood.
To be honest, I think I do not deserve so much love from here, but I am very happy.
How different are you in real life from the character you play in Arjun Patiala?
I'm quite reserved in real life and don't talk much. But my character in the film is very loud.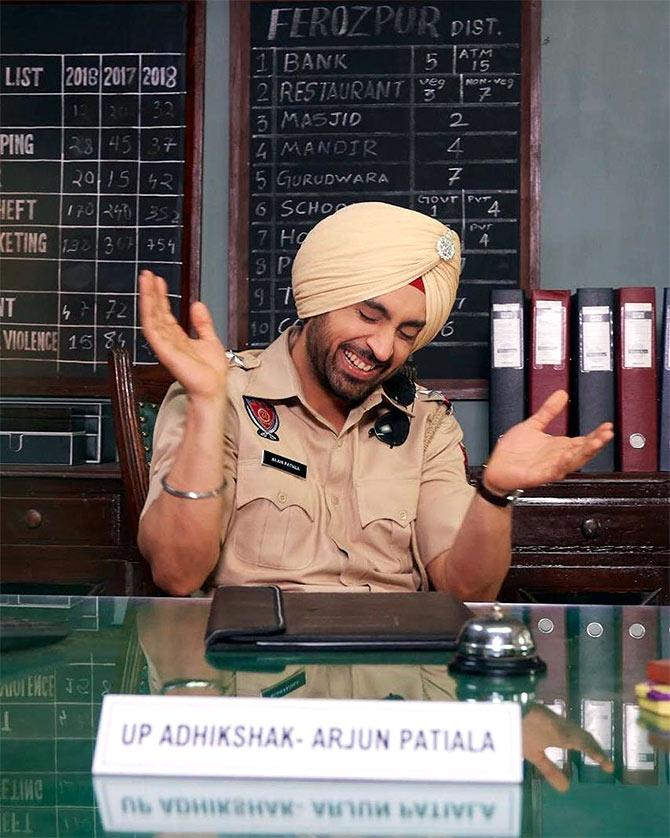 You have worked with Director Rohit Jugraj Chauhan in Punjabi films. You must have been comfortable with him during Arjun Patiala.
Actually, when I gave my nod for Arjun Patiala to Ritesh (Shah, writer) and Dinesh (Vijan, producer), Rohitpaaji was not on board.
Also, at that time, I had asked what the film's subject was and they said there was no subject.
That scared me, but then they said it was a comedy with a lot of laughter.
I haven't done such a film in Bollywood, so I thought I should be a part of this.
Some other director was meant to direct Arjun Patiala.
Later, Ritesh and Dinesh planned to approach Rohit and asked me about it. Since I had already worked with him before, I gave my consent.
Despite not being Punjabi, Rohit has made Punjabi films, so we are always grateful to him.
Your co-star Varun Sharma is also a Punjabi.
He is a very good artiste and human being.
I am from Ludhiana and Varun is from Jalandhar, which is my native town.
Whenever a Punjabi meets me on the sets of a Hindi-based project, it always feels good.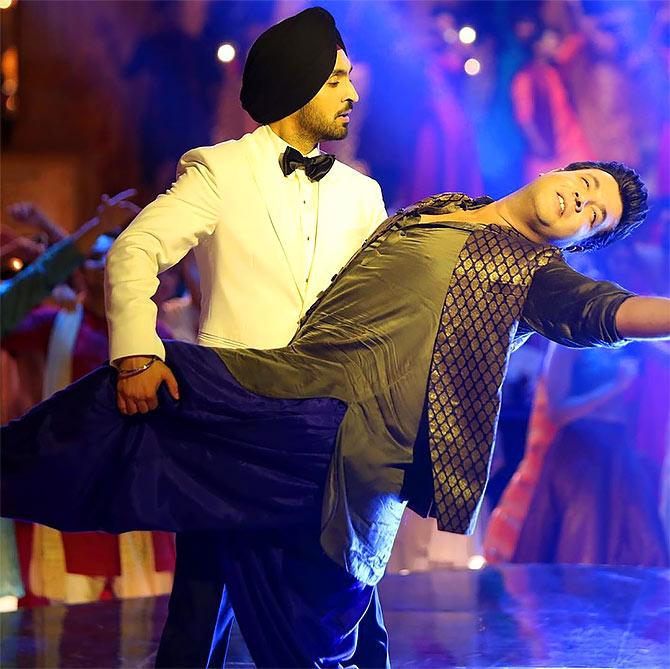 You play a cop in Arjun Patiala. Which Bollywood actor has done it best?
I have loved everyone's work, but Amitabh Bachchan in Zanjeer is my favourite.
Do you feel that Bollywood is not tapping your potential properly?
My films in Punjab are entirely in my control -- right from the budget to the song selection to social media posts.
I even know how many theatres it will get released in, how many screens it will be shown on...
Though such things are in the hands of producers, all of them are my friends. Even if I want to start a film tomorrow, I can do it.
So everything is in my control there, but not in Bollywood.
Here, the business scale and budget is big. I have to figure out where to fit myself with whatever offers I am getting.
When I started acting in Punjabi films, I could not fit in as an actor.
People suggested that I stick to singing, not step into acting.
I believe Sardars were singers earlier, not actors.
But things changed in Punjab and the box office were reaching its peak.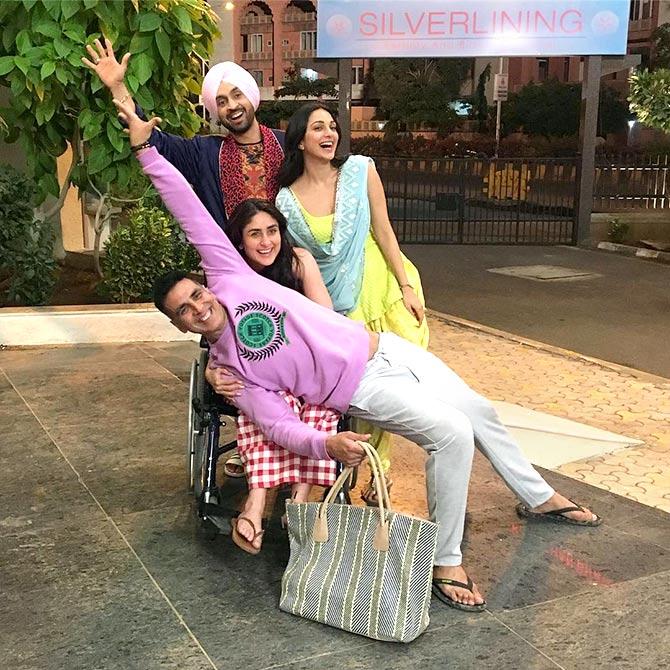 Since you cannot control Bollywood, do you find it frustrating?
I take it as a learning.
For instance, I believe that the trailer of Arjun Patiala could have been funnier than what it is now, but it is not in my control.
I don't understand how the business runs in Bollywood.
I don't understand the taste of the Hindi audience.
Dinesh sir knows better; he has made several good films in Bollywood. So I surrender myself to the producer and director here.
How would you like to change Sikh characters in Hindi cinema?
Single-handedly, I cannot make a change, but I being some change in my films.
To make fun of yourself is different -- that's the nature of Punjabis and Jaspal Bhatti did it in the finest manner.
But making fun of Sardars is a different thing and I won't let that happen in my films at least.
My main concern was that a proper Sardar would not fit in the acting world, but things are changed now.
In Punjab, there is a big change. People, who are not Sardars, are wearing turbans and acting in films.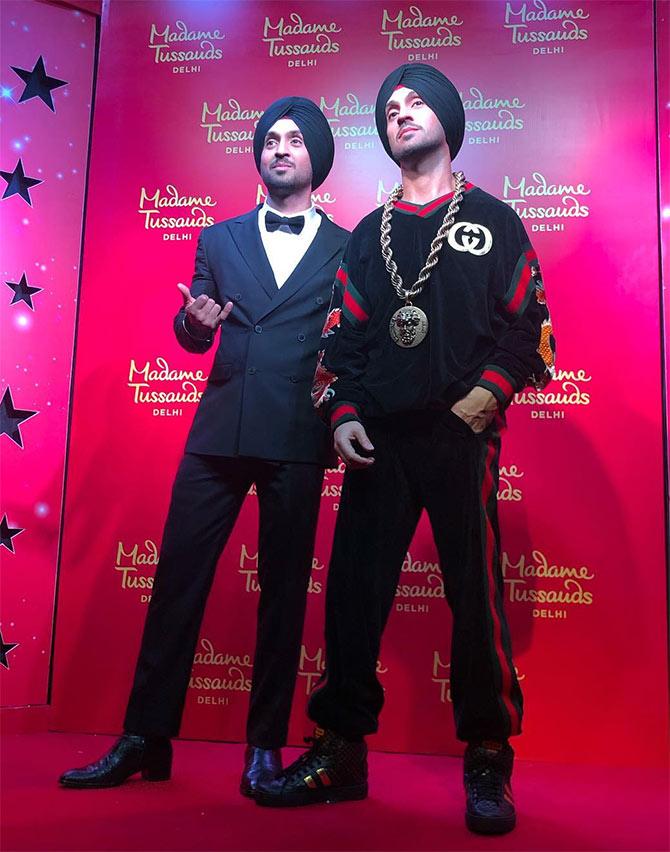 Which film with Sardar characters do you like?
I loved Bhaag Milkha Bhaag; everybody has done great work in it.
I don't think I would be able to do such kind of work in such kind of a film.
When I watched Dangal, I thought it was simple, but I believe to make an easy film is very difficult.
I cried a lot while watching Dangal.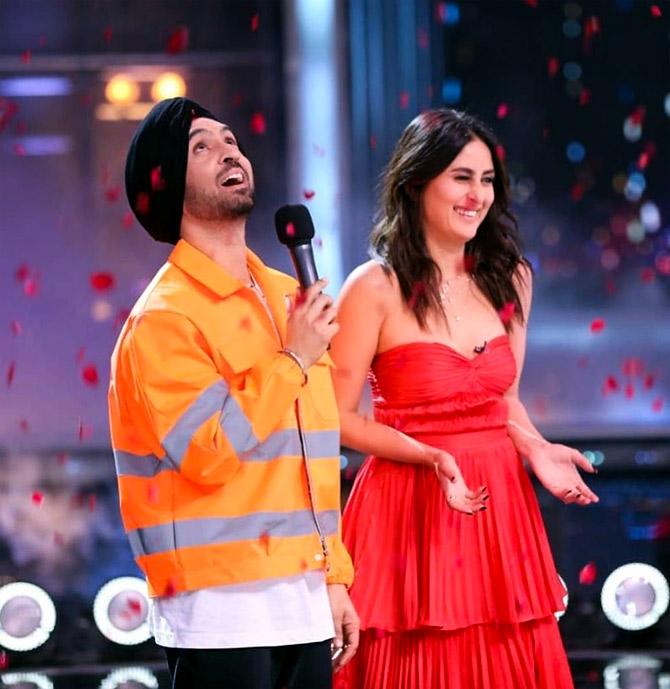 What kind of films did you watch in your childhood?
Those days, we were happy watching films that starred Amitabh Bachchan and Dharmendra on Doordarshan.
I still remember when Amitabh Bachchan sir became a Sardar and shot the song Teri Rab Ne Bana Di Jodi. It felt really good when we were kids.
If a film did not have a fight sequence, we would call it a bore because as children we are fond of action.
Your taste changes gradually as you grow older because you start understanding films.
Then, I started liking Rajesh Khanna's films.
When I entered the industry and understood the technicalities of it, that's when I realised the hard work actors have to go through.
Earlier, we used to laugh at comic scenes, but later I learn about Mehmood sir's acting. I was amazed by the work done by Pran sir and Amitabh Bachchan sir.
In the 1990s, Govinda became one of my favourite actors.
I have loved all the films starring Rajendra Kumar. As most of his films were shot in hill stations, we loved the scenario because our family did not take us to such exotic locations (laughs).