'Comedy comes naturally to me.'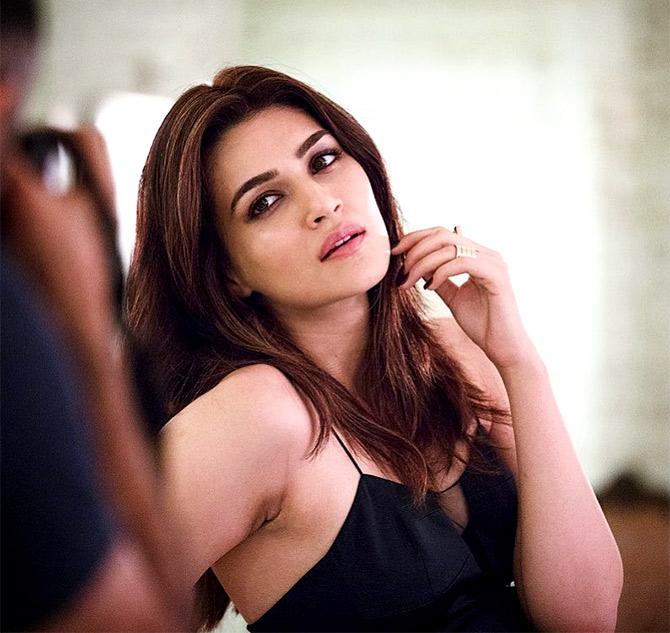 Kriti Sanon gets into a small town avatar once again in her next film, Arjun Patiala.
After scoring hits in Bareilly Ki Barfi and Luka Chuppi, this is the kind of cinema Kriti seems comfortable with.
Does she like playing a small town girl?
"I may look glamorous, but I am a very simple middle-class girl in real life," Kriti tells Rediff.com Contributor Divya Solgama.
You play a journalist in Arjun Patiala. Have you done any research for your role?
I did a bit of research in terms of how a crime reporter's body language should be.
Any reporter has two sides -- one in front of the camera and the other when the camera is off, when they are themselves.
In Arjun Patiala, I play both sides.
To be honest, I don't see the news often, but I had to for my role here.
I believe small town journalists have a different style of reporting news.
I also went through a lot of funny videos on the Internet that accidentally happens when real life journalists report news.
As it's a comedy, I have also used these bloopers in the film.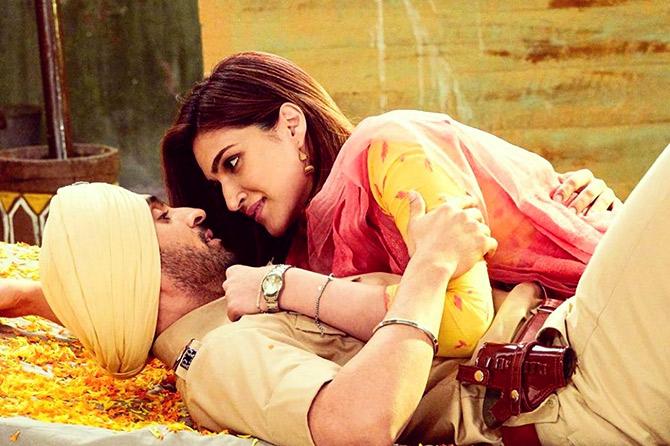 Bareilly Ki Barfi and Luka Chuppi were romantic comedies. Arjun Patiala belongs to the same genre. Your next film Housefull 4 is also a comedy. You seem to be very comfortable in this genre.
I am an actor and it is my job to do the scenes convincingly.
Whenever you want to go over the top, it's quite difficult. Though it looks simple, it's tougher to perform such scenes because that is not the way you talk in real life.
To make that over the top feel believable is the toughest thing for an actor.
But I like comedy and would like to do more.
I have some fabulous actors around me who are very good at comedy.
In Housefull 4, I hope that I have unknowingly picked up a lot from Riteish (Deshmukh) and Akshay (Kumar), who are simply amazing with their comic timing.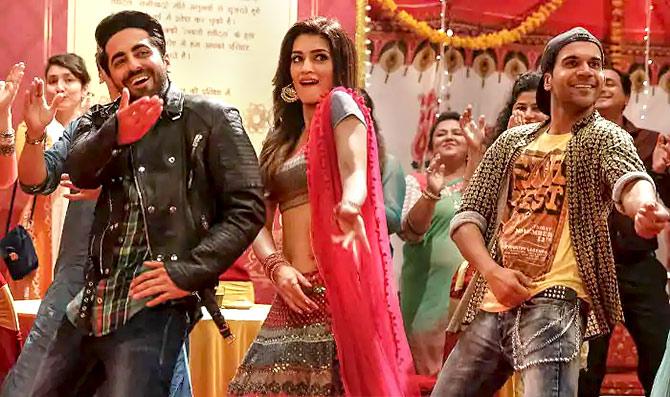 Your comic timing is very good.
I think it depends on the situation.
When you are surrounded by actors who have good comic timing, you have to match them.
For me, comedy is about reactions.
I might not be cracking a joke, but you will find it funny because of the way I react towards it.
Personally, I like that kind of comedy. It was there in Luka Chuppi.
I try and make it funny through my reactions.
My next film Panipat is a period war drama, but my character will make you smile. She actually lightens the mood throughout the heavy film, and is probably the only comical relief in it.
While shooting for Panipat, Arjun (Kapoor) would tell me that I have a thing for comedy.
So I think it comes naturally to me.
Talking about Panipat, how nervous are you, since Ashutosh Gowariker's last film Mohenjo Daro did not do well?
I don't think anybody's last film matters.
While Raabta did not do well, my next film Bareilly Ki Barfi did.
It depends on the content eventually.
Ashutoshji is a very talented and brilliant film-maker. I feel overwhelmed that I got the opportunity to work with him.
I have loved so many of his films like Lagaan and Jodhaa Akbar.
Jodhaa Akbar was one of the longest films in Hindi cinema that I have seen. The way Ashutoshji creates that magic and that world on screen is amazing.
Are you funny in real life?
I am not very funny, but I am not a sad person also.
I lie somewhere in the middle.
There are days when I crack funny jokes and people tell me I am in good form.
I like people who have a good sense of humour because they lighten up your mood.
Laughter is so important these days.
Do you like playing a small town girl?
It feels great because so many people told me before Bareilly Ki Barfi, that they were not sure if I would look like a girl from Bareilly.
Now, the same people are convinced about the small town characters I have played in films.
So it feels great!
To be honest, I may look glamorous, but I am a very simple and middle class girl in real life.
My conviction in doing such roles might come from there.
However, I feel that make-up and costume can change you in any form on screen.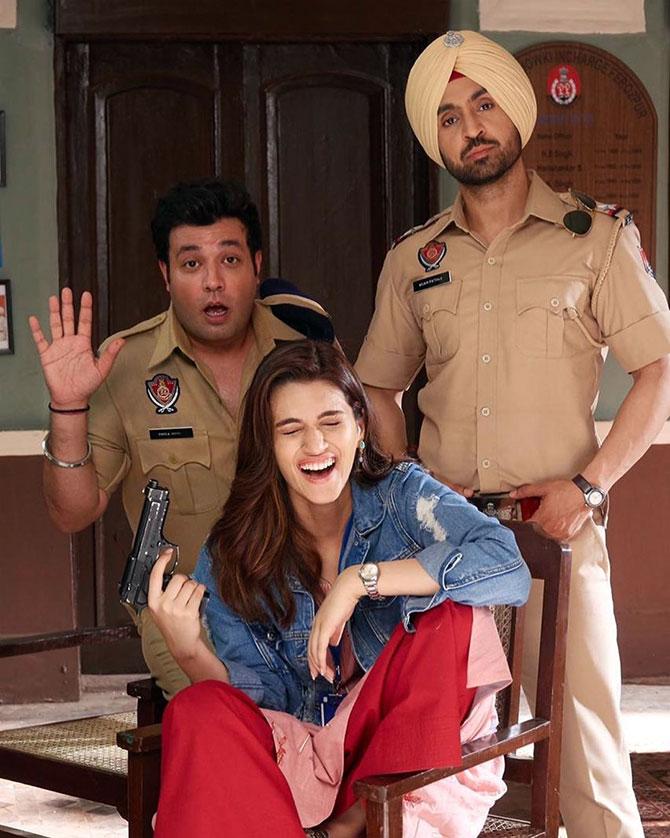 How was your working experience with Diljit Dosanjh and Varun Sharma in Arjun Patiala?
Both of them are great actors.
Diljit is such a natural; he switches on-and-off as a person and as a character.
He is a completely different person when the camera rolls.
When you have great actors around you, it automatically enhances your performance.
Apart from Diljit and Varun, there are so many actors in the film like Zeeshan Ayyub, Seema Pahwa and Ronit Roy.
In a comedy film, one can improvise a lot and can play with the role.
There were so many dialogues that were not in the script.
If we look at your filmography, you have the maximum success ratio among the contemporary actresses. How do you feel about that?
Now I feel there's a lot of pressure (laughs).
But I am fortunate that it happened and people have liked the films that I am a part of.
Whenever a film does well and whenever it connects with the audience, it gives you confidence that perhaps I am on the right track.
If I like the script, there are chances that the audience will like it too.
So that gives you that confidence in taking risks and trying something new.
I go with my gut feeling; there is no formula to give a hit film.
With the digital medium becoming so strong and exceptionally good content is available on it, it has become tricky because people might not like average anymore.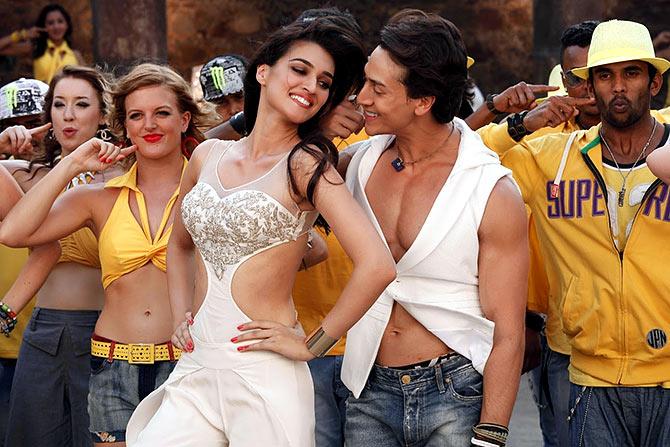 You started your career with with dream roles in films like Heropanti and Dilwale, and then switched to doing small town characters in films like Bareilly Ki Barfi, Luka Chuppi and now, Arjun Patiala. Did you plan it?
I don't think an actor sees it as a small town or big town character.
An actor sees the story.
That's what I have done in films like Bareilly Ki Barfi, Luka Chuppi and Arjun Patiala.
I have done those dreamy roles in the past, but as an actor, you have to do variety.
When I heard Bareilly Ki Barfi, I felt like that character Bitti Mishra has not been done by me and I was not sure if I would get a chance to do it again.
That's what excites you.
If a character excites you -- no matter if it is from a small town or big -- you will go for it.
Today, I feel why is nobody making films in foreign countries? Why are they making films in Lucknow, Gwalior and Mathura?
There was a time where films were made in Europe and Switzerland, but I don't think that matters to an actor.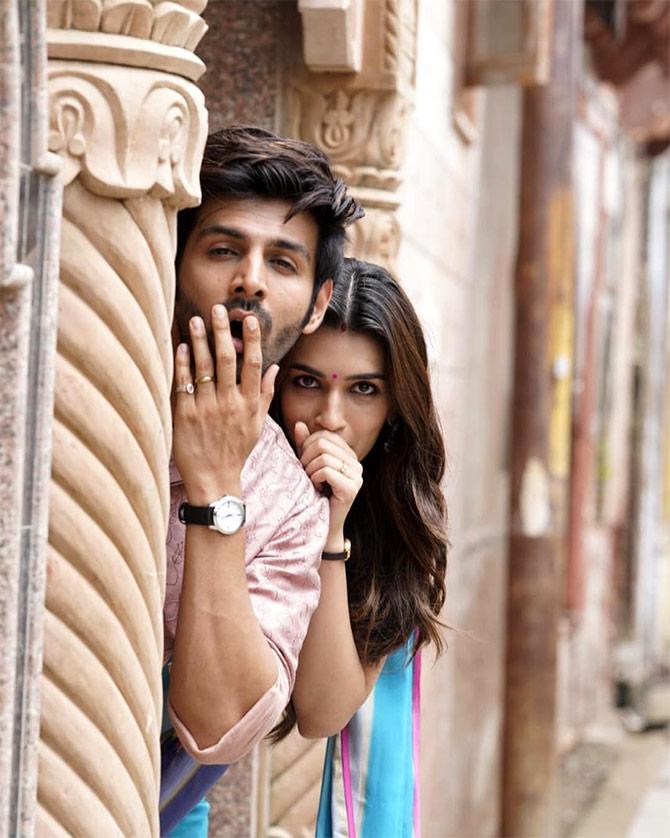 Are you a method actor?
Honestly, I am still trying to figure what my method is.
The only way to find out is to give it a try and see what works for you best.
For my debut film, Heropanti, I had not done any workshops to know how I should work in front of the screen.
I still remember having a fight with someone on the phone in my vanity van and was almost in tears.
When I came out from the van, I got to know that I would have an emotional scene. So I thought, let me think of that fight and bring out that emotion to better my scene.
But nothing happened.
So I thought this doesn't work for me.
Later, I just tried to think about the character, what she has gone through, and that worked for me.
So I try and be in the zone of the character.
Also in Bareilly Ki Barfi, I was trying to perfect my dialect.
I went to Lucknow, met some 20 college girls and chatted with them. That helped me work on my dialect.
For Raabta, I remember my character was independent and also a bit of a loner.
Even though I hate travelling alone, I was told to go and roam around the city where we were shooting.
I was told to chat with different people and make friends.
I did that for five or seven days. But I don't know how much that helped me for my character.
Sometimes, you never know what unknowingly helps you on a particular time.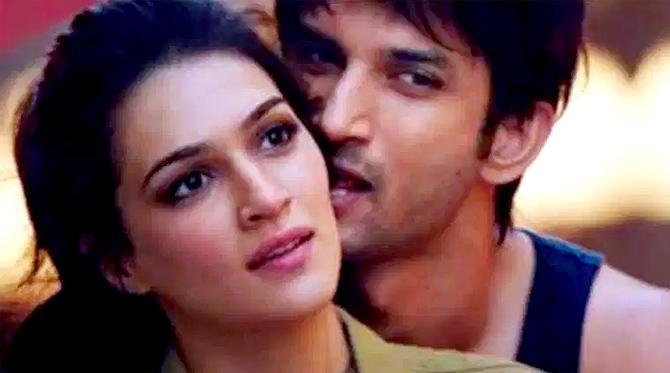 How do you feel when a film-maker approaches you with a commercial, massy film, something that is a different ball game for you?
The feeling is obviously mixed because on one hand, you feel great that someone is putting the responsibility of the film on your shoulders and trusts you with that.
On the other hand, it's a scary feeling because there would be no one else to blame or rely on but myself.
It's equally exciting because you get to do a lot more as an actor.
I am happy that a lot of films are being made with female protagonists. I probably got 10 offers like that in just two months!
Though I cannot do all those films, I am happy that people are writing scripts in that direction.
You are a foodie and always try the local flavours on a shoot. What did you try this time?
Thankfully, most of the films that I have done so far have allowed me to eat.
During Arjun Patiala, I was in Chandigarh. I had every possible North Indian dish to satisfy my appetite.
In fact, one haveli comes on the way to Chandigarh and we started from there itself.
Touch wood, I have a great metabolism and a small stomach. I love to eat everything and anything but I get full very fast.
How competitive are you?
I am not a competitive person.
I agree there is completion but it is not a feeling I keep inside me.
I admire my contemporaries work, whether it is Deepika (Padukone), Alia (Bhatt) or Anushka (Sharma).
Priyanka Chopra is someone I have really admired for a very long time.
Are you open to doing films in Hollywood?
If I get a great script, why not?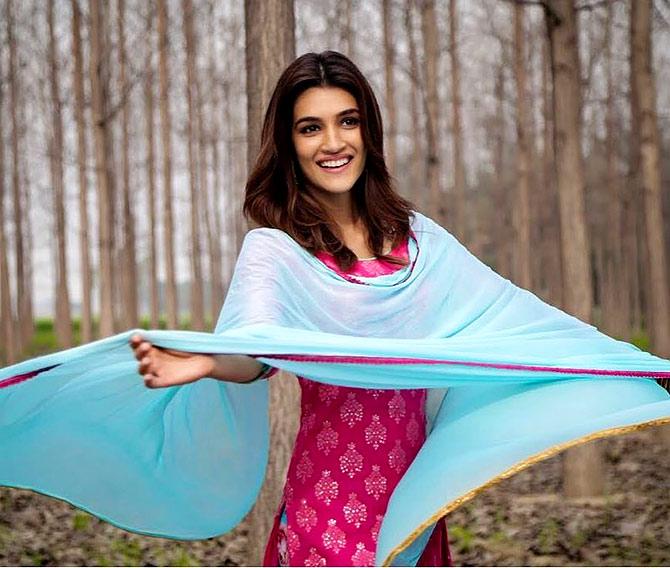 You are quite popular on social media. What is your take on that?
The love and appreciation is always welcoming.
When your films do well, it does give you confidence to do a lot more.
It opens a lot of doors, and you get more opportunities than were probably not there earlier.
You also feel a sense of responsibility because people trust you with what you are doing, so you give your best shot.
As far as social media is concerned, I try to be real.
I don't take pressure and don't get bothered by people's comments or or trolling.
There is a very convenient option called 'Block', which I use very often.
I try and stay away from negativity.
For me, social media is just a way of sharing a part of my life with my fans.
My films comes twice or four times a year, or even not once. So social media is a constant connect with the audience.
I am not pretentious and don't think I have ever posted what's not happening.
People sometimes take pictures of food that they are not eating.
I don't believe in doing such things. The part of my life that you see on social media is absolutely real.