'Such exciting things were happening and then this speed bump happened.'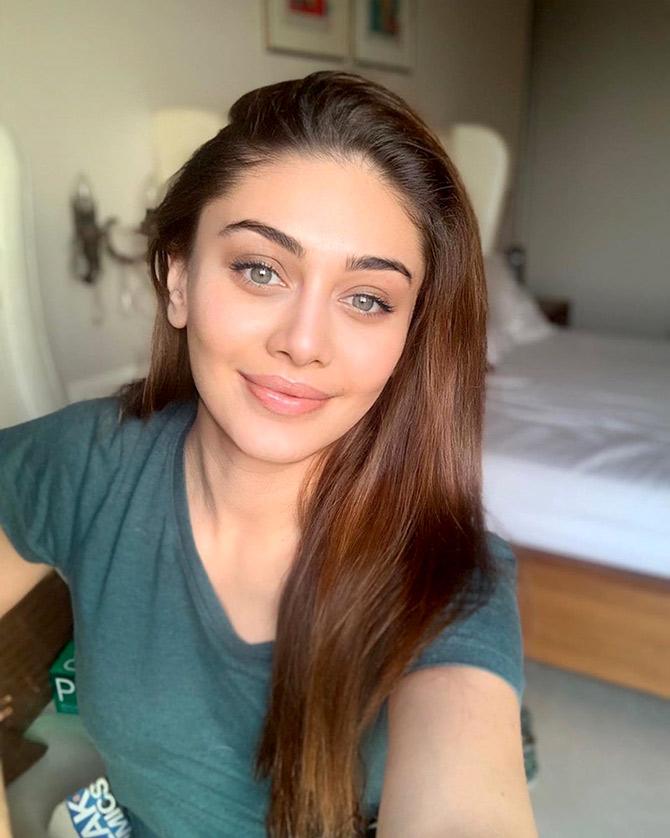 After coming out of Bigg Boss 13, Shefali Jariwala finds herself stuck within four walls again.
But the actress is not complaining.
It is, after all, of a better kind.
"This is a better quarantine because I am with family. I have entertainment, my music, television and books. We didn't have all that in Bigg Boss," she tells Ronjita Kulkarni/Rediff.com.
How are you spending this time during lockdown?
I'm spending good time with family.
I was just playing rummy with (husband) Parag.
The first few days (of the lockdown), we were only sleeping, but that made us really bored.
So we decided to make a routine.
We wake up at a reasonable hour, do the housework, read in the afternoon...
In the evenings, we exercise.
We watch TV at night.
We have restricted our social media time because there is an information overload. The coronavirus (news) tends to make you anxious.
I started painting, but I've run out of paint and I don't know where to order them!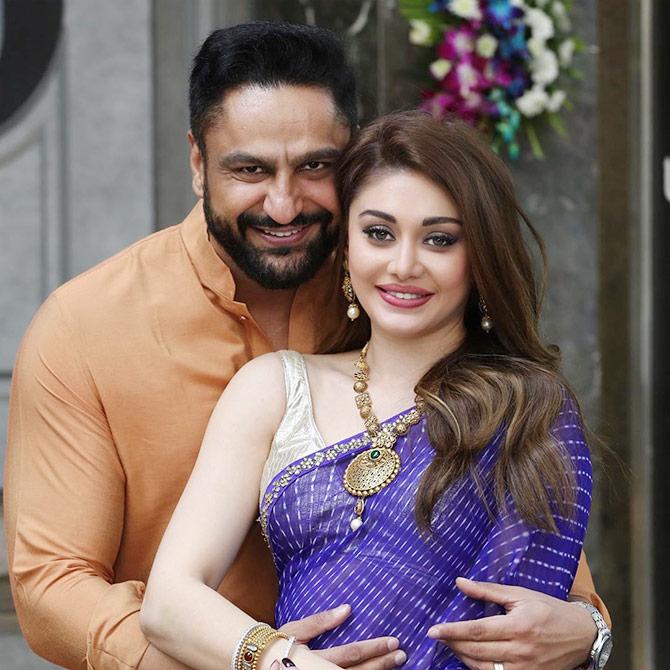 What are you watching on TV?
I am watching all the films that I missed when I was locked inside Bigg Boss.
Like Tanhaji. I was really moved by it.
Also, Chhapaak.
We are watching How To Get Away With Murder. It's very thrilling!
Do you feel you've gotten out of one Bigg Boss and into another?
I think I was trained in the Bigg Boss house for this quarantine!
This is a better quarantine because I am with family.
I have entertainment, my music, television and books. We didn't have all that in Bigg Boss.
We were living with a bunch of strangers, some whom we liked and some whom we didn't like at all. Here, it is not like that.
We are with loved ones, in the comfort of our homes.
I also got trained in housework.
We had to do everything by ourselves in Bigg Boss, from cooking to washing our clothes, cleaning.
I learnt how to cook there. I had never stepped foot in a kitchen before that.
Not too many people knew how to cook in the house, and it was getting difficult. People were fighting because of the work load.
So I learnt how to make rotis.
I could make really nice phulkas.
I made 40 per meal, and we would have three meals -- breakfast, lunch and dinner. I used to make about 120 rotis in a day!
More than the rotis, making the dough was difficult.
I bruised all my fingers kneading three times a day.
Nowadays, I am trying other things also.
By the time the lockdown is over, I might be able to make one square meal. Might.
Fortunately, we have a house help who lives with us.
But even then, we have divided the work amongst ourselves to keep us occupied.
Parag is in charge of washing dishes, I am in charge of the rotis and dusting.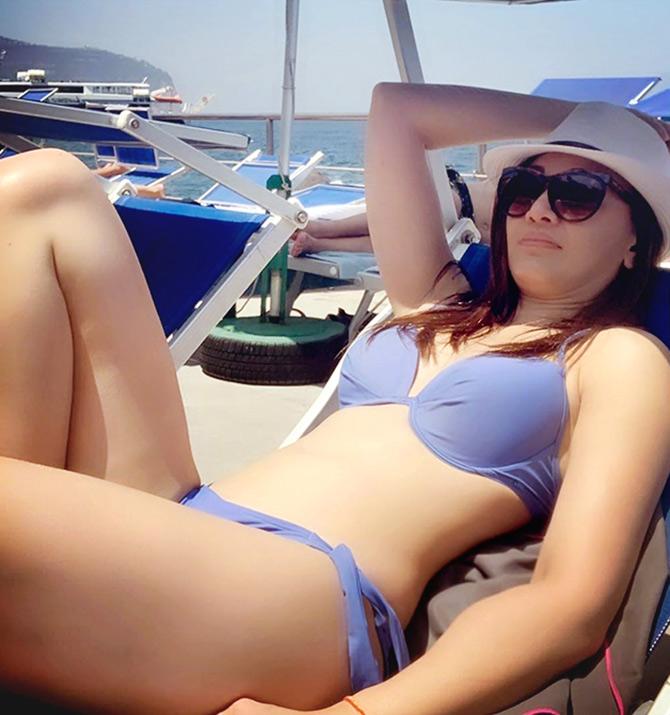 =
What are you missing?
I am missing a sense of freedom.
The very thought that I cannot do what I wanted to do, like step out for a movie or travel... I travel a lot on work.
I am missing meeting friends.
I am missing my mom who lives in Dubai.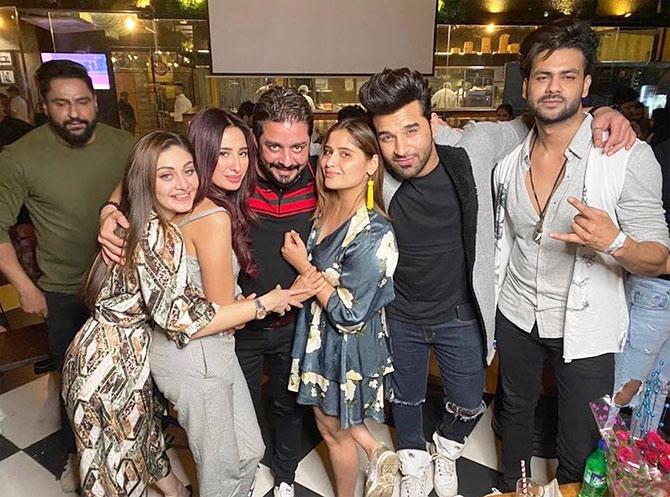 Are you in touch with the Bigg Boss contestants?
Yes, most of them. I am fortunate to come out with so many friendships.
I am closest to Bhau; we talk almost every day.
I am also in touch with Vikas Gupta, Arti, Mahira, Paras and Himanshi.
How much has life changed?
Honestly, not much.
As soon as we came out of Bigg Boss, after we came home and enjoyed being here after being away for so long, this coronavirus happened.
And now we are under house arrest.
We had just started working; I had events booked all the way up to June.
I had negotiated two Web shows.
I was talking about a TV show.
Such exciting things were happening and then this speed bump happened.
Initially, I felt really irritated but now, I am looking at it positively.
It is nature's way of telling us to slow down.
The lockdown has been healing to me mentally and physically.
I had a lot of injuries from Bigg Boss, and would have probably ignored them if I had gotten back to work. But I have had time to heal myself.
The pollution levels have gone down.
I hear dolphins have come back to Mumbai.
It's very easy to get depressed with the information overload -- people getting sick, dying... and being stuck at home isn't very pleasant.
It can get you really down and out, and it got me too. But then I told myself to take this positively.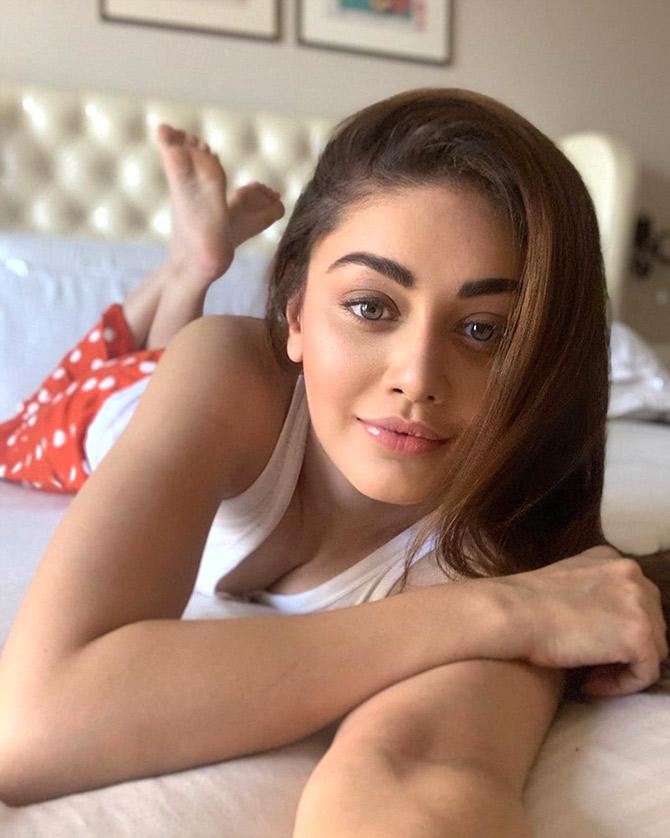 Are you worried about your career?
The whole economy will take a beating. We have got to be careful about our spending.
Fortunately, I have been working for 18 years so I have my savings in place.
I am a Gujarati, so we tend to plan our money really well.
My father has always taught me to say no to things, and you can only say no if you have a sufficient bank balance.
So I have been very choosy about the work I have done.
The good thing is that Bigg Boss was the last good thing on TV before the lockdown and the reruns have begun.
I guess we will be the last good things on TV.
Your husband Parag and you were planning to adopt a baby girl.
Yes, that has always been on our minds.
It is a very big step and a very lengthy procedure in our country. It is not as simple as going to an orphanage and adopting.
Mentally also, it is a very big move and we are talking about it.
We don't know when that will happen.
With the lockdown, all the offices are shut so the paperwork will take much longer.
But it will happen when the time is right.