'I have done so much work after Mahabharat, but people still remember me as Duryodhan.'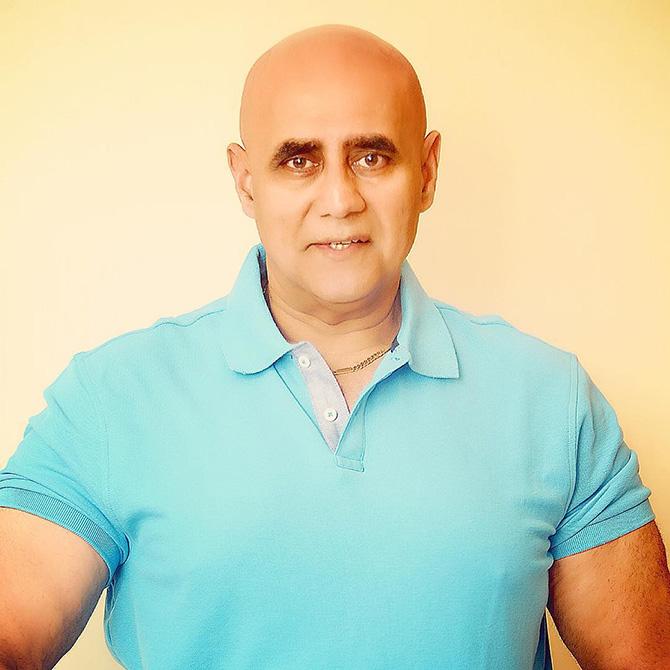 With people advised to stay home due to the coronavirus outbreak, the government has revived the 1980s television series, Ramanand Sagar's Ramayan and B R Chopra's Mahabharat, on Doordarshan.
Puneet Issar, who was cast as Duryodhan in the Chopra epic, looks back at the serial that made him famous and tells Rajul Hegde, "My performance was so real that people thought that I am the real Duryodhan!"
How is the self-quarantine treating you?
I am loving it!
This quarantine is a blessing in disguise.
As a family, we are having three meals together, which was a rarity. Where would it happen before?
As far work is concerned, the whole world is affected, not only me.
Human kind is in trouble but we have to face it.
The earth is rebooting. Now, the environment has become so clean and God wants it this way.
Aren't we alive? So stay positive, and don't complain.
This is the best time to conserve your energy.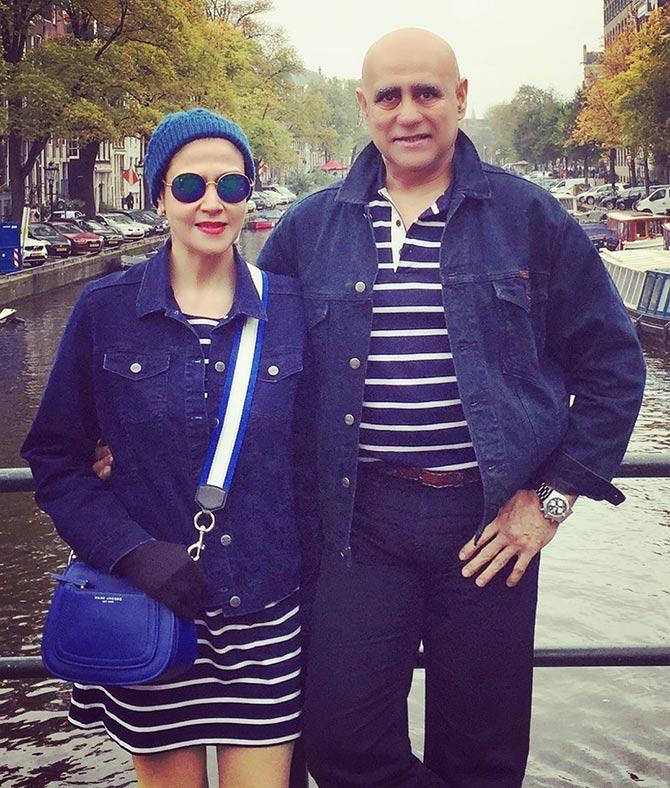 How are you making use of your time?
My wife has been running the house meticulously and we have relieved our daily staff.
Nobody comes in and or goes out it.
We have divided the housework amongst ourselves.
She is a brilliant cook so I am lucky in a way that I am getting delicious food every day.
I am very fond of eating and cooking too, so I try cooking and experimenting with new recipes.
Of course, I have been watching old classics and movies that I wasn't able to watch due to my busy schedule in the last few years.
Plus, I am sketching, working out and reading.
Mahabharat, where you played Duryodhan, is back on television.
After 32 years, people are glued to it again.
Duryodhan was introduced in the show a couple of days back, and I received a lot of phone calls.
I missed the episode as it was my wife's birthday, and we were busy chatting.
I must have received at least 600 calls and plenty of amazing messages that day.
It was nostalgic.
I was very happy because they liked my performance.
Normally, people tend to forget TV characters after the show is over, but since this was a cult character, people still remember the show and the characters.
What memories do you have of the Mahabharat? What was your equation with your co-actors?
Life is full of memories.
What has gone will never come back.
The emotions you have gone through, the preparation, the sequence of things during the making will come back as you watch the show.
We started shooting in 1988, but we were signed up in 1986. We trained for two-and-a-half years.
I started reading books on the Mahabharat and started reading up on Duryodhan to understand his perspective.
I was lucky to get enough time to prepare for myself.
It was like a cricket team with many support staff. Can you imagine that we were together for two-and-a-half years, Monday to Saturday, from 9 am to 9 pm? It was like one big family!
Everybody in the team was new and wanted to prove themselves and make a mark in the industry.
I used to be on the set even after my shot. I would watch the others rehearse and perform and learn.
I didn't want to outdo anyone, but I wanted to give my best.
Whom did you bond with?
My father was friends with Pankaj Dheer's (who played Karan, above) father, so we knew each other from before.
Our friendship grew during the making of the Mahabharat.
We have been in touch with all the actors, but Pankaj and I have been the best of buddies, and we still keep meeting.
His son is like my son and vice versa.
Nitish Bharadwaj, Gufi Paintal, Arjun, Surender Pal and Mukesh Khanna are my dear friends.
Since you played a negative character, what reaction would you get from people?
People hated me! (chuckles)
I remember when we were shooting the climax in Jaipur, a rich industrialist family had invited us for dinner.
The rule of the house was that the ladies of the house would serve the food.
All the women would serve food in everyone's thali, but when my turn would come, they would pass me.
The maharaj (cook) would come and give me the food.
This happened two, three times and I felt awkward.
Then I saw the dadiji of the house coming, and she also went by, without serving me.
So I said, 'Mataji, aap mujhe kyun nahin deh rahe hai? (why aren't you serving me?)'
She turns around and said, 'Dusht, tum itna gussa karthay ho, tum Krishna bhagwan ko marney ki baat kar rahe ho (Evil man, you are angry all the time, you speak of harming Lord Krishna).'
I was quiet.
Then the man of the house said, 'Arey, yeh log kalakar hai (they are artistes
She shot back, 'Nahin, yeh dusht hai.'
If you look at it, that was a huge compliment.
My performance was so real that people thought that I am the real Duryodhan! (laughs)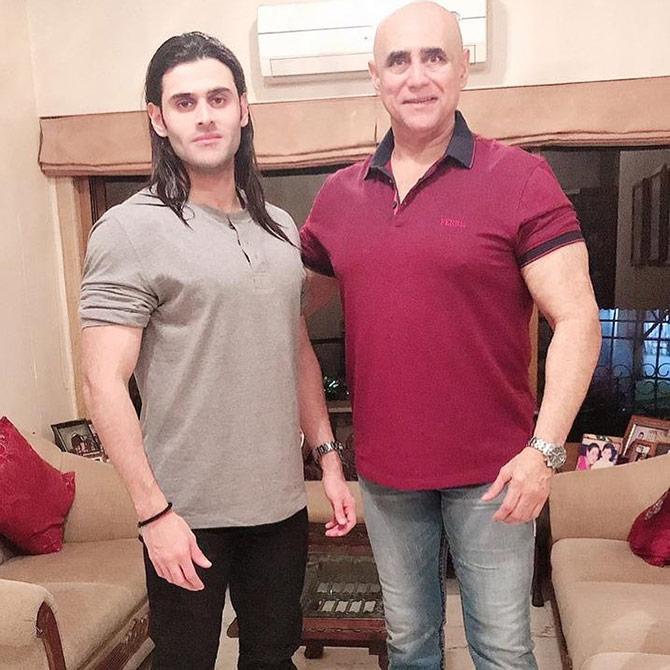 Have your children watched the show?
Yes, they have watched it online.
My daughter was five then and my son was born in 1990.
I would like to share an incident when my son was born.
When my wife delivered my son, the doctor came out and said, 'Congratulations sir! Junior Duryodhan is born!' (laughs)
How did your life change after the Mahabharat?
We became a household name.
God was kind and I started getting good work.
Whatever I am today is because of the Mahabharat.
Every actor is remembered for their iconic roles -- like Amitabh Bachchan in Deewar and Amar Akbar Anthony, Amrish Puri as Mogambo (Mr India), Amjad Khan as Gabbar Singh (Sholay). For me, it is Duryodhan.
I have done so much work after the Mahabharat, but people still remember me as Duryodhan.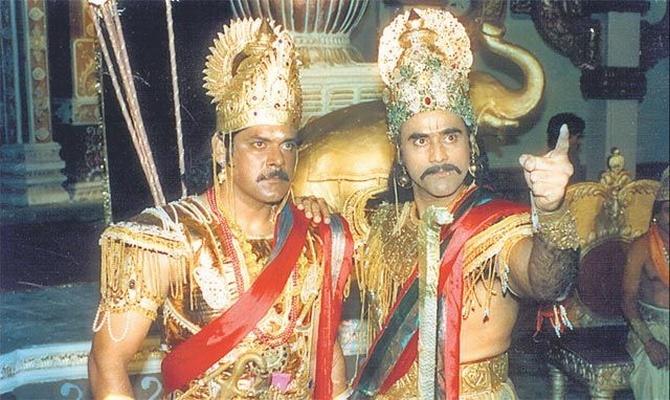 Were you sceptical about playing such a character then since you hadn't played one before?
In 1982, Coolie happened and I became famous as the man who knocked down Mr Amitabh Bachchan though it was just an accident.
After that, I got stereotyped as a fighter.
The roles I was getting were not of my choice.
I was not doing very well as an actor in those days.
In fact, I had done some films earlier like Zakhmi Aurat with Dimple Kapadia, which was a super hit.
Purana Mandir is an iconic film./p>
I was teaching speech and diction at Roshan Taneja's Actor's Studio.
I wanted to show besides action, I can do many other things.
So I went to B R Choprasaab and told him that I wanted to be a part of the Mahabharat as they were auditioning new talents.
The moment he saw me, he said I had a good body and personality and that I should be Bheem.
I said, 'Sorry sir, I have come here to audition for Duryodhan.'
He was surprised.
I said, 'Sir, Duryodhan is the most pivotal character and the Mahabharat happened because of him. This is where I can prove my histrionics as an actor.'
Someone from his team pointed out that there will be dialogue and that I might not be able to deliver them.
So I asked permission to perform for them.
Interestingly, before the Mahabharat, I had done Jayadrath Vadh, which was written by Maithili Sharan Gupt. So when he allowed me to perform, I narrated the entire Jayadrath Vadh, which I knew by heart.
He was impressed with my Hindi and diction and the rest is history.
Have you trained many actors in speech and diction after the Mahabharat?
I have written and directed this play, Mahabharata: The Epic Tale, depicted from Duryodhan's perspective.
In fact, in 2015, when I acted as Ravan in a play, people came to me after the performance and asked me to recite Duryodhan's dialogues.
It was the audience that suggested I do a play from Duryodhan's perspective, so I started writing it. It came out in 2019. We have done about 50 shows across India.
When I made Garv with Salman Khan, I worked on Arbaaz Khan's speech and diction.