'What I'm really worried about is that the day this lockdown ends, we will all rush to work and we'll kill the lovely environment we are seeing now.'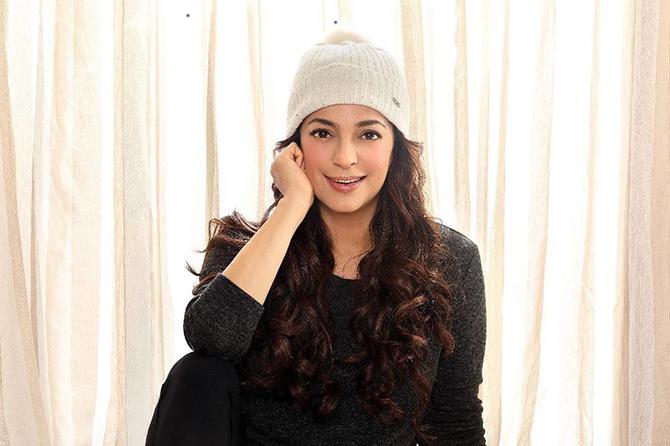 "Isn't this (time) detoxing for us?" Juhi Chawla asks.
The actress is enjoying the lockdown because it is giving nature a chance to breathe again.
Juhi recently posted pictures of peacocks right in the middle of Mumbai!
"(Husband) Jai (Mehta) was saying we should have a two-three week lockdown every year just for the environment," Juhi tells Ronjita Kulkarni/ Rediff.com with a laugh.
You recently posted pictures of peacocks in Mumbai.
I got those from my neighbour, who got it from her friend.
This place (Khareghat colony, Babulnath, south Mumbai) is just 10 minutes from my home, and I have been there.
You won't feel like you are in Mumbai in this colony.
I remember Satish Shah had once said, long ago when we were shooting, that this whole place used to be green and there would be peacocks. Then people slowly started building homes and that started taking over and the place changed.
So when I saw this, I was like wow, they are still in the area, but now they feel free to move around a little more.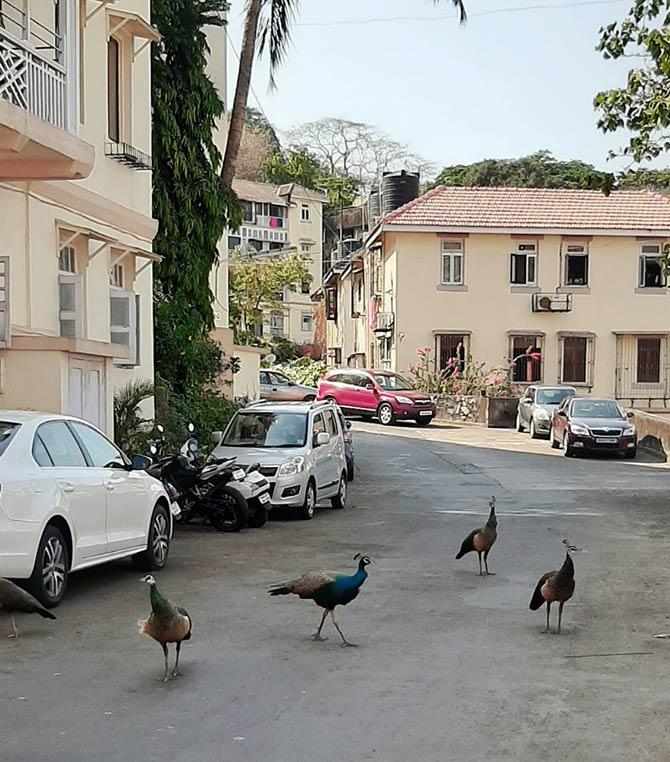 This lockdown will probably change the environment.
We were just discussing this at lunch.
Jai was saying we should have a two-three week lockdown every year just for the environment.
Isn't this detoxing for us? Being able to breathe clean air again!
From my house, I can see the lights right up to Cuffe Parade (at the tip of south Mumbai), and I'm like wow!
It is quieter.
The water is blue.
Someone took a video of the sea from their home in Marine Drive and there were dolphins!
I didn't even know dolphins were so close by!
How are you spending this time?
I have a lot of gratitude that we have a home.
We are managing with the bare minimum. You realise that you can manage with a lot less than you think you can.
I am doing some music lessons and yoga -- I do yoga anyway but now, I am doing it with more leisure.
I spend time with family, spend time on the phone...
I work online as well. We have a gurukul in Porbandar (Arya Kanya Gurukul is a boarding school for girls).
Our generation is now involved in rejuvenating it.
It is an outstanding institution, but it needed a bit more modern day stuff without losing the values, ethics and the core of gurukul teaching.
Besides that, I get requests everyday from NGOs and acquaintances who are trying to feed the poor in their colonies. So I am trying to do some social service.
The day just flies by.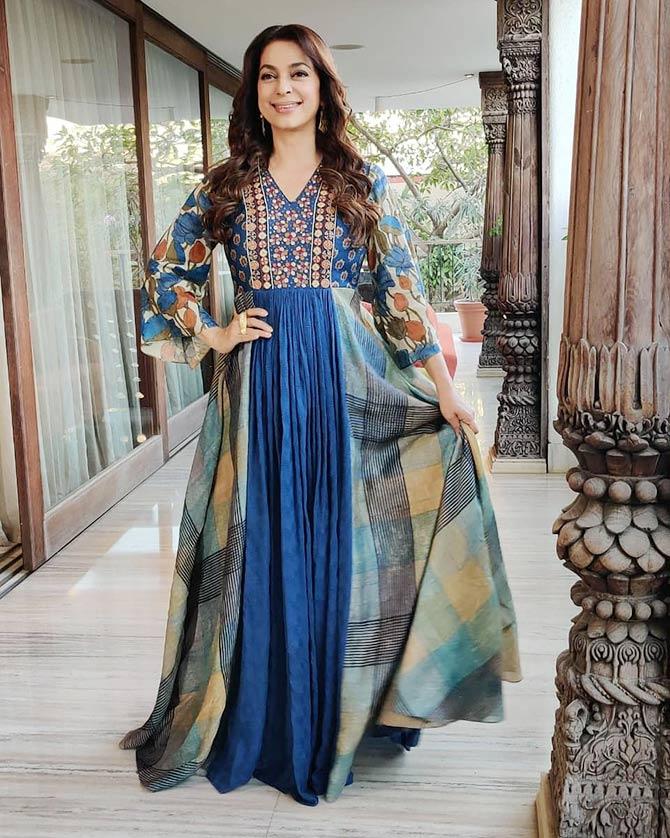 What shows are you watching?
I watch very little.
I am really not a screen person so I haven't watched anything recently.
I was watching a few regional films for my work; they may be made in Hindi.
I watched Rush Hour with my son. It is a cute movie with Jackie Chan.
What I loved was The Crown. The way they have done it!
But when I was watching the palace and those sets and I was like, that money came from India. The Indian in me was rising!
But it was very well done and it made me think that India has so many amazing stories for the West.
I would LOVE it if somebody was making something like that here.
Everybody is making thrillers and all that modern stuff, but if we go back a little, take anybody's life journey... eminent persons, maharajas, we can make an amazing series.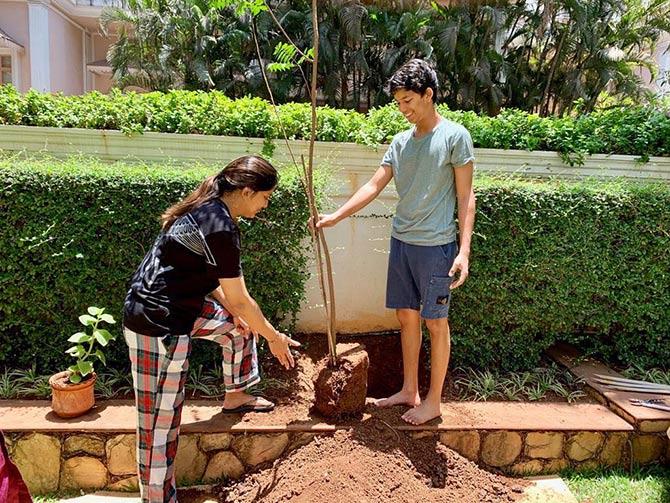 You have teenage children. Any tips for parents on how to keep them entertained at this time?
We burden ourselves with the thought of entertaining children, but we are not supposed to.
It is hard keeping them away from gadgets. I struggle all the time with my son.
But we are doing all little things.
There is a game called Mine Trap and we play it every meal time.
Children in privileged homes don't have to do housework. But if we had to do more things around the house, we wouldn't have had time to sit with gadgets.
We've given him one duty because we don't have gardeners now. So he has to water the garden. At least for that one hour, that's his job.
If you can find something that your child can do, those little-little things at home...
How is your daughter spending her time?
My daughter is in Uganda with her grandparents. I don't know what she is doing, I'm sure she is fine.
She just started university this year; she is studying at Columbia University.
We were all in London together for a holiday recently.
My in-laws were going back to Uganda, where they live, and she chose to go with them because she has to study according to the US timings. In India, that's at night, so she was like I can't do it, mom, you don't understand, I will have to stay up every night till 4. I'll turn into an owl!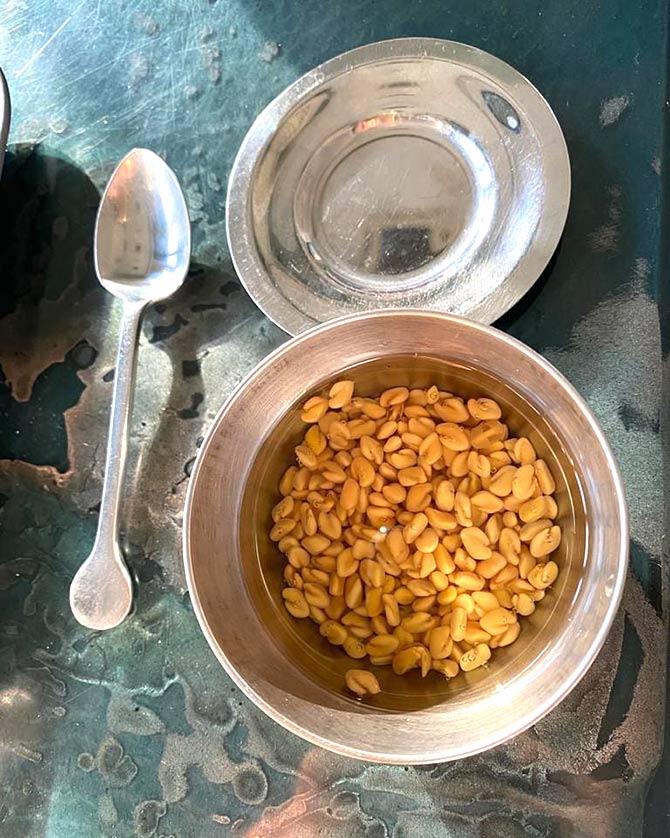 What is the first thing you'd like to do after the lockdown is over?
I would like to indulge in a little vanity. I haven't done anything except put a little oil in my hair!
I'd go for a facial and get my hair done, get my nails clipped!
What's the one thing you are missing now?
I was planning to start an environmentally friendly business, but I am not able to work on that. There is only that much you can do on the Net.
Basically, I miss going to work.
What worries you?
I just wish for good health for everyone. At this point, you want everyone to be healthy so that you can be healthy too.
But what I am really worried about is that the day this lockdown ends, we will all rush to work and we'll kill the lovely environment we are seeing now.
The air will be hot and muggy again.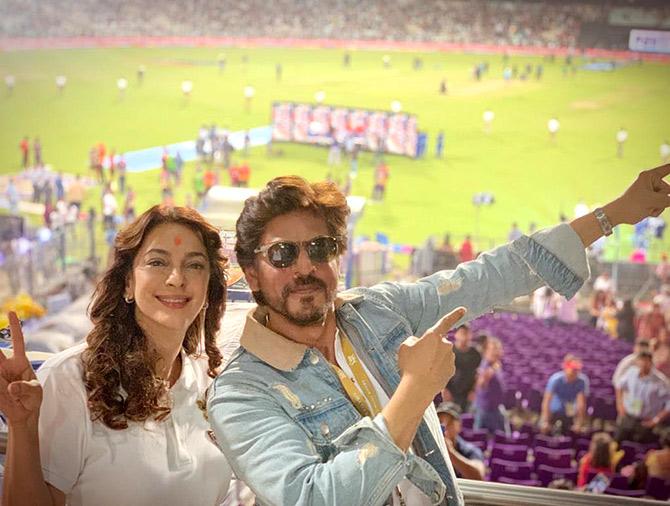 Are you in touch with your friends from the film industry?
Jai and I just had a chat with Shah Rukh the other day, but not with anyone else.
Now that you've put it in my head, maybe I should call them.