'If you put me into a daily soap where things invariably go wrong in the family and people are crying, I can't be a part of that set up.'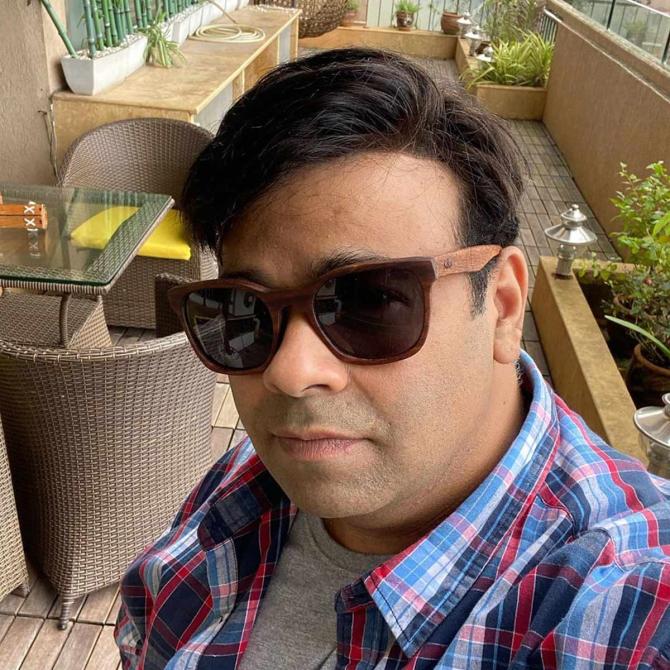 Is Kiku Sharda as funny in real life as he is on screen?
The actor, who makes so many people laugh, has a surprising answer to that.
"I don't walk into a place, start cracking jokes and become the centre of attraction," he tells Rediff.com Senior Contributor Rajul Hegde.
Are you as funny in real life?
Probably not, because I am an introvert.
I don't interact much or make friends easily.
I am funny with my wife, especially my boys (Aryan and Shaurya). I keep cracking jokes all the time, as they understand the puns. They are witty and funny too.
A lot of people tell me that on screen you're jumping and bouncing around with joy, but I take too much time to open up in newer surroundings.
When you meet someone for the first time at a house party, do they expect you to be funny?
Oh yes! But they are in for a little disappointment because I don't do that.
I don't walk into a place, start cracking jokes and become the centre of attraction.
You will always find me in a corner with one or two people, having personal conversations with a glass in my hand.
I'm not the centre of attraction at parties.
When I meet new people, it's difficult, but obviously with my school and college friends, you will see me blabbering and having a gala time.
But I'm not the most talkative person at formal, work-related, parties or when I go out with my wife's friends.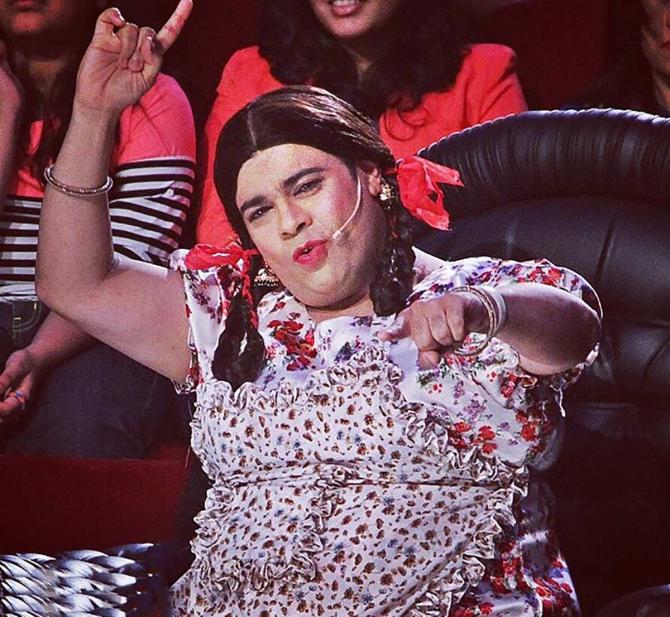 How do people react when they see you in public places?
When you walk into a mall, people have this big grin on their faces.
It's an honour that I bring a smile on people's faces even when I'm not doing anything.
But they look at me and think of the work I have done.
Any annoying incidents?
Sometimes people get personal. They think they know me really well.
The younger lot are like 'kucch sunana', as if I am a pal of theirs.
And there are people who put a hand around your shoulder and pull you for a selfie.
If you want a selfie, you have to ask. Whether I agree or not, that option must be there.
I don't blame them or say anything. But they do it because they feel I am a part of the household and that they really know me well.
These things happen all the time.
Sometimes it can be a bit disappointing but now people understand and don't really trouble me too much.
But yes, I do try and take as many pictures with them.
My children get irritated at times. They say, 'you're wasting so much time, getting pictures clicked.'
I tell them that if I'm not social or I don't want to meet people, I shouldn't get out of my house.
Now that I am out, I might as well oblige.
Sometimes I wear a cap or keep my head down and walk fast, so that people don't recognise me.
But yes, these are the fans who love you.
So with due respect, I try and give as much as time I can.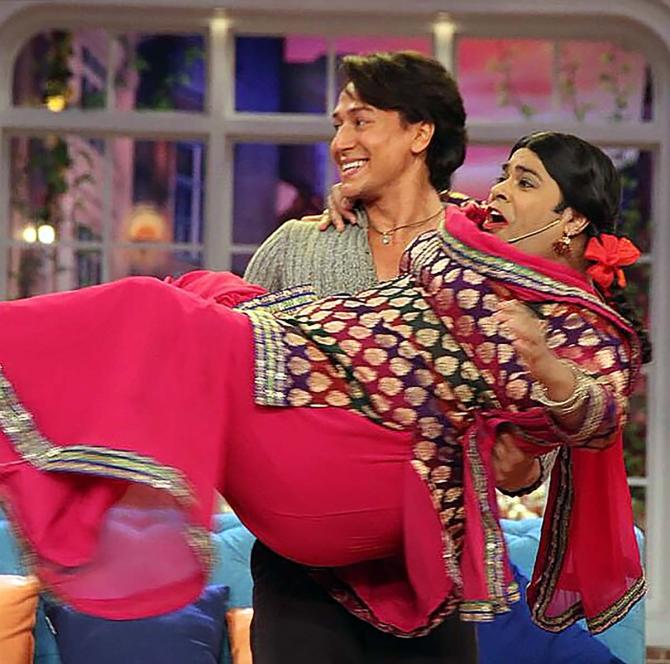 Are your children happy with the female characters you play on screen?
Now they are older. But when they were younger, I was concerned about the fact that I don't know whether they get teased or bullied in school.
People in their school have always liked the character and the show.
The teachers have always spoken about how good my character is and they wish to come and watch the shoot.
Even if I have played female characters, nobody has ever teased my kids.
In the last one of the conversations I've had with my son, I had asked him to tell me if anything goes wrong in his school or if anyone teased him.
He told me, 'Papa, don't worry, we can handle it.'
Even if it has happened, they have never told me. They are capable of handling it.
The woman characters I have played have been cute and people have really loved them.
Lately, I have not played female character but obviously, I have played many before.
I am very comfortable doing it.
My wife tells me not to come home dressed as a woman.
Any instances that come to mind when you were wearing a woman's getup?
After watching a show in which I was dressed as Palak, a lady came backstage and told me that she wants a daughter like Palak.
I was surprised, but as an actor, this was a huge compliment.
I was happy she liked my role so much she thought I was the real Palak.
Were you ever worried that you would be typecast?
Well, I have been doing television for the past 18 years, jitna typecast hona tha, ho chukkha hai. Is se zyada aur kya typecast hoga?
I know that people obviously just want to work with me for comedy.
Nobody offers me any other work apart from comedy.
I have no regrets because I love this genre.
Also with time and with the amount of work I've done, I feel I need to shoot in a place where I enjoy the process.
And this is one place where I really enjoy the whole process of making an episode, from conceptualising to thinking to jamming with the writers.
If you put me into a daily soap where things invariably go wrong in the family and people are crying, I can't be a part of that set up. I won't enjoy it.
But yes, I look forward to doing more work in films and Web series.
Interesting work has been happening (on the OTT platform) and I've been watching a lot of stuff.
I wish something like that was offered to me.
I would love to do something like Mirzapur.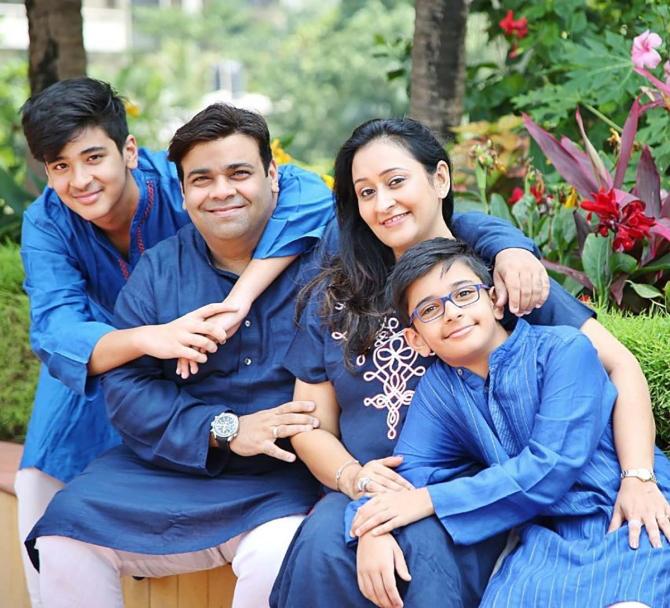 Are you a strict father?
No. My wife is rather strict with them.
My wife and I have kept that as a deal, that she is the stronger and the harsher one for them to do certain things. When things go out of hand, I come into the picture.
In my personal life, I am quite a relaxed person.
So I'm not strict with my kids, but I do draw a line. Like, we should not hurt anybody's feelings.
What's a normal day in your life?
After the lockdown, I have started walking and working out more than before.
I have lost 15 kilos and become fitter.
My wife gets exhausted waking up the kids in the morning, so it's my responsibility now to wake them up.
Then I go for my morning walk and do some workout.
We have breakfast with the kids during their break from their online classes.
We have lunch between noon and 1 pm.
When I'm shooting, this schedule is not there.
Now, I shoot only twice a week for The Kapil Sharma Show.
Then, I'll probably go to the production house's office where the actors sit with the writers and have a jamming session for a couple of hours.
Everyone is welcome to talk and give their inputs. Then a final call is taken.
I watch movies or series on a regular basis.
In the evening, we chat and play games. My kids enjoy playing squash, as do I, in the building.
What shows have you been watching?
Sacred Games, Mirzapur, Paatal Lok, Loot Case, Gunjan Saxena...
I have been watching a few British series like Broadchurch and Black Mirror.
We watch comedy films of Adam Sandler's and Ben Stiller's
I also try to make my kids watch old films like Laagan, Dil Chahta hai, Swades, Chak De! India, Andaz Apna Apna...
We just watched Sholay and my kids were surprised with a three-hour and 10 minute long film.
Do your children watch your shows?
They don't watch an entire episode, sometimes they watch bits on YouTube.
They enjoy it and they come and tell me if my jokes were funny or not.
My parents religiously watch my episodes.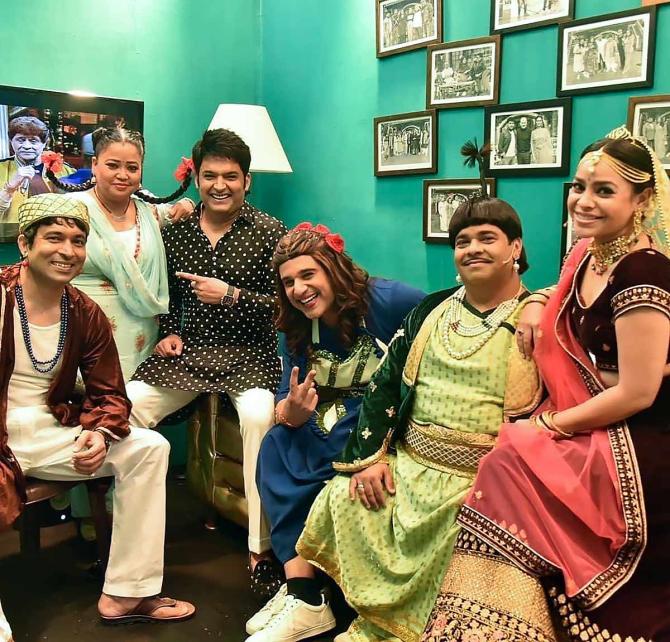 What is it like shooting for The Kapil Sharma Show with new guidelines?
Our interaction has become less.
Washing hands is a regular thing.
Now, when we shoot, we meet directly on stage.
Earlier, we would hang out in a room, chit chat and read our lines. But that does not happen anymore.
We don't socialise on set.
It's purely a work thing now. We rehearse on stage with our masks on and then take them off when we shoot.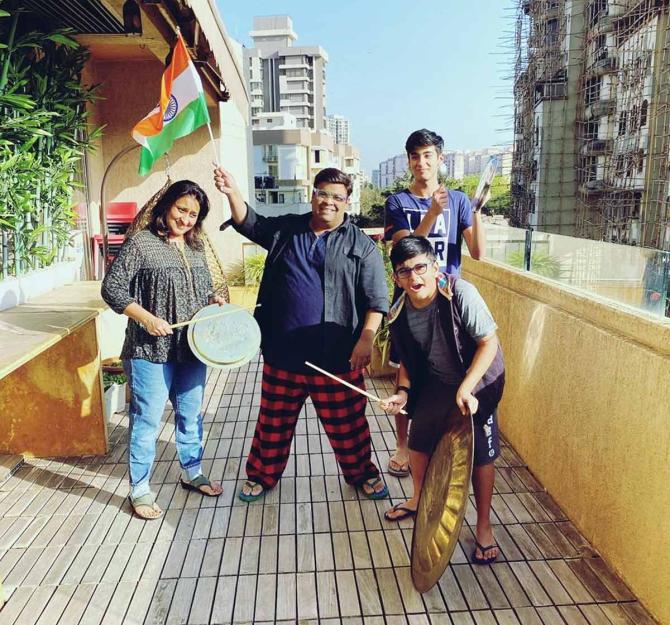 Are your sons inclined to acting?
My younger son is quite enthusiastic.
He used to make videos and TikTok.
He keeps saying he wants to make content, write, direct and act.
He's more focused.
The older one has not given his decision yet.