Shah Rukh Khan is not a big foodie in real life.
He's neither a fussy eater nor claims to have any talent for dishing out delicacies.
But curiously enough, some of his most wisdom filled moments on screen has the man breaking bread.
Sukanya Verma looks at 12 times the superstar offered food for thought on subjects as varied as nation building, team spirit and the stupidity of big fat Indian weddings while wolfing down a meal.
Chalte Chalte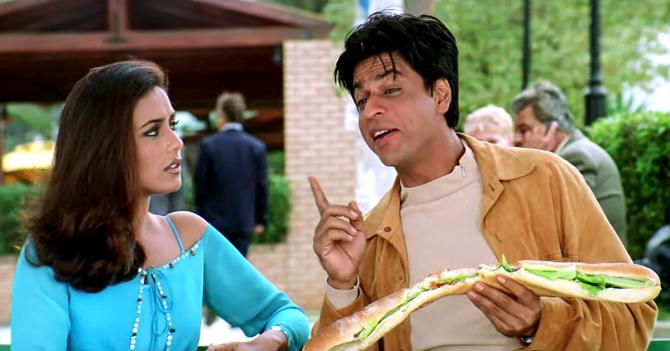 Scenario: Somewhere in Greece, Rani Mukerji feels bad about no one giving any attention to a street musician. SRK, gleefully chomping on a footlong sub, points out to her how his music sucks and is devoid of any 'dum' or 'dhun'.
Pearls of SRK: Never feel sorry for a talentless hack.
Swades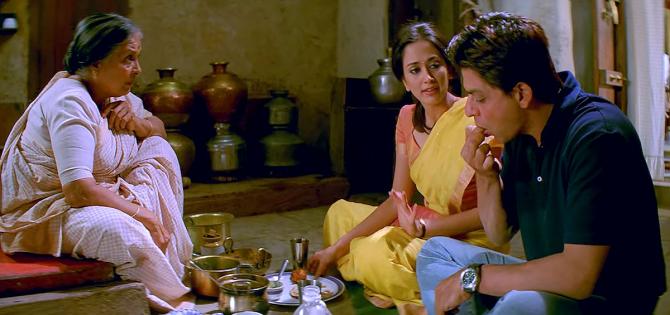 Scenario: Gayatri Joshi and Shah Rukh get into a fiery debate over lunch about the nation being plagued with various problems like illiteracy, poverty, population, corruption, unemployment, lack of infrastructure while the government does nothing to mend the situation.
Pearls of SRK: 'Tum Hindustani kabhi apni galti nahi maante.'
Chak De! India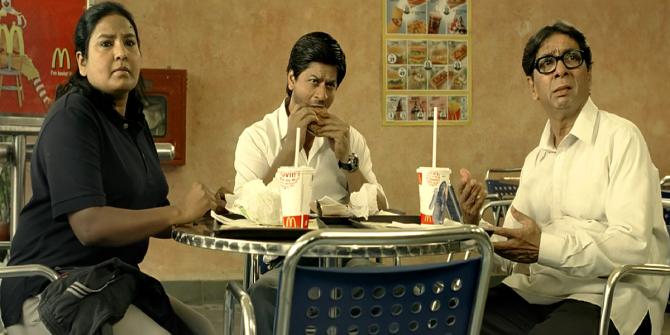 Scenario: A hockey coach takes his team out for lunch at Mc Donald's where a major brawl breaks out between his girls and some eve teasers. Where most would be appalled by the violence, he coolly watches from the sidelines and draws a clever conclusion out of their show of unity.
Pearls of SRK: Team banane ke liye taaqat nahi, neeyat chahiye.
Duplicate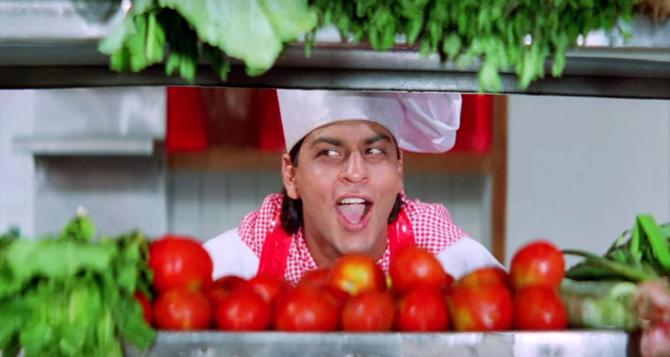 Scenario: A cook of a five-star hotel showing off his culinary skills over a wittily penned Javed Akhtar ditty.
Pearls of SRK: Take pleasure in what you do. Savour every minute. How Wah Ji Wah is that?
Kabhi Haan Kabhi Naa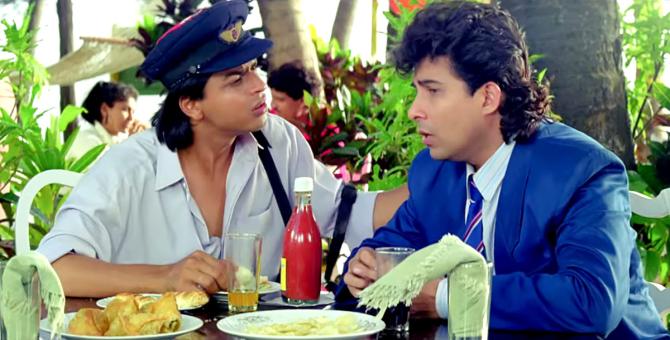 Scenario: Shah Rukh Khan and Deepak Tijori are in love with the same girl. So he concocts lies about her to discourage his friend-turned-romantic rival from making a move while gobbling down snacks and cream rolls at a café.
Pearls of SRK: Alright, alright, those are highly questionable tactics. Except everything is fair in love and war. Team Sunil forever!
Dil To Pagal Hai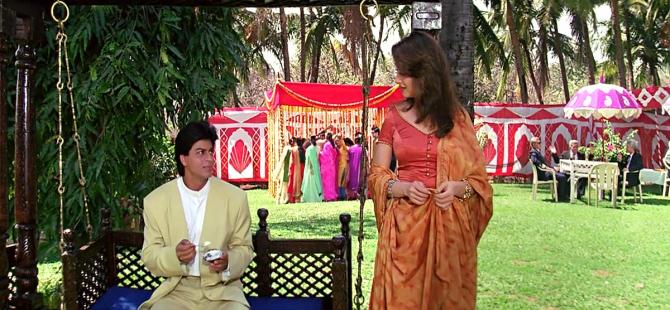 Scenario: Shah Rukh gorges on bowls of phirni at his buddy's wedding while grumbling about the new trend of desi wedding ceremonies lasting for days on to an amused Madhuri Dixit.
Pearls of SRK: Keep it simple, fuss-free. If not, enjoy the food. It's the only good thing about Indian shaadis.
Kabhi Alvida Na Kehna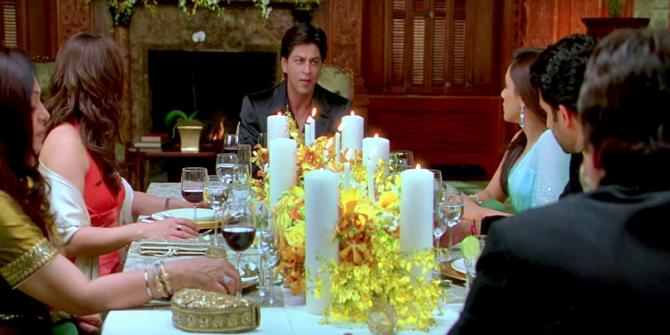 Scenario: It's a fancy dinner table setting of family and friends where Preity Zinta, Rani Mukerji, Kirron Kher and Amitabh and Abhishek Bachchan are discussing the nitty-gritties of relationships when a till-then silent Shah Rukh Khan speaks and leaves everybody speechless.
Pearls of SRK: 'Rishtey baaton se nahin haalaton se bante hain.'
Rab Ne Bana Di Jodi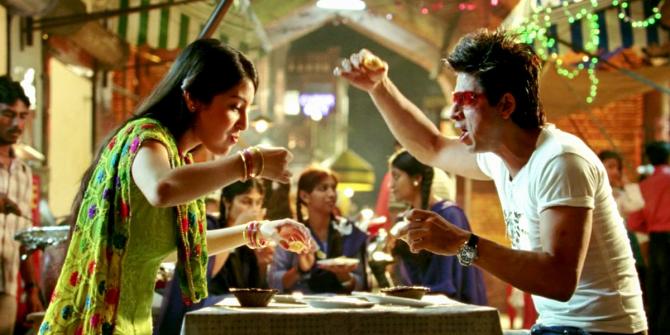 Scenario: Khan and Anushka Sharma engage in a battle of who can chomp the most number of pani puris.
Pearls of SRK: Never challenge Raj in matters of gol gappas and Punjabi kudis.
Raees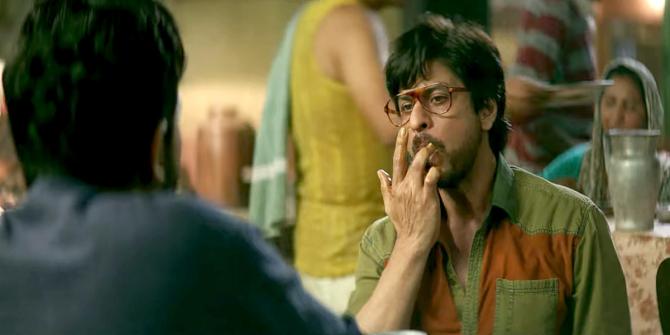 Scenario: Shah Rukh Khan proposes starting their independent business to partner-in-crime Mohamad Zeeshan Ayyub while licking the keema off his fingers at their go-to hole-in-the-wall.
Pearls of SRK: Miyan bhai's daring, baniya ka dimaag is SRK's version of unstoppable force meets immovable object.
Raju Ban Gaya Gentleman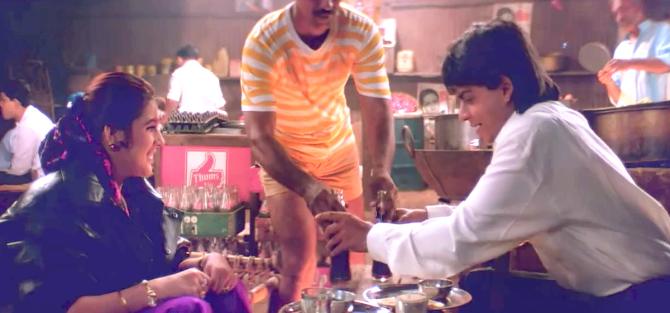 Scenario: SRK takes the boss's la-di-dah daughter to a local Delhi dhaba and teaches her a thing or two about doing things the desi way -- no napkins, no mineral water, gulp lassi in one go, burp and all.
Pearls of SRK: Delhi ki lassi nahi pee toh kya peeya? Cheers to that!
Dilwale Dulhania Le Jayenge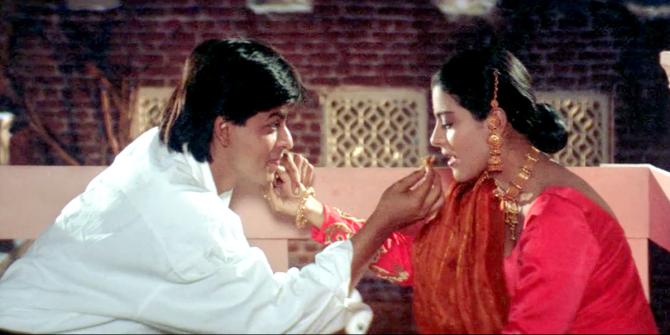 Scenario: SRK and Kajol end their petty lover's tiff and feed each other after breaking the karva chauth fast (and fooling the fiancé).
Pearls of SRK: Bade bade deshon mein aisi chhoti chhoti baatein hoti rehti hain.
Kal Ho Naa Ho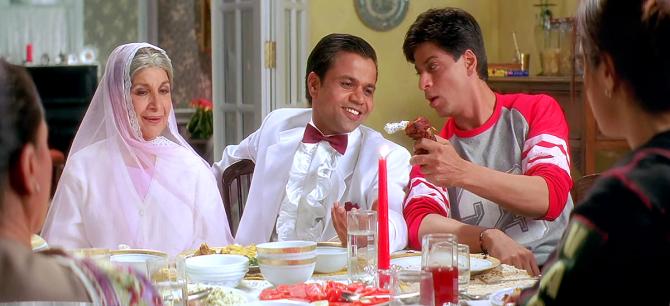 Scenario: Friends and neighbours of Preity Zinta revel in the confusion and comedy of mistaken identities as Shah Rukh Khan interjects the episode with characteristic mischief following wrong guy Rajpal Yadav's entry at their suburban New York home.
Pearls of SRK: Jeeo, khush raho, muskurao, kya pata, kal ho naa ho.