'Sharing screen space with Salman bhai is a superb experience.'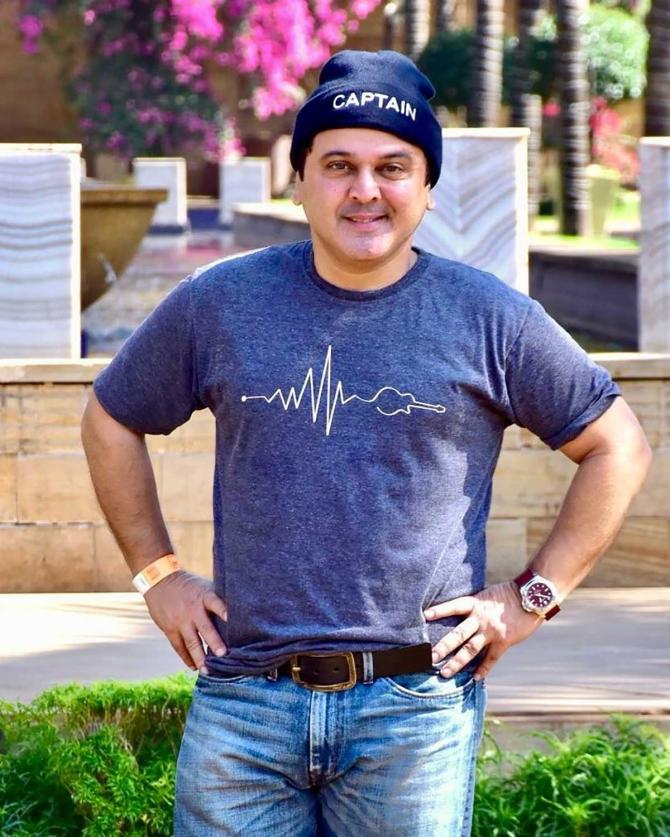 Ali Asgar is better known for playing the flirty Dadi from Comedy Nights with Kapil these days.
But his hugely popular character left him with mostly drag roles, and the actor had to refuse work for months in order to break the stereotype.
Now, he is finally getting the roles he wants to change his image.
From sharing screen space with Salman Khan in Radhe: Your Most Wanted Bhai to playing Emperor Akbar in Star Bharat's comedy show Akbar Ka Bal Birbal, Ali is finally happy again.
"When I am not convinced, how will I make people laugh?" he asks Rediff.com Contributor Sameena Razzaq.
You are finally getting play a male character on television. Tell us about your role as Emperor Akbar.
As student of cinema, I have gone through lot of films of Prithviraj Kapoorji.
Consciously or subconsciously, I have grown up on Mughal-E-Azam. I know the film almost by heart.
It has such an effect on me that I have incorporated Prithvirajji's walk as Emperor Akbar in my character. I hope it suits me.
All the characters are very well written. All the performers are excellent.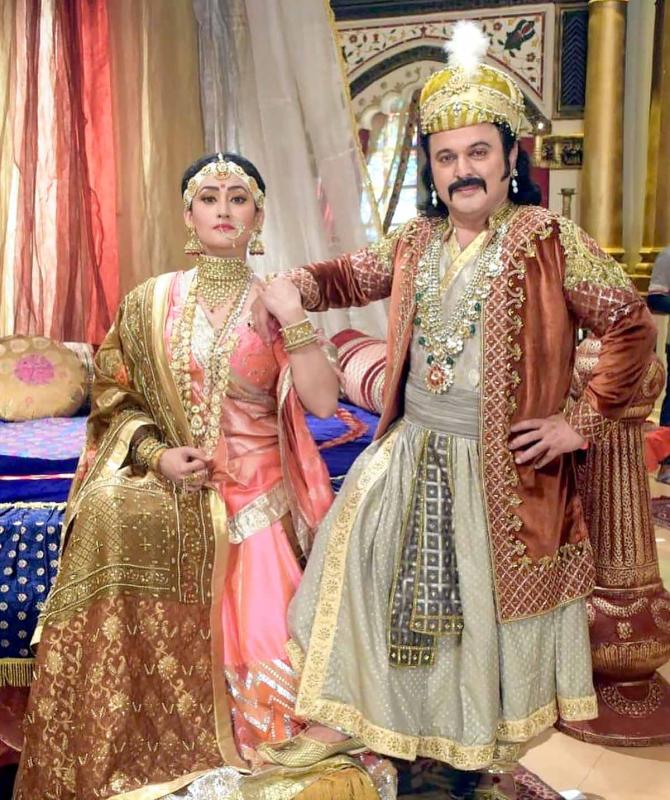 You had to refuse work for months to break the stereotype of playing drag roles on television.
There is a wave that goes on.
You are happily working. You have a team. You bond with them and joke around, but then comes a realisation that if I don't go away from this and do other characters, people will not take me seriously.
I used to be in drag on Monday, Tuesday, Wednesday, Thursday... on different channels.
People would tell me you are doing well and so you are made to do this.
They would think he is doing these characters and is seen on different channels, where will he have time to do something else?
Drag characters became repetitive after a point.
Dadi's character was different. It was larger than life.
Till a character offers some newness, whether I wear a sari or salwar kameez, I will look the same.
When I am not convinced, how will I make people laugh?
The only way to break the stereotype was to go off air, so I refused lot of projects.
Does that mean we will not see you in drag roles again?
Unless I get a one off character, I won't play a female character on screen.
Our profession is such that we cannot say we will never do this. Nobody can say that, so how can I?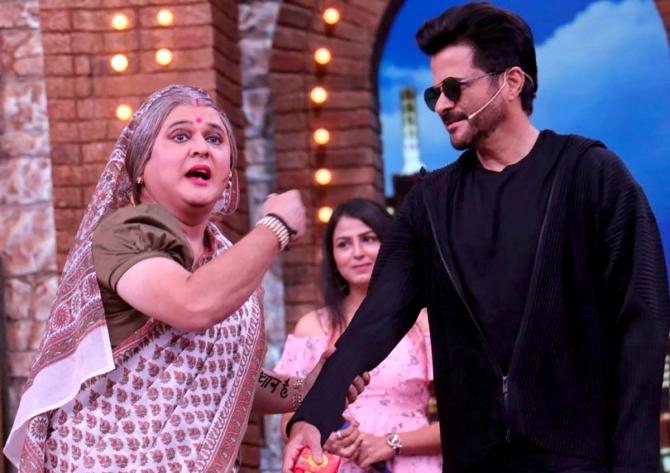 How did your wife react to these drag characters?
She never had any objection to me playing drag roles. In fact, she was very supportive.
She used to give me ideas and references about what jewellery would go with my get ups to make my characters look more convincing on screen.
You have played serious roles in shows like Kahaani Ghar Ghar Kii. Why were you stuck doing only comedy on screen.
I don't know why.
After Kahaani Ghar Ghar Kii, I had started anchoring shows.
Then Comedy Circus started and I got stuck in comedy for five years.
No complaints, God has been kind.
People loved me and production houses have been supportive.
I did a show called Kammal if you remember.
I would love to play a serious role.
I am ready to do a negative role too, but nothing came my way.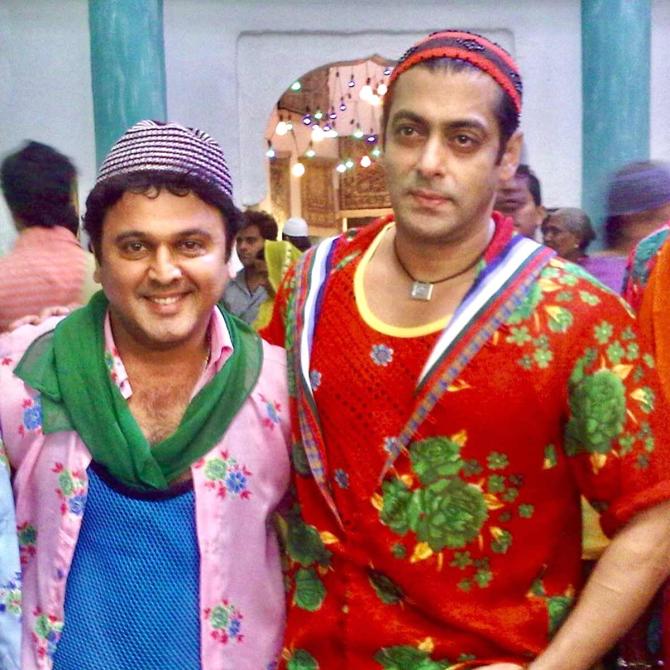 You will be seen in Radhe: Your Most Wanted Bhai with Salman Khan.
It's not a lengthy role, but it's very interesting and meaty.
People will notice me.
It's been a good experience to work with Prabhudeva sir. He is a very fast director. We have to constantly keep up with his speed.
I have learnt so much.
Sharing screen space with Salman bhai is a superb experience. This is not the first time I am doing a movie with him. I have done Partner with him earlier.
He would always give me ideas and tips to enhance my character. He would say, let Ali say this dialogue, let Ali do this.
He used to increase the length of my character in every scene by giving me more scope to act.
Sometimes it so happens that we just do whatever little we are meant to do and go, but Salman bhai is not like that. He increases your role.
I am waiting for the dubbing to finish so I know how I look in the film.
When is Radhe releasing?
I don't know. The film is almost complete, only a song has to be shot and one or two scenes.
Even if the film releases and theatres open, how many people will go in this pandemic to watch?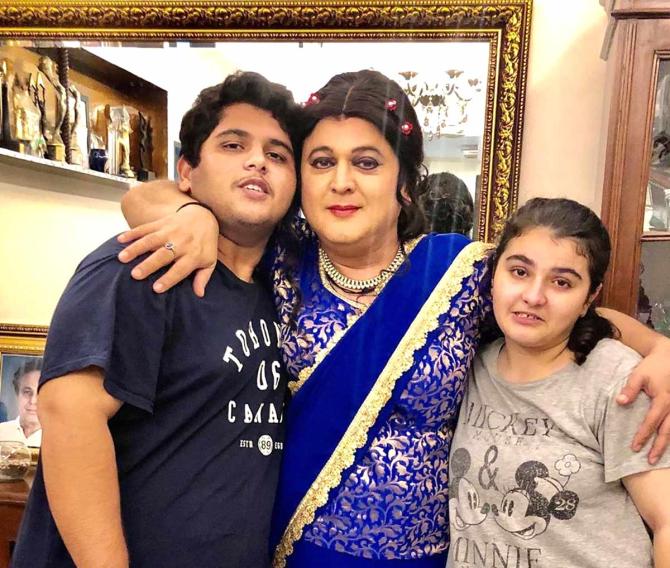 What was it like facing the camera after the lockdown?
I haven't been able to enjoy this project because of the pandemic.
Earlier, whenever I used to shoot, the ambience would be relaxing. We would hang out and joke and not realise how the time would go.
Now, the set is silent.
The moment the shot gets over, we put our masks and follow social distancing.
Earlier, we would take retakes, but now the technicians are so less that we don't even think of taking retakes.
But thank God, we are working in this situation too, and maintaining the protocols.
We take our own food, water and tea on the set.
We even take our own sanitisers.
The first day was a panic situation; we had to ensure everyone had their masks in place. One mistake can prove hazardous to everyone's health.
We are taking a lot of precautions when we go home after pack up.
Only after I bathe do I come and sit with my family.
I don't even hug my kids as I go out everyday. This is the new normal.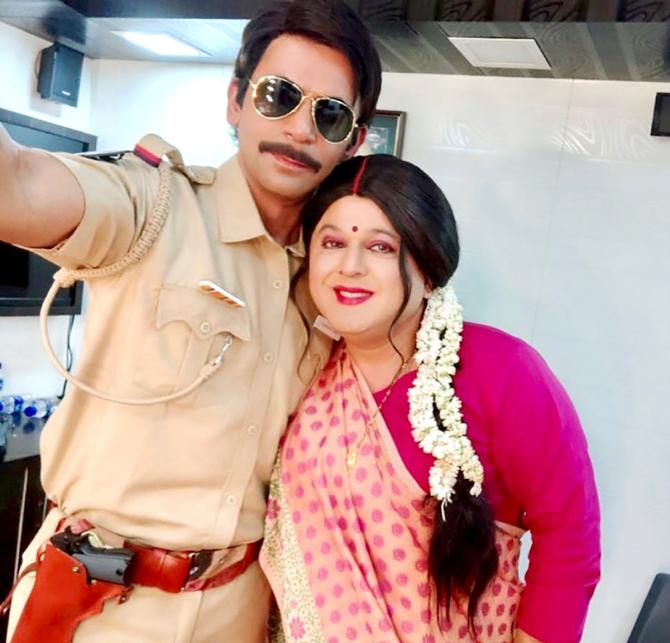 The rumour is that you refused The Kapil Sharma Show and signed up Akbar Ka Bal Birbal instead. Was your strained relationship with Kapil the reason for this?
I was never offered The Kapil Sharma Show.
People got confused as I was approached for Sunil Grover's comedy show Gangs of Filmistan.
I was in talks with Sunil, but I got confirmed for Akbar Ka Bal Birbal, so I could not take it up.
COVID-19 has made it impossible for me to juggle between two shows.
How is your relationship with Kapil now?
Kapil is busy with his work and I am busy with mine. We don't get to meet.
It's not like I don't want to talk to him or we are not on talking terms.
We exchange pleasantries on social media once in a while on birthdays and such occasions.
There is no animosity between us.
Who knows, we may even work together in the future.