'Picture abhi baaki hai mere dost.'
Pandemic or not, the show will go on. And so after months of shutdown, theatres and multiplexes in India are finally opening their doors to moviegoers on October 15.
There's a long list of dos and don'ts, of course, ensuring that the strictest level of social distancing and safety measures are maintained to prevent further spread of COVID-19 given the severe scale of infection in the country.
Right from hygienic provisions to limiting entry only to half the capacity, the government issued guideline suggests a trip to the cinemas won't be what it used to be any more.
As we prepare to return to the land of silver screens and samosa, Sukanya Verma looks at notable theatre moments in Hindi films.
Dil Chahta Hai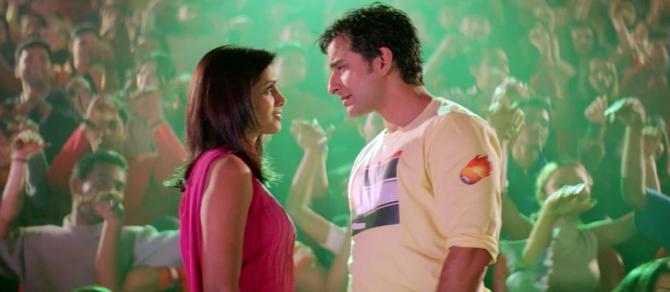 Movies provide an escape from reality, Saif Ali Khan once told Rediff.com. Sometimes happy endings too. (Incidentally, also the title of a movie he starred in).
Saif and Sonali Kulkarni's imagination runs riot (and retro) prompting the fabulous Woh Ladki Hain Kahan medley as the lines between reel and real are blurred and they realise their off screen happily-ever-after.
Om Shanti Om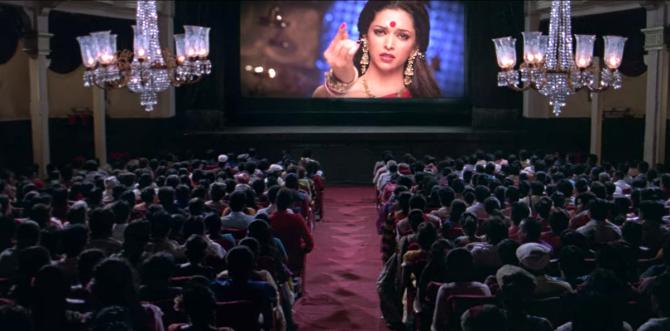 While Deepika Padukone declares the value of Ek chutki sindoor on screen, her biggest fans Shah Rukh Khan and Shreyas Talpade cheer from the side-lines evoking Manoj Kumar's wrath on screen and off it in this zany Farah Khan style ode to showbiz.
Rangeela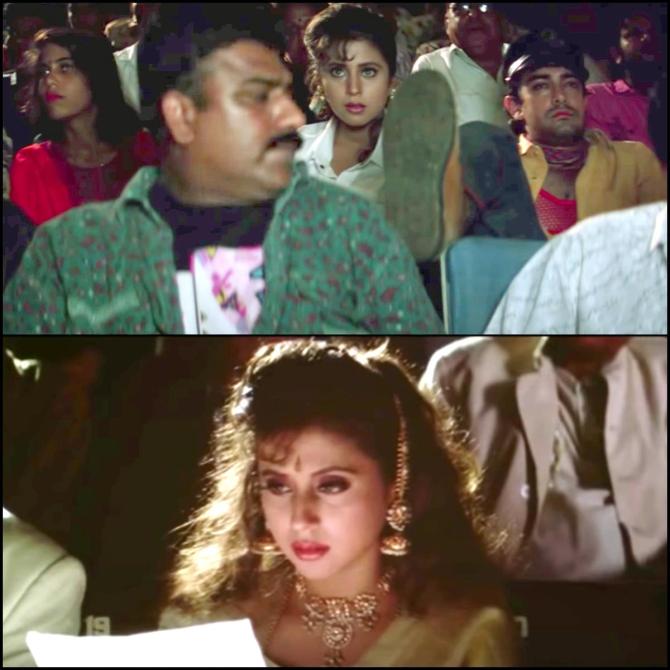 Rangeela centres on a middle class girl's celluloid aspirations. Both the men in her life are about movies -- a superstar and a scalper.
Two of its most memorable moments happen inside a theatre -- one, where Aamir Khan's poor theatre etiquette embarrasses Urmila Matondkar, and another where she reads his declaration of romance and abandons the premiere of her grand Bollywood debut to hunt him down.
Raat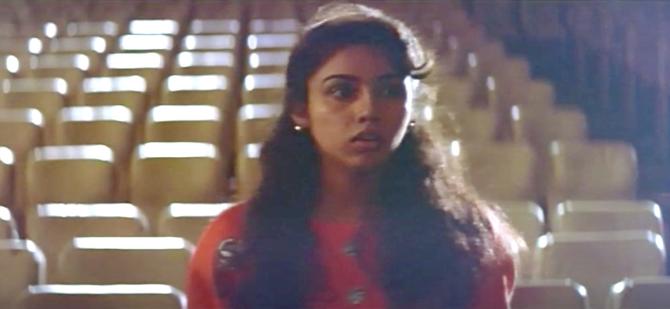 Raat has some serious scares to offer. One of them is when Revathy, enjoying a movie in the company of friends, suddenly discovers she's all alone in an empty theatre.
Imagine the horror everyone watching it in the theatre must have felt back then.
Bhoot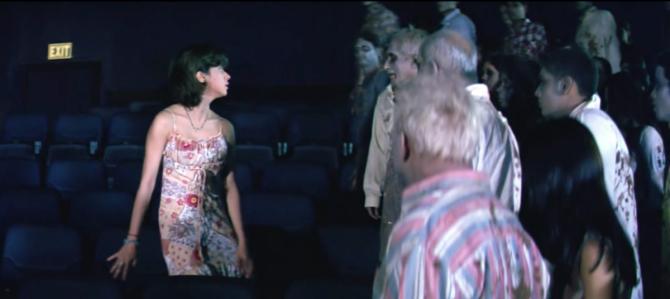 If the nightmare of Raat isn't creepy enough, Ram Gopal Varma adds to the fearsome element by throwing in a battery of ghosts to torment Urmila Matondkar inside an empty movie hall.
Satya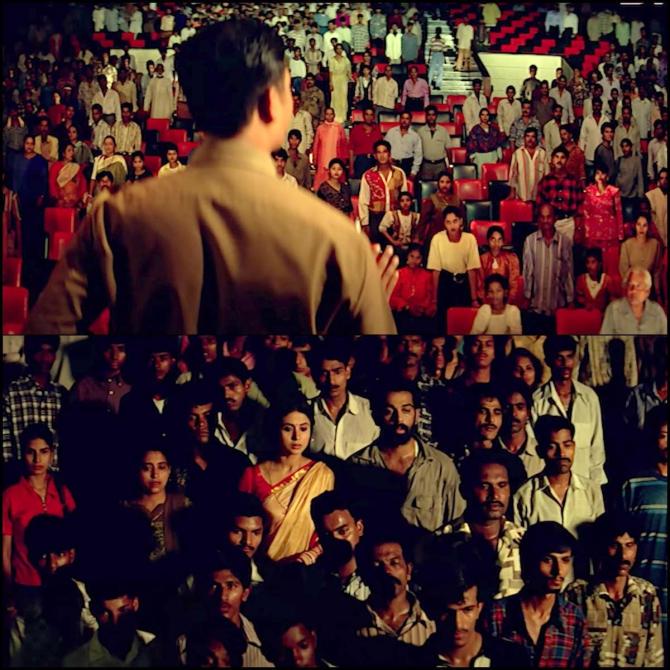 Rangeela, Raat, Bhoot... Varma has created some fine moments of terror and thrills inside the theatre.
In Satya, a hall full of viewers finish a Border screening only to be subjected to a police raid as a means to nab Chakravarthy accompanying an unsuspecting Urmila on a movie date.
What ensues is a mad stampede in one of the underworld drama's most nail-biting sequence.
Bhumika
Inspired by the life of Marathi actress Hansa Wadkar, Shyam Benegal's Bhumika keenly profiles Smita Patil's on and off screen emotions.
We get a glimpse of it when she bursts into tears during a soppy scene at the movies. And her opportunistic future husband Amol Palekar jumps in to comfort her.
Talaash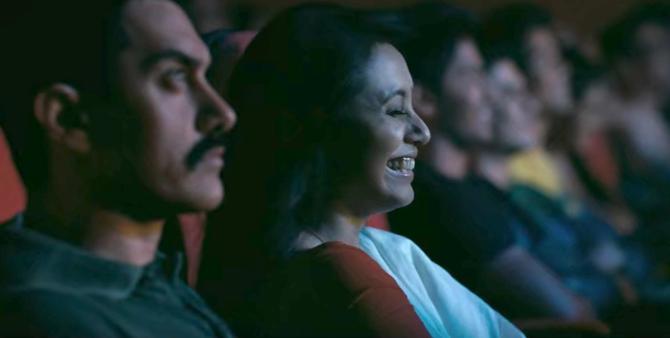 Cinema's great therapeutic power is realised in a quiet scene of Talaash where parents mourning the passing away of their only kid go on a rare movie date.
Aamir Khan's unmoved response to the silliness of Rohit Shetty's Golmaal cannot help but marvel at Rani Mukerji's unbridled laughter over the same, underscoring their distinctly different ways of coping with the same tragedy.
Raja Babu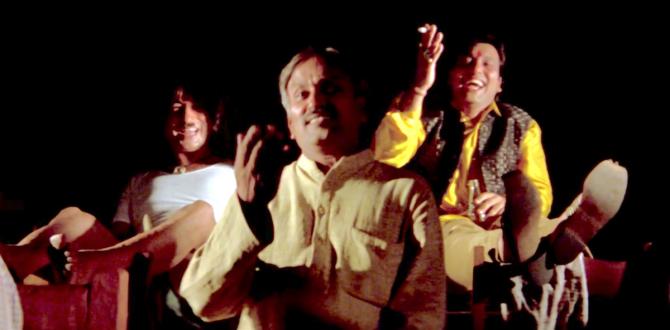 When you pay Rs 25,000 to book an entire theatre and watch Amitabh Bachchan's famous swagger in Trishul, you'll damn well do as you please. Especially if you're Govinda in and as Raja Babu and have Shakti Kapoor's Nandu Sabka Bandhu at your service.
Gangs of Wasseypur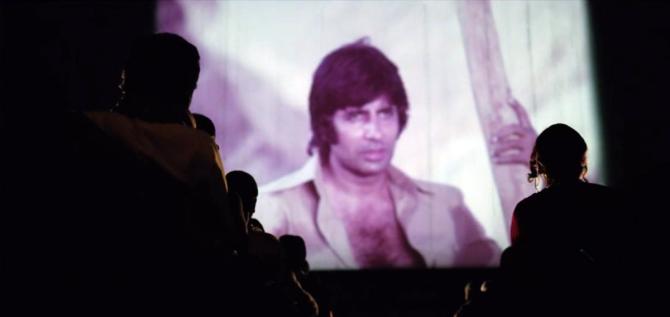 Speaking of Trishul, remember when Nawazuddin Siddiqui and Huma Qureshi made eye contact over the Big B's angry young man fervour in Yash Chopra's 1978 classic?
Anurag Kashyap's multi-generation spanning revenge drama uses Maine Pyaar Kiya's most famous 'Ek ladka aur ladki kabhi dost nahi ho sakte' beliefs in its second part to assert Salman Khan's influence on Definite's (Zeishan Quadri) character.
Break Ke Baad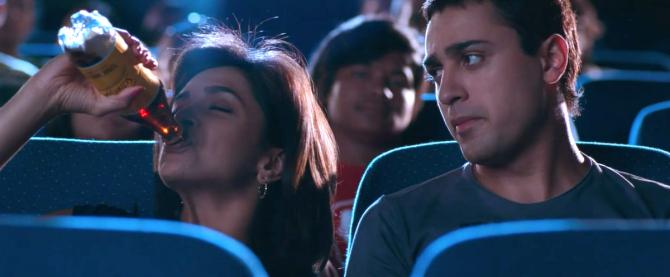 People refusing to let you enjoy a movie in peace are the absolute worst. Sample Deepika Padukone's care-a-damn brat who sneaks in alcohol and gulps it down with coke while her BFF Imran Khan frowns and face palms over her consequent bad behaviour in a sequence of Break Ke Baad.
I Hate Luv Storys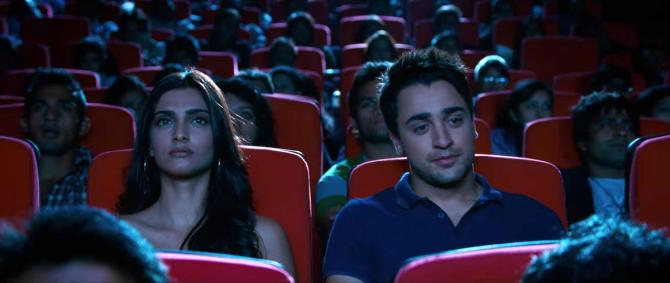 Imran Khan's life comes to a full circle at the movies. At the beginning of this romance, he meets Sonam Kapoor in a theatre. At the end of this romance, he declares his love for her in a theatre.
The Dirty Picture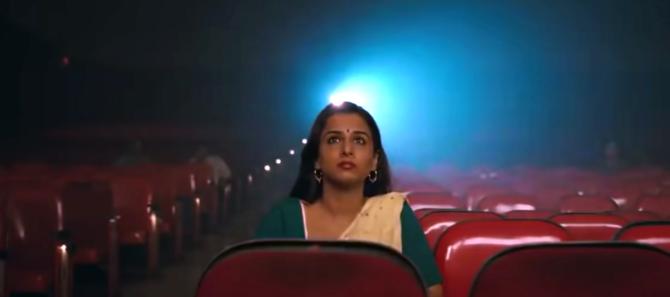 A super thrilled Vidya Balan quickly gets over the initial no-show of her first film following the thundering response to her sizzling dance number from a jam-packed hall marking a milestone in her journey to 'Main entertainment hoon.'
Photograph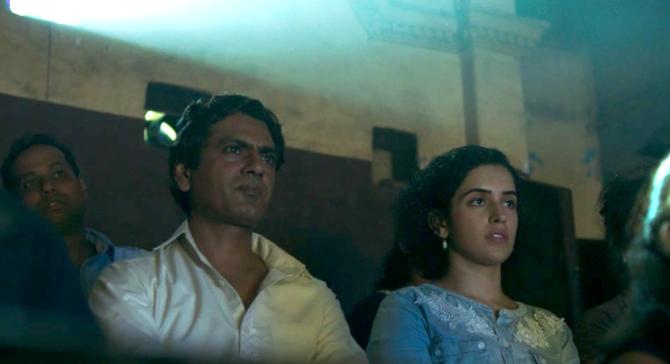 A street photographer and accounts student have nothing in common and a profound connection draws them nearer. But the practicality of their association only dawns on them while watching Teesri Manzil in an old rundown theatre where rats scamper as boldly as the predictability of a Bollywood romance.
Rajnigandha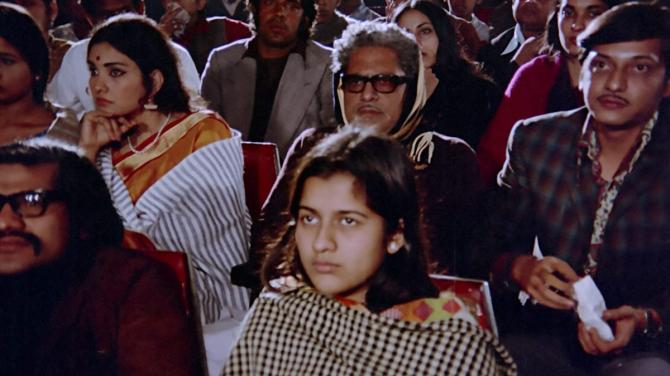 Watching movies of Basu Chatterjee with Basu Chatterjee -- it doesn't get better than Rajnigandha.
The film-maker pitches in a cameo whose understandable irritation over Amol Palekar's constant interruptions to draw Vidya Sinha's attention is so many of us.
Chhoti Si Baat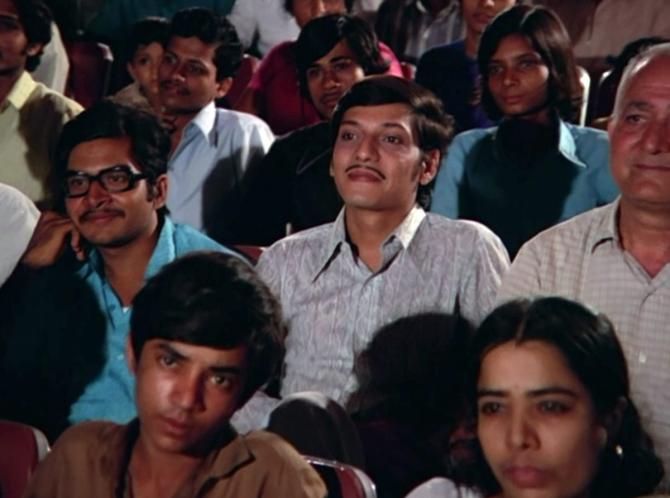 Movies encourage us to fantasise and become heroes and heroines of our own stories.
Amol Palekar's starstruck expressions as he imagines himself in Dharmendra's shoes while Vidya Sinha takes dream girl Hema Malini's place embodies it perfectly in Janemann Janemann.
Rab Ne Bana Di Jodi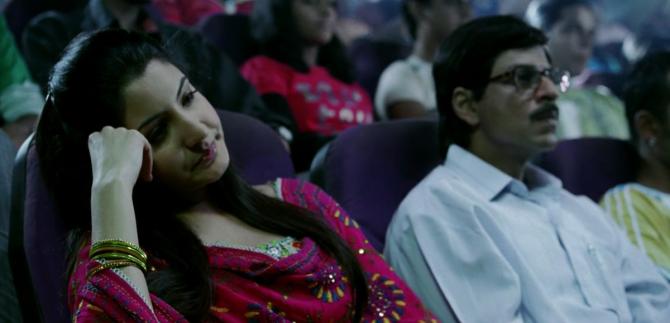 If only everyone had a Shah Rukh Khan and his starry line up of leading ladies to cheer us the way they do a bored Anushka Sharma during Rab Ne Bana Di Jodi's Phir Milenge Chalte Chalte ode to silver screen's MOST romantic jodis.
<p">
Tezaab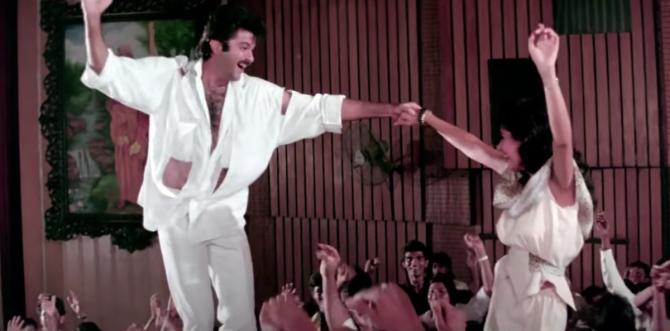 Notice how wooing your ladylove by gate-crashing a movie hall and tearing your clothes like a filmi Majnu invariably meet with deafening applause at the movies. Anil Kapoor and Madhuri Dixit enthusiastically demonstrate it for our benefit in the alternate Ek Do Teen version of Tezaab.
Kishen Kanhaiya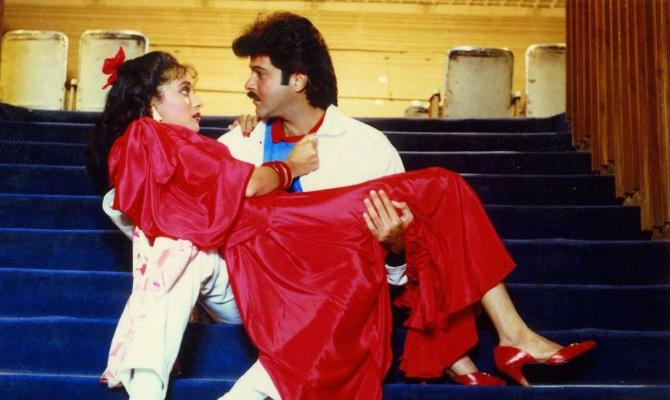 One of Bollywood's most popular pairs play hard-core movie buffs in Kishen Kanhaiya. The kind that know every line by heart and channel their inner Dev Anand and Madhubala without batting an eyelid.
It's only fair Anil Kapoor and Madhuri Dixit's super filmi love story should transpire within a movie theatre.
Main Khiladi Tu Anari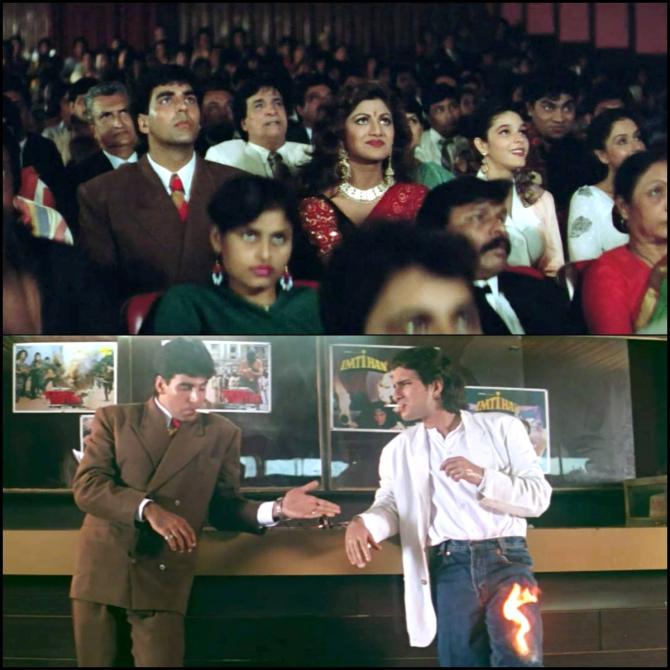 In Khiladi, Akshay Kumar is looking for an unlocked car in a movie theatre's parking lot to hide his friend's body. Things are much more civil in his second Khiladi outing.
A rip off of Hollywood's The Hard Way, Main Khiladi Tu Anari is about an actor emulating a daredevil cop to break out of a creative lull.
At the end of the masala flick, Akshay Kumar attends the film's premiere and is shocked to see Saif Ali Khan copying his every move, mannerism and punchline.
They meet outside in the lobby and have a moment befitting of the title.
Haider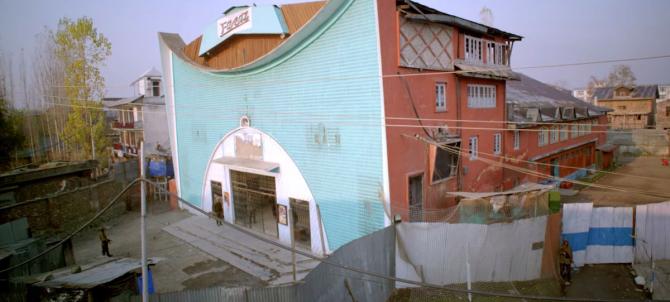 Kashmir's troubled political climate forms a significant backdrop in Vishal Bhardwaj's adaptation of Hamlet. As does his quirky use of Salman Khan movies.
The two combine to show the state of movie theatres when Shahid attempts to inquire about his missing father from a senior army official busy watching Sallu's 1994 flop, Sangdil Sanam.
Doosra Aadmi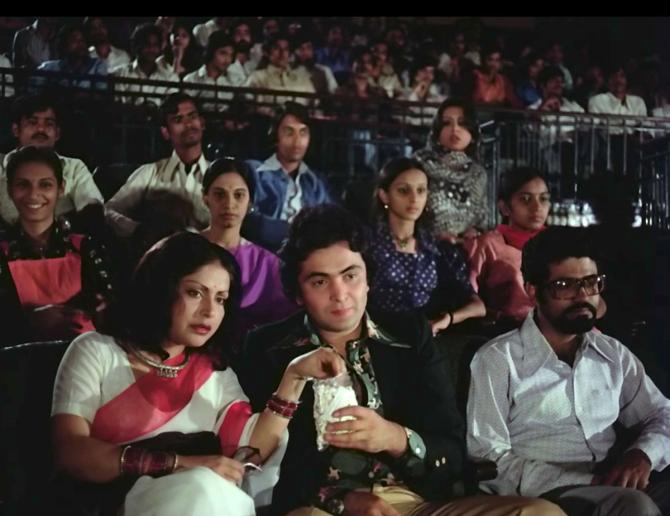 Following the possibly philandering husband's trail leads Neetu Singh inside South Mumbai's New Excelsior cinema where Rishi Kapoor and his colleague Raakhee are engrossed in 40 Carats. Interestingly, the movie is also a love triangle involving an older woman and younger man.
Dil Bechara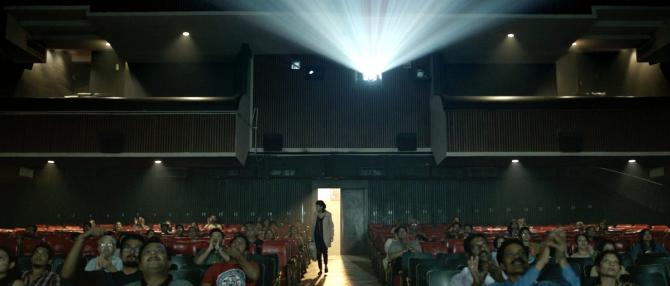 Sushant Singh Rajput plays a huge Rajnikanth fan in his final film. Kabali is playing on screen but the situation off screen is grim. His health worsens compelling him to makes an urgent call to Sanjana Sanghi who rushes to his rescue in what is among Dil Bechara's most distressing scenes.
Mujhse Dosti Karoge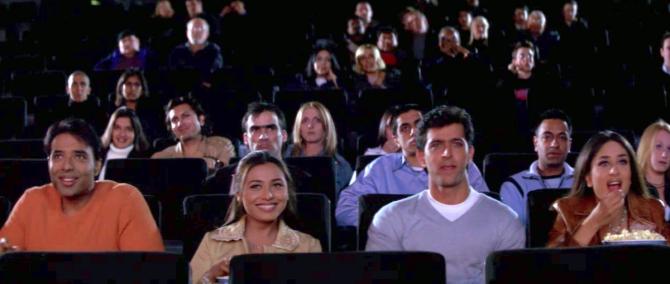 Oh look who I bumped into at the movies, Bollywood style. All the more fun when A loves B, B loves C and C is all set to marry D.
Coolie No 1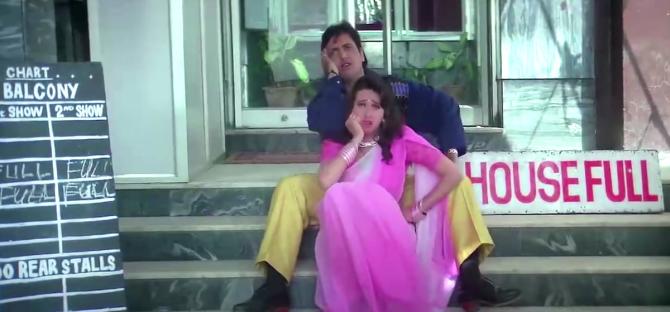 Moviegoer's disappointment, theatre owner's pride -- the Housefull board, made all the more epic with Chi Chi and Lolo's Amar Prem inspired pose.
Kala Bazar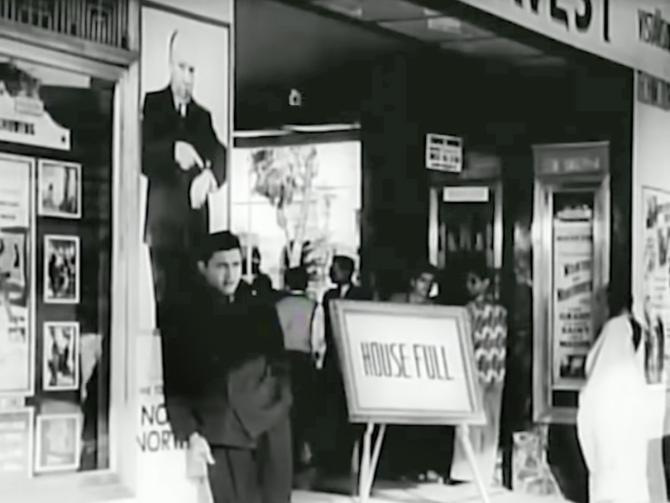 When Alfred Hitchcock and Dev Anand share a frame, it's bound to be iconic. Believe it or not the dapper romantic hero makes a living by selling movie tickets in black in Vijay Anand's delightful Kala Bazar.