'To jump from Madras Cafe to Piku to PINK to October, it takes time...'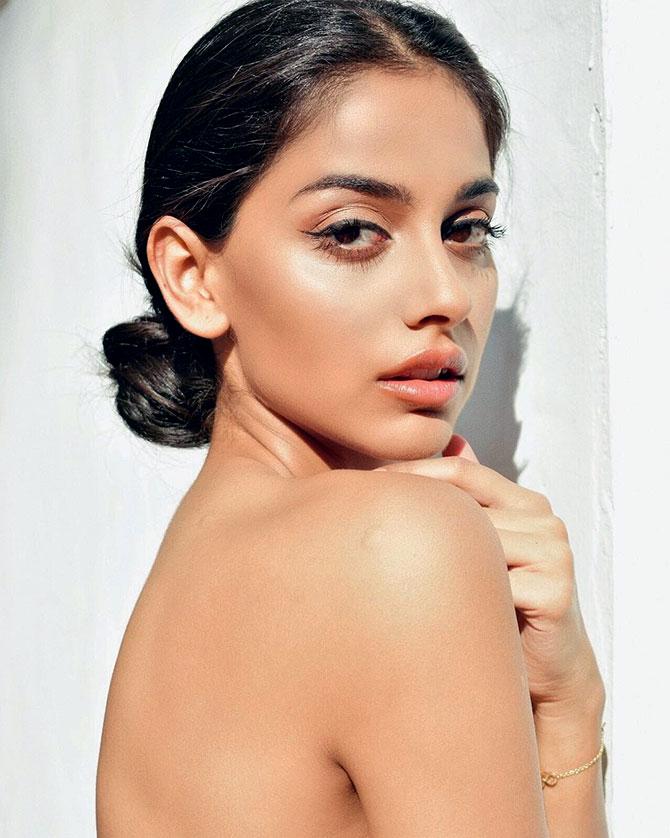 Banita Sandhu -- who was born and raised in the United Kingdom -- poses for pictures, and then settles down on a chair.
Shoojit Sircar, who directs Banita in October, is obviously used to taking care of her. He asks for two glasses of water, and offers her one.
"She is almost my daughter's age," says Shoojitda. "My daughter is 16, she is 20."
Banita had worked with Shoojitda on the Double Mint Ek Ajnabee Haseena Se ad in 2016.
Is Banita getting the hang of Bollywood?
"No, absolutely not!" she exclaims. "I have no idea what's going on. All I know is how this guy (Shoojit) works. That's all I need to know right now."
"When you shoot with Shoojit sir, he puts you in that world. From the trailer, you can see that it's an intense world. Varun (Dhawan) and I did not really get to socialise until the last week of filming in Manali," she adds.
Shoojitda and Banita look back at the October experience.
Rediff.com's Jahnavi Patel listens in.
Banita, Did you feel any pressure while making this film?
Banita: Honestly, no. I didn't feel stressed because I knew I was in safe hands.
I know I am working with two talented people.
I felt very secure in the filming process.
I have worked with him before, so I know how he works. Starting October was like coming home to family.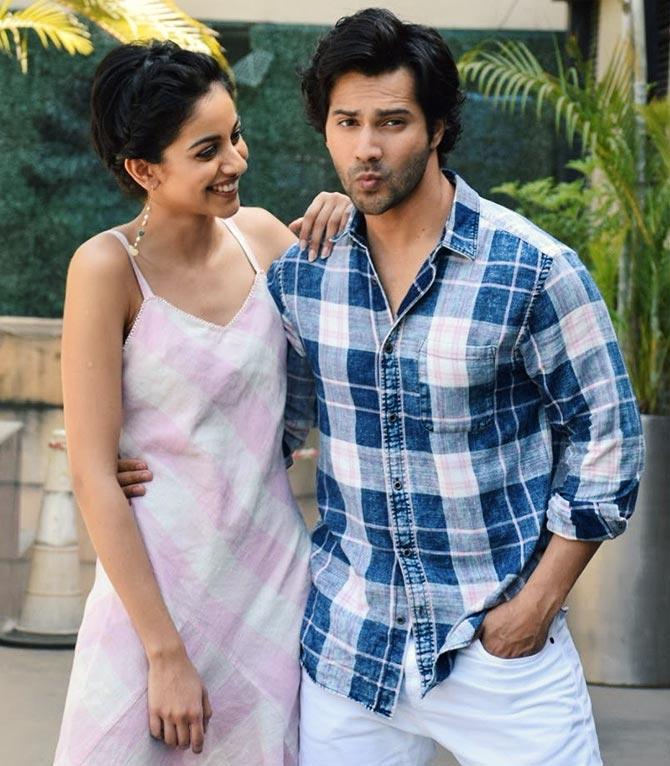 And working with Varun?
Banita: Varun is the best first co-star I could have asked for.
I am glad he is not here because it would go straight to his head!
I don't mean because of his fan following or his box office success, but because he is a genuinely nice person.
Obviously, this is my first film, but it's his first film too.
Shoojit sir calls this his (Varun's) debut because the side you will get to see is not Varun Dhawan, it's Dan.
You will be shocked when you see his performance.
Both of us had a bond because we were going through it together.
It was a spiritual journey for us.
To have someone to relate to on that level, I couldn't have asked for a better guy.
Varun seems very protective of you.
Banita: I definitely felt protected.
When I was in London giving interviews, one question kept coming to me: 'How's Bollywood? Who have you met? How's the glitz and glam?'
And I was like, I still don't feel that I am a part of Bollywood. I am a part of Shoojit sir's film, which is so far from that glitz and glam.
I come here and I work. I don't do the Bollywood stuff.
Has your perception of Bollywood changed?
Banita: It has changed a lot since I came to India.
Bollywood does have connotations with singing, dancing, glitz, glam, and that is very much the view outside.
When I came to India, my friends suggested films to me. I saw his (Shoojit's) films, and Udta Punjab and Dangal, and I was shocked that there was such good content!
Honestly, I had a preconceived notion, which got demolished because of film-makers like this guy.
I think what he is doing for this industry is amazing.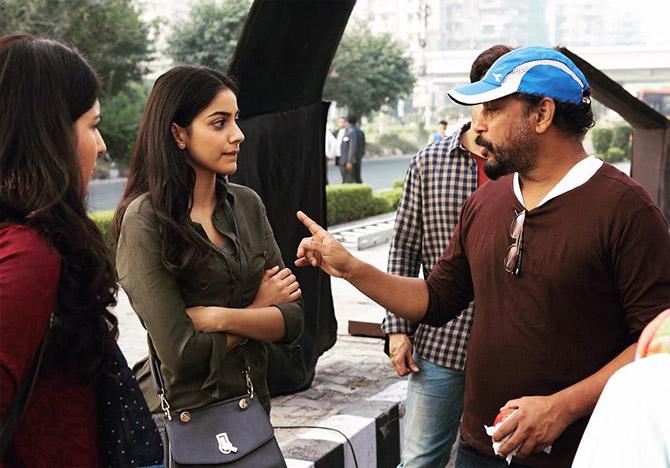 You look overwhelmed, Shoojit sir.
Shoojit: Overwhelmed because normally I get out of the film easily and quickly.
I don't worry about it.
During the release of this film, I am shooting a commercial with Mr Bachchan.
He reminded me about the release date. But I told him, 'No problem sir, we will shoot.'
For me, it's the experience, the process that we go through.
The joy is the process of those 45 days to two months of living together like one unit.
Then, you see that on screen.
My process still goes on because I live with the characters in the edit, the scripting stage, the music.
I live what the character goes through every moment.
(When you see) the finely crafted performances that we have conceived, you feel overwhelmed.
Your films are based on emotions. How difficult is it to go from one film to the other?
Shoojit: That is why I spend a lot of time developing it.
Scripting is the main process because that's the cooling down period, and you are prepping yourself at the same time.
I collaborate with very few writers. Those who have my sensibilities, who can see life in a simple way, give simple nuances to characters, nothing over-the-top...
To jump from Madras Cafe to Piku to PINK to this, it takes time. That's why my scripting takes time.
I concentrate on scripting.
Making the film is the easiest part for me.
Executing is easy. For me, the difficult part is the writing.
That's why I always say the utmost importance is the writer's.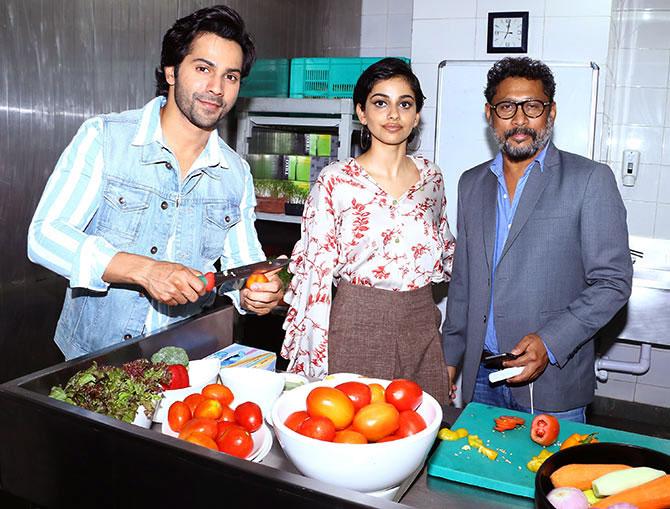 How do you stay away from the glitz and glamour of Bollywood?
Shoojit: I don't live here. I live in Kolkata.
I have nothing to do with movies.
I am basically a footballer. I love to play football.
I make movies, I also love that.
I want to tell the story nicely.
I want to make you sit for two hours, that's a difficult job.
Do films sometimes get lost in the complexities of the characters and stories and the simple stories get lost?
No, I think Piku was that.
Masaan, Sairat, Court... were good films.
Some good simple films -- I am not talking about Hindi -- some Malayalam films have come.
Don't limit Indian films to just Hindi films. There are many beautiful films coming from regional cinema also.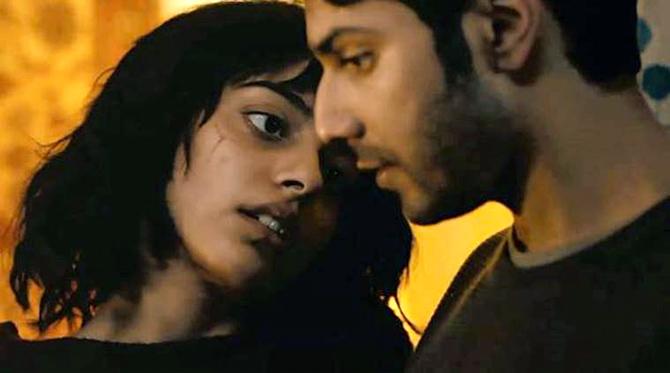 11 National Award winners worked on October.
I want to always work with friends. I don't explore too much outside.
This includes my assistant directors, my cameramen, sound...
They understand me and I understand them.
Even my spot boys, light guys, they have been working with me for 15 years now.
So it's very close knit.
I want everyone to feel what's going on.
In this particular film, on the set, it needed the kind of vibrations everyone should carry. It makes the film rich.
Banita: Touching upon that, the crew is the backbone of this film.
The amount of work they put in... and there are a lot of challenging scenes, not only for Shoojit sir as a director and us as artists, but also for the crew.
As an artist, it's important to feel safe and secure with the people you are working with.
People haven't seen Varun in this avatar. How did you think of him in the role? What made you think the film would work with him?
Shoojit: I didn't think most of my films will work.
I thought Piku would never work; people thought it was a Bengali film.
It's not the courage whether it will work or not. It's the integrity with which I tell the story.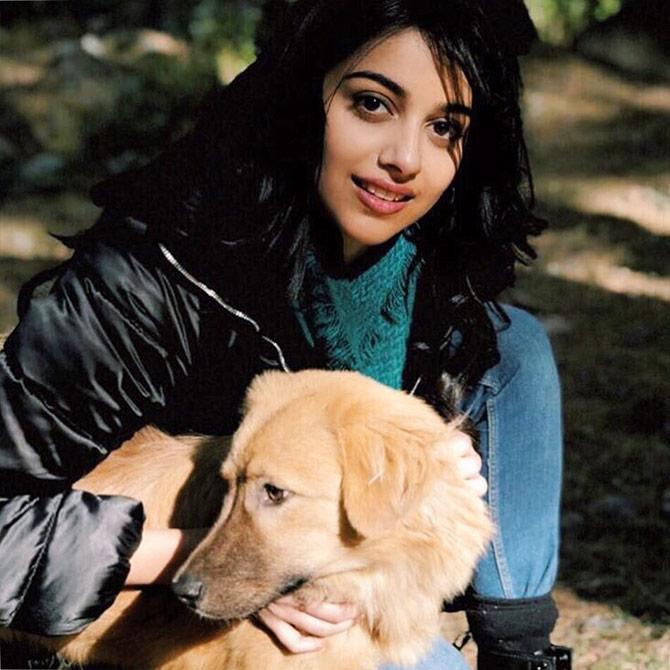 What challenges did you face?
Banita: For Shiuli, connecting to the character was the challenge. She is a much better person than I am.
When he gave the character to me, he asked me to calm down and slow down to be able to play her.
With that came a lot of meditation.
Shiuli is an absolutely darling and an angel, but I'd like to think I am nearly there now.
Shoojit: Executing the film wasn't difficult. It was crystal clear in my head.
My challenge is always when we write the film...
When Juhi (Chaturvedi, writer) and I start collaborating and discussing what we want to do, then anxiously wait for the first draft.
That's when I make the film.
After the interval, the narrative usually drops. Do you feel the pressure to build the narrative once again after that?
Shoojit: When we write films, we don't write in the interval. This only happens in Indian films.
I had told my producers in Piku and October to have no intervals. But they said that even if you don't have one, the theatre people will cut it.
For me, to start again and get them in the mood, it's a big, big, task and it's unnecessary.
In Piku, my first scene after the interval was so important, but 90% of the janta missed it because they were in the popcorn line.
We decide the interval point on the edit.
Now, I do not worry about my theatre audience. I am more worried about my digital audience because they will watch the film at one go.
Banita, what are your future plans?
Banita: The only confirmed plan is that I have to graduate after this film.
I am open to any genre of film, whatever language or country that may be in.
Do you have a wishlist of directors?
Banita: Christopher Nolan.
When I found out that he was here and I wasn't, it broke my heart. I was like, can we stop the promotions...
What's the mental space a director is in when he sees his character acting?
Shoojit: I have an advantage. I act my characters. I am not an actor.
Banita: You are.
He is an actor's director. He is the best actor on the set.
Shoojit: My film's characters, I know how much they can do, so I act that myself.
That helps actors understand the parameters and how much they can go.
Banita: Sometimes on set, just before the scene, I would ask him to show me.
Then he would act it for me and I would be like okay. I would go and do it.
That's how good he is.
He can act like Shiuli and Dan. He can play it better than us.
He was like the only reason you are playing this and not me is because you look like Shiuli (laughs).