Any subject is good for producing good art. Piku, and its obsession with 'emotion resulting from motion' is a perfect example, says Mohammad Asim Siddiqui.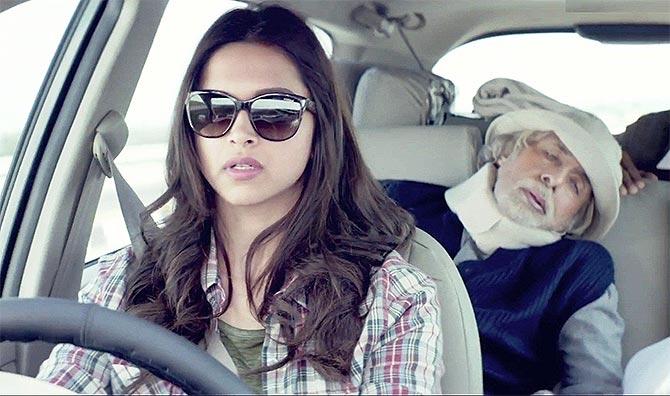 Vijay did not shit. Neither did Vijay Dinanath Chauhan.
Rahul and Raj did not even visit the loo.
As for the beautiful ladies of Hindi cinema, they were ethereal beauties in the literal sense of the word... otherworldly, above the bodily needs of menstruation and bowel movement.
It took more than a hundred years for Hindi cinema to acknowledge that shit exists.
Much as we try to romanticise the cinema of the fifties and the sixties, a lot of films followed a set formula and cinema continued to dish out kitsch. Milan Kundera (author, The Unbearable Lightness Of Being) defined kitsch as the 'absolute denial of shit... kitsch excludes everything from its purview which is essentially unacceptable in human existence'.
In Hindi cinema, the denial of shit existed for two reasons -- one was formal, the other was aesthetic.
The very form of cinema rests on foregrounding the particulars and leaving out the infinity of little details which are widely known and can be assumed by everyone.
In other words cinema -- or, for that matter, a novel or a story -- is a highly elliptical art.
Ellipsis, or omission of unnecessary details, is important because a film has to show all its interesting elements in a matter of three hours. Ellipsis also covers subjects that are socially tabooed in polite conversation.
Different societies have different taboos. Hindi cinema, for example, imposed a taboo on mentioning shit.
Philosophically speaking, shit reduces humans to their compulsive bodily function; it humiliates them; it reminds them of the ugliness of the body; it distances them farther and farther from their highly valued spiritual sphere.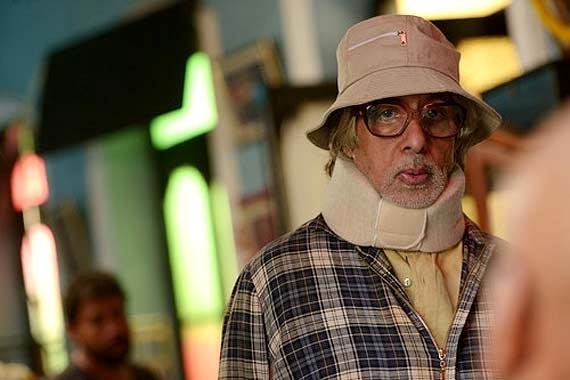 It was best left untouched for fear of vitiating the beautiful images which made the audience forgetful of not only the outside world, but also their bodily sensations in the darkness of the theatre. The audience only thought about the loo during the interval or when a boring song that was not really a part of the story played on the screen.
The aesthetic reason relates to a belief in what constitute safe subjects in cinema. Anything very different from the tried and trusted formulas of love and revenge, romance and action is to be approached with caution.
Significantly, Hindi cinema has explored new and novel subjects in the last decade or so. A whole crop of extremely talented directors has given us some truly outstanding films.
The message is loud and clear. Any subject, if treated well, contains the potential for making a good film and the distinction between art and commercial films is, at best, artificial.
This has its parallel in literature too.
When James Joyce's Portrait Of The Artist As A Young Man first appeared, many critics were outraged by Joyce's repeated references in the novel to the shit and degradation in Dublin.
E M Forster probably forgot about it when he found Mulk Raj Anand's Untouchable lacking the Western characteristic of reticence because Anand's novel talked about bowel movement and shit in a very matter-of-fact manner.
But both modernist and post-modernist works are not really known for reticence. Somebody like Hanif Kureishi can write a story called The Tale Of The Turd and offer a comment on aging, poverty and class division.
Shoojit Sircar's Piku -- starring Amitabh Bachchan, Deepika Padukone and Irrfan -- introduces a Joyce and Kureishi moment in Hindi cinema.
From Hum Dil De Chuke Hain Sanam to Delhi Belly, there is a long list of films which mentioned the tabooed subject of bowel movement, but in a very crude manner. Most of these films degenerated into producing toilet humour of very poor quality.
The full treatment of the subject of constipation and 'emotion resulting from motion' in Piku, while heightening the comic principle of the film, lends weight to the aesthetic theory which believes that any subject, even a plate of onions, is good enough for producing good art.
Shoojit Sircar's art lies in the fact that he can use the fixation of an old man on his bowel movement to highlight the problems of old age, the issue of hypochondria, marriage in a new context, family relationships, attachment to one's roots, the emotional blackmail of the young by the old and numerous other sensitive subjects without compromising on his commitment to entertainment.
Mohammad Asim Siddiqui teaches English at Aligarh Muslim University.