'I think people are ignorant because they assume automatically that if you have weight issues, it's because you are lazy and eat a lot.'
'That's ignorance.'
'Trust me, especially in case of actors, we are not lazy.'
After acquiring a fan following, thanks to her films in Tamil, Telugu, Kannada and Malayalam, Nithya Menen is all set to spread her wings to Bollywood.
The actress plays a scientist in Mission Mangal, which also features actors like Akshay Kumar, Vidya Balan, Taapsee Pannu, Sonakshi Sinha and Kirti Kulhari in pivotal parts.
She does not mind being a part of such a big cast.
"Being the centre of attention has never been important to me," Nithya tells Rediff.com Contributor Mohnish Singh.
What brings you to Bollywood?
I think there comes a time in life when you want to expand.
I wanted to do something different.
Doing the same thing over and over again bored me.
(Producer) R Balki sir called me and said he was doing this film... he said it had many actors but he wanted me to play a specific scientist.
It sounded very interesting.
I have had several offers from Hindi films but none were a perfect match.
I felt Mission Mangal might be nice, so I heard the whole narration.
The director is a Kannadiga (Jagan Shakti) and has seen all my films.
When the makers of Mission Mangal approached me, they knew why they wanted me. That was important. They did not approach me just because I am a South Indian.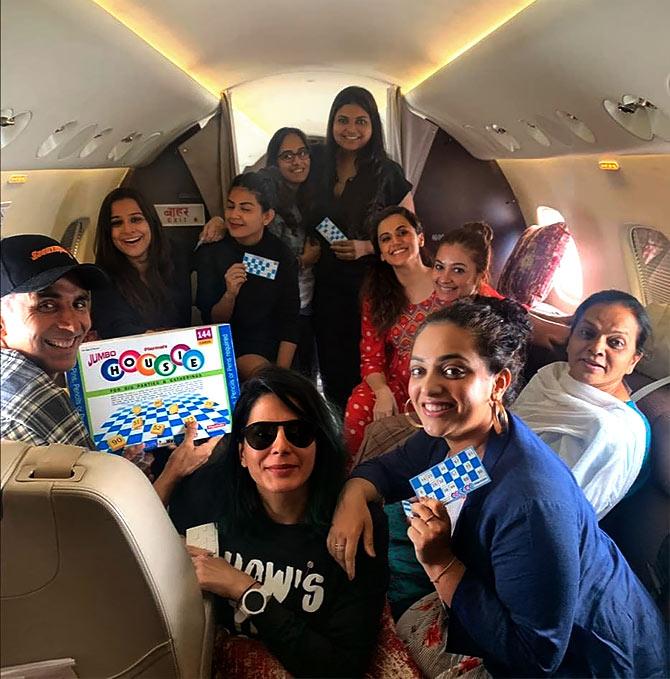 How do you decide which film is a perfect match for you, especially when it comes to choosing a Hindi film?
Different things did not work.
At times, the films offered were too commercial for me.
I have been offered films by big production houses as well but they weren't the type I do.
Sometimes, the character did not work for me.
I would ask them if they had watched my previous films because there are certain films that I don't do.
In Mission Mangal, everything came together.
I have certain sensibilities.
I don't do films that just want to make money by using me.
As an actor, you may have to do such films at one point, but I try to stay closer to roles which are genuine.
In Mission Mangal, you are a part of an ensemble cast, not the leading lady. Don't you think your fans will be disappointed?
You know, being the centre of attention has never been important to me.
It has never crossed my mind.
I see myself as an actor.
A film is bigger than an actor, that's the only way we can make good films.
When the actor becomes bigger, we make mediocre films.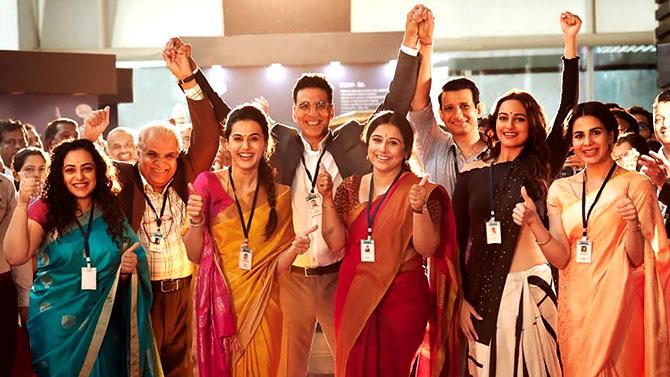 Who did you connect with most with on the sets of Mission Mangal?
We were like a team.
I don't think I particularly connected with only one co-star.
We were always in a group. We always sat in a group. We always ate together.
I had met Vidya (Balan) ma'am just before Mission Mangal. We have done a biopic called NTR Kathanayakudu.
Did you watch Ok Jaanu, the Bollywood remake of your blockbuster film O Kadhal Kanmani ?
No.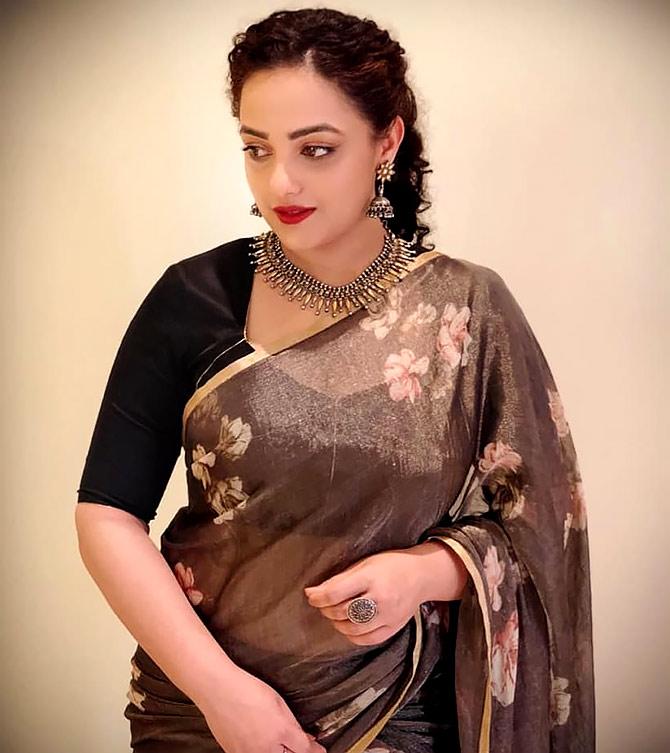 How do you react to Bollywood remakes of South Indian movies?
Remakes in general can never capture the essence of the original film.
If you remake a Hindi film down south or vice versa, you can never capture the magic of the original.
Were you approached for Ok Jaanu?
No.
Your co-star Taapsee Pannu feels the south film industry is much more male-dominated. How liberating it is for you to come to Bollywood?
The environment is more professional and easier in Bollywood.
There is less hierarchy here.
How is the scenario down south?
It depends, I think, on the kind of films you do.
I have played important roles in most of my films.
That (hierarchy) is everywhere.
But, in Bollywood, there is an easier and professional way of working.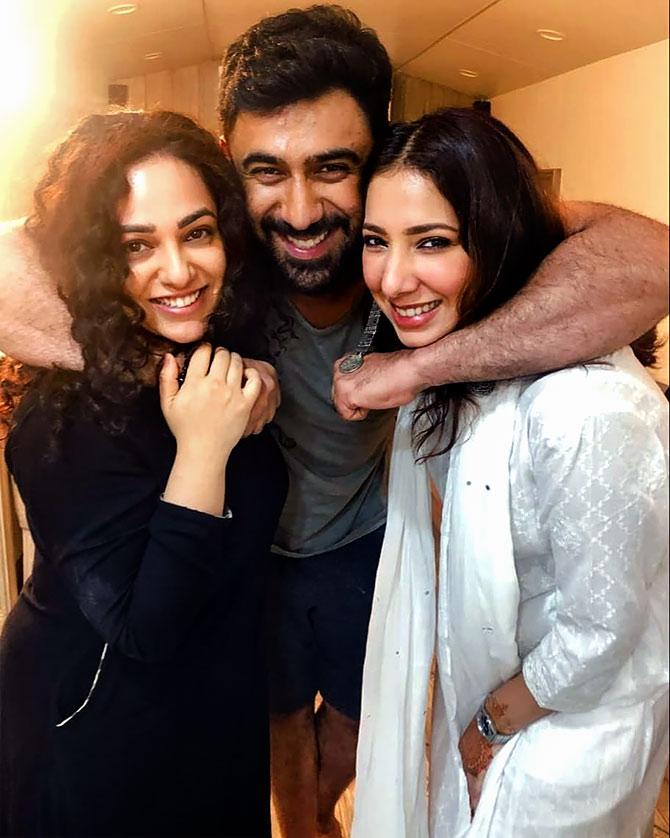 If you are offered the remake of a south Indian film in Bollywood, would you be interested?
I will first see what the film is and what my character is.
Did you ever dream of a typical Bollywood launch, with song and dance routines?
I don't think I have ever done anything conventional.
The way my films were, the way I started off, the kinds of choices I made... have been very unconventional.
It always caught attention because I went with how I felt in that moment.
I never planned that I needed to do this and that.
First of all, I never wanted to be an actress.
I think it worked in my favour because I did what I felt like doing.
What was your original ambition?
I studied journalism at the Manipal School of Communication (in Karnataka).
I wanted to be a journalist but then, in the second year of the course, I decided I did not want to be one (laughs).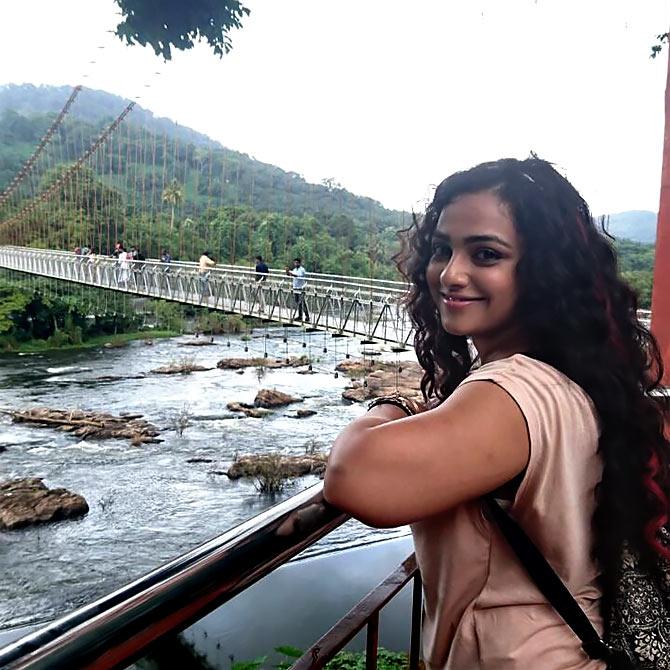 When did you decide to venture into films?
I did my first film when I was eight.
It was an English film (The Monkey Who Knew Too Much.)
It's destiny, I would say.
I did not plan an acting career.
I do not come from a film family.
I belong to a middle-class family, an education-orientated family. No creative things were encouraged (in my family).
I believe films were meant to happen.
My family has started appreciating my work; they have started watching my films.
My grandfather was so happy to know that I was playing a scientist in the film. He was like, 'Finally, Nithya is playing a scientist, at least in a movie. I was waiting for this.'
The Malayalam film industry is going through a revolutionary time where women choose not to have a plastic face and stay natural. How do you look at it?
It's very important (to stay how you are). I see more and more of this dissatisfaction with everything we have.
Sometimes, I wonder how one can say, 'My nose is not okay, fix it'.
People have to start understanding that each one of us is different.
How can we all look the same? How can that be okay?
Everyone has beauty of their own.
You should stop saying to children, 'Iska toh naak aisa hai. Yeh toh moti hai'. Stop saying these things to your children. Stop making them feel that way.
You should start encouraging people to accept who they are.
The kind of trolls actors face is ruthless. They call you all kinds of names.
I am sure that affects people.
You have to be very resilient to understand and detach and say, 'No, it's not correct.'
How do you deal with trolls?
I have only one thing to say about it: I think people are ignorant because they assume automatically that if you have weight issues, it's because you are lazy and eat a lot.
That's ignorance.
I want to say that one faces weight issues very rarely because of being lazy and eating.
Trust me, especially in case of actors, we are not lazy.
The way we work, the way we stand for almost eight hours without even realising it... it's not easy.
So it's not because we eat too much or are lazy.
Sometimes, it's a health-related thing.
Maybe, these people are dealing with stuff that is painful.
At times, weight-related issues are hormonal and that can create a lot of pain and difficulty.
When you add trolls to that, they have to deal with so much more.
We need to educate people that weight is not just because we are sitting and enjoying our lives.
Of course, trolling hurts me. I do get upset.
For me, films are a part of my life.
If it were everything in life, it would have been problematic.
Life is much more than that.