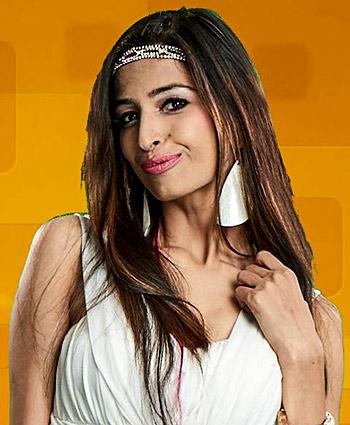 'No one is on the show to make relationships like father, sister, daughter or brother. I am not interested in Om Swami.'
'I have not signed any contract for any show on Colors, then why is Salman Khan saying he won't work with Colors?'
Priyanka Jagga clears her stand on Bigg Boss.
Priyanka Jagga was the first contestant, in the history of Bigg Boss, to be thrown out of the show by Salman Khan. A few days later, Om Swami was evicted by Bigg Boss.
While host Salman Khan has refused to work with her or the Colors channel if they associate with her, Priyanka screams injustice.
She tells Rediff.com contributor Rajul Hegde why the Bigg Boss chapter is closed for her.
Om Swami has been asked to leave the show.
I knew from Day One that he is a pagal (mad) guruji.
If you use the right tone without raising your hand, he will listen. But the minute you provoke him, he will go mad.
I would cook for the housemates so he may have thought that, if he fights with me, I wouldn't give him food! That's why he would listen to me.
When I went back to the house, I tried to make him understand but he did not.
He was happy playing the game under my shadow.
He is capable of the weirdest antics and does everything for footage. Had I been in the house, he wouldn't have gone crazy.
He considered you his daughter.
No one comes to this show to make relationships like father, sister, daughter or brother. I don't know why people still ask me about that old man. I am not interested in him.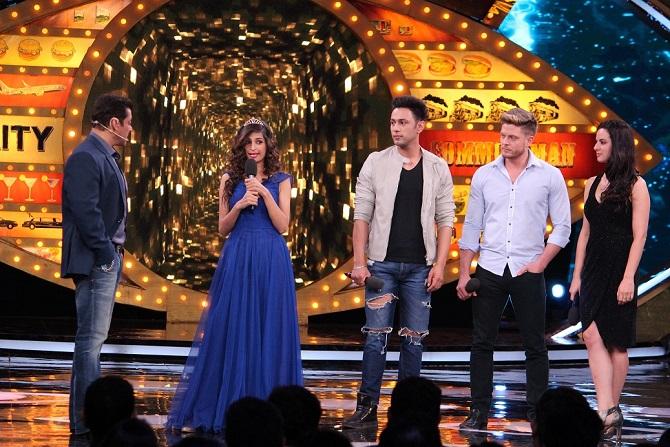 IMAGE: Priyanka Jagga re-enters the show as a wild card entry.
Salman Khan was disgusted with you and Om Swami and has asked the Colors channel show to keep both of you away from the grand finale, which Om has threatened to sabotage.
I don't want to get involved in this any more. I don't want to attend the finale, as my mother's birthday is on the same day.
You are the first contestant who was asked to leave the show by Salman Khan.
I left the house on my own, I was not thrown out. But I know how it has been projected. I requested Bigg Boss to let me rest for two days as I was unwell or to let me go home. I was so weak that I don't know how I reached home.
I couldn't entertain or perform any task in the house. But the makers have highlighted the stuff that they want to show and what Salman wanted to say.
Salman said he will not work with Colors if they continued their association with you.
Colors aapko mubarak ho. Have you seen me on Colors before Bigg Boss? I have not signed any contract for any show on Colors, then why is he saying he won't work with Colors?
Dhamki bhi lagni chahiya na. Dhamki tab lagegi jab mein Colors ka saat bada show sign kar ke baiti hu. Woh dhamki mujhe lagi hi nahi because I myself don't want to work with Colors (It should look like a threat. It would only look like a threat if I bagged a big show with Colors. If I don't want to work with Colors, how will it affect me?)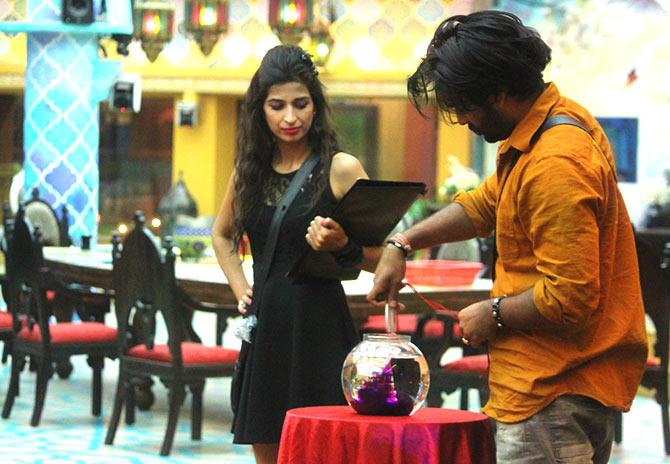 IMAGE: Priyanka Jagga with Manveer in Bigg Boss 10
What happened to your health?
I had bleeding, diarrhoea, nausea and vomiting.
It was reported that you had a miscarriage.
Since I was unwell and did not speak to anyone, even my brother assumed that it was a miscarriage. But that's not true.
I have consulted my doctor. My haemoglobin (count) is low because of heavy blood loss. I am very weak, so I am resting at home. I will do a few tests in the next few days. I am on medication now.
VIDEO: Watch some of Priyanka's antics in the house here
Some of the comments you made on the show, especially to Lopa, were very abusive.
Lopa also hurled abuses and made derogatory remarks about me. The only difference was that she abused in English and I did it in Hindi.
Everybody thought I was faking my health problems. I asked them not to make fun of someone when he or she is unwell.
All of them could see the show's bouncers taking me to the bathroom as I was weak and could not walk but they still had the audacity to say I was faking it.
They were continuously provoking me.
What Lopa said to me was edited and only my part was aired. Now, I don't want to get into the details of what she said regarding my children and marriage.
You can ask Bani what Lopa said to me when she comes out of the house.
The Bigg Boss chapter for me is closed. I don't want to talk about it.
You had asked Bani to wash your clothes after you urinated during the task.
I had washed the clothes, I just asked to her take it out of the water. I don't know how it has been aired.
Bani didn't know how to do laundry, she learnt it from me.