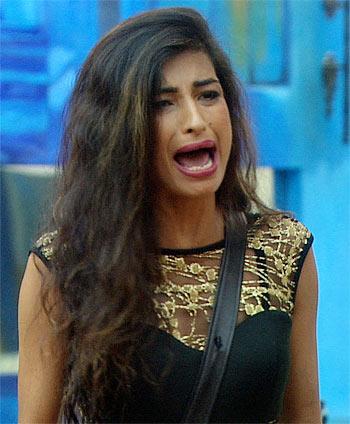 If you dislike this annoying, over-the-top season of Bigg Boss, blame it on two people: Swami Om and Priyanka Jagga.
Now that one of them is gone, will the other mend his ways, asks Divya Nair.
Highlights
Who's garam
Priyanka
Ever since her entry in the house, this mother of two had made life miserable for everyone.
From picking fights to spitting on people, getting physical and being abusive, she has done everything she can to annoy people.
Since Bigg Boss didn't ever pull her up, it boosted her confidence to get even uglier.
Last week's drama of abusive behaviour was way below the belt, and it was strange that Bigg Boss had to wait for two days to act upon it.
Salman Khan lost his temper for the second time when Priyanka tried to give him the cold shoulder.
Sweetheart, no matter what you think about Sallu off camera, no one dares take a panga with Sallubhai or attempt to give him a piece of your mind.
Panga failed, you were shown the door.
Since Colors TV will never approach you again, perhaps you can spend some time watching reruns of your beep-beeped episodes.
Manu
Manu, I agree with Salman that when Priyanka made insensitive comments about your loss, you handled the situation well.
From Salman's perspective, not losing your temper and nominating yourself to let Bani and Lopa meet their family members may be the only criteria to become Man of the Week.
But you aren't really worthy of making any statements in the house.
You lied about Mona's boyfriend Vikrant, you lied about visiting Manveer's place and you lied to Nitibha and Manveer while defending your statements against them.
Congratulations, you have become the next fake and manipulative contestant of the show after Gaurav Chopra.
Manveer
Dude, your progress on this show has been amazing.
The way you handled the reunion with your father melted our hearts.
It shows your upbringing, kindness and humility.
Despite knowing that people like Bani, Manu, Mona and Nitibha are taking advantage of your kindness, the way you manage your friendships so gracefully amazes me.
Maybe your beard took away half your negative traits and Manu's absence, the rest.
No wonder even Dabangg girl Sonakshi called you her favourite contestant.
Sonakshi Sinha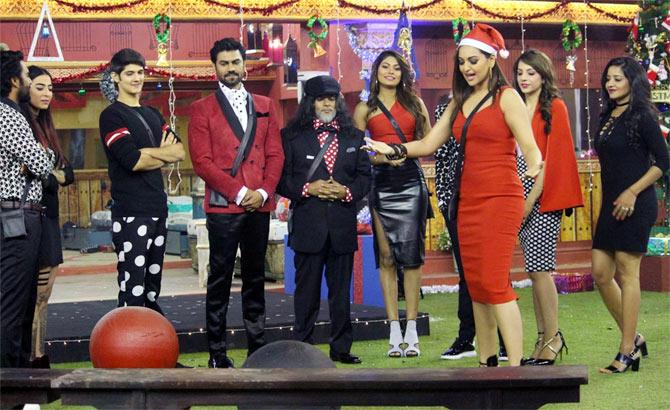 Yes, Sonakshi was garam this weekend as well!

She minced no words calling Priyanka the most hated contestant.
She also did some essential khulasa (revelations) about Manu's feelings for Nitibha-Manveer; Mona trying to be Sunny Leone, Rohan's apparent gender issues, and so on.

She aptly distributed Being Human bracelets, giving a 'help' tag to Swami Om, a 'share' tage for Bani and a 'hope(less)' tag to Nitibha.
It would have been apt had you 'khamosh-ed' the bluffmaster when he tried to suggest that he knew your father.
Who's thanda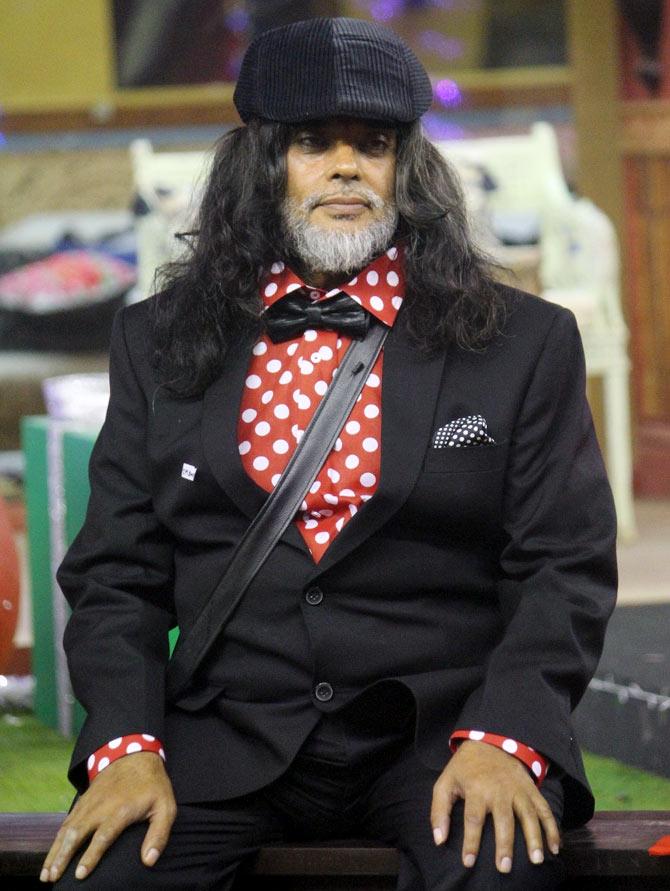 Swami Om
It is unfortunate that this man is still inside the house.
If Priyanka was abusive, Swami Om has said and done equally harmful things through the show.
If Lopa says the bluffmaster makes her uncomfortable, why hasn't Bigg Boss looked into the matter?
How does one define entertainment on the show?
Are the makers waiting for a Priyanka Jagga moment to oust this guy or has he really done some jaadu tona and wooed the makers into believing that everything he does is entertainment?