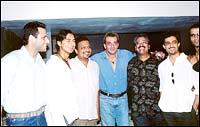 After a good show in Munnabhai MBBS, Sanjay Dutt is back with yet another gangster flick, Plan.
But director Hriday Shetty insists that Sanju's Musabhai in Plan is very different from the earlier film.
Shetty, who makes his directorial debut with Plan, also insists that he did not have anything to do with Priyanka Chopra's outburst that she wasn't paid in full for the film. He insists he does not feel the pressure to score a hit after brother Rohit Shetty scored one in the Ajay Devgan-Abhishek Bachchan-Bipasha Basu starrer Zameen. And he insists that producer Sanjay Gupta has not interfered with the direction at any point.
A very likeable man with salt-and-pepper hair, Hriday seems very down-to-earth. And there is no tension in the air as he gears up for the film's release on January 9.
Son of fight master and actor Shetty, Hriday talks to Ronjita Kulkarni about his Bollywood experiences and Plan.
You were assistant to Sanjay Gupta before you became a director yourself.
Yes. Before getting into direction, I wanted to learn the craft. So I assisted quite a few directors. I will not reveal their names.
[Sanjay] Gupta is a childhood friend. When he became director in 1994, I joined him. I have assisted him in all his films from Aatish, Khauff, Hamesha, Jung to Kaante.
I worked on a couple of subjects, but wasn't satisfied and did not want to start my career with those. When Gupta narrated the story of
Plan
, I was very interested. Besides, Sanju was the co-producer. So it was a great launch vehicle.
So I asked my screenplay writers to develope the story. This was during the shooting of Kaante in Los Angeles.
How did you choose your cast?
Plan is about four boys who come to Mumbai dreaming to do something big. But they get into a huge debt. To repay that, they attempt a kidnapping. But the man whom they kidnap turns out to be a gangster, instead of the businessman they thought he was.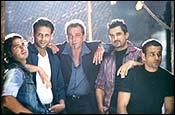 I wanted four actors whom people could identity with. I did not want big stars.
Sanju would play the gangster. Being the co-producer, he was part of the project right from the beginning. So we wanted to balance it with new-age actors like Dino Morea, Sanjay Suri, Bikram Saluja and Rohit Roy. It turned out to be a great cast!
How different is Sanju in Plan than in his other gangster films?
He is not the stereotyped gangster wearing pathanis and gold chains that you see in other films. He is very stylish. We  have gone in for a new look, which has been done by Aalim Hakim.
Second, he is a very humorous, fun-loving person. He is not a dark character. There are no crude or gory scenes. Plan is not an underworld film. It is about the boys who come in contact with this character who, incidentally, is a gangster. The boys are the protagonists in the film. We want family and kids to watch and enjoy the film.
Isn't his character similar to Munnabhai MBBS?
Munnabhai MBBS dealt with a different genre, in a different setting. They are two totally different stories.
How involved was Sanjay Gupta during the filming?
Gupta was very involved during pre-production. But after the script was done and the schedules made, he took a backseat. Once the shooting started, he did not interfere at all.
Priyanka Chopra recently claimed she was not paid in full for the film. How true are her allegations?
I don't get into controversies.
Besides, that is not my department at all, so I do not have a say. It was between the actress and the producer. Anyway, the problem has been resolved and she has finished dubbing for the film. She is very much part of the project and has been paid. The issue was blown out of proportion.
Can you recount any incidents during the shooting of the film?
During pre-production, my writers, Gupta and I had gone to his house in Lonavla to discuss the script. After a heavy session, we completed the script. We were very happy and decided to celebrate. We had a couple of drinks. After that, the five of us went to sleep in the same room.
Next morning, we found all our money, watches and clothes were gone! It was strange because we did not even realise that someone came into our room and robbed us! It was quite an experience.
There was another incident. We have a train sequence in the film and had taken permission from the Konkan Railways for the same. It was to last a couple of days. Usually, outdoor sessions are never done in the monsoons. But we did not have a choice.
So every time we shot, we would be anxious, wondering when it would rain and we would have to wrap up. But, I guess it was God's will. Throughout the shooting, it did not rain. It was nice and sunny, just the way we wanted it. Just after we finished shooting, it rained.
Your brother Rohit scored a hit in his directorial debut, Zameen. Does that put more pressure on you?
No, not at all. It is good that Rohit's first film is a success. Every director wants that. I made my film with honesty. Every one is positive about it. I am sure our hard work will pay off. But there is no pressure on me. I think Gupta will feel the pressure more, being the producer. As a product, it is my baby. It is my vision, which you will see on celluloid.
Do you discuss films with Rohit?
No. We have different views of filmmaking. He is more inclined towards action. I am not that much into action, despite being a fight director's son. I want to capture all genres of films like comedy, thriller etc, not just action.
Your father, Shetty, was an actor and fight master. What made you become a film director?
When I watched my father on the sets, I would see this one man who would be in control of everything, every department. He held the remote control. And I wanted to be that man: the director.
What was the experience of being a Bollywood fight director's son?
I would get very annoyed when I would see people beating up my dad in films because I thought it was real. Then, I learnt the truth.
We would visit dad's sets every weekend. I would be very hurt seeing people half dad's size beat him up. He was a six-foot, stout man and was being butchered by a five-and-a-half feet hero. I would ask him why he let these guys beat him up. He was very down-to-earth. He explained it very simply to me, saying, 'If I don't get beaten up, you don't get to eat.' I still remember those words.
There was another incident when he was shooting a fight scene from atop a 25-foot tall building. In those days, there were no balloon bags to land on. They used boxes and mattresses. Safety was low those days.
I was on top of the building, looking down, while the cameras were being placed. Dad was instructing some guys on how they should jump. Then he asked me, 'Shall I throw you?' I said yes.
And he actually threw me down 25 feet! The unit was shocked. I enjoyed it because I wanted to do it again. Now, there would be butterflies in my stomach if I had to do something like that.
Did you imbibe any of his action in your film?
In all his films, the energy and blood rush were very high among the actors and it showed onscreen through their expressions. I made it a point to have that in Plan.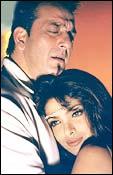 Action is always choreographed, but facial expression is vital. It must seem that you are actually doing it. It gives a sense of realism.
Did you interact with any actor in those days?
Oh yes. I remember playing cricket with Shashi Kapoor and Vinod Khanna during the filming of Ek Aur Ek Gyarah in [Mumbai's] Film City. I also remember Amitabh Bachchan on the sets of Kala Pathar.
Dharmendra and my dad were very close. They were drinking partners. Dharmendra would make it a point to have a fight scene with my dad. That is what people loved!
I am not in awe of these actors because I have seen them up close for years. I see them as individuals, not stars.
What kind of action films inspire you?
I am an avid film watcher. Vijay Anand was a great influence. No one can shoot a song sequence better than him. I also like the works of Hrishikesh Mukherjee and Guru Dutt. Their films were so real and believable.
I loved Deewar. It was supposed to be an action film. Even now, people call it an action film. Surprisingly, the film has only one action sequence in the godown directed by my dad. Deewar started a trend. After that, every film had an action sequence.
Another of my favourites is Sholay. I don't think anyone has seen it more than me. This is one film I remember from the first frame to the last. I also liked Agnipath.
Nowadays, people simply ape Hollywood action sequences. Among Hollywood directors, I like Michael Bay (Bad Boys, Pearl Harbor, Armageddon). He has a lot of versatility.
Tell us about the action in Plan.
Every action sequence is logical. It is the result of a plan. It is not action for the sake of action.
In most films, there is a reason for the action. There may be gun firing and then it ends. In Plan, action is part of the screenplay. There is a reason for it. When it ends, you realise why it was there. But Plan is not an action film.
Plan was to be released in December. Why was it pushed to January 9?
But J P Dutta's LoC was also expected in December and they were not letting out their release dates for a while. Besides, we did not want Plan to come too close to Munnabhai MBBS.
Click here for More Interviews