'Even a hardcore nit-picker will struggle to find faults in this extraordinarily crafted television series that I rate as a must watch, an instant classic,' says Sukanya Verma.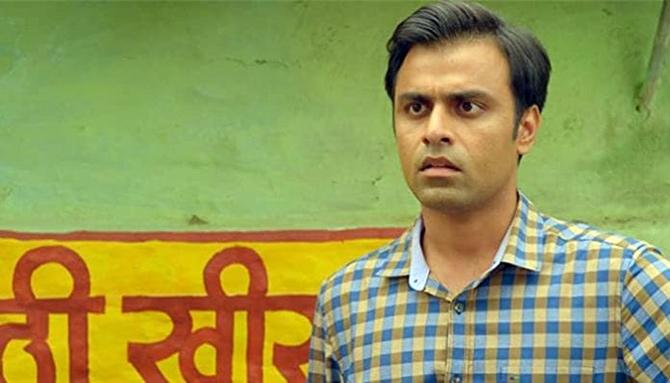 Embracing the 'something is better than nothing' adage leads to more disenchantment than gratification for Abhishek Tripathi in Panchayat.
An average engineering student compelled to leave his life in the city and take up a secretarial post of a panchayat office in a sleepy village, Abhishek's mopey expression underscore his constant state of exasperation.
When his best friend cheers him up likening his upcoming stint to that of Shah Rukh Khan's in Swades, it comically highlights a highly urban and romanticised view of grassroot reality.
Except stripped off A R Rahman's stirring score and a cosy air-conditioned, Macbook-equipped caravan, Mohan Bhargav's idealism is hard to hold on to -- something Abhishek realises no soon he sets foot inside a dull, doddering, doodhi-loving village of Uttar Pradesh.
The office wall's aspirations of turning Phulera into a number 1 gaon is founded on a ridiculous reality wherein the actual Panchayat chief is blissfully occupied in domestic duties while her husband proudly takes charge, and also takes advantage of a women's empowerment scheme.
All of Phulera knows the truth. And yet somehow the complicity is an act of community bonhomie.
But of course, the main market goes by the name of Fakauli. The pun is hilarious and hard to miss.
Despite the rampant cynicism and provincialism engulfing the scenario and the understandable frustration of its central protagonist, Panchayat's heart and honesty is irresistible in its emotion and pure gold in terms of creativity.
Not a single character is a moral beacon existing to serve humanity as whole.
Nor are they sneering, expletive-darting scamps insisting the world is bleak and bad.
They are just alive, breathing, bumbling folk driven by their impulses to do well, feel better and move ahead.
At times, they are awfully foolish. On others, just plain human.
Yet another ace from TVF (The Viral Fever), Panchayat, streaming on Amazon Prime, is a clever and accurate look at the India within India, the divide, the connections, the problems, the politics, the paradoxes whose overwhelming, overbearing and fascinating conundrum is experienced first-hand in Abhishek's often bewildered, occasionally endeared gaze.
And Jitendra Kumar (Gone Kesh, Shubh Mangal Zyada Saavdhan, Kota Factory) plays him unwaveringly well.
Besides lending an everyman bloke who deems himself better than the situation he is in quality to Abhishek, he perfectly captures the fish out of water unease in his dealings.
His interactions with the office fuddy-duddy Pradhanji (a reliably fantastic Raghuvir Yadav), the lazy, Cheshire-like second-in-command Prahladji (Faisal Malik) and awestruck assistant Vikas (Chandan Roy) lead to much mirth, madness and 'maidaan' truths.
The casting is down pat and the camaraderie is at its most heart-warming in the final scene of episode five.
Neena Gupta as Pradhanji's straightforward, sassy wife is a judicious presence in the series as well as portrayal. Her seamless equation with Pradhan is a joy, especially in how they embody a lived-in face of marriage.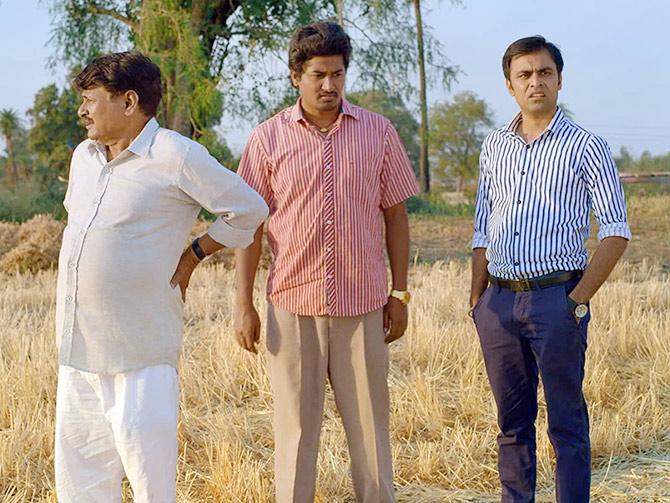 Director Deepak Kumar Mishra and Writer Chandan Kumar steadily narrate the episodic pattern of Abhishek's modest moments and amusing discoveries around the village folk.
Without making it too obvious or preachy, the makers use every one of its approximately half an hour episode (there are eight in all) to highlight an issue that plagues the rural citizenry.
The National Anthem as a plot device can be tricky, but few have used it as shrewdly and significantly as Panchayat.
Truth be told, even a hardcore nit-picker will struggle to find faults in this extraordinarily crafted television series that I rate as a must watch, an instant classic.
It could be as trivial as naming the child after Akshay Kumar's son or as disturbing as the normalisation of dowry.
Ghosts, goons, neem, national anthems, CAT exams, selfies, petha, police, Maggi, Murrah buffalo's milk and doodhi (bottle gourd) as a welcome gift, source of bribes and props to show off Neena Gupta's flawless slicing skills, all this and more find their way in the most humorous fashion in Panchayat's sublime, satirical adventures.
Rediff Rating: