Gully Boy is a glorious blend of hip-hop and assured film-making, applauds Sukanya Verma.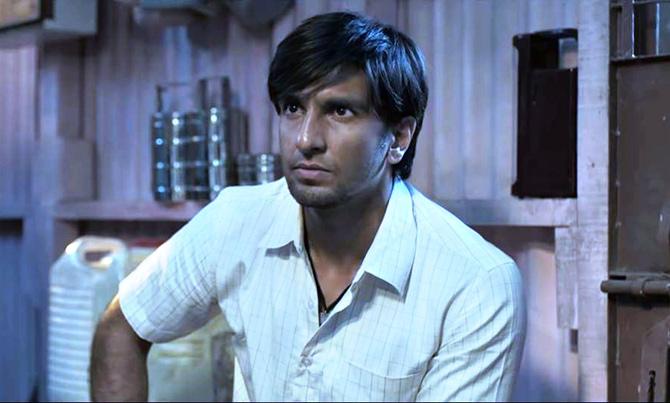 There is a two-second scene in Gully Boy when Ranveer Singh gets out of the car he is chauffeuring and catches his reflection in a posh building's glass door.
This is not who he wants to be.
Later, he sees the same resigned look on the faces crowding the Mumbai local. Every now and then he encounters disheartening reminders of his place in the world.
It is the City of Dreams, after all. Give them up and where are you?
Except romanticising doesn't feed empty stomachs and survival has forced the have nots of society to bury their dreams and live life on someone else's terms.
Things are so ridiculously hopeless that one might as well make an extra buck from it.
So when a party of tourists arrives to admire the compact lifestyle of Mumbai's largest slum district and captures its residents like museum props, some vacantly wave; others set a price of admission. It is a deceptively funny depiction of a deeply disturbing reality.
Despite the depressing scenario, Murad (played by Singh) dares to dream -- Zinda mera khwab ab kaise tu dafnayega?
The crammed Dharavi kholi he breathes in and the domestic discord it perpetrates may be unsuitable for his aspirations but fuels his poetry anyway. Like an artist finding solace in chaos, Murad finds his voice in despair.
A little shy and sad of eye, as songwriter Eden Ahbez would say, the man weeps through his words: Is basti main sabki palke geeli kyon hain?
But when a bouncer outside a nightclub shoos him away, he makes a gentle vow, Apna time aayega.
How he finds his way in is the journey of Gully Boy, inspired by the original rapper duo Divine and Naezy.
In true hip hop tradition, it is not just a cool genre of music; it is his medium of expression, his outlet where he quietly channels all his suppressed ire to make roaring, riveting statements.
Film-maker Zoya Akhtar, top of her game more than ever, is an expert at peering into souls, relating their inner conflict and sympathetic of their torment.
She does so spectacularly and stylishly in Gully Boy while also bringing Mumbai's underground rap scene into mainstream consciousness.
Between rap battles and hip hop competitions, the sledging showdowns showcase the might of Mumbai's street slang, a lingo so one-of-a-kind, it is a privilege if you understand and pleasure if you speak it.
Teeming with socio-political heft and dark horse dynamism, the extensive soundtrack put together by an eclectic mix of wordsmiths and musicians is the heartbeat of Gully Boy. And Zoya's script soaks its fierce energy to provide majority of the subtext.
The underdog fairy-tale packs in such exhilarating sound and spirit, you'll leave the theatre thumping to its beat.
Though much of the plot develops around Murad and Mumbai's intimidating high-rises looking down at the people on the fringes, Gully Boy is many movies rolled in one. Every single character could be at the centre of his or her story and it would be still as fascinating.
It could be about Murad's mom (a searing Amruta Subhash) having a meltdown after her husband brings home a second wife.
It could be about his obnoxious father (Vijay Raaz, at his masterful best) refusing to accept his son's wishes.
It could be about Murad's friend (a nuanced Vijay Varma offering a Ben Affleck to Singh's Matt Damon in their Good Will Hunting-reminiscent chemistry) and his lawless pursuits concealing a world of darkness under a playful facade.
It could be about Mc Sher (Siddhant Chaturvedi, what a scene-stealer, what a rockstar!), Murad's mentor-like mate forgetting his drunkard dad woes in swaggering music.
Mostly though it could be about Safeena (Alia Bhatt), Murad's childhood sweetheart, a dragon in a lamb's body prone to violent outbursts in fits of jealousy. Her hot-tempered side is in complete contrast to the sublime, silent moments of romance she enjoys in Murad's company.
He is timid. She is 'tod phod'.
They have known each other half their lives, lug similar looking backpacks to college, share earphones and steal kisses.
Nursing surgeon dreams, Safeena seeks respite from her conservative parents -- a mom (Sheeba Chaddha on point) constantly nagging her to marry, a father (Ikhlaque Khan, all grace) too timid to protest.
Alia Bhatt is like an irresistible imp mincing no words, pulling no punches in this nugget of a performance.
Kalki Koechlin offers some shiny distraction as Sky. It's almost as though she fell from one to paint the town red with Murad. Perhaps the idea is to feed on his curiosity but the only worthwhile thing to come out of it is a lovely scene -- where he measures her bathroom's mammoth size -- and lovelier realisation -- Safeena ke bina meri zindagi aisi ho jayegi jaise bina bachpan ke bada ho gaya.
Ranveer Singh's exuberance contributes to bulk of his personality.
In its absence, he is a brand new person and I dare say someone you'll cry for, root for and rap with.
Though his poor little poor boy vulnerability makes him an easy target for disapproval ranging from rude (Naukar ka beta naukar) to ribtickling (Tujhe gaana hi gaana hai toh ghazal gaa le), his power-packed renditions are as potent as his peaceful rumination.
Those longing eyes and mopey-faced sadness, captured keenly in cinematographer Jay Oza's unblinking gaze, crush the viewer to the core every time he's forced to compromise.
Similarly, the confidence he gains when fellow rappers applaud his 'bahut hard' creativity is all kinds of feel-good.
Because Gully Boy has Zoya and co-writer Reema Kagti at the helm, it deftly reflects their politics and worldview in both subtle and sturdy tones.
Be it in redressing casual sexism in a rapper's reproach, sneering at skinny ideas of beauty, directing sly snark at the government, revelling in pop culture or mocking the Indian way of seeking connections across caste and community when a character explains how he got into a relationship with his Caucasian girlfriend, 'In log mein sirf aankh mein aankh dekhte hai' (dialogues by Vijay Maurya).
Like Secret Superstar, Gully Boy doesn't make a big deal of its milieu's predominantly Muslim identity. Murad offers namaz in a mosque, Safeena duly wears her hijab, polygamy exists but nothing is played up for effect or turned into a melodramatic tussle.
At more than two-and-a-half hours, the subplots get heavy and copious -- wrapped up more hurriedly and happily than deemed possible -- but they raise the stakes and make Murad's triumph both significant and necessary.
Asli hip-hop and assured film-making, Hindustan could not have asked for more.
Rediff Rating:

Watched Gully Boy? Please post your Reviews in the Message Board below