The 'power of women' resonated all through the evening in the most emphatic fashion.
The Beverly Hilton Hotel in Los Angeles buzzed with stars, speeches and statements as the 75th Golden Globes kicked off in style.
Although tipped as hot favourites, Dunkirk and Call Me By Your Name did not take anything home while Three Billboards Outside Ebbing, Missouri emerged the dark horse in the race bagging awards for Best Film, Actress, Supporting Actor and Screenplay.
The mood was jubilant but serious and stayed true to its theme of highlighting sexual harassment and gender inequality.
Here are 10 of the biggest highlights from the ceremony.
1. Here come the women in black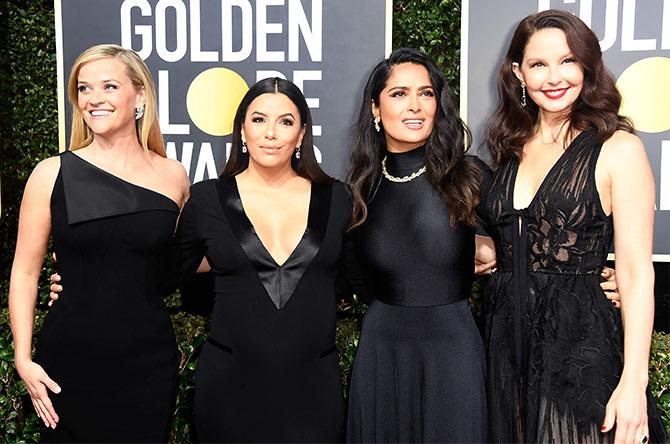 IMAGE: Reese Witherspoon, Eva Longoria, Salma Hayek and Ashley Judd. Photograph: Frederick M Brown/Getty Images
Unlike every other year when the red carpet bustles with colour and vanity, post-Weinstein Hollywood put a solid show of solidarity in stark black designer creations to protest again sexual predators and create awareness regarding the active #TimesUp and #WhyWeWearBlack social network campaign.
2. The Oprah effect!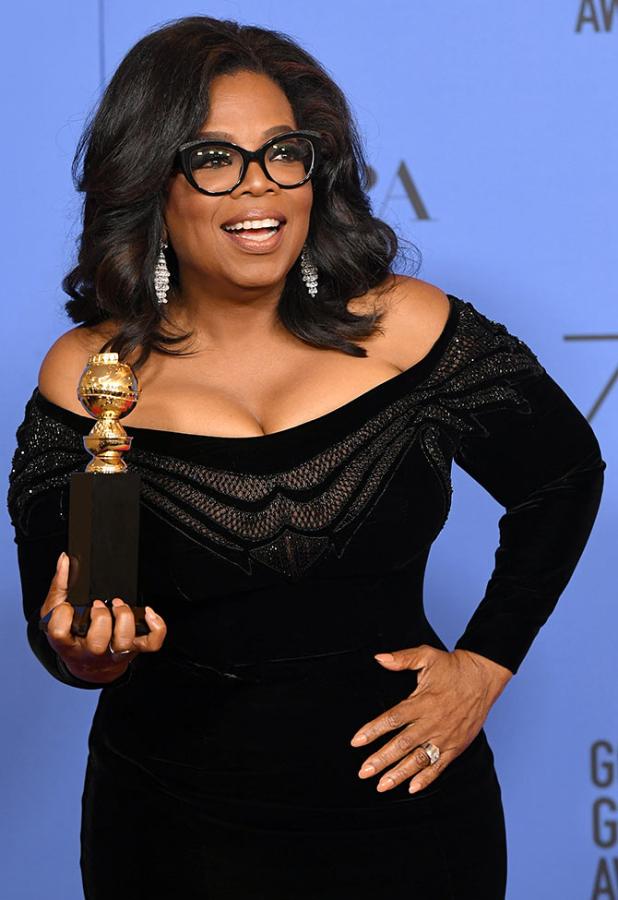 IMAGE: Oprah Winfrey poses with the Cecil B DeMille Award. Photograph: Frederick M Brown/Getty Images
Her rousing speech on receiving the Golden Globe's annual Cecil B DeMille Award for lifetime achievement has everyone crying Oprah for president.
Here's a sampler: I want tonight to express gratitude to all the women who have endured years of abuse and assault, because they -- like my mother -- had children to feed and bills to pay and dreams to pursue.
They're the women whose names we'll never know.
They are domestic workers and farm workers; they are working in factories and they work in restaurants, and they're in academia and engineering and medicine and science; they're part of the world of tech and politics and business; they're our athletes in the Olympics and they're our soldiers in the military.
3. No sympathy for the devil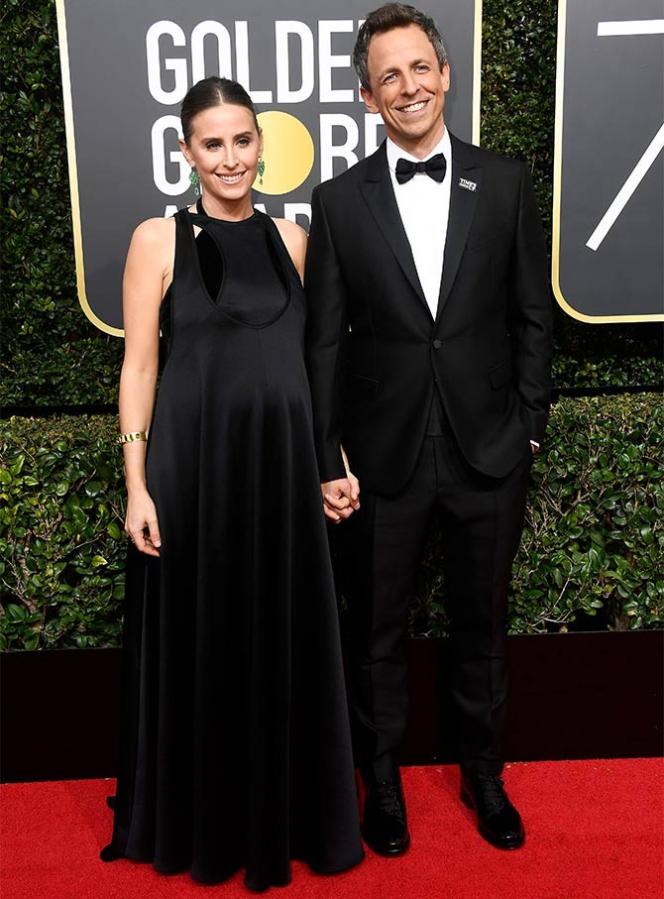 IMAGE: Globes host Seth Meyers rrives with his pregnant wife Alexi. Photograph: Frazer Harrison/Getty Images
Golden Globes host Seth Meyers didn't mince words in his tarring and feathering of Hollywood's inglorious inhabitants, Harvey Weinstein and Kevin Spacey.
At one point, the room collectively gasped as he remarked, 'Harvey Weinstein isn't here tonight. Don't worry, he'll be back in 20 years when he becomes the first person ever booed during the In Memoriam.'
4. And the Globe for most awwwww-inducing speech goes to…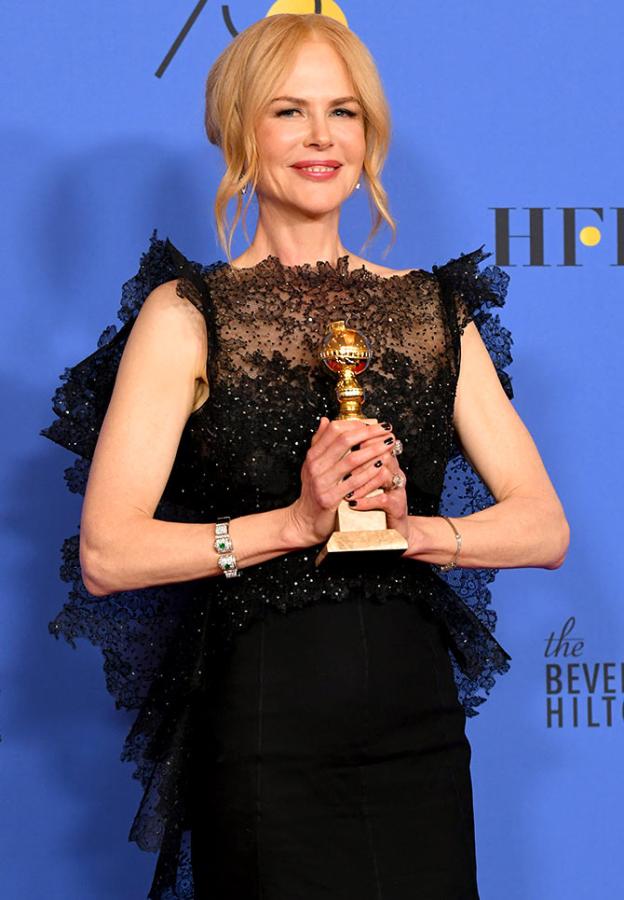 IMAGE: Nicole Kidman won the Best Performance for Big Little Lies.. Photograph: Kevin Winter/Getty Images.
Nicole Kidman!
The Australian actress positively oozed romance while thanking her significant other and country singer Keith Urban, 'When my cheek is against yours, everything melts away, and that is love. It's true. I love you so much.'
We believe her.
5. What's eating Hugh Jackman?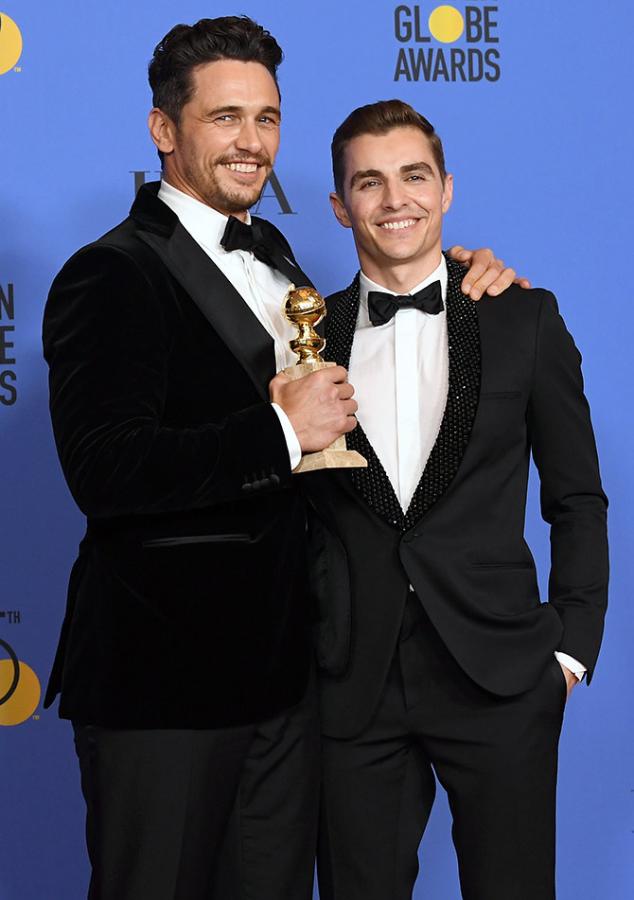 IMAGE: James Franco poses with his brother Dave he won the Best Actor award for The Disaster Artist. Photograph: Kevin Winter/Getty Images.
The Disaster Artist star James Franco's speech was somewhat amusing but it still doesn't explain Hugh Jackman's inexplicably curious reaction to it. It's hard to tell whether he's disappointed or just too attentive.
Obviously, the Internet had a field day analysing it. One Twitter user commented, 'Hugh Jackman's face after seeing he lost Best Actor to James Franco imitating Tommy Wiseau is my new favorite reaction image.'
6. Margaret Atwood gets the Moss treatment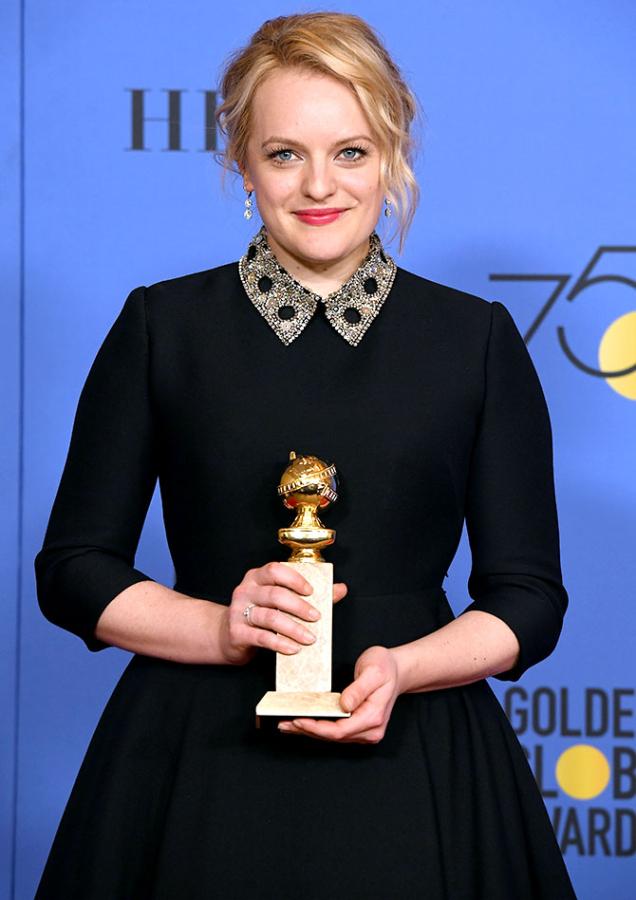 IMAGE: Elisabeth Moss won the Best Actress award for of The Handmaid's Tale. Photograph: Kevin Winter/Getty Images.
In her acceptance speech, Elisabeth Moss quotes Margaret Atwood's words and then alters them cleverly to underscore one's eloquence and another's optimism.
And so 'We were the people who were not in the papers. We lived in the blank white spaces at the edges of print. It gave us more freedom. We lived in the gaps between the stories' becomes 'We no longer live in the blank white spaces at the edge of print. We no longer live in the gaps between the stories. We are the story in print, and we are writing the story ourselves.'
7. Barbara Streisand's zor ka jhatka dheere se..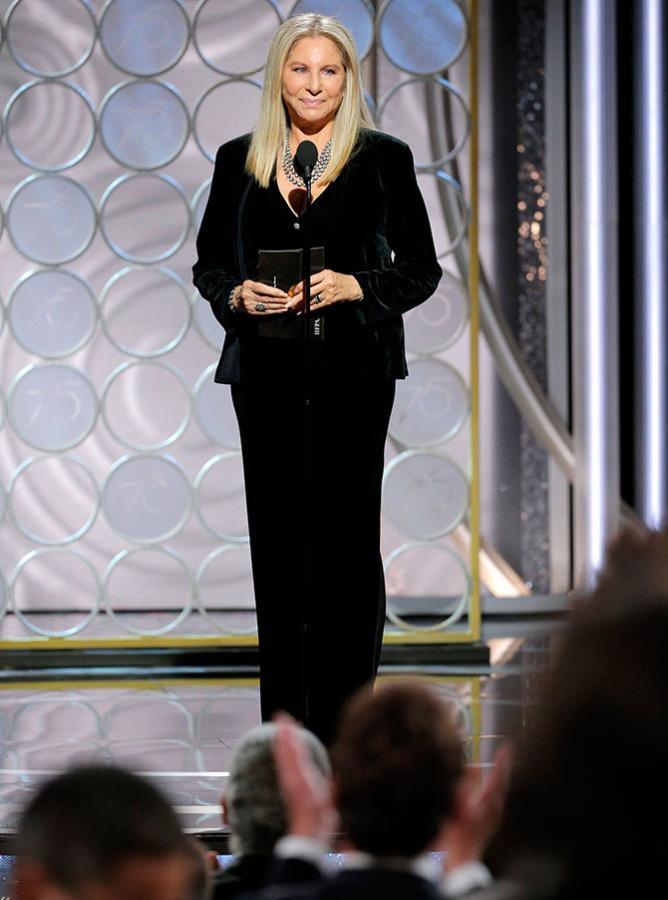 IMAGE: Presenter Barbra Streisand speaks onstage during the 75th Annual Golden Globe Awards. Photograph: Paul Drinkwater/NBCUniversal via Getty Images.
Four-time Golden Globe winner Barbara Streisand didn't mince words to point out the awards hypocrisy in failing to recognise women behind the show.
'Backstage I heard they said I was the only woman to get the best director award (Yentl), and you know, that was 1984. That was 34 years ago. Folks, time's up!'
8. Carol Burnett doing what she does best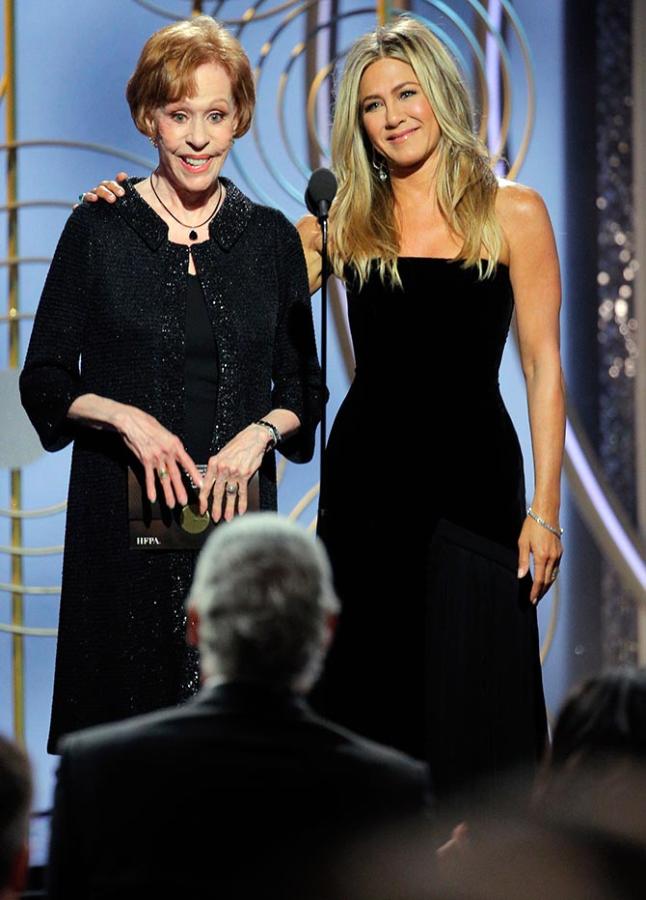 IMAGE: Presenters Carol Burnett and Jennifer Aniston. Photograph: Paul Drinkwater/NBCUniversal via Getty Images.
The legendary comedian appeared with Jennifer Aniston to present an awards segment and received a standing ovation. We rather enjoyed the camaraderie between the two.
When the Friends star and fellow comedian expressed her admiration for Burnett, the latter reciprocated by joking, 'I'm happy you're coming back to television. Will & Grace was one of my favourite shows.'
9. Aziz Ansari's bleeped out joy!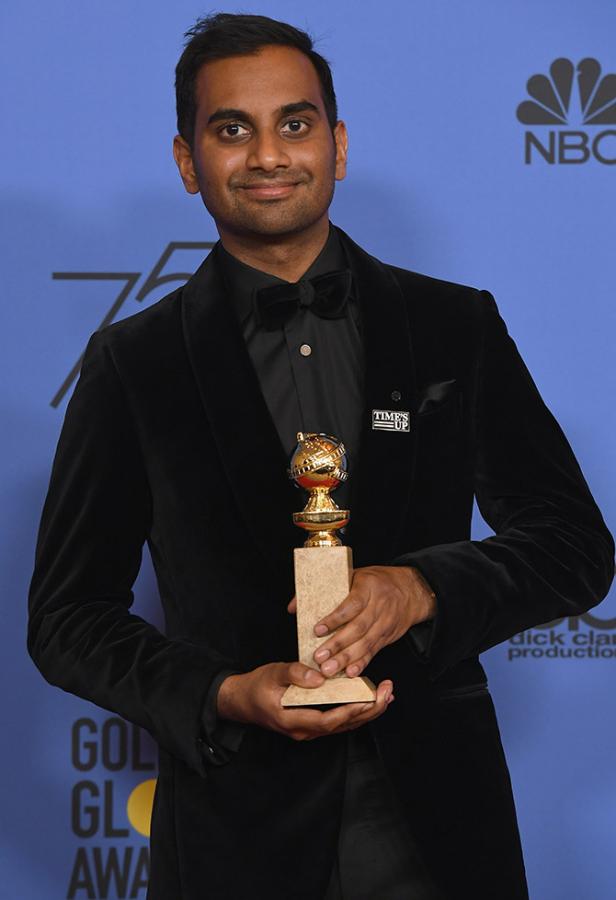 IMAGE: Actor Aziz Ansari poses with his award for Best Actor for Master of None. Photograph: Kevin Winter/Getty Images.
As the first Asian American to win an award in the category, it's a significant triumph but even more fun was his unaffected speech that followed.
'I genuinely didn't think I would win because all the websites said I was going to lose. I'm glad we won this one because it would've really sucked to lose two of these in a row.' Of course, the folks at Golden Globe were quick to bleep out the 'sh***y' bits of his statement.
10. Of Golden Globes and Gal Power!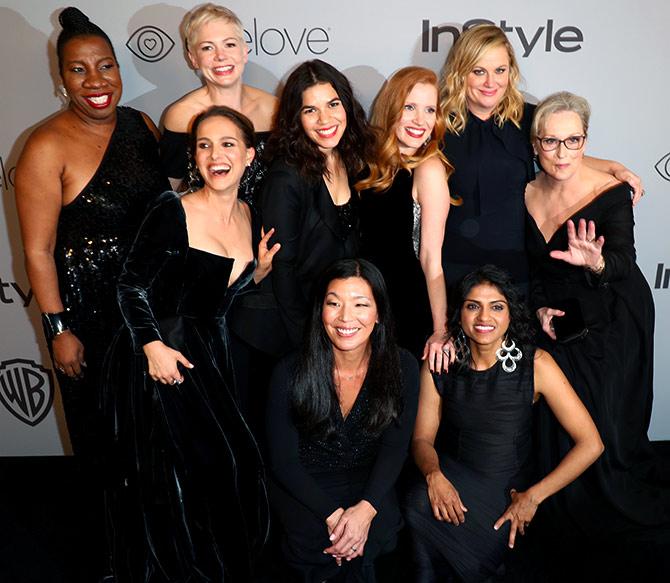 IMAGE: Left to right: Activist Rosa Clemente, actors Natalie Portman, Michelle Williams, America Ferrera, Jessica Chastain, Amy Poehler and Meryl Streep. Bottom, left to right: Activists Ai-jen Poo and Saru Jayaraman. Photograph: Joe Scarnici/Getty Images.
'Wow, the power of women,' exclaimed a triumphant Nicole Kidman and it resonated all through the evening in the most emphatic fashion.
'Here are the all-male nominees,' announced Natalie Portman pointedly to bring our attention at the shocking lack of female names in the director category.
'The women in this room tonight are not here for the food. We're here for the work,' roared the award-winning Frances McDormand asserting the need to take the voice of dissent seriously.