As Shah Rukh Khan turned guide in Jab Harry Met Sejal, Sukanya Verma looks back at Bollywood's original Guide.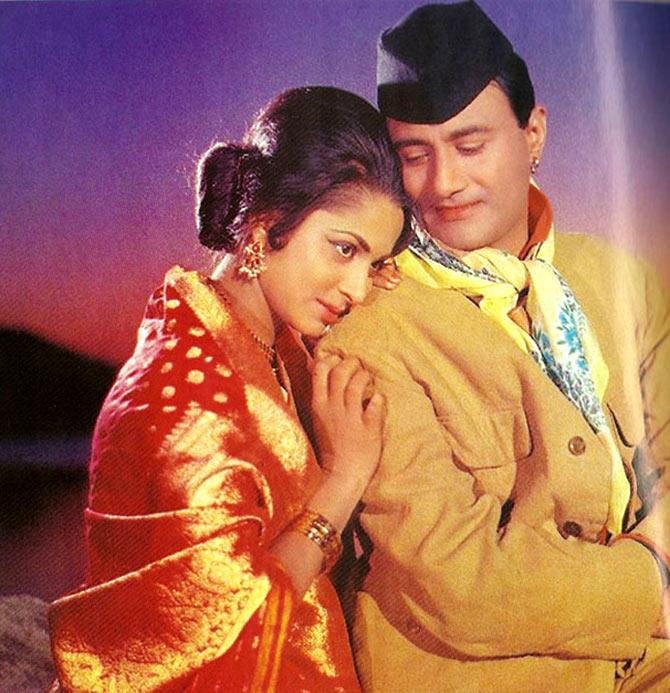 IMAGE: Waheeda Rehman and Dev Anand in Guide.
Dev Anand and Waheeda Rehman's 1965 milestone, Guide was directed by Vijay Anand.
The big screen adaptation of R K Narayan's acclaimed novel chronicles the liaison between Raju and Rosie, their upheavals and impasse with such keen intimacy, intricacy and intensity, it's hard not to be moved by the passions that bind and, eventually, break them.
Except it's not just the pitfalls of heartbreak but a profound encounter in spiritual realisation that lends Guide its significance in cinematic history.
Reflecting upon all that's contemporary and traditional, radical and taboo, superstition and spiritualism, philosophy and perception, the 52-year-old classic is a multi-faceted masterpiece of poetic strength.
A bold exercise in emancipation and exploration of existentialism, Guide is also a notable departure from the stereotypical representations of the hero and heroine of that era.
Ever so insightful and judicious, Vijay Anand treats Raju and Rosie as two imperfect people coming into their own, instead of role models. Yet, he's mindful of the immense charisma of the two stars portraying them.
Truth be told, Guide is as glamorous as it is soulful -- a perfect marriage of aesthetics and intelligence, gamble and gravy.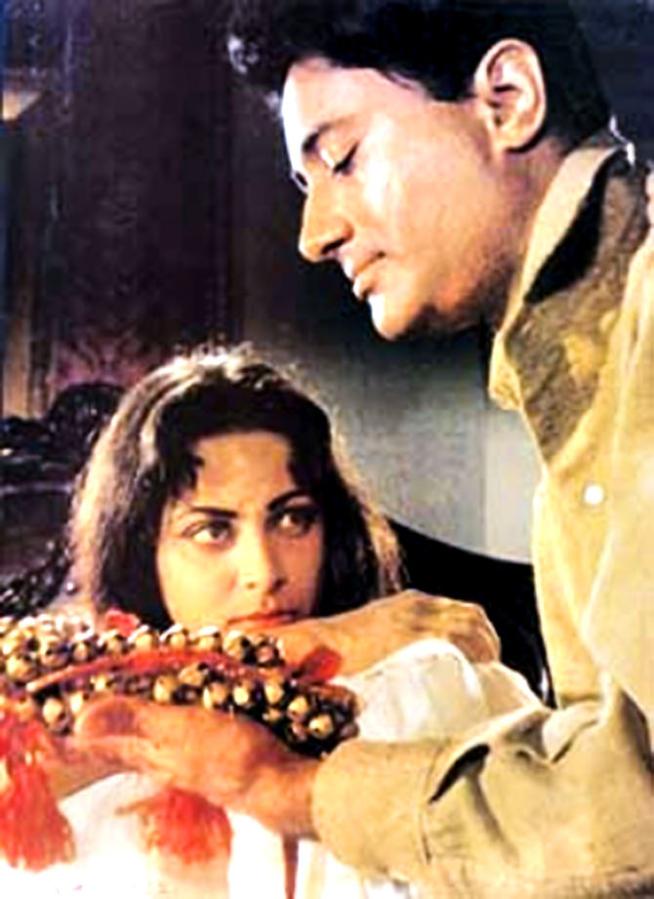 IMAGE: Waheeda Rehman and Dev Anand share amazing chemistry in Guide.
It all began during a trip to London when someone mentioned R K Narayan's 1960 Sahitya Akademi winner to Dev Anand.
The actor loved the book so much, he immediately telephoned its author for rights revealing plans of producing a Hollywood and Hindi version for his home banner, Navketan Films.
If back home Guide went on to win acclaim if not box office, the English version, written by Pearl S Buck and directed by Tad Danielewski, was a no-go.
In its disparaging review, The New York Times singled out the 'gaudy English-speaking characters and the make-believe of their unconvincing romance that is performed by Miss Rehman and Mr Anand.'
It is common knowledge that R K Narayan didn't quite care for either interpretation.
As path-breaking Guide is for its time, it is not above compromises.
Some of the changes lend the narrative a bumpiness and robs it off Narayan's delibrately crafted ambiguity.
Before any of this transpired, Satyajit Ray was looking to direct the subject. He even contacted Waheeda Rehman, but the project never took off.
Following Dev Anand's entry in the picture, filmmakers like Raj Khosla and older brother Chetan Anand were approached to helm. Eventually it would be Dev's younger sibling Vijay aka Goldie who'd take charge as co-editor, writer and director.
Blessed with intuitive storytelling skills, one that is in complete harmony with his eye and ear, Goldie's contribution to Guide reflects in sight and sensation.
Not to forget dialogues that revel in rhetoric -- Shohrat tumhe mili, sarr mera ghoom gaya.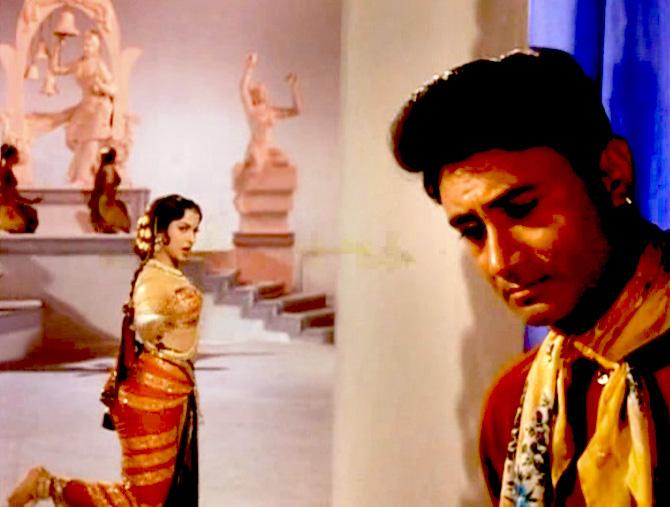 IMAGE: Waheeda Rehman's love for dancing continues.
Right from the opening sequence, when Raju (Dev Anand) is released from jail after serving time for a case of fraud and the dilemma of returning to the humiliations of his past or walking away in the direction of an uncertain future is posed before him, S D Burman's overwhelming rendition of Wahan Kaun Hai Tera weighs in the transient nature of life with hard-hitting clarity.
Indeed, his soundtrack for Guide is one of the greatest ever.
Every single one of its 10 compositions dazzles with a melody and poignancy that not only blends into the scenes, but also offers a greater understanding of its characters' disenchantment and delight.
Guide wouldn't be Guide in the absence of SD and Shailendra's poetry.
On screen, Fali Mistry's breathtaking photography captures the lush scenery and expressive symbolism befitting Raju and Rosie's occupation as well as the imagery of their inner turmoil and predicaments with artistic fervour.
A good two hours of its nearly three-hour running time is told in flashback to Raju's old-fashioned mom (Leela Chitnis) as Rosie recalls her miserable marriage to an indifferent, insensitive, impotent archaeologist named Marco (Kishore Sahu).
Daughter of a Devadasi, she wed the brute to escape the stigma of her socially frowned upbringing, but her love for the classical form endures much to her husband's chagrin.
The sham nature of their May-December arrangement is soon clear to Rosie as her husband neglects her in pursuit of discovery and caves.
Actor/director Kishore Sahu is a bold choice for the part if not exactly a compelling one. His withered Marco starts out on a fascinating note while he's still a single-minded workaholic.
But the script's need to demonise him and manufacture sympathy for Rosie's suicidal impulses or validate a growing closeness to Raju -- the local tour guide they've hired during their stay in Udaipur -- is most contrived.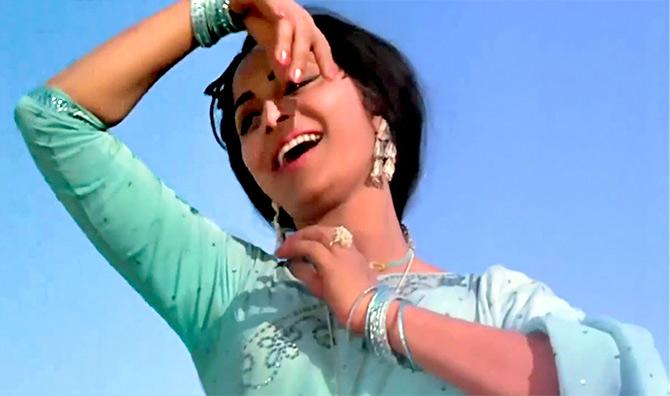 IMAGE: Waheeda Rehman sings Aaj Bhi Jeene Ki Tamanna Hai.
Still Raju's heartfelt 'Kalakar bhaand nahi hote' pep talk and Rosie's Aaj Phir Jeene Ki Tamanna Hai ardour makes the moment where she finally musters the courage to leave Marco both credible and whistle-worthy.
Her outburst may not be on par with the aggressive feminism of today but puts its point across crisply.
An electric, uninhibited Rehman lashes with words and hands and asserts her right in a cry so gutted, you know it's coming from a place of absolute disgust and rejection -- If I want to cheat, I'll do it openly and not use work as a pretext like you.
She may have said all those things to him, but Rosie isn't all that tough. Not yet anyway. She's been mistreated for so long, she clings to the first nice guy she comes across.
And for Raju too, pity turns into pyaar soon enough: Tere dukh ab mere, mere sukh ab tere.
Of course, Raju is not some random tourist guide to begin with. They never are.
He is Dev Anand -- dripping with style, skill, beauty and a gift of the gab that transforms Guide's literary eloquence into quotable quotes.
Realising the strength they draw out from one another, they form a formidable team of dancer and manager paving the way for Waheeda Rehman's spellbinding dance moves in the grandly choreographed Piya Tose Naina.
The fairy tale period doesn't last too long. The man who made a living showing off landmarks of his city now lives in an abode that has become a tourist attraction of sorts. Except is it really his?
The woman it really belongs to is tired of dancing to yet another man's tune. She feels the need to assert her financial independence to a man squandering her hard-earned wealth in wasteful indulgences.
'Ismein mera bhi hissa hai, Raju,' Rosie gently reminds her beau.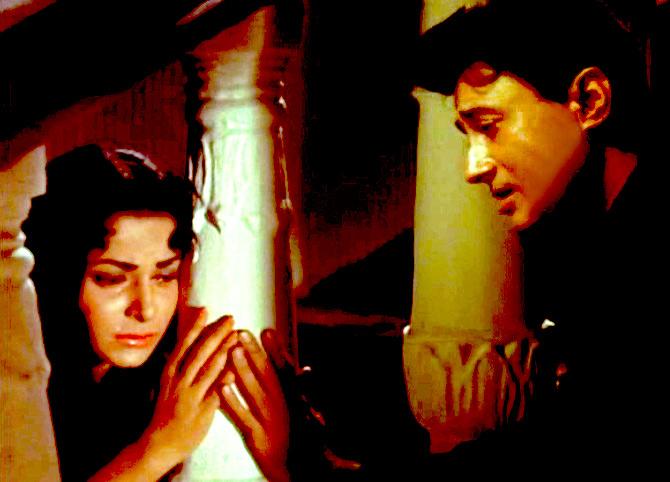 IMAGE: A stricken Waheeda Rehman and Dev Anand.
If not immediately, Raju eventually feels the sting of her words. Insecurity clouds his better judgment when he learns Marco wants Rosie's signature in relation to a bank locker.
Raju first presumes Marco wants to usurp Rosie's wealth. On learning the contrary, he scoffs at his bogus bigheartedness. It's almost a cue for him to do something stupid.
In the scene that follows, Rehman breathes fire through her eyes and feet to cry Saiyan Beiman in betrayal even as Dev Anand laments Kya Se Kya Ho Gaya Bewafa in his defence.
There's much to atone for and bigger truths to find as Raju tests the extent of his will and power of faith in his second innings as accidental Swami and potential saviour of a drought-ridden village.
An absent-minded lackey, quite like Johnny Lever's butler in Baazigar, hodgepodges Raju's original message into a misleading one causing the gullible, grief-stricken villagers to believe he's contemplating fasting until it rains.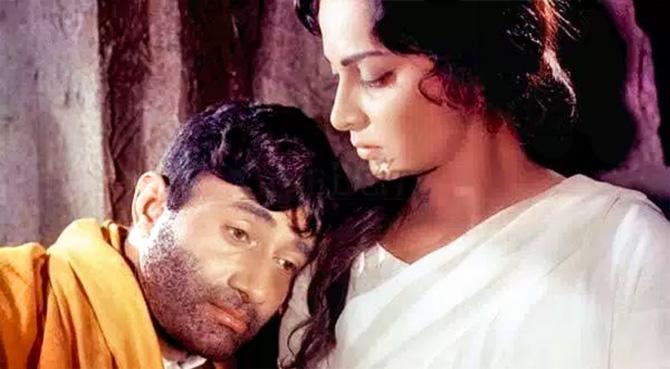 IMAGE: Waheeda's Rosie returns to Dev Anand's Raju in his last days.
The shift from Rosie-Raju's turbulent romance to an atmosphere of dedicated bhakts and spiritual ascension is both odd and hurried.
On its own though, every single moment of spontaneous wisdom holds a curious, mesmerising value.
Perhaps it's the honesty in Dev Anand's inspired conviction. In his autobiography, Romancing With Life, the late actor writes, 'I had transcended all human emotions, making the "self" in me the sole conqueror. The ascetic in me was totally in tune with my performance during the glorious days of my own discovery.'
It peaks most magnificently in the soliloquy debating worldly desires against soul salvation -- Tum ahankaar ho, tumko marna hoga. Main aatma hoon, amar hoon.
And just like that Guide lives on.
---
MORE CLASSICS REVISITED