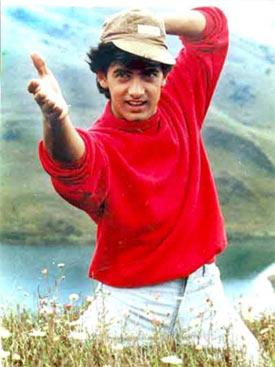 Jo Jeeta Wohi Sikandar masterfully weaves a compelling human story, says Sukanya Verma.
I have fond memories of an ice cream parlour I frequented every weekend as a kid.
It wasn't fancy but, back then, it was among the only few places that offered such variety in flavours. And the best part was how the shop owner always gave me a complimentary cornet to chomp on because I enjoyed the crunchy sounds it led to.
To me, Jo Jeeta Wohi Sikandar (1992) is just like that ice cream parlour. Except, as opposed to places or people, movies are everlasting -- no matter how many years go by, not a single frame changes. And, if one's lucky, neither does the joyful response it first sparked of what would go down under as a childhood favourite.
Every time I revisit Mansoor Khan's coming-of-age drama, I go back in time and reminisce of all the carefree school days when I could easily relate to Sanju and gang's defiant tone ("Raahon mein humse takrayega jo phat jayega woh ghabrake"), Anjali's legitimate excuse ("Woh toh sab bekaar ki baatein karti hain") for not hanging out with girls her age and a vocabulary filled with silly jibes like 'Tunna, Paunchy, Pyjamachaap.'
Set against the picturesque hills of Dehradun (it's all Ooty, Kodaikanal and Mumbai), Jo Jeeta Wohi Sikandar tells the story of Sanjay aka Sanju Lal Sharma, a mischievous college kid and how he eventually channels his prankster energy to emerge victorious in race and reality.
Mansoor intended this to be his first film before he got busy with the romance of star-crossed lovers, Qayamat Se Qayamat Tak, which catapulted cousin Aamir Khan and his leading lady Juhi Chawla into instant stardom.
But the subject stayed close to his heart and four years later, he was out with what he picks as his best work.
Having grown up on a staple diet of Archie Comics, it's easy to see Mansoor has modelled Dehradun's cosy universe on the lines of Riverdale and Mall Road's Ramlal's Cafe (site of JJWS's several dramatic and chaotic scenes) is its answer to Pop Tate's Chocklit Shoppe.
The influence of its four iconic characters is unmistakable in the characterisations of Aamir Khan, Deepak Tijori, Ayesha Jhulka and Pooja Bedi as they slip under the skin of a utterly lovable Archie Andrews, cocky cad Reggie Mantle, golden-hearted Betty Cooper and the hot 'n' haughty Veronica Lodge respectively.
Nevertheless, it's the cutthroat rivalry between the prestigious colleges (Rajput, Xavier's, Queens, Lawrence) and the lowly (Model), which works as the catalyst between their personal interplay aside from the all-important annual inter-college sports competition of which the championship won at the closing bicycle race is the ultimate prestige symbol.
The detailing and imagination gone in preparing the catchy banners and slogans is quite commendable. Especially Veer Bahadur ladke kaun? Rajput, Rajput. Sabse aage ladke kaun? Rajput, Rajput.
What Mansoor delicately conveys through is how, much of one's youth is defined by competition and one-upmanship while the real challenge lies in excelling within not against.
But before the sports drama arrives at its momentous realisation, Jo Jeeta Wohi Sikandar introduces us to its lively ambiance of spoilt, rich types in preppy boarding school uniform on one side and the recipient of their perpetual disgust -- the not-so-affluent local kids, the Pyjamachaaps -- on another.
"Unki taraf dekhna bhi mat, dear. Model college ke hain. Ek number ke ghatiya. Hum unhe pyjamachaap kehte hain. Shakal ke bhooke, pet ke bhooke aur har cheez ke bhooke," warns a Miss Know-It-All to Devika (Bedi), the trendy new admission at an all-girls college, Queens.
Not all the criticism hurled in Model's direction is unjustified. Scrawny, sleepy and slow-witted, most students would rather spend their time browsing through a provocative copy of Stardust screaming 'Sex, Drugs, Booze and a bikini-clad Pooja Bhatt' on the cover instead of paying attention to Asrani's explanation of the Pythagoras theorem.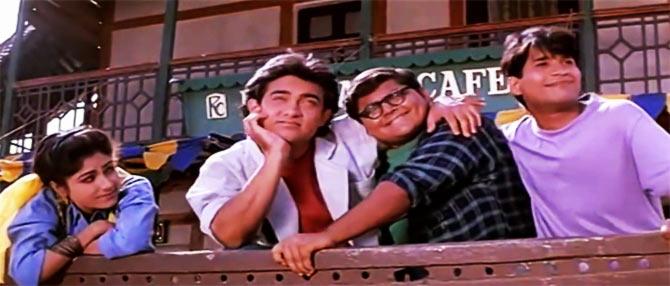 Image: Ayesha Jhulka, Aamir Khan, Deven Bhojani and Aditya Lakhia in in Jo Jeeta Wohi Sikandar.
As the naughty younger son of Model's sports instructor (Kulbhushan Kharbanda), Sanju (Aamir Khan) has little interest in athletics or academics and whiles away all his time with cronies -- Maqsood (Aditya Lakhia), Ghanshyam (Deven Bhojani) and doting gal pal Anjali (Jhulka) to engage in all kinds of tomfoolery. On the other hand, Sanju's elder brother Ratan is well-mannered and reliable (Mamik makes an earnest debut, so earnest he's stereotyped for the rest of his career).
Between helping his father run a small cafe and household chores, studies and training in an ill-equipped gym with an ordinary cycle as opposed to Rajput hotshot Shekhar Malhotra (Tijori), Ratan falls short of winning the championship, last won by his dad, also a Model College alumnus who defeated the Rajput coach (explains the permanent scowl of Deb Mukerji).
Rest of JJWS is everything that happens around the time Model loses the race till the one it is hell-bent on winning by concentrating on the tale's unlikely hero, Sanju.
The charming rascal that he is, Sanju easily wins over Devika's affections by concealing his true identity and posing as a business tycoon's son living in a palatial house (what's passed off as Thapar's mansion is actually the majestic Bangalore Palace).
Devika drops erstwhile romantic interest Shekhar like a hot potato and Anjali, who's secretly crushing on Sanju, goes from pehla nasha to pehla heartbreak.
As much as the audience enjoys his humiliation following the hilarious "Aye ghaseethe, yeh taaza wala bhi" scene, it would be foolish to assume an egoistic fella like Shekhar will take the rejection or buckets of cow potty on his clean-shaven mug lying down.
In his arrogant fit, he retaliates badly leading to consequences that are much more grave than he intends them to be.
This upsetting turn of events, which prove near fatal for Ratan, change Sanju's wayward perspective and he begins to value his, previously taken granted for, family-- an unconditionally supportive brother and persevering single father, gently illuminated in Jatin Lalit's soulful rendition of Roothkar Humse Kabhi featuring a knee-high Imran Khan as his uncle Aamir's younger version.
Another family member, Aamir's younger brother Faisal assisted his filmmaker cousin on the movie and also made a fleeting appearance as one of the blazer-clad students.
Mansoor's flair for stroking emotional scenes with precise sentiment is a quality I admired in QSQT and it's what's endearing about the unspoken affection between Sanju and his uncommunicative father and the love-hate relationship between him and his older sibling -- the hard time he gives a blushing Ratan over a classmate (Kiran Zaveri) he fancies.
Sanju's methods are roguish but they have a greater good in mind as highlighted in the amusing Diwali-time prank he plays by writing two sets of fake love letters to unite the shy duo.
Considering he could get away playing a college student in his 40s (in 3 Idiots), Aamir has no trouble passing off as uniform-clad benchwarmer in his late 20s either. Always known to prepare for his role, there's noticeable change in his physique as he graduates from a lazy, lanky sophomore to a driven, determined contender.
The actor's puckish charm and melting naiveté makes it easy to adore his shenanigans, forgive his immaturity and, ultimately, root for him as intently as Ratan, Anjali and the rest of Model, in a cycling race that hasn't lost its thrilling edge after more than two decades.
Even if it's the only part of the film I watch, even if I know exactly where it's all headed, an anxiously beating heart and a field of goose bumps are inevitable. I know my voice cannot travel through a television screen but I cannot supress that strong urge to cry out, "Change the gear, Sanju! Top Gear!"
Because Mansoor's storytelling has such a strong emotional core, the results of this contest feel unusually gratifying and jubilant.
Speaking of which, 1992 turned out to be a terrific year for Ayesha Jhulka. Both Khiladi and JJWS earned her acclaim and attention. Her portrayal of Anjali is all heart and indulges Aamir because she loves him. But when she discovers the girl he's going gaga over isn't into him, she doesn't refrain from giving him a reality check.
Meanwhile, her co-star in Khiladi and JJWS, Deepak Tijori is suitably hostile as the graceless bully in a role originally offered to model Milind Soman. The latter even shot for some scenes but didn't get along with the director and parted ways.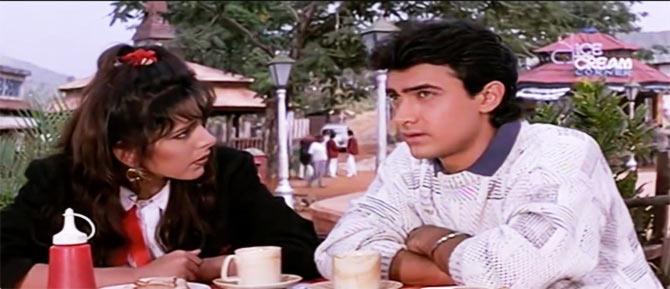 Image: Pooja Bedi and Aamir Khan in Jo Jeeta Wohi Sikandar.
The other girl, Pooja Bedi sparkles as the "bloody gold digger" with her straightforward sexiness and disregard for convention (though prudent enough to save herself from the fate of a certain Kamla and Vimla). She smokes, flirts, locks lips and recreates Marilyn Monroe's flying skirt moment atop a car's roof in a stunning image of one of Bollywood's MOST romantic, most played, most requested, most dedicated (on every SINGLE Valentine's Day) song.
A director of several blockbusters today, Farah Khan got her big break as choreographer with Pehla Nasha since the original dance director Saroj Khan was unavailable.
Her novel approach to shoot the dreamy contents of this Majrooh Sultanpuri chartbuster in slo-mo punctuated with red (Sanjay's jumper, Anjali's bandhini skirt, Devika's halter-neck dress) lends it a sort of wistful, romantic air, which pays an exhilarating ode to the winsome sensations of first love like never before and never after.
Shockingly, while JJWS was adjudged best film, wordsmith Majrooh lost out to Sameer (for Deewana's Teri Umeed) at Filmfare Awards.
Jatin-Lalit's vibrant soundtrack is of great significance to this film.
Rivalry is its running theme and expressed with delightful fervour and cheek in Yahan Ke Hum Sikandar, the city-bred chicas versus small town beauties argument of Shaher Ki Pariyon and, finally, the varying tone and attitude of its three compositions medley -- as part of the inter-college dance competition -- Humse Saara Jahan (yep, that's music director Jatin as lead performer)/Arre Yaaron Mere Pyaaro/Naam Hai Mera Fonseca.
JJWS is often suspected of copying Peter Yates' 1979 classic, Breaking Away starring Dennis Quaid, Dennis Christopher, Jackie Earle Haley and Daniel Stern. But barring the thematic similarity -- four friends, class barriers, bicycle racing, father-son communication gap -- both are distinctly different movies.
The narrative, its characters, their motivations, the treatment and even the rules of the race in Breaking Away vary from that of JJWS.
Mansoor acknowledged the existence of this comparison but said he saw (and loved) Breaking Away only after the likeness was brought to his notice.
What is certainly ripped-off though is a segment of Jatin-Lalit's campus favourite, Yahan Ke Hum Sikandar, the antara -- the Jo Sab Karte Hain Yaaron bit takes unabashed inspiration from The Who's Pinball Wizard.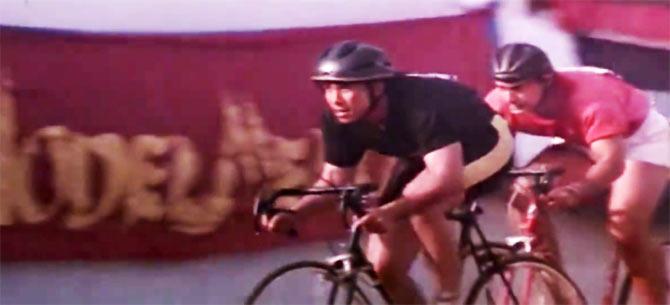 Image: Dipak Tijori and Aamir Khan in Jo Jeeta Wohi Sikandar.
JJWS masterfully weaves a compelling human story around multiple themes -- siblings, true friends, single parents, dating, rivalry, triumph of spirit and sportsmanship. Even the language spoken by its youthful characters is characteristic of its age -- pedestrian but catchy, hot-blooded but heavy-handed.
At one point, Shekhar claims Devika to be his 'girl' and Sanju bites back with "No, she's mine. And I am not haramzaada. You are haramzaada."
It's strength lies in its understanding of tender yearnings and misunderstood angst that constitutes teenage years and the lifelong lessons it imparts, which can be looked back with a sense of accomplishment and pride if you discover the inner Sikandar in time.
All you have to do is change the gear to its highest capacity.