How many of these have aged well?
Fifty years ago, while India was engaged in war with Pakistan, Hindi cinema flourished in effervescent, excited Eastman colours.
1965 is significant in more ways than one.
The Khan triumvirate -- Aamir, Shah Rukh and Salman came into being.

Back then, naturally, no one had the slightest inkling of how mega they would become.

Instead it was the reigning trifecta of Raj Kapoor, Dilip Kumar and Dev Anand that truly mattered.
Since RK and DilipSaab didn't have a single release, it was an open field for Dev Anand and his unforgettable monologue in Guide.

Even as Shammi Kapoor, Manoj Kumar, Sunil Dutt, Raaj Kumar, Rajendra Kumar and Feroz Khan stayed steady in the rat race, Shashi Kapoor got a much-needed breakthrough.
'Kaka fever' still hadn't caught hold of Bollywood.

Having said that, Rajesh Khanna won the All India Talent Contest that very year taking his first step towards extraordinary stardom.
Among the girls, fashionista Sadhana kick-started a feverish trend of tight-fitting churidar kurtas with Waqt, Waheeda Rehman sparkled like never before as the embodiment of grace and guts in Guide even as Meena Kumari, Nutan got their histrionic fix in Kaajal and Khandan respectively.
Three of Bollywood's most celebrated filmmakers made their first film in colour -- Vijay Anand's musical masterpiece Guide, Hrishikesh Mukherjee's costume drama Do Dil and Yash Chopra's stylish multistarrer, Waqt.
The Dara Singh-Mumtaz jodi prospered in a spate of B-films like Tarzan comes to Delhi, Tarzan and King Kong, Sikandar-E-Azam, Rustom-E-Hind, Raaka and Boxer.
It had its share of lows too -- Parakh star Motilal turned director with Chhoti Chhoti Baatein, he died few months later.

Film industry also mourned the passing on another legend, actress Geeta Bali. She was only 35.
Bollywood of 1965 is disparate.

Some filmmakers stuck to tried and tested froth and regressive drama, others pushed the envelope to introduce progressive mind-set and technology.

For every Tumhi mere mandir tumhi meri pooja, there was also an Aao twist karein.
What remained consistent though is its love for Kashmir.

Its gorgeous lakes, valleys and fields filled with tulips, roses, poppies and almond blossoms graced almost every second film.

And the dating scene was replete with houseboats and horse rides.
We've looked into all that turns silver this year, now here's celebrating the golden anniversary of Bollywood's most notable 1965 releases.


Guide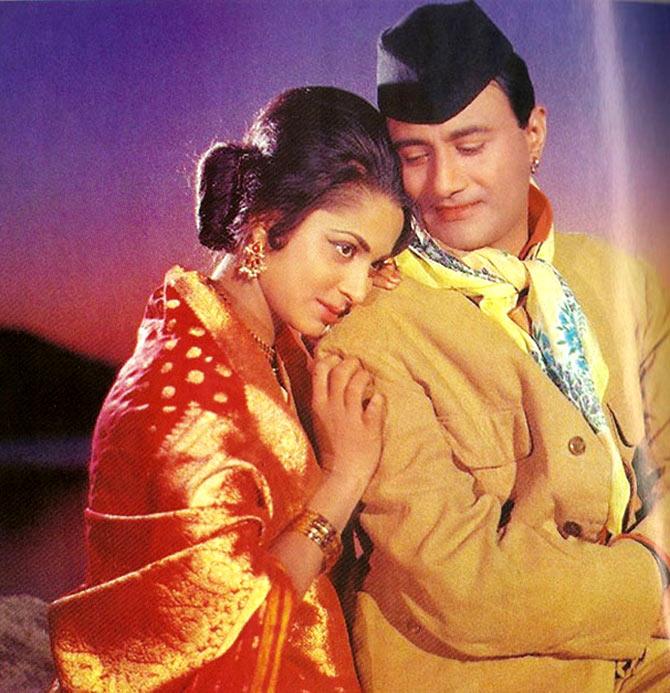 Image: Waheeda Rehman and Dev Annad in Guide.
Based on R K Narayan's novel, Guide is a riveting exploration and emancipation of two interwoven lives.
Under Vijay Anand's skilful direction and S D Burman's lilting score, it develops into the story of a married dancer (Waheeda Rehman) defying social norms to follow the voice of her heart only to learn how vulnerable relationships, even the ones that save you, are in the face of ambition, dishonesty and insecurity.
It's also the story of a flawed tourist guide's (Dev Anand) path to salvation and how it manifests into his spiritual ascension in the eyes of believers.
Intense, intimate and influential in its nuances, melody and philosophy, Guide is a triumph in seamless storytelling and flawless team chemistry.
Chartbusters (by S D Burman): Aaj phir jeene ki tamanna, Tere mere sapne, Gaata rahe mera dil, Din dhal jaaye, Kya se kya ho gaya, Wahan kaun hai tera, Piya tose naina laage, oh, every SINGLE one of them.


Waqt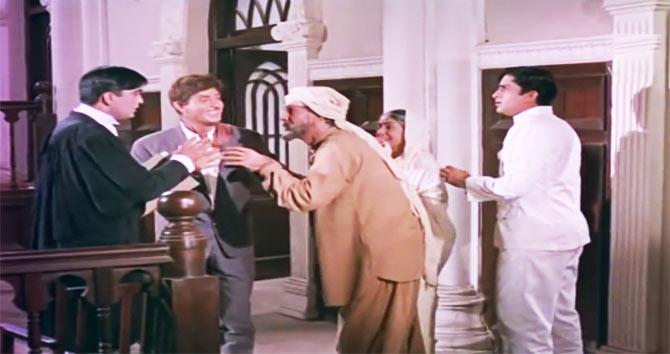 Image: Sunil Dutt, Raaj Kumar, Balraj Sahani, Achala Sachdev and Shashi Kapoor in Waqt
Yash Chopra's love for all things romantic, sophisticated and eloquent is visible in his glamorous, star-studded, lost and found drama, Waqt featuring Balraj Sahni, Raaj Kumar, Sunil Dutt, Shashi Kapoor, Sharmila Tagore and Sadhana.
Its convoluted storyline spawned many a copycats but none could replicate Chopra's charismatic treatment and characterisation of its sprawling cast.
Be it the fashion, face offs or dialogues (that sound even more spanking coming out of Raaj Kumar's mouth) Waqt is truly timeless.
Chartbusters (by Ravi): Aye meri Zohra jabeen, Aage bhi jaane na tu, Kaun aaya ke nigaahon mein, Din hai bahaar ke, Chehre pe khushi cha jaati hai.


Jab Jab Phool Khile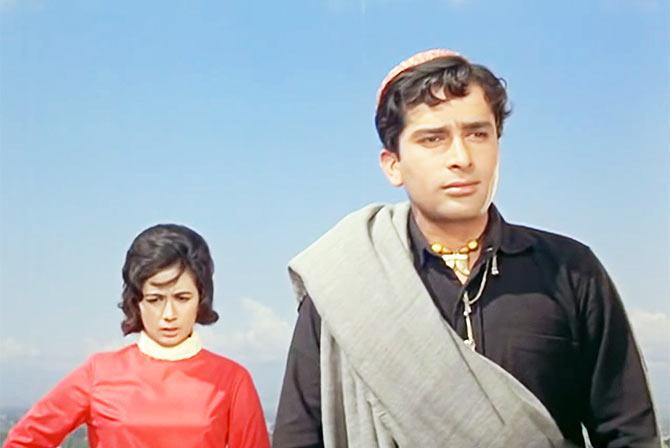 Image: Nanda and Shashi Kapoor in Jab Jab Phool Khile.
Impractical are the ways of Bollywood.
And so Nanda's affluent city girl develops the hots for Shashi Kapoor's wide-eyed houseboat owner in the Kashmir-centred confection, Jab Jab Phool Khile.
What's interesting here is how both its leads play against type; Kapoor Memsaab-chanting Raja isn't the suave urban bloke and Nanda sheds her shuddh desi inhibitions to slip into a hip avatar.
Full of hummable tracks and syrupy 'love conquers all' sentimentality that's more than happy to overlook the plot's glaring class conflicts, the successful Jab Jab Phool Khile was later the inspiration for Aamir Khan-Karisma Kapoor's over-the-top romance, Raja Hindustani.
Chartbusters by (Kalyanji-Anandji): Yeh sama, Ek tha gul aur ek thi bulbul, Pardesiyon se na aankhiyan milana, Yahan mein ajnabi hun, Na na karte pyaar tumhi se.
Himalaya Ki God Mein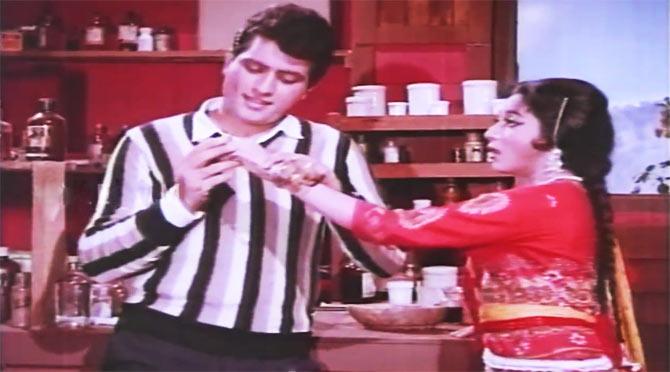 Image: Manoj Kumar and Mala Sinha in Himalay Ki God Mein.
First things first, Himalay Ki God Mein hasn't aged well. (A lot of credit for which goes to Mala Sinha's unhinged performance.)

But for posterity's sake, it's important to mention it made a killing at the box-office.
Following the success of Hariyali Aur Raasta, director Vijay Bhatt and its stars Manoj Kumar-Mala Sinha reunite to score with the musical Himalay Ki God Mein about a London-educated doctor trying to establish a practise in a small hill station of North India.
Obstacles pop up in the form of local quacks, looming dacoits and the ultimate decision a 1960s Bollywood hero faced -- marrying the village belle of his choice or high-society girl selected by parents.
Chartbusters (by Kalyanji-Anandji): Chand si mehbooba, Ek tu na mila.


Arzoo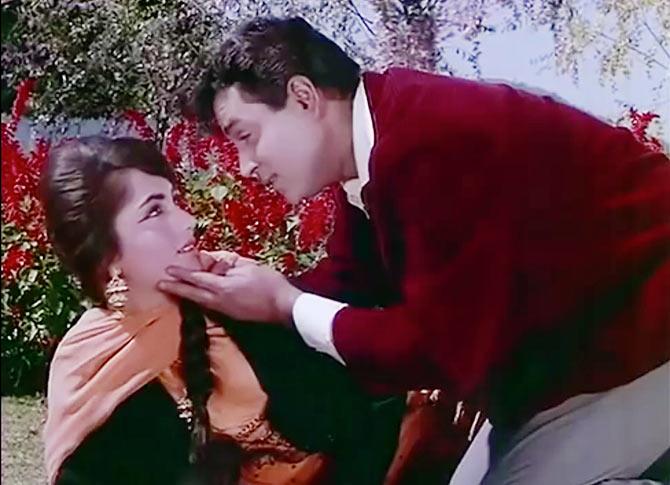 Image: Sadhana and Rajendra Kumar in Arzoo
Whim not logic is at the heart of the blockbuster love triangle Arzoo directed by Ramanand Sagar, also the man behind the epic TV series, Ramayan.
As usual then, boy and girl meet in Kashmir, fight, fall in love, go separate ways and reunite in a melodramatic, filmi fashion.
Only Rajendra Kumar loses a leg in an accident, best friend Feroz Khan happens to be in love with his girl and stylish Sadhana is searching for AWOL beau without knowing his real name in this breezy baloney that works purely on the strength of its compelling actors and gorgeous songs.
Chartbusters by (Shankar-Jaikishan): Aji rooth kar ab, Bedardi balma, Aye nargis-e-mastana, Phoolon ki rani baharon ki mallika, Chhalke teri aankhon se sharaab. Yep, all of it.
Jaanwar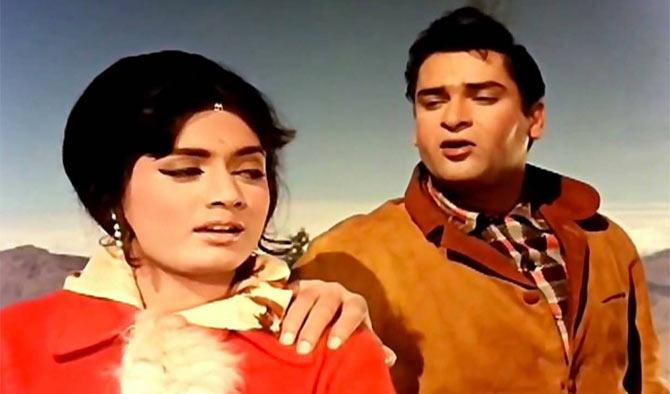 Image: Rajshree and Shammi Kapoor in Jaanwar.
Changing into various goofy get-ups, sweeping the coy Rajshree off her feet, bouncing off buoyant numbers -- there's one where he even takes on The Beatles, expectedly, Shammi Kapoor is a scream in the frolicsome Jaanwar.
Like a lot of his movies, this one too is a lesson on parenting gone wrong what with real-life daddy Prithviraj Kapoor portraying the unsympathetic pitaji on celluloid too.
Five decades down, Shammi's rebellion and romance is zany enough to last the ages.
Chartbusters by (Shankar-Jaikishan): Tumse acha kaun hai, Laal chhadi maidan khadi, Meri mohabbat jawan rahi hai.
Gumnaam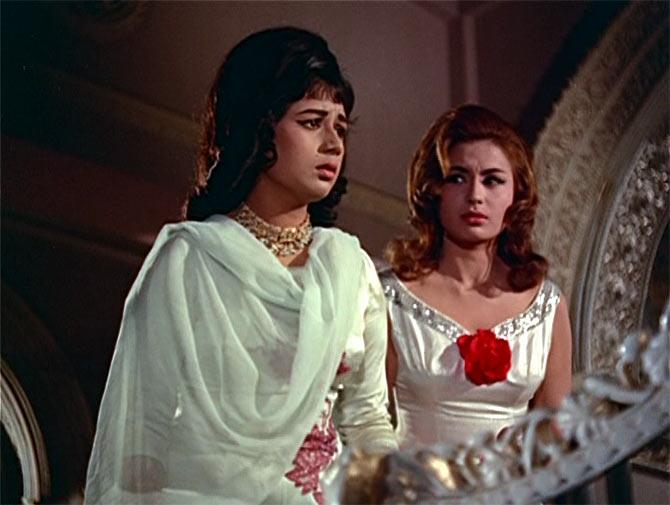 Image: Nanda and Helen in Gumnaam
Once the big reveal is out whodunits have a short shelf life.
Yet Gumnaam, inspired by novelist Agatha Christie's And Then There Were None, continues to enthrall even though its suspense is public knowledge since five decades.
Simply because it relishes in all the kitschy elements that is Bollywood, from dream sequences to grotesque twists.
Action, dance, comedy, intrigue, spectacle all find its way around an eclectic ensemble cast of Manoj Kumar, Nanda, Pran, Mehmood, Helen, Madan Puri, Dhumal, Manmohan as a bunch of stranded plane passengers on an ominous island enveloped in a haunting theme song.
Chartbusters (by Shankar-Jaikishan): Gumnaam hai koi (takes obvious inspiration from Henry Mancini's Charade theme song), Hum kaale hain toh kya hua, Is duniya mein jeena ho toh.
Khandan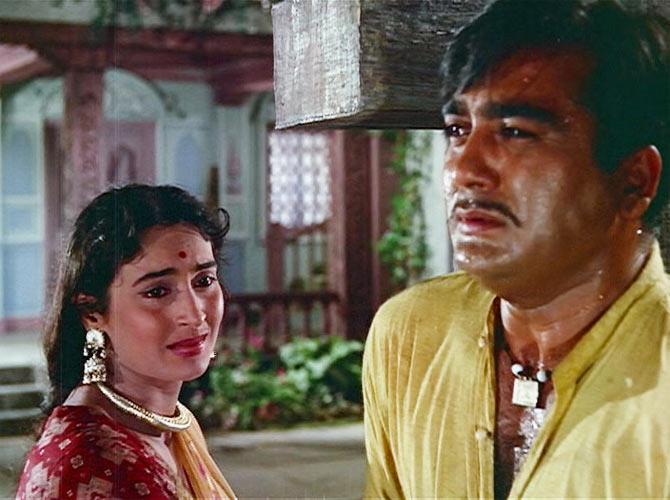 Image: Nutan and Sunil Dutt in Khandaan.
Director A Bhimsingh remade his National-award winning Tamil film Bhaaga Pirivinai with Sunil Dutt and Nutan in Khandan, which proved to be another feather in its leading man's cap.

His physically disabled act also won him a Filmfare trophy for Best Actor.
For all its laurels, Khandan, revolving around petty domestic politics, wallows in excessive tragedy, sacrifice and struggle.

Moviegoers today have little patience for its stagey sentimentality and miraculous intervention.
As an aside, Mohnish Behl's do-gooder with a paralysed arm in Hum Saath Saath Hai appears to be a hat-tip to mum Nutan's co-star from the hugely successful family drama.
Chartbusters (by Ravi): Tumhi mere mandir, Badi der bhayi nandlala, Neel gagan par udte baadal.
Shaheed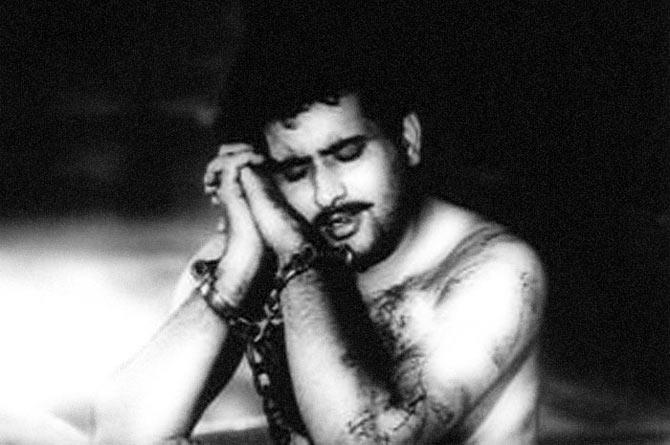 Image: Manoj Kumar in Shaheed.
Quite a few biopics have been made on freedom fighter Bhagat Singh's life, but the National-award winning feature, directed by S Ram Sharma starring a super earnest and understated Manoj Kumar in the titular avatar is most effective.
Unlike his later-day jingoistic sagas that earned him the epithet of 'Bharat,' the modestly budgeted black and white Shaheed is a neatly told tale of nationalistic fervour and young rebellion.
To date, its rousing soundtrack as well its simmering content continues to inspire and talk to new audiences.
Chartbusters (by Prem Dhawan): Aye wattan aye wattan, Pagdi sambhal jatta, Sarfaroshi ki tammana, O mera rang de basanti chola, Jogi, hum toh lut gaye tere pyaar mein.
Kaajal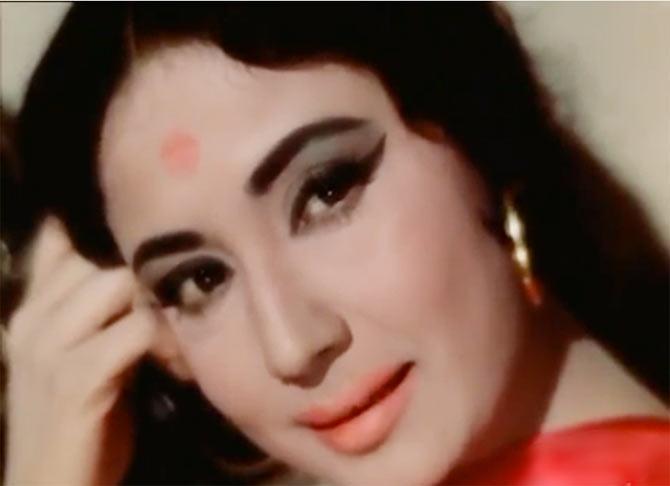 Image: Meena Kumari in Kaajal.
Though romantically linked with Dharmendra, the equation between Meena Kumari and him are strictly fraternal in the Ram Maheshwari tearjerker, Kaajal based on the Gulshan Nanda novel Maadhvi.
Draped in pristine pooja saris or strumming the sitar, the actress portrays the quintessential 'devi' of its premise or how like the Bollywood cliché goes 'tyaag aur balidaan ki murat.'

It worked big in 1965, in retrospect not so much.
Take out the songs, the starry line-up (Dharmendra, Raaj Kumar) and the Queen Bee of sorrowful parts in a Filmfare-winning turn and Kaajal is as tedious as it gets.
Chartbusters (by Ravi): Choo lene do nazuk hothon ko, Tora mann darpan kehlaye, Mera bhaiya mera chanda.
Bhoot Bungla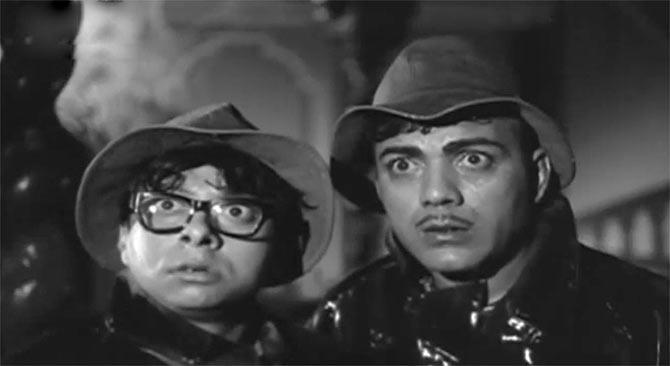 Image: RD Burman and Mehmood in Bhoot Bungla.
Dedicated to friend, philosopher and guide Guru Dutt (who passed away a year ago) by its debutant director and star Mehmood, Bhoot Bungla is a timeless comic classic.
The goofy comedian takes it upon himself to aid Tanuja's damsel-in-distress with some help from his band of cronies, including the baby-faced, scene-stealing music director Rahul Dev Burman.

Together they bring the house down with their hilarious findings in a haunted mansion.
Bhoot Bungla's repeat value lies not in its mystery but just how deliciously Mehmood balances the fluff with genuine, creepy suspense, there's never a dull moment, nor a foreseeable one.
Chartbusters (by R D Burman): Aao twist kare, Kahan aake yeh hum phas gaye, Pyar karta ja, O mere pyaar aaja.
Teen Devian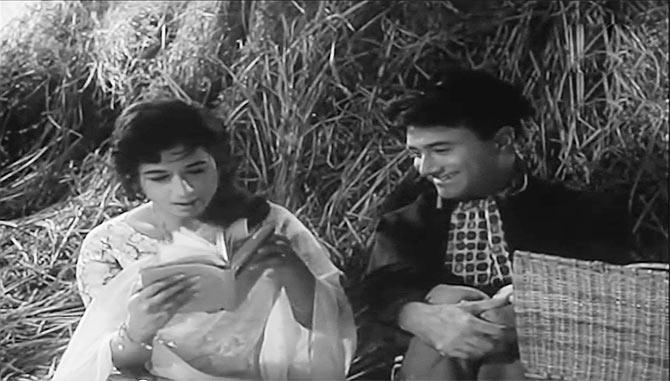 Image: Nanda and Dev Anand in Teen Devian.
Nanda, Kalpana, Simi Garewal -- three women as different as chalk, cheese and chutney catch the fancy of an inimitable Dev Anand.

And what happens while he struggles to make up his mind is the delightful date movie, Teen Devian.
In his book 40 Retakes, writer and journalist Avijit Ghosh calls the film a "modern love story of indecision."

Contemporary enough to be recycled as recently as Shahid Kapoor's Yeh Dil Maange More.
The latter, of course, is not a patch on the black 'n' white original, ghost written and directed by its leading man (as acknowledged in his autobiography Romancing With Life).
Set in Kolkata, the romantic musical was no box-office smash yet created a lasting impression through its refreshingly candid women showing no qualms about proposing to their man.
Chartbusters (by S D Burman): Aise toh na dekho, Arre yaar meri tum bhi ho gazab, Likha hai teri aankhon mein, Khwab ho tum ya koi haqeeqat, Kahin bekhayal hokar yunhi choo liya.
Johar Mehmood in Goa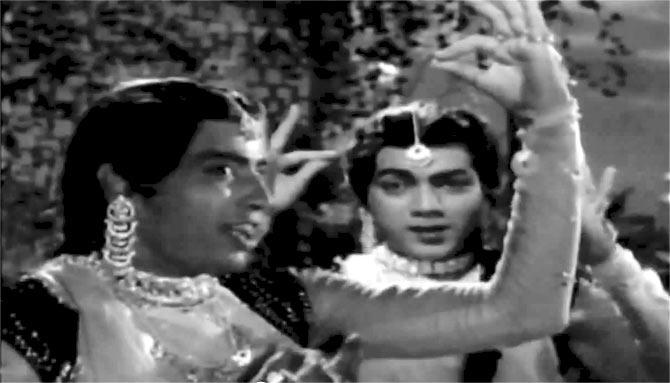 Image: I S Johar and Mehmood in Johar Mehmood in Goa.
1965 was exceptionally kind on Mehmood thanks to Gumnaam, Bhoot Bangla, Kaajal, Arzoo and his collaboration with fellow comedian I S Johar in Johar Mehmood in Goa.

His boisterous persona perfectly complimented Johar's deadpan humour.
The combination unfailingly entertained in their Ram-Rahim brand of adventure as they take on tyrants in Portuguese-occupied Goa.

Though its follow-up Johar Mehmood in Hong Kong couldn't live up to the first one's spontaneous, droll appeal.
Notably, Mehmood slipped into drag mode as part of his comic shtick for quite a few times that year -- Johar Mehmood in Goa, Bhoot Bangla, Arzoo.
Chartbusters (by Kalyanji-Anandji): Yeh do deewane dil ke.
Mere Sanam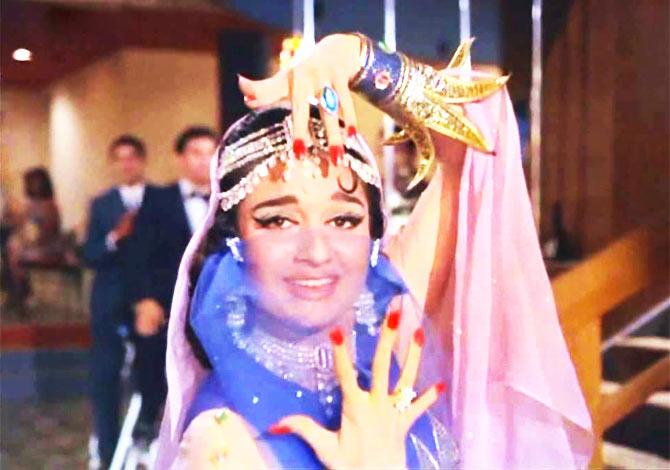 Image: Asha Parekh in Mere Sanam.
Films like Mere Sanam are the reason why some filmmakers still believe a snazzy soundtrack, stars with spiffy chemistry and some good dose of thrill, misunderstanding and humour thrown in around pretty locations are the formula for success.
Borrowing liberally from Hollywood's Come September while staying true to its desi roots, Mere Sanam is predictable but watchable romp for Asha Parekh's groovy antics, Biswajeet's airy persona and an unbelievably seductive Mumtaz asserting the supremacy of her lush locks and more.
Most certainly the songs of Mere Sanam are its prime assets.
Chartbusters (by O P Nayyar): Jaiye aap kahan jayenge, Yeh reshmi zulfon ka andhera, Humdum mere maan bhi jao, Pukarta chala hoon main.