What the stars wanted, this Diwali.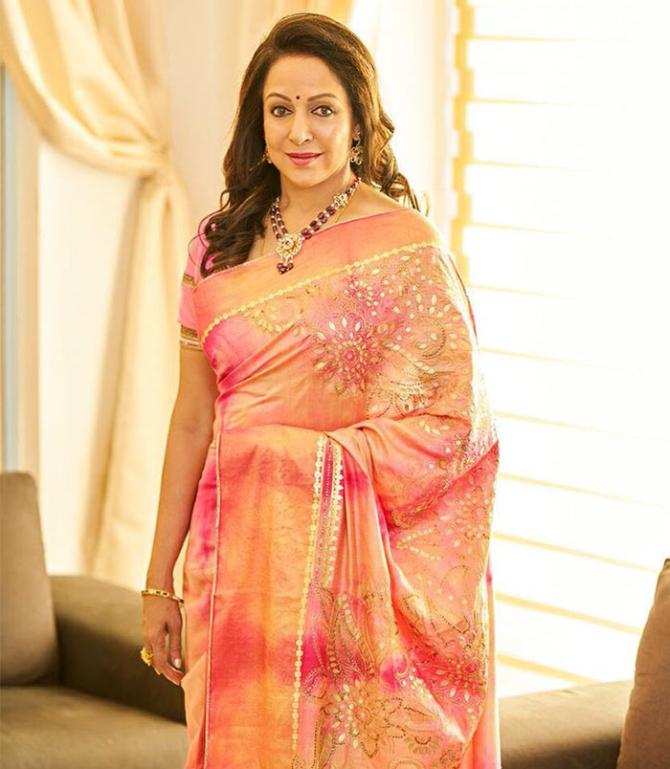 Hema Malini: Diwali is my favourite festival. It means being with my family, dressing up in beautiful new clothes, making rangolis and eating mithai.
There is no greater joy for me than spending time with my children and grandson.
My elder daughter Esha is expecting her first child. So, this Diwali, I wish a little Laxmi comes into our home.
I wish not a single home in our country is without light this Diwali.
Lata Mangeshkar: Har dil aur ghar mein roshni yehi meri Diwali ki shubhkamnayen hain (I wish that every heart and home lights up this Diwali).
Ishwar kare Bhartiya logon ke dil se nafrat, krodh, ahankaar aur vaasna baahar ho jaye (May God eliminate hatred, anger, pride and lust from the heart of every Indian).
This Diwali, I wish people would not spend money on firecrackers and lavish parties and instead give money to those who cannot afford a proper Diwali.
Shabana Azmi: We had a warm, lovely party last night where our colleagues and family broke bread together.
No event manager is ever employed for the get-togethers we have at home. All the food was cooked at home.
My brother Baba is almost fanatical about this because my mother's kitchen was legendary and he wants to retain that tradition. I'm sure Abba (father poet Kaifi Azmi) must be happy.
Diwali celebrations, along with Holi, Eid and Xmas, were started by my father, Kaifi Saab, at my parents' residence in Janki Kutir. After he passed away, this is the first time we've had it.
We have had outstanding poets and artists from Begum Akhtar, Faiz Ahmed Faiz, Firaq Gorakhpuri, Josh Malihabadi to struggling newcomers like Shekhar Kapur and Anil Kapoor, directors like Guru Dutt and Chetan Anand and artists like M F Husain and Jatin Das at my parents' Diwali get-togethers.
Restoring my parents' tiny cottage to its former glory is my brother Baba Azmi's great mission in life.
Shatrughan Sinha: To see every political party get together for one agenda, one goal, namely the empowerment of the poor… this is my Diwali wish.
I also want my Bihar's chief minister, Nitish Kumarji, to join hands with our dynamic prime minister, the real action hero, for some truly serious progress and development in Bihar.
I also wish that some of our veteran leaders in the BJP, like L K Advaniji, are honoured and recognised for the role they've played in the growth of the BJP.
That apart, I want the light of enlightenment to fall on all those politicians who want to divide the country on the basis of community and religion.
Sanjay Leela Bhansali: I pray for a tolerant more accommodating and inclusive India this Diwali.
I pray for every Indian's right to think, feel and say what he wants without fear or inhibition.
Personally, I have lost someone close to me. So I am not celebrating Diwali.
Prasoon Joshi: Diwali gives us an opportunity to catch up with relationships which might not have got their fair share of light in the whole year, so it's time to light up those less visited corners of your heart and life.
Asha Parekh: My Diwali spirit is dampened by the closure of the my no-profit hospital for the poor.
We tried to keep it going as long as we could.
My concern for the healthcare of the poor is constantly preying on my mind.
This Diwali, I wish no financially challenged Indian would die due to medical neglect.
Khushboo: We are having a very low key celebration as we lost a family member recently.
But we have always believed in bringing in more lights.
I lit up my home and my interiors with lot of lights and a bit of bling decor... gold, maroon and green dominate.
Pritish Nandy: This Diwali, I am travelling to a beautiful place where I've never been nor of going. In the process I am discovering myself.
Photograph: Kind Courtesy Hema Malini/Twitter