Since the housemates fail to come up with one name unanimously, Bigg Boss ends up nominating Rashami and Abhijeet.
Monday's episode begins with Tejasswi Prakash telling Nishant Bhat that she isn't okay with Karan Kundrra's friends as they gossip about her.
She clearly points at Umar Riaz, Rashami Desai and Shamita Shetty.
Karan, on the other hand, talks to Rashami Desai about his relationship with Tejasswi.
Rashami says he has changed as a person and isn't being himself, which has complicated things for him.
Later, Rakhi praises Tejasswi and asks Karan to marry her when they go outside. She tells him not to ditch her as she is very innocent and genuine.
Karan says his family will not have any problem if they find her perfect for him.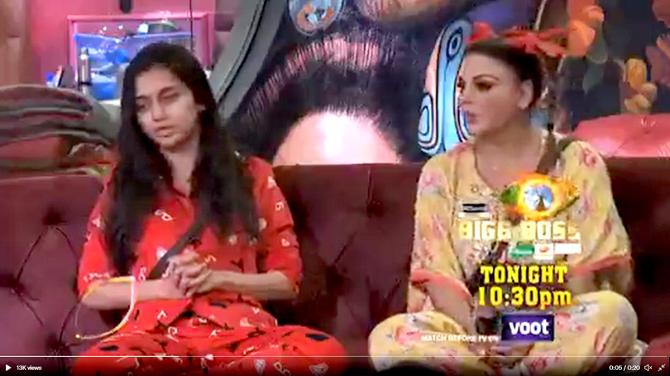 In the kitchen area, there is commotion as Rashami wants to change her duty again.
Rashami tells Rakhi that nobody helps her when she is cleaning utensils and so wants a different duty. This irks Nishant and Tejasswi. They tell Rashami she can't keep changing her duties as per convenience every other week.
Devoleena Bhattacharjee loses her temper when everyone point a finger at Abhijeet Bichukle for not doing anything in the house.
Nishant says it's high time that Bichukle participates in household duties.
In the afternoon, Bigg Boss announces the nomination task.
The housemates are asked to select one person who they don't want competing in the Ticket to Finale task.
Nishant, Tejasswi, Devoleena and Pratik Sehajpal choose Rashami whereas Shamita, Rakhi, Karan and Umar pick Bichukle. He, on the other hand, targets Tejasswi.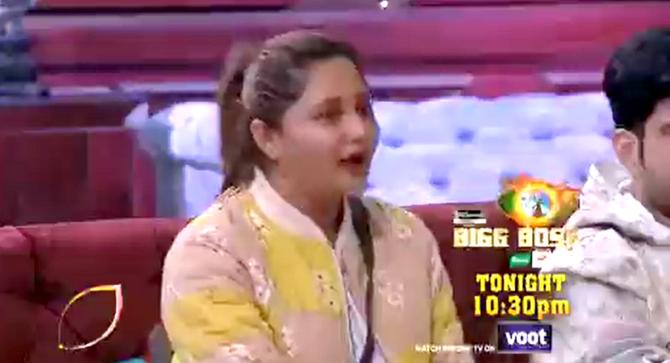 Bigg Boss asks the contestants to choose just one name.
Everyone starts convincing each other to change their decision.
Umar asks Bichukle to play for himself.
Rashami tries to chat with Nishant, but their conversation doesn't go well.
Tejasswi is upset with Karan for saving Rashami once again.
Since the housemates fail to come up with one name unanimously, Bigg Boss ends up nominating both Rashami and Bichukle. After the nominations, Tejasswi gets into a heated argument with Karan, Umar and Rashami.
Umar is annoyed with Karan as he didn't fight hard enough to save Rashami. He taunts Karan and the latter tries to explain his point of view in the matter.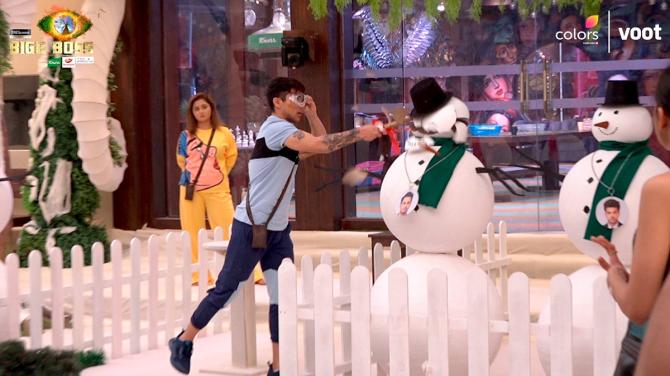 Next, it's time for the Ticket to Finale week task.
Nishant, Shamita, Pratik, Karan, Tejasswi, Umar and Devoleena have to divide themselves into two teams.
They will then compete with each other to make a snowman in the garden area.
In every round, one person will be eliminated from the task.
The task begins and Nishant, Pratik, Shamita, Devoleena decide to play together.
Karan, Umar and Tejasswi are in the other team.
In the first round, Rakhi is impressed with team A and therefore Nishant, Pratik, Shamita and Devoleena are the winners. They decide to remove Umar from the task.
In the next round, though Pratik tries hard to convince Rakhi their snowman is better, she announces team B as the winner. Tejasswi and Karan decide to remove Pratik from the task.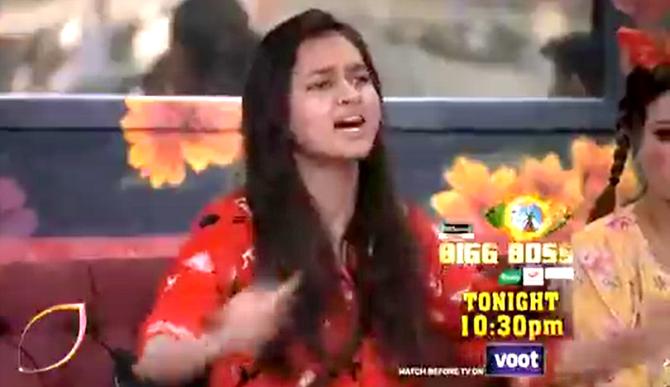 In the third round, Rakhi is again impressed with team A, making Nishant, Shamita and Devoleena the winner. Shamita says they should keep Tejasswi in the game and remove Karan.
Everyone agrees.
With that, Devoleena declares they will remove Karan from the task.