Kapil Dev's historic World Cup win wasn't the only highlight of 1983. Sukanya Verma looks back how the year treated Bollywood.
It was a year of excitement and extremes.
If parallel cinema in India looked more lucrative than ever, exploring what plagues the marginalised, mainstream masala stayed true to its madcap roots fixating on the poor boy-rich girl trope.
A refreshingly new energy of fresh talent as well as formidable from down South stormed the Hindi silver screen while written-off superstars made a thumping comeback.
Debutant directors (Shekhar Kapur, Kundan Shah) helmed instant classics as the 1980s delivered the most sensitive take on adultery as well as the most quoted film of its decade.
Katrina Kaif was born while Amitabh Bachchan received a new life.
While the Cold War's strain still loomed large, Michael Jackson debuted the moonwalk.
Richard Attenborough's Gandhi won eight Oscars, including one for costume designer Bhanu Athaiya, and India its first-ever cricket World Cup.
The latter now the subject of Kabir Khan's terrific new film.

1983 is a cherished year in history and Hindi cinema. Sukanya Verma gives us a recap:
When Jaane Bhi Do Yaaro left us in splits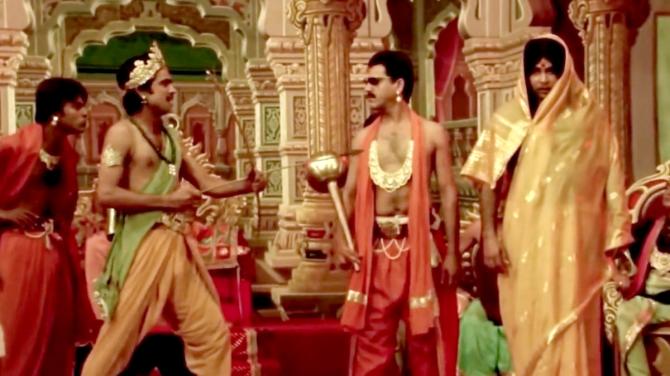 Kundan Shah's modestly made satire is one of our most beloved films of all time.
Every single thing about this Naseeruddin Shah-Ravi Baswani-Om Puri-Pankaj Kapur-Neena Gupta-Satish Shah-Bhakti Barve-Satish Kaushik starrer and its timeless politics is a masterclass in uproarious wit and razor-sharp writing.
Right from its delightful trivia to catchy background score and hilarious scenes involving a mob chasing a corpse, a speech on the gutter or the climax remains etched in public memory.
A force called Sridevi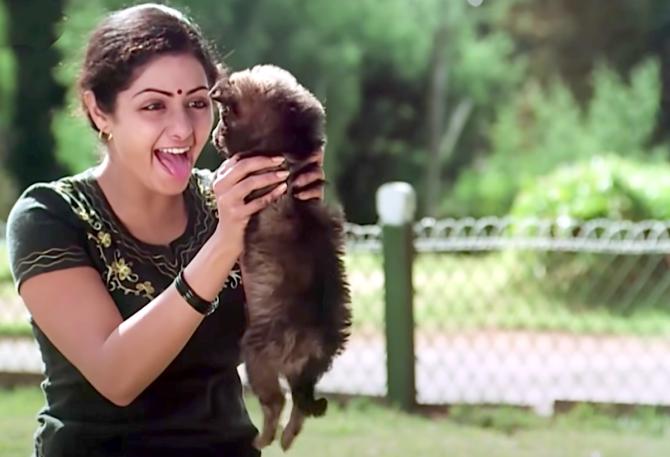 Sridevi's breakout role in Bollywood is pretty much its own school of acting.
The actor's child woman portrayal in Sadma, a remake of Balu Mahendra's Tamil hit Moondram Pirai, co-starring an equally moving Kamal Haasan set the standards for heightened melodrama.
In the same breath, she slipped into quintessential arm candy roles for blockbusters of the year like Himmatwala and Justice Chaudhury.
Enter the Star Son Brigade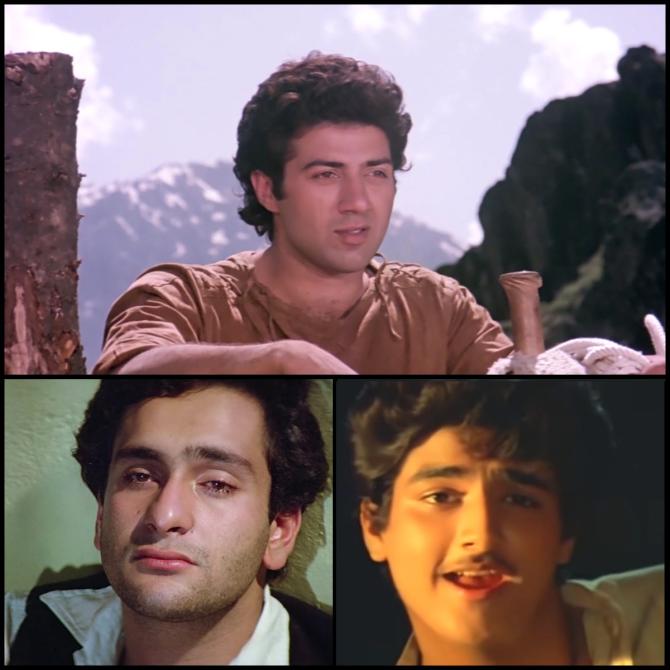 Long before nepotism became a subject of heated debate, star kids followed their famous parents' footsteps sans any scrutiny.
If Dharmendra's son Sunny Deol showed off his machismo to sparkling effect in Betaab, Manoj Kumar's son Kunal Goswami made his adult debut in films like Ghungroo and Kalaakaar whereas Raj Kapoor's youngest Rajiv tried his luck with Ek Jaan Hai Hum.
Only Sunny would emerge as the real lambi race ka ghoda.
Baap of all debuts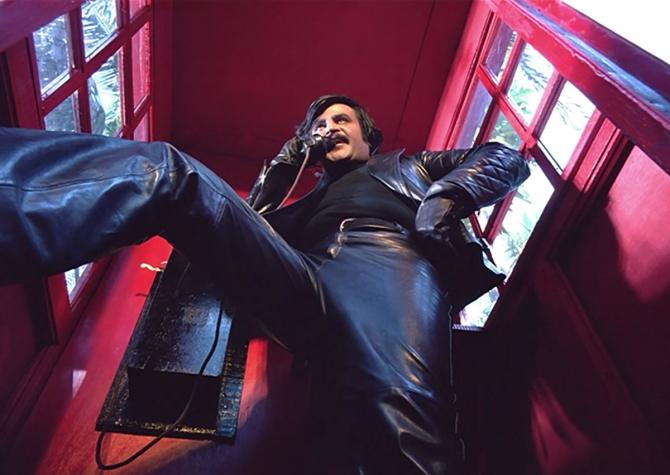 Superstar Rajnikanth showed what the fuss is all about with his killer style and cool antics as the vendetta seeking ruffian hoodwinking his cop sister in his Bollywood debut vehicle, Andha Kanoon.
Fresh face alert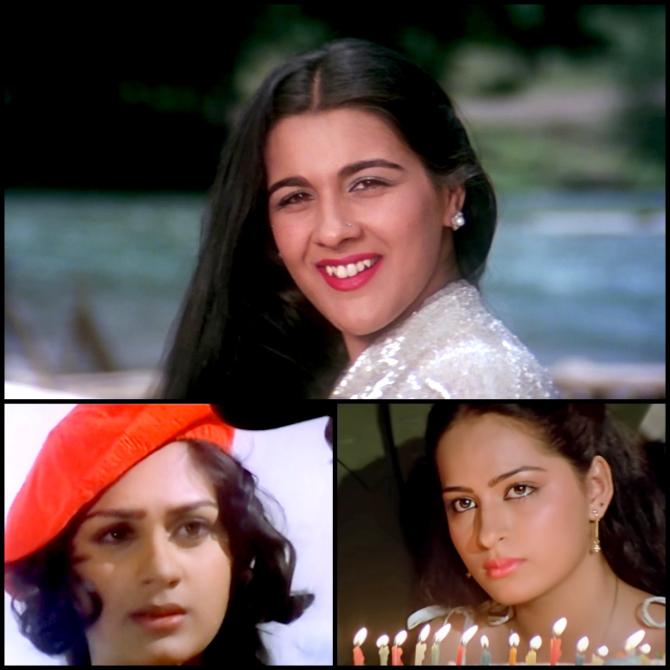 Amrita Singh's bratty turn in Betaab, Meenakshi Seshadri's forgettable one in Painter Babu until Hero would release and save the day and Divya Rana's pretty presence in Ek Jaan Hain Hum infused some fresh vigour in the leading ladies space.
While Meenakashi and Divya have settled for domestic bliss, Amrita Singh continues to impress in occasional meaty roles while her kids Sara and Ibrahim pave their path to stardom.
Of romantic flutes and red bandanas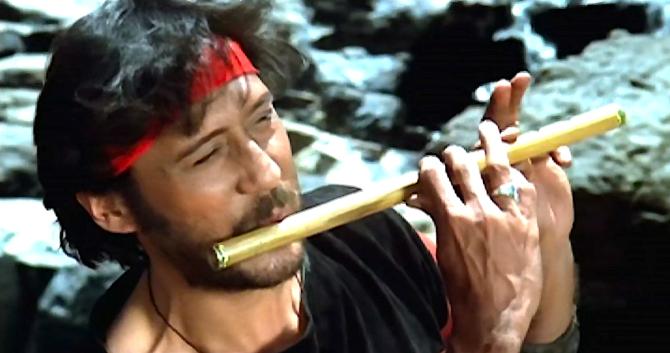 Jackie Shroff's flute playing, bandana sporting, bike riding reformed goonda winning over the girl and her disapproving family in Subhash Ghai's super entertaining musical Hero is telling of a decade's sensibilities and style. It gave Biddu's career, previously cast as a sidekick in Dev Anand's Swami Dada, a new lease of life.
Dancing to Prem Pratap Singh Patiyalawale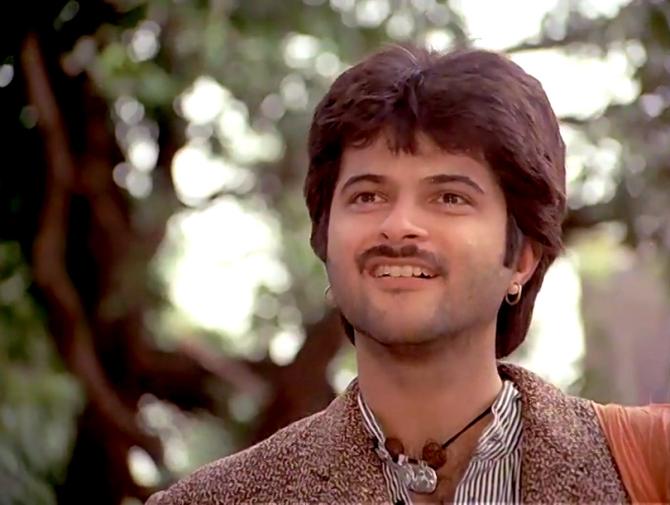 Following a brief appearance in Ramesh Sippy's Shakti, Woh Saat Din marks Anil Kapoor's first major role and future entry in all Best of-lists henceforth.
Back when all his contemporaries were flexing their 'hero' appeal, AK's preparation and performance as the gawky, aspiring music director Prem Pratap Singh Patiyalawale in Bapu's romantic drama, reworked as Hum Dil De Chuke Sanam and Manmarziyaan, would inspire future generations to come.
Jumping Jeetu-Svelte Sri's series of simply South remakes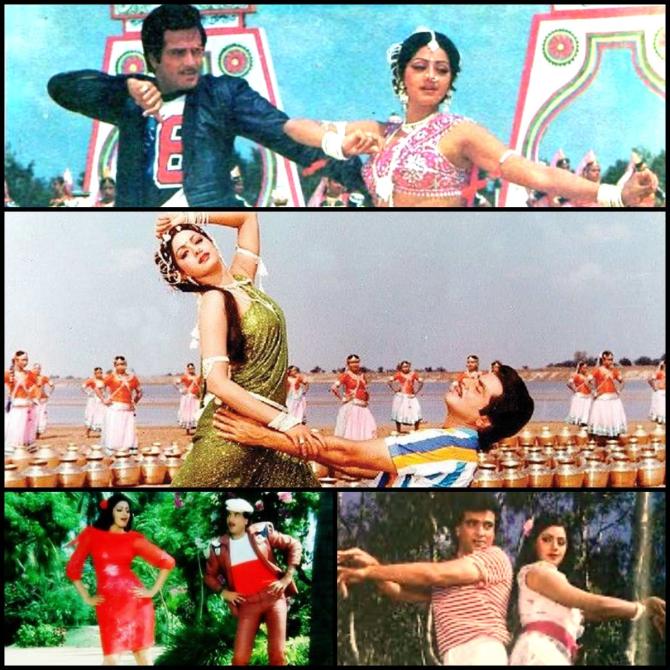 Jeetendra and Sridevi's romping chemistry in Himmatwala, Justice Chaudhury, Mawaali, Jaani Dost -- the biggest money-spinners of 1983 -- struck gold sticking to its formula of remaking Telugu super hits with Kader Khan and Shakti Kapoor for company and Bappi Lahiri's woefully worded songs Mamma Miyan Pom Pom, Taaki Taaki, the ilk.
Big B's near-fatal experience on the sets of Coolie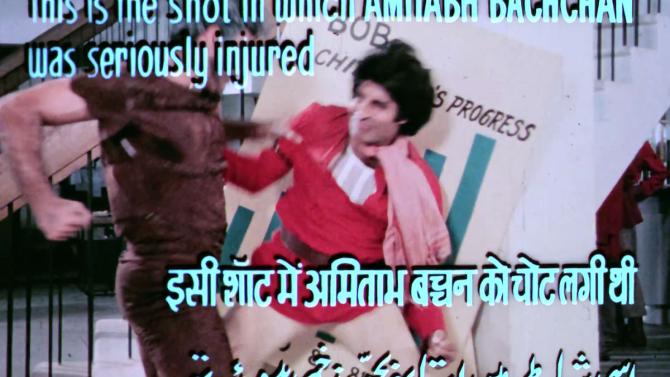 Although the freak accident that nearly killed Amitabh Bachchan occurred a year before, its memory was rendered immortal when Director Manmohan Desai paused the frame exactly at the point it happened and highlighted it for all and sundry when Coolie released in December 1983.
Rise and rise of parallel cinema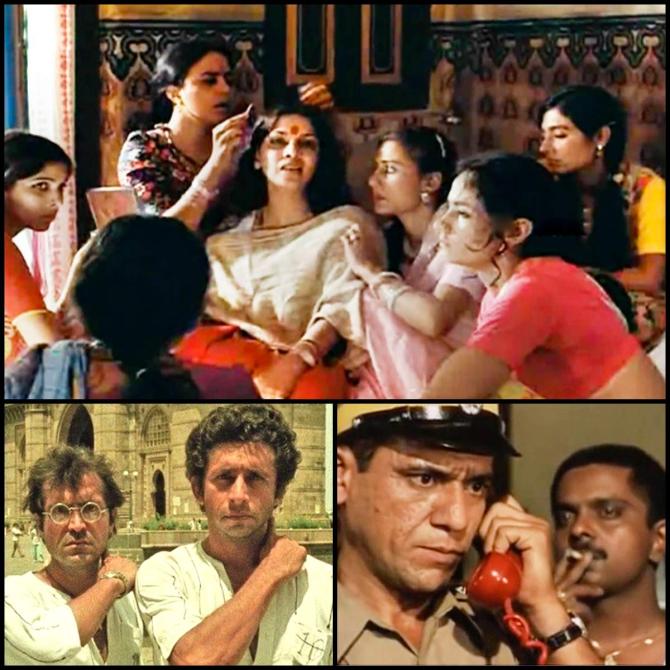 Often a subject of contempt, the 1980s in Hindi cinema are better than they get credit for. And the year 1983, when patrons of parallel cinema delved into the psyche and pathos of the tormented section of society with haunting seriousness or biting sarcasm has a big role to play in it.
As evident in the lasting influences of auteurs like Shyam Benegal's ensemble satire Mandi, Govind Nihalani's hard-hitting Ardh Satya, Kundan Shah's cult classic Jaane Bhi Do Yaaro and M S Sathyu's National Award=winning Sookha.
The bad boys club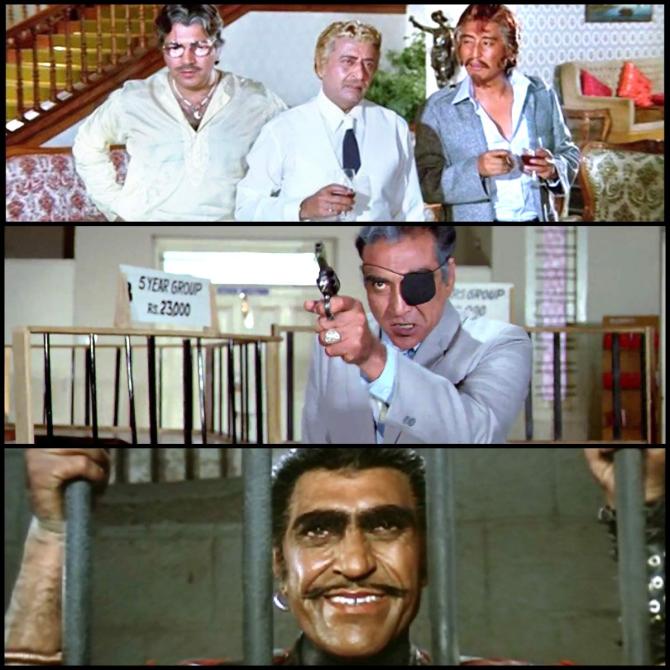 But the masala genre was unfazed by the rise of realism as the face of villainy sporting outlandish disguises and cheesy get-ups remained as over the top as ever.
Return of Rajesh Khanna
Just when everybody thought Kaka has drowned under the massive angry young man wave, the actor bounced back as the indignant old man in Avtaar, a businessman seeing his deaf wife's shadow in his kid's lookalike governess in Agar Tum Na Hote and a poor boy married to spoilt rich girl while nursing a soft spot for another in Souten.
Welcome to Betaab Valley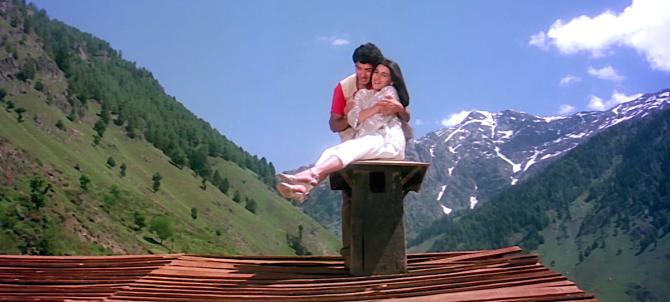 There's no dearth of natural beauty in Dharmendra's lavish launch pad for son Sunny helmed by Rahul Rawail.
The magnificent farm house constructed around Pahalgam and Cinematographer Manmohan Singh's lush captures of landscapes and streams are a source of the love story's lasting freshness. Its association with the site in Jammu and Kashmir became so strong, rechristening the spot to Betaab valley.
Chartbusters of '83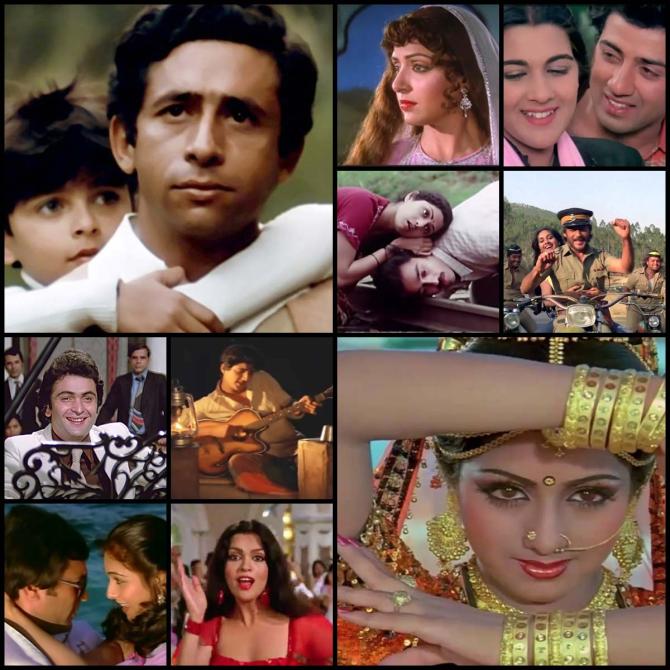 Tujhse Naraaz Nahi Zindagi, Nainon Mein Sapna, Aye Dil-e-Nadaan, Jab Hum Jawan Honge, Shayad Meri Shaadi Ka Khayal, Lambi Judai, Bachke Rehna Re Baba, Aye Zindagi Gale Laga Le, Agar Tum Na Hote, Neele Neele Ambar Par, Zamana Toh Hai Naukar Biwi Ka... -- the list of chartbusters goes on...
Composers Rahul Dev Burman (Masoom, Betaab, Bade Dilwala, Mahaan, Pukar, Romance, Lovers), Laxmikant-Pyarelal (Hero, Coolie, Andha Kanoon, Woh Saat Din), Khayyam (Razia Sultan), Ilaiyaraaja (Sadma), Usha Khanna (Souten), Bappi Lahiri (Himmatwala, Naukar Biwi Ka) ruled the music scene with songs dipped in the poetic ink of Gulzar (Masoom, Sadma), Jan Nisar Akhtar, Nida Fazli (Razia Sultan) while playback singers like Shabbir Kumar, Suresh Wadkar, Anuradha Paudwal, Reshma, Aarti Mukerji and Anup Ghosal challenged the monopoly of popular, established voices.
Team Lakde Ki Kathi forever
Jugal Hansraj, Urmila Matondkar and Aradhana Srivastava, the wonderful kids of Shekhar Kapoor's Masoom brought tremendous believability as siblings forming a family of their own in ways precocious child actors never can. The knee high cast of Masoom has long grown up since, but on screen they will remain innocent forever.
A touch of queer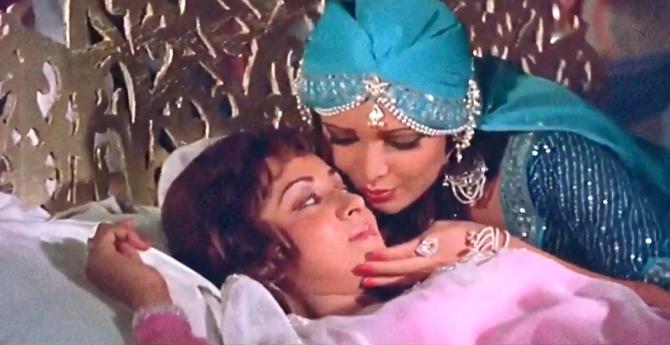 Though Kamal Amrohi's biopic on Razia Sultan proved to be an expensive flop, Khayyam's exquisite soundtrack and a hint of homoerotic vibe between Hema Malini and Parveen Babi during Khwab Bankar Koi Aayega continues to a talking point.
Stars of '83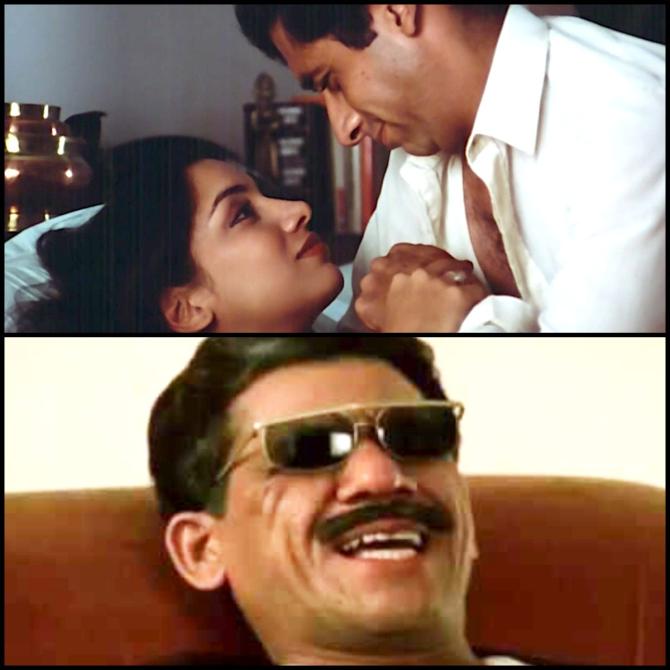 Shabana Azmi (Mandi, Masoom, Doosri Dulhan, Avtaar), Naseeruddin Shah (Masoom, Jaane Bhi Do Yaaro, Mandi, Woh Saat Din), Om Puri (Ardh Satya, Jaane Bhi Do Yaaro, Mandi) emerged the shining stars of the year with one knockout delivery after another in films that richly expressed their artistic sensibilities as well as extraordinary range.
Experimental cinema at its patchiest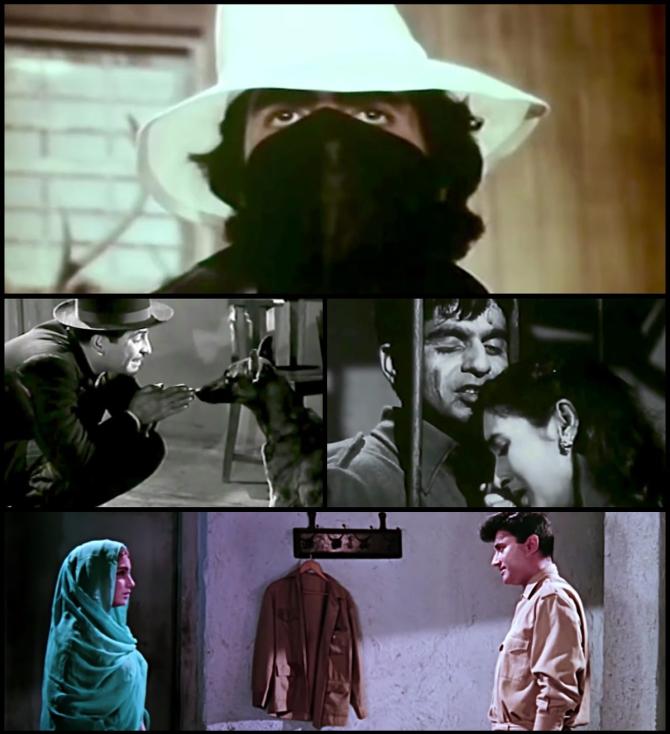 Dedicated to the 'indomitable spirit and passion of those thousands of cine artists and technicians whose films remained unfinished, ambitions unrealised, dreams unfulfilled and careers unlaunched,' Producer Shahab's Film Hi Film put together by Director Hiren Nag with Pran headlining the project is the strangest hodgepodge of shelved scenes from movies that never saw the light of the day.
Ever wondered about Raj Kapoor's Bahrupiya, Dilip Kumar and Nutan's pairing in Shikwah or Dev Anand-Sadhana's Eastman colour romance in Sajan Ki Galiyan or a Khuda Gawah quite unlike the one Amitabh Bachchan eventually starred in?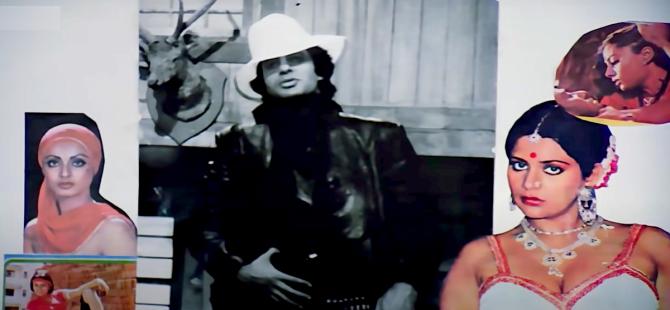 Interestingly, a poster of Bachchan's cowboy avatar from the stalled Khuda Gawah is conspicuous on Jomo's wall in Sai Paranjpye's Chashme Buddoor. Does it ring a bell?
Lies and laughter are the best medicine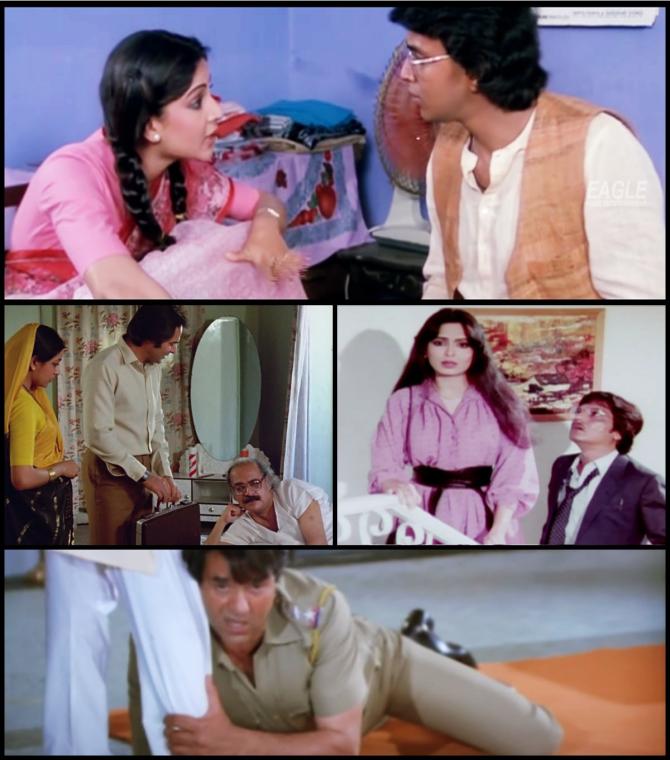 Hrishikesh Mukherjee's Kissi Se Na Kehna and Rang Birangi, Basu Chatterjee's Pasand Apni Apni as well as Rajkumar Kohli's Naukar Biwi Ka resorted to the familiar formula of characters engaging in well-meaning lies for the sake of love, life and peace ensuing in much mirth and mix-ups.
Dark side of Bollywood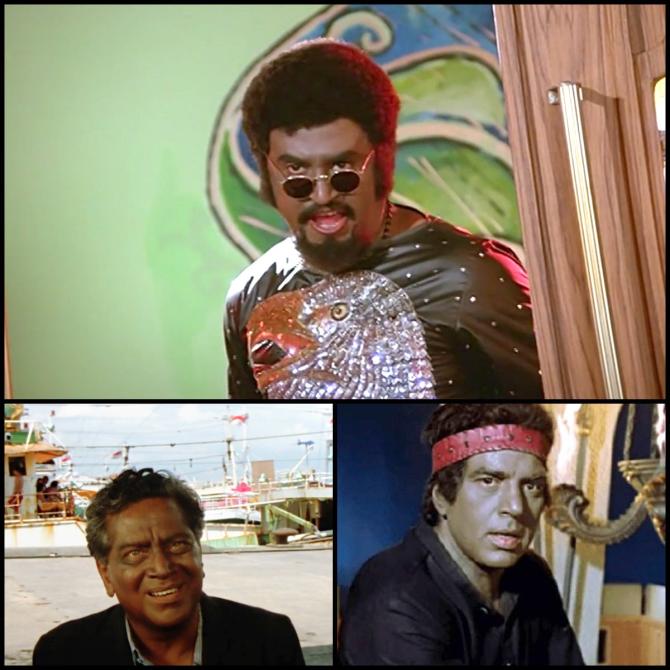 Painting characters in the darkest hues rather literally, be it to highlight Sreeram Lagoo's lower caste status in Souten, Dharmendra's African origins in Razia Sultan or Rajnikanth masquerading as an exotic dancer in Andha Kanoon underscored the cringe-worthy traditions of Bollywood film-making that quietly persist.