As 2021 comes to a close, it's time to look back at all the Web series and movies that made a difference.
In an ongoing series, Bollywood's talents, who themselves made brilliant works this year, pick their favourite show of 2021, and tell us just why they loved it.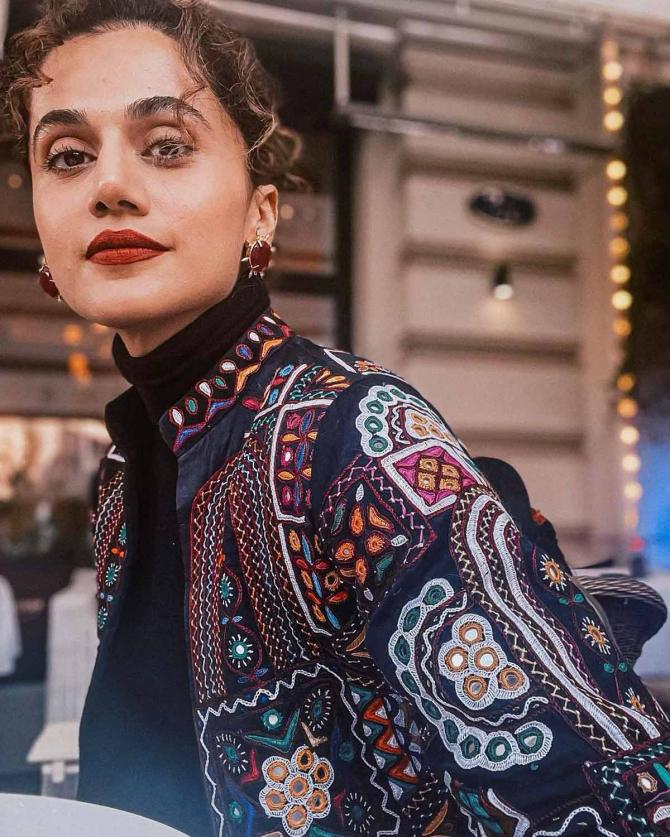 In just 11 years Taapsee Pannu has proved herself as an woman of substance, both on screen and off it.
Always ready to push the envelope, she has brought to life many characters who have gone far beyond the conventional heroine -- be it secret agent Shabana Khan (Baby and Naam Shabana), PINK's Minal Arora who made 'no means no' the catchphrase of the nation or the septugenarian sharpshooter Prakashi Tomar in Saand Ki Aankh, a performance that won her the Filmfare Award for Best Actress (Critics).
She was not afraid to play a character in Badla for whom self-preservation comes first or a woman who willingly submits to an extra-marital affair with an ex-lover in Manmarziyaan.
She will even be branded a murderer in Haseen Dilruba, but won't take a Thappad lying down.
These are just some of the women Taapsee has made unforgettable.
And there are five Bombay Begums who impressed the actress.
In a conversation with Rediff.ComContributor Roshmila Bhattacharya, she shares what made this Netflix series special for her.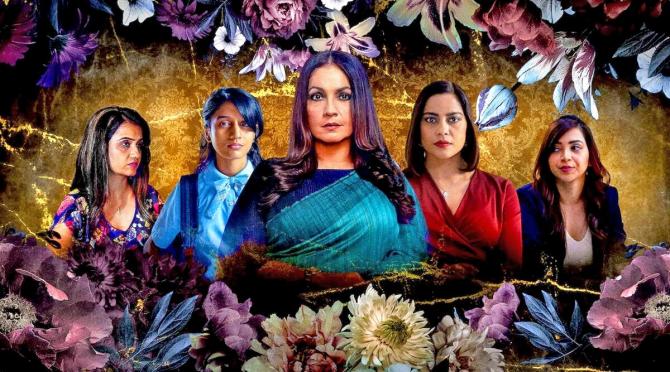 I was intrigued by the poster -- so many good actresses coming together -- and then the trailer of Bombay Begums really got my attention.
It was like wow, we've really graduated in terms of showing female dynamics, not just in relation to men, but also the environment and each other, without mincing words, but hitting the nail bang in the head.
Usually, coming from an urban and privileged strata of society, we often look down on what's happening in other stratas, and we distance ourselves. But this series addressed the elephant in the room by exposing this niche segment too.
It talks about the women of today, the women around us.
As an audience, I'm not, for lack of a better phrase, the 'festival film viewing kind' nor will I watch something which is glamourous and glossy, but lacks substance and sensibility. I'm somewhere in between and Bombay Begums had me hooked.
I have to say that the first episode wasn't what I had been expecting. It wasn't bad, but it made me wary, wondering if it would be 'too much' in its portrayal of relationships and issues.
But I still wanted to give the series a chance, and by the time I had finished the third episode, I was sold to this world.
Nothing was over-the-top and there was no attempt to sensationalise.
Five brilliant performances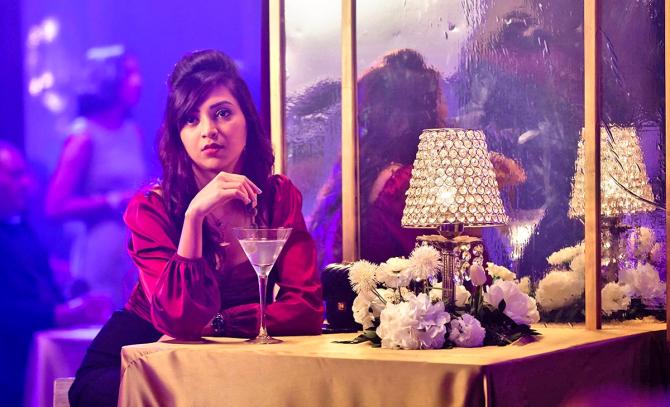 I was impressed with the way the four women's lives are interlinked, yet each has her own arc, right from the badass and powerful Rani Irani, the CEO of Royal Bank of Bombay, played by Pooja Bhatt to Plabita Borthakur as the small-town, bisexual Ayesha.
I don't know Plabita at all, but I searched her out and DMed her on Instagram to tell her that I was blown away by what she has done in series.
She's fantastic!
Amruta (Subhash) is a fab actress, so I was not surprised that her bar dancer-turned-scamster Lily was on point. I was in awe of her performance like always.
Shahana's (Goswami) Fatima was a surprise because from the outside, she seems like a woman who has her life under control, but slowly, when you go beneath the surface, you find that she's just as vulnerable as any average Indian woman you see around you.
And how can I forget Aadhya Anand as Shai, Pooja's stepdaughter who like today's Generation Z speaks her mind, throwing us off from the very beginning. She's not the cranky, whining, tantrum-throwing teenager we were who would have never dared to speak out like her.
Beautifully peeled and presented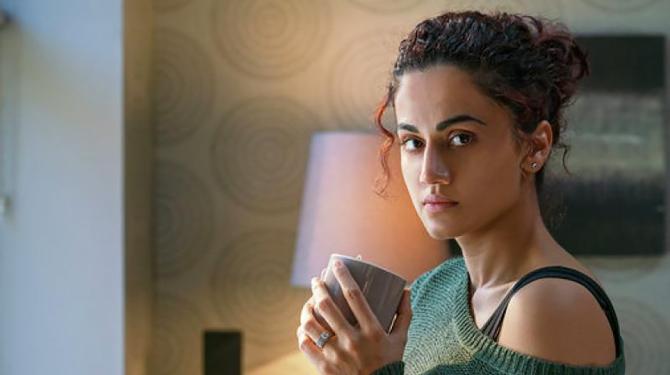 I haven't explored any facet of Amruta's Lily or the teenage Shia on screen but my character Nania in Badla was a sharp, shrewd businesswoman like Rani. She wanted to secure herself first, and was not the sacrificing kind.
Also, the situation in which Fatima finds herself is not unlike Amrita's in Thappad.
I see flashes of Ayesha in PINK's Minal.
All these characters are so strong and so well fleshed out that I would have loved to play any of them.
But I would have done it differently and then it would have been a different series. So let me just watch these women as an audience and not an actress.
All age groups and backgrounds have been rightfully represented. And so many angles, both with respect to personal and professional relationships, beautifully peeled and presented.
Director's guts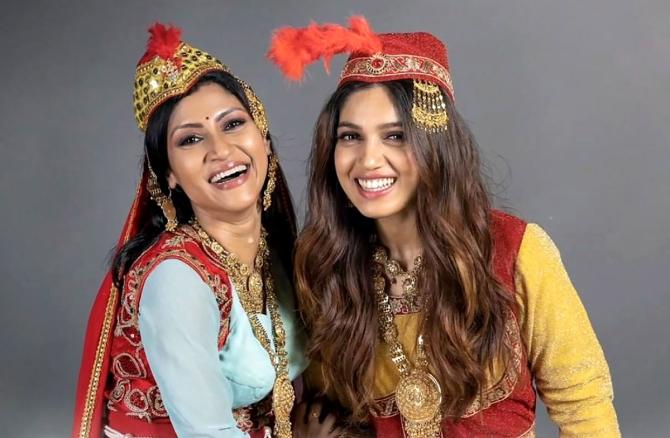 I have not seen every film made by writer-director Alankrita Shrivastav. I've seen Dolly Kitty Aur Woh Chamakte Sitare,, but not Lipstick Under My Burkha, so I can't say I am a die-hard fan of her work.
Even otherwise, just like not every film of an actor is good, a director makes films for different audiences and not all of them appeals to everyone.
For me, Bombay Begums is her best work.
Alankrita's courage kept me glued to the screen in anticipation of what she would make a character do next.
Nothing was predictable.
All actions and subsequent reactions came as a surprise.
No heroes, saviours or destroyers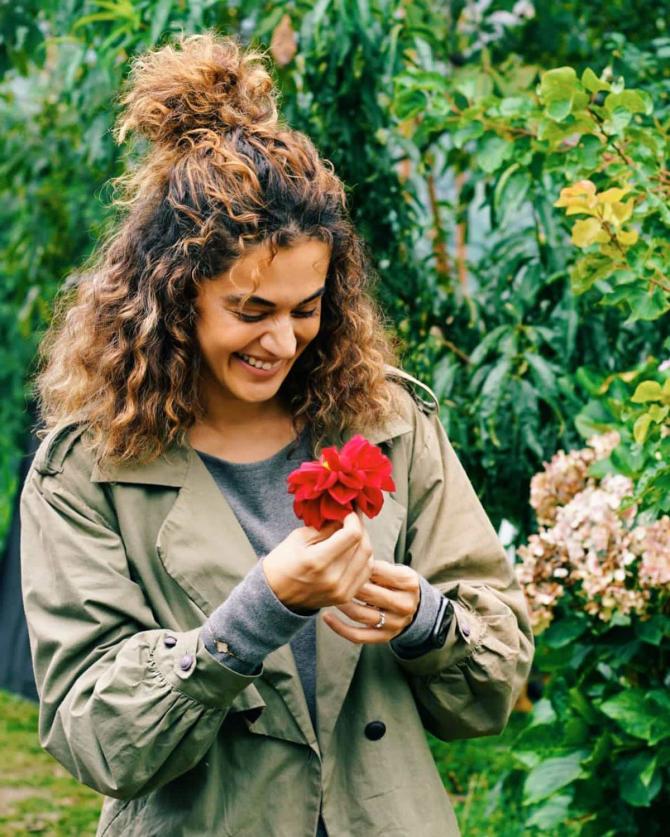 Kudos to all the men in the series who stood their ground. In an industry and society like ours, the moment a women gets control and power, insecurities creep in.
In many films written and directed with a male gaze, the woman only has one or two tones and a predictable graph.
Conversely, sexism is so deep-rooted, that when a woman writes nd directs, she could succumb to the temptation of using men as tools to service the presence of the woman. But in this case everyone is beautifully gray.
There are no heroes, saviour or destroyers in Bombay Begums. Every character is real and believable.
Even the men are true to the shade that they have been given.
They also take the driving seat in so many scenes even if they don't have much screen space. What they do affects what these women do.
While I watch the trailer of even the biggest films to decide whether to see it, I don't need a trailer to decide if I want to catch Season 2 of Bombay Begums.
I'm already looking forward to being back in that world which, despite the title, is not city specific. The series could be based in any major city in India and it would still work perfectly well for me.