After four weeks in the house, Simba Nagpal is finally waking up and playing the game, but looks like the young actor is heading in the wrong direction.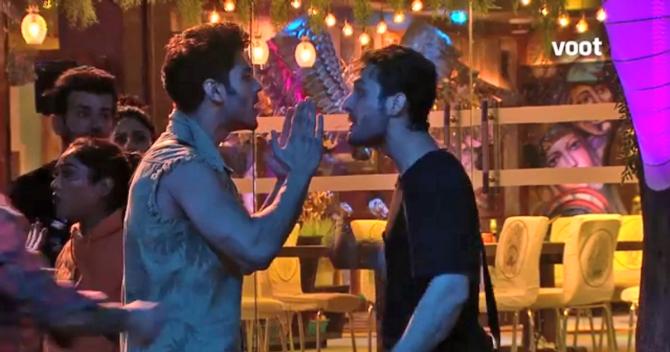 After Rashami Desai, Gautam Gulati and Devoleena Bhattacharjee, Kamya Punjabi enters Bigg Boss 15 and interacts with the contestants.
She advises Simba Nagpal to start playing the game.
Kamya tells Tejasswi Prakash not to stop Karan Kundrra from bonding with the other contestants.
She tells Shamita Shetty that she is image conscious and not letting her real personality out. She also feels Shamita expects too much from the people she gets along with and starts dominating them.
Before leaving, Kamya praises Karan and saves him from nominations.
Miesha Iyer and Ieshaan Sehgaal get into a fight.
Jay Bhanushali tells Ieshaan to be careful when he speaks about Miesha as her character may get tarnished.
Jay says he has said things before about Miesha which weren't right.
Miesha is hurt when she learns about it and asks Ieshaan to stay away from her.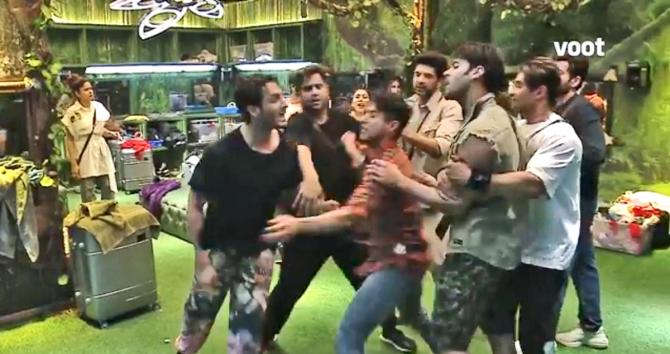 The next day, Bigg Boss asks the four safe contestants -- Tejasswi, Karan, Jay and Vishal Kotian -- to nominate one person for this week.
After much heated discussions, they nominate Miesha.
But Jay backs off at the last moment, which irks Tejasswi and she blasts him for playing safe.
Eventually, Jay caves in and Miesha gets nominated.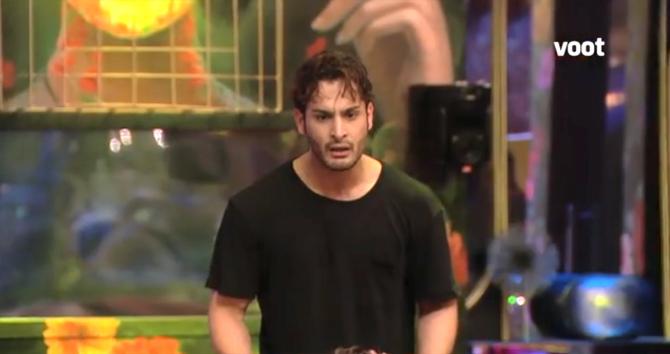 In the evening, Bigg Boss gives rest of the housemates a chance to save themselves from getting nominated this week.
Since Shamita is injured, she asks Vishal to do the task on her behalf.
Umar Riaz, Pratik Sehajpal, Afsana Khan, Nishant Bhat, Vishal, Ieshaan, Simba Nagpal and Rajiv Adatia have to collect coconuts and keep them safe.
The contestant who collects most number of coconuts will get a chance to nominate someone else.
Jay, Tejasswi and Karan are the sanchalaks.
The task begins and everyone starts pouncing on each other to collect coconuts.
Umar makes an alliance with Ieshaan, Afsana and Rajiv whereas the others decide to play together.
After a lot of snatching and pulling, Afsana wins the first round and she nominates Simba.
In the second round, things turn ugly as Simba loses his cool during the task and pushes Umar in the pool for getting abusive.
Ieshaan stops Simba and says it's wrong to get physical, but Simba gets even more aggressive.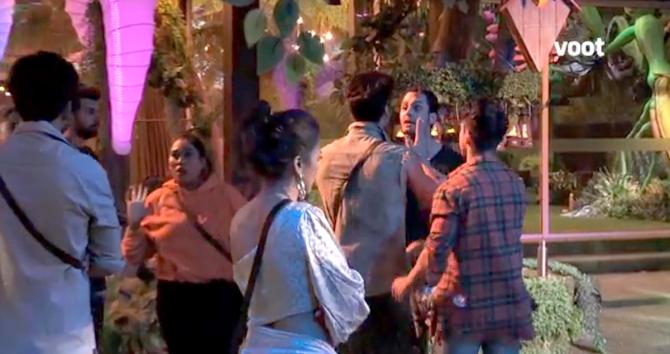 In the second round, Simba wins and he nominates Umar. The latter loses his cool and starts yelling.
Afsana, on the other hand, asks Pratik not to touch her in the task or jump on her intentionally.
Pratik tells Afsana to stop accusing him.
When she tells Simba the same thing, he shouts at her. Umar intervenes and once again fights with Simba.
They almost get into a physical brawl, but Karan tries to defuse the situation.