'He works hard till he gets the best take, whatever the time it is.'
'He always does that with immense passion and dedication. And always been kind to everyone.'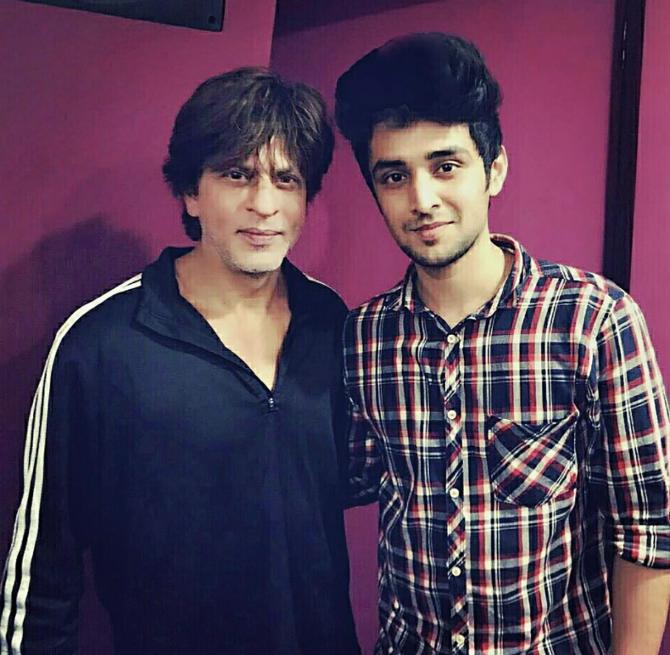 Rediff.com Reader Sreejith Padmakumar, 28, from Mumbai, shares his experience of meeting Shah Rukh Khan.
'Kabhi kabhi kuch jeetne keliye, kuch harna padta hai, aur haarkar jeetne walo ko Baazigar kehte hai...'
'Don ko pakadna mushkil hi nahi, namumkin hai.'
'My name is Khan, and I'm not a terrorist.'
These were the lines which resonate in my mind, whenever I see/read about King Khan. (PS: all dialogues are in his voice, with both hands spreading so charmingly :)
He is a culmination of good looks with great acting abilities.
Simply one of the biggest stars in the world... beyond reach!!
Not even in my wild dreams I have thought of meeting him in person.
It was during February 2017, I completed my sound engineering course from the Digital Academy, Mumbai.
Fortunately, I got placed in this studio called Purple Haze, which is a legacy, where most of the blockbuster films, songs and jingles are born. I was thankful to all my teachers, my family and my friends for showering their support till I completed the course.
Of course, thankful to the studio for hiring me.
And it's a huge luck to get a chance to work in India's one of the best sound recording studio, as an assistant sound engineer, that too as my first job!
I knew that film works happen there!
It was my 3rd or 4th day at work, days where I was just getting introduced to the work patterns they followed, the hardware, software, and 'filmi life' of artists.
By 5 pm, suddenly the studio gets an emergency booking for an advertisement dub. And the production guy said, they have multiple videos to get dubbed for SRK.
I was like, wait who?! (so excited)
But my senior engineer, the production guy and the peon inside the studio were not at all excited. For them it's usual!
I created multiple tracks in the software naming 'SRK', connecting the mic, arranging the videos, making the session ready for dub, still not believing what just happened.But then, we waited for around 2 hours nd suddenly got to hear that 'he might not come', 'oh this is usual', 'he might come after 12am'... Blah blah.
And suddenly the door opened and the voice said "Sorry guys for being late, shall we start?"
The whole control room smelled a whole new fragrance and trust me there was a light!
I was asked to adjust the mic for him, everything happened like flash.
And yeah rolling!!
After this session, I got the opportunity to work around 20-25 projects (countless, to be honest) with him from the same studio, which still I believe is a dream! That includes advertisements, film dubs, songs... everything. He always prefers Purple Haze for his dubs!
As time passed, I think he started realising me as a budding engineer there, started calling me 'beta', which is a great achievement for me.
He works hard till he gets the best take, whatever the time it is.
He always does that with immense passion and dedication. And always been kind to everyone.
There used to be a fragrance inside the dubbing room even when he had left!!
Those were the days where I could see the hardworking, dedicated artist inside King Khan. Where I could see the real human inside this biggest star!
Have you met Shah Rukh Khan?
Do share your experience of meeting Shah Rukh Khan. A photograph with him would be even better.
Please mail it to moviesdesk@rediff.co.in (subject: When I met Shah Rukh Khan) along with your NAME, AGE, LOCATION.
We will publish it on Rediff.com.