While Aly Goni directly gets nominated for another week, Bigg Boss asks Abhinav Shukla to give away his personal things permanently as a punishment.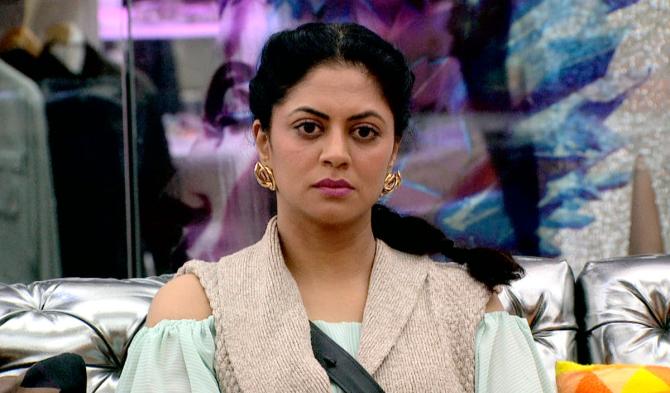 Wednesday's episode starts with Eijaz Khan and Pavitra Punia getting spooked in the kitchen area when they find the gas flame burning.
The next morning, they discuss it with the other housemates.
Everyone agrees that there is something wrong in the house.
Jasmin Bhasin and Abhinav Shukla chat in the garden area about Kavita Kaushik showing fake concern for Eijaz Khan.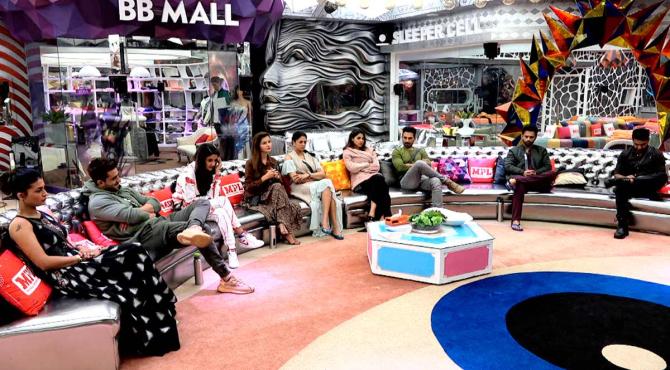 Soon Bigg Boss asks everyone to gather in the living area.
Kavita is given a power to punish housemates who have broken the rules in the house. She can take away any of their personal items.
The housemates will no longer be able to use those personal belongings till the end of their stay in the BB house.
Kavita asks Nikki about breaking the rules and says she will have to take away her stuff.
Nikki tells Kavita that she should take away Aly's stuff as she saw him breaking the rules several times.
So Kavita does that, leading to an argument with Aly.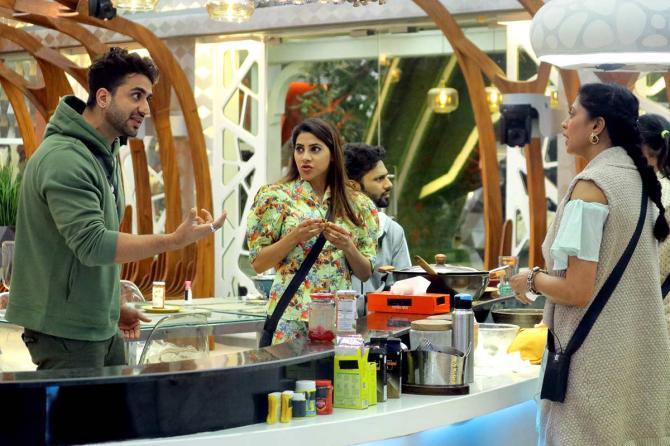 Their fight soon turns ugly.
Aly gets aggressive and ends up kicking the giant bin in the garden area.
Though Jasmin and Abhinav try to stop him, they fail.
Kavita gets hurt when Aly pushes the bin and asks Bigg Boss to take action immediately.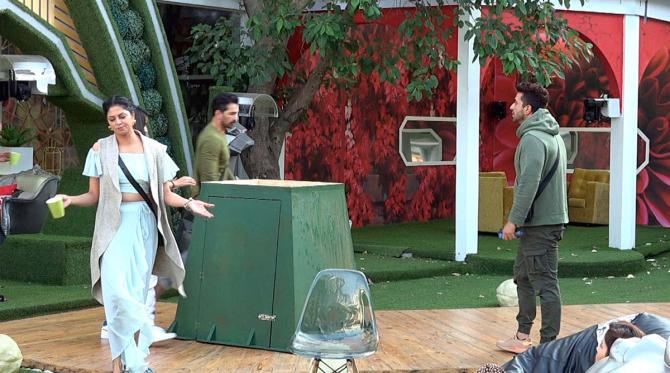 Rubina, out of concern, asks Kavita if she need any help, but the latter snaps at her as well.
Later, Rubina tells Kavita to focus on the task give and not waste time taking to the cameras.
Kavita starts fighting with Rubina and says something unsavoury about her friendship with Abhinav, upsetting Rubina.
Rahul jumps in and tries to tell Kavita that she is going wrong in the game.
After some time, even Nikki tries to make Kavita understand that she should continue with the task as a lot is on the stake for her.
If Kavita does the task sincerely and completes it, she will become one of the captaincy contenders for next week as well. But if she fails, she will be out of the race without even participating.
Kavita continues to protest and eventually removes her mic when Bigg Boss doesn't intervene.
Bigg Boss finally steps in and reprimands Aly and Kavita for their fight.
Aly gets pulled up for his aggressive behaviour and as a punishment, gets directly nominated for the next week as well.
Bigg Boss announces that the task is still on and only Kavita can remove items from the giant bin.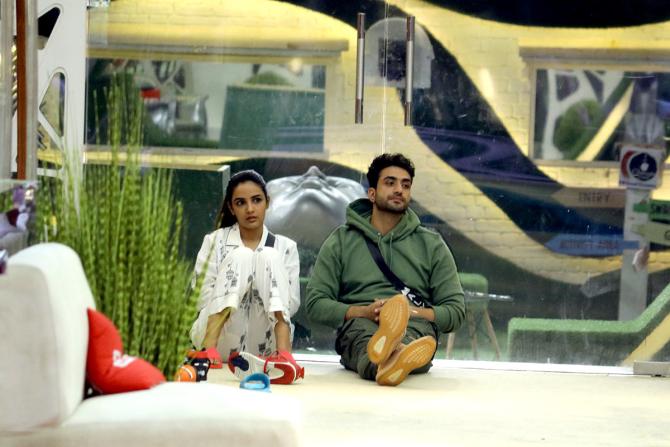 Later, Jasmin and Rahul have a candid chat about Aly.
Rahul asks her if she is in a relationship with him, but Jasmin denies it.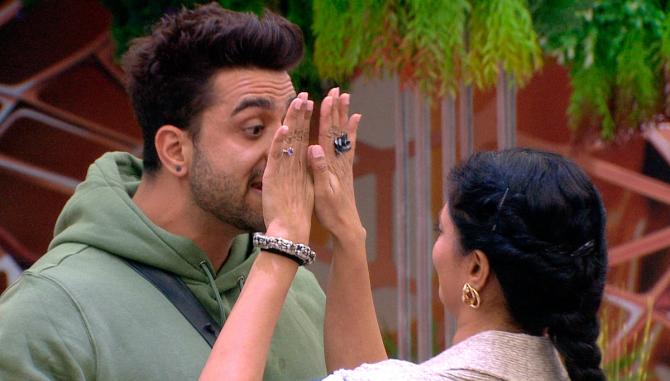 Kavita and Aly get into a fight once again when she takes away his shoes.
However, Jasmin and Abhinav take Aly's shoes back from the bin.
Kavita is surprised to see Abhinav going against her.
Just when things are about to turn bad, Bigg Boss declares that the task is over.
Kavita is lauded for her efforts whereas Jasmin is reprimanded for taking back Aly's shoes from the bin.
That's not all.
Abhinav is also punished for creating hurdles in the task.
As a punishment, he is asked to give away his belongings permanently.