'Whenever I'd call her, she would say, "Amit, humein kaam chahiye".'
' She wanted to keep working.'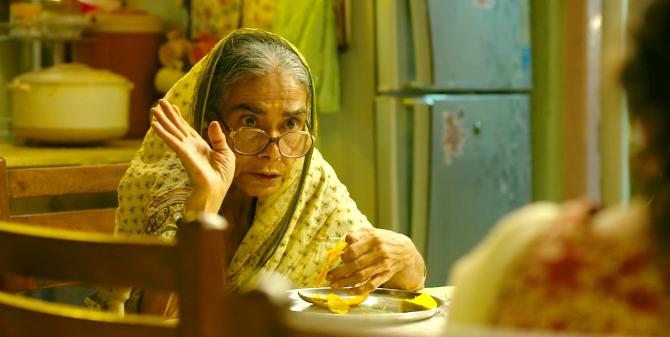 Badhaai Ho Director Amit Sharma has been deeply affected by Surekha Sikri's death.
"I couldn't speak. The loss was very personal. I can't tell you how close I felt to Surekhaji. In her, I saw my grandmother," Amit tells Subhash K Jha.
"My grandmother only spoke in Punjabi. When Surekhaji would finish a shot, she'd look at me and ask, 'Dude, kaisa raha mera shot?'"
"I would plead with her not to call me Dude. It came in the way of my grandmotherly image of her."
Recalling how Surekhaji got the Badhaai Ho role, Amit says, "I'm ashamed to say that initially, I was not convinced that she was the perfect fit for Dadi's role maybe because I had only seen her in salwar-kameez. I wanted to see how she looked in a sari."
"I asked her to do an audition, and felt really bad asking this from an actor of her experience and stature. But do you know what her response was? 'Chalo karte hain na'."
"And that was that. She came to my office and I wanted a sarilook. Unfortunately, the costumes person had no sari ready that day."
"Surekhaji had to come back for another audition. She eventually had to do three auditions. By then, I was convinced no one else could play Dadi."
Amit recalls his time on the sets of Badhaai Ho as among the most enjoyable in his life.
"We were a family on the sets. But I have to confess I was the closest to Surekha ma'am. Her enthusiasm and passion at her age were very inspiring."
"She came fully prepared every day and even on the set, she'd be writing her thoughts in her handwriting on the script."
"In the sequence where Surekhaji defends her daughter-in-law Neenaji's decision to have a child, we all cried."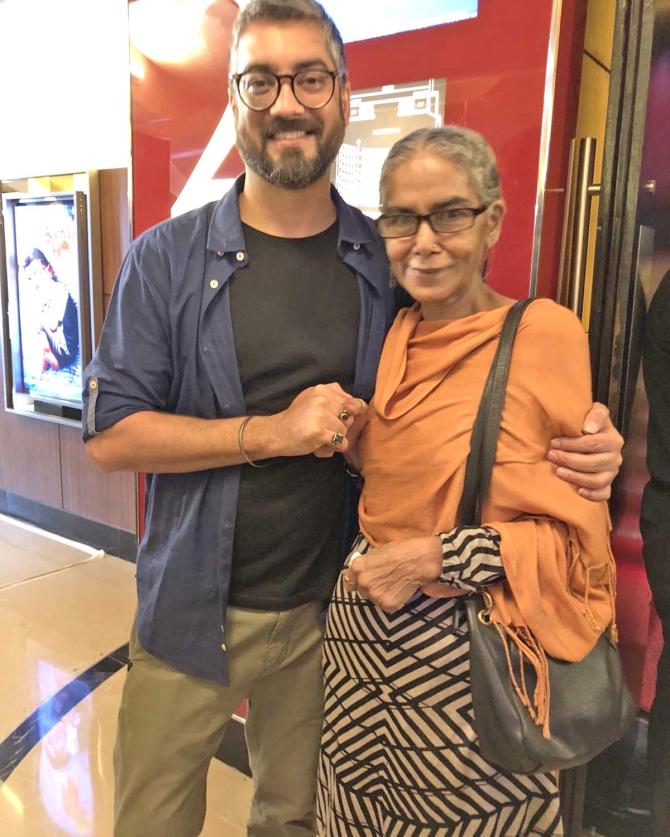 Amit and Surekhaji remained close after the film was complete.
"Mine was the first number on her phone and she would accidentally dial me. When I'd call her back and ask if she needed anything, she would say, 'Kuch bhi nahin. Sirf mujhse baat kar liya karo.'"
"My heart would melt, and I promised to call her as much as I can."
Amit recalls receiving a call from Amitabh Bachchan's office regarding Surekhaiji.
"Bachchansaab's secretary Rosie called for Surekha ma'am's number and address. I called up Surekha ma'am to tell her I had given her details to Amitji's office. She was over the moon when she received flowers and a handwritten letter from Bachchansaab."
The Badhaai Ho director recalls his last meeting with Surekhaji.
"Both of us were at the National Awards function to receive our award for Badhaai Ho. She was on a wheelchair looking more frail than ever. I bent down to talk to her. She put her hand on my head.
"I still feel her hand blessing me. I can't believe she's gone."
"Whenever I'd call her, she would say, 'Amit, humein kaam chahiye.' She wanted to keep working. I'd reassure her, 'Karte hain na. Aap theek toh ho jaiaye.' That never happened."
Feature Presentation: Aslam Hunani/Rediff.com