'He was full of Hindustan, its tehzeeb and its culture.'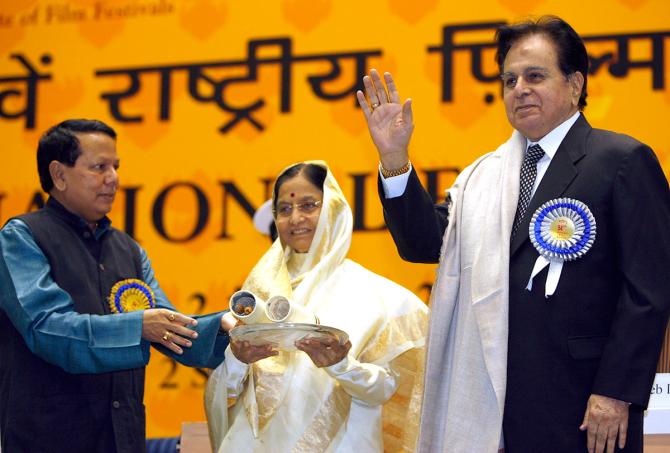 If you are from the younger generation and wonder about the adulation for the late movie legend, who passed into the ages on July 7, then there is no one better than Shahid Siddiqui to explain the phenomenon called Dilip Kumar.
"Dilip Kumar was the symbol of India's Ganga-Jamuni tehzeeb," says Siddiqui, editor, politician and astute observer of national events.
In a conversation with Syed Firdaus Ashraf/Rediff.com, Shahid Siddiqui dwells on Dilip Kumar's love for India.
How do you look back at the era of Dilip Kumar?
I look at Dilip Kumar as India's most beautiful synthesis of Indian culture. He represented that. He represented the best of Indian culture, ethos and languages.
His command over the Indian language was phenomenal and he represented the modern India.
In post-Independence India, he emerged as a confident face on screen, sure about himself, a romantic and idealist Indian.
Being a Muslim, he and his family refused to migrate to Pakistan in 1947 when a large number of well-off Muslims were doing so. Although he and his family belonged to Peshawar, which went to Pakistan, they decided to stay back in India.
In the many interviews which I did with him, I saw in his eyes that he loved India until his death. He was full of Hindustan, its tehzeeb and its culture.
In your many interviews with Dilip Kumar, did you ever get a chance to ask him why he did not migrate to Pakistan since he hailed from Peshawar?
He said his family decided not to migrate and it was his father's decision. All his brothers and sisters remained in India and none of them migrated.
He told me for him personally, the secular ethos and culture was very important.
He was a follower of Khan Abdul Ghaffar Khan (the Frontier Gandhi).
In Mumbai, he was close to Karim Lala who was president of the Pakhtoon Association in the city. It was like a tribal khap (community) in Mumbai. Karim Lala was also a follower of Ghaffar Khan.
Dilip Kumar and his family supported Mahatma Gandhi and were opposed to the idea of Pakistan. They were against Jinnah and Pakistan.
Karim Lala, who was called a gangster?
That is an unfortunate image of Karim Lala which has been portrayed (by the media). He was the leader of Pathans in Mumbai. He never indulged in crime.
The Pathans were in the security business and Karim Lala was running it. He never did any illegal business. That is the reason his family was decimated by Dawood Ibrahim, because Karim Lala was against drugs, liquor and smuggling. His 'don' image, unfortunately, was built by the media later on.
When Khan Abdul Ghaffar Khan came to Mumbai, he met Karim Lala, and nobody objected then. I know my history.
How did Yusuf Khan become Dilip Kumar? Is it true that his name was supposed to be Jehangir rather than Dilip Kumar?
No, that was Devika Rani's decision. She decided on that name as it was a favourite name for Bengalis.
Another reason is that Dilip Kumar never wanted his father to know that he was acting in films as he did not like films.
For a long time, Dilip Kumar's father had no idea that his son was acting in films.
One day his father saw a huge poster of a film where he saw Dilip Kumar's photo. He went back home and said that the photo in the hoarding was similar to his son Yusuf Khan. He wondered whether somebody copied his son's face and pasted it on the poster.
At that time too Dilip Kumar did not tell his father that he was an actor, but said he would have to go and check out the fact.
The whole family knew except his father.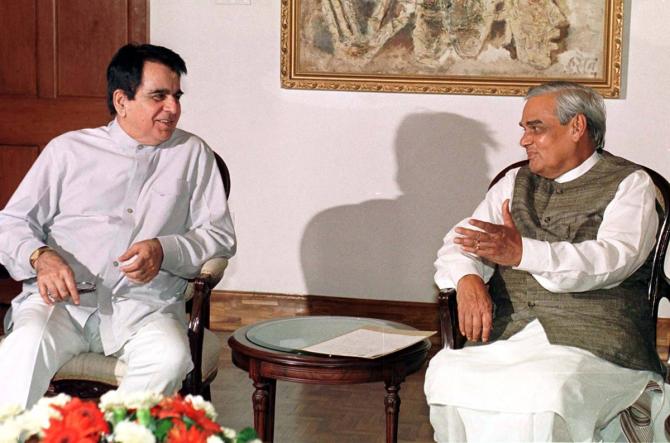 You met him in 1992-1993 after the Babri Masjid was demolished. What were his feelings then?
The late Congress party leader Ahmed Patel took me to meet him in Delhi post the Babri Masjid demolition and the Mumbai riots of 1992-1993. Ghulam Nabi Azad too came with us. We met Dilip Kumar, and he was not keeping well. He was lying on the bed.
When we went he kept quiet for a long time and then he expressed his anguish over the Babri Masjid demolition. He said, how could this happen?
He was upset that the demolition of the Babri Masjid happened when the Congress was ruling the country and the Mumbai riots took place also when the Congress party was ruling Maharashtra. He said he believed the Congress was a secular party and they would defend the secular ethos. He said the Congress people failed to control (the situation) and so many people died. He was very unhappy about the riots.
He said he always felt and told everyone that the leadership of India will always protect the secular ethos, but today he had nothing left to say.
Dilip Kumar felt the demolition of the Babri Masjid was not about a mosque, but about the Constitution and secularism. He was very unhappy and we spent more than two hours with him then. He spoke with a lot of pauses.
It was an emotional outburst and this was the only time during many of my interviews that I saw him getting emotional.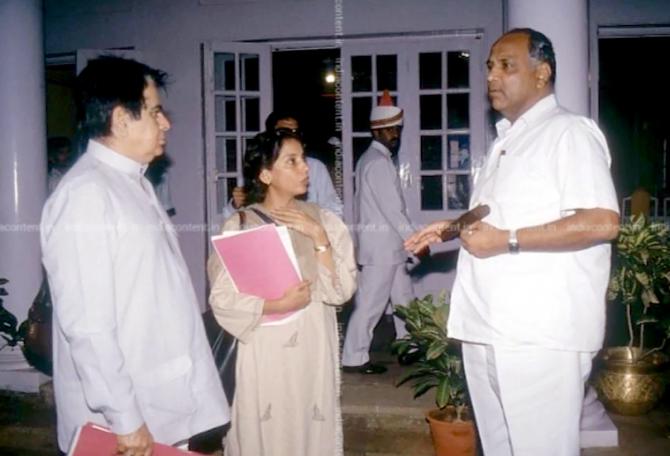 But he was also accused of being a Pakistani spy. And that was when Jawaharlal Nehru was prime minister.
Yes, he was targeted not only then, but later on too.
In the 1960s when the Shiv Sena was establishing itself, they targeted him. In politics, when any right-wing party wants to get instant fame, they target famous personalities. They do so to get media attention.
Dilip Kumar, being a Muslim, was targeted the same way they are targeting Shah Rukh Khan today. Dilip Kumar more so because he came from Peshawar, Pakistan. He spoke chaste Urdu.
He was not a religious person, but at the same time he was not irreligious. He was not a leftist, but Dilip Kumar was the darling of secularists.
Panditji, Indiraji (Indira Gandhi) and others (liked him). He was sent to the Rajya Sabha with me though he did not attend many meetings.
Did you ever got a chance to ask him how he felt on being called a Pakistani spy when he had given up everything in Pakistan and chose India?
I don't remember asking him this question but I am sure he must have felt hurt. It is very natural.
For Dilip Kumar, India was a choice, not a compulsion.
One can always argue that being a popular Indian actor therefore he did not migrate, but then his brother Nasir Khan and all his sisters, none of them went to Pakistan. They had huge business and properties in Peshawar, but they gave it all up to settle down in India.
Normally, in such families, one or two brothers would go to Pakistan to keep the property, but in Dilip Kumar's family none of them went to Pakistan, so obviously it must have hurt him a lot when such accusations were made at him. He loved India.
The same is the case with Shah Rukh Khan. His father migrated from Pakistan to India after Partition. He did not stay in Pakistan. His father was a leftist and did not want to stay in Pakistan.
On social media, 'Yusuf Khan' was trending after his death. Right-wing politicians said he should be cremated if he was truly 'Dilip Kumar'. What is your advice to them?
The right-wing on both sides always look out for something to hate or something to target.
The nation stood as one in praising him, so did the film industry in appreciating his work.
I was told by someone on social media that his body was wrapped in the Tricolour and not in white cloth as it should be for a Muslim.
I said I am proud if that happened. For an Indian Muslim nothing can bring greater happiness than his dead body being wrapped in the Tricolour.
Dilip Kumar was shahenshah-e-jazbaat (king of emotions). He could portray every emotion with subtle gestures. No film star could ever match it.
His eyes spoke more words than Amitabh Bachchan's dozen dialogues written by Salim Javed could. He could speak to thousands of audiences sitting in cinema halls with his eyes. That was wonderful.
How will future Indians remember Dilip Kumar?
He will always be remembered. Every upcoming actor in future will learn from him. He is an institution. He is a university of acting.
Some actor said -- I think it was Amitabh Bachchan -- that the film industry will be divided in two parts, before Dilip Kumar and after Dilip Kumar.
He remains alive in every film lover's heart. He will remain alive for every actor because every actor playing some part is portraying Dilip Kumar.
You cannot escape Dilip Kumar, whether you like it or not.